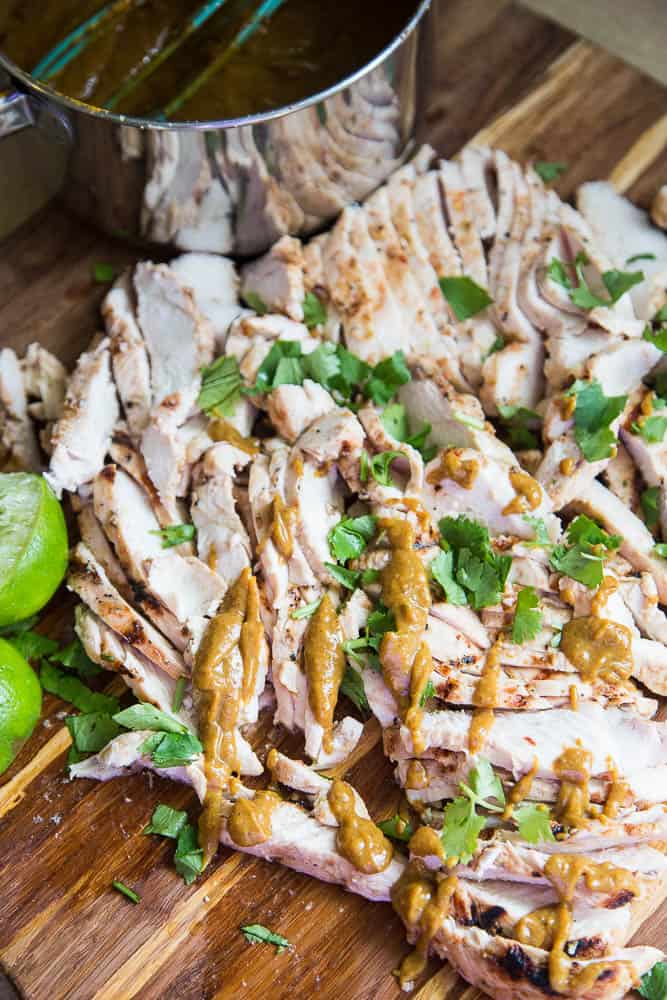 The other day I went out to the grill to throw some chicken on the grill. (Not this Thai grilled chicken, but another kind of grilled chicken. You can't have too many grilled chicken recipes.)
So I go out to turn the grill on and the propane was empty. Then I noticed the knobs were still in the "on" position.
*facepalm*
Since I do 99.9% of the grilling around here, I knew it was me. Steve likes to call me out when I leave the stove on, the oven on, my flat iron plugged in.
Honestly, I'm surprised I haven't burned down our house by now.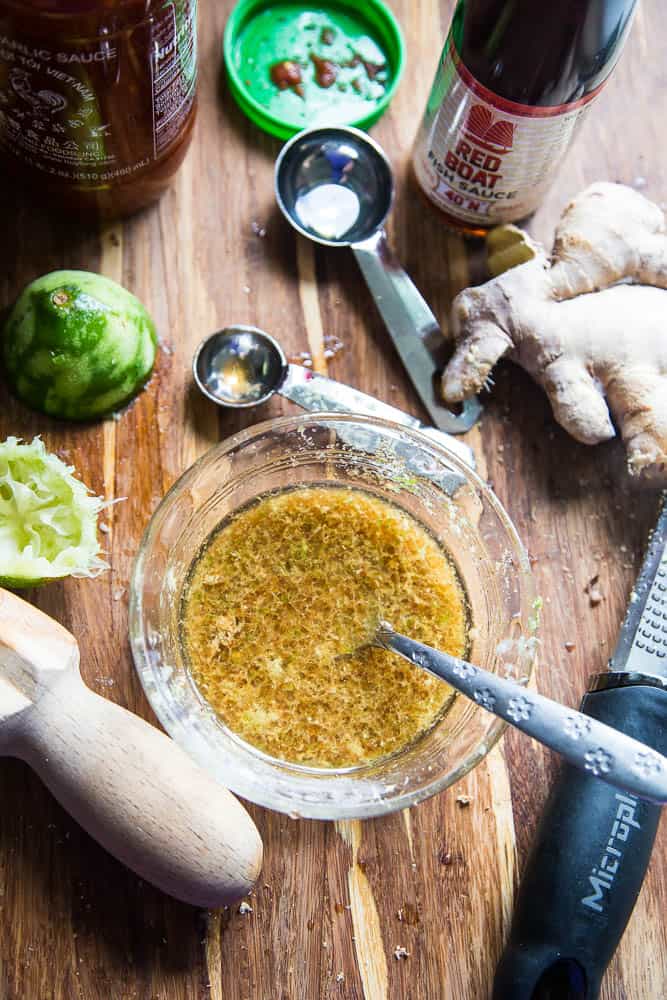 Speaking of grilled chicken, I LOVE marinades. I whipped up this easy marinade with Thai flavors to use in some spring rolls, and the recipe is going in my permanent stash.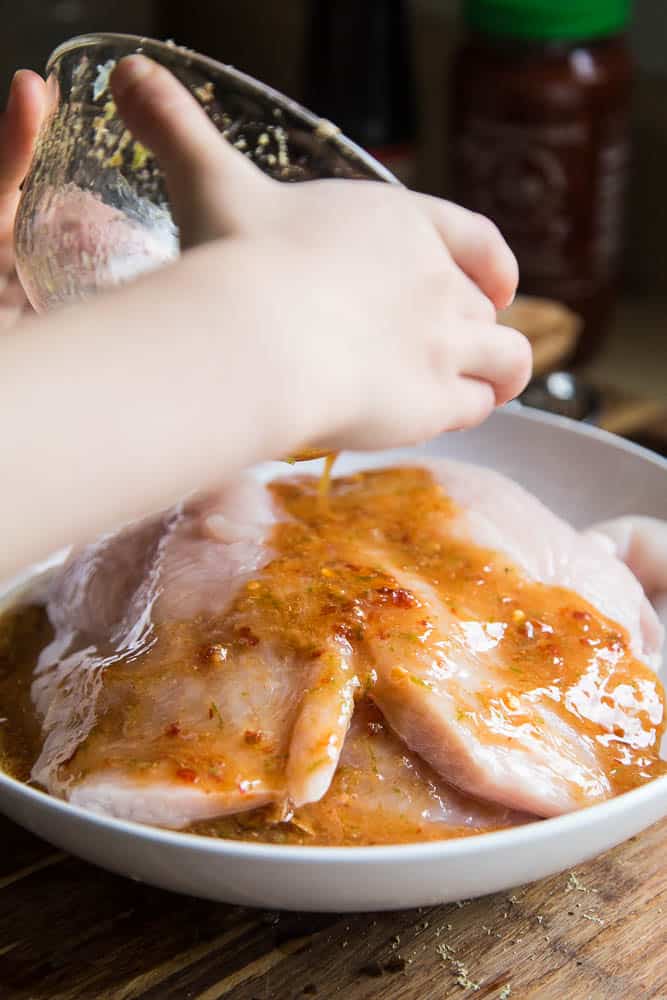 If you happen to have a 4-year-old begging to help you, have her pour the marinade on the chicken. Mine loves helping me with kitchen projects.
Unless those projects happen to do with cleaning or putting something away. I've learned that, "Mom, I want to help you!" means "Mom, I want to put my hands in food!"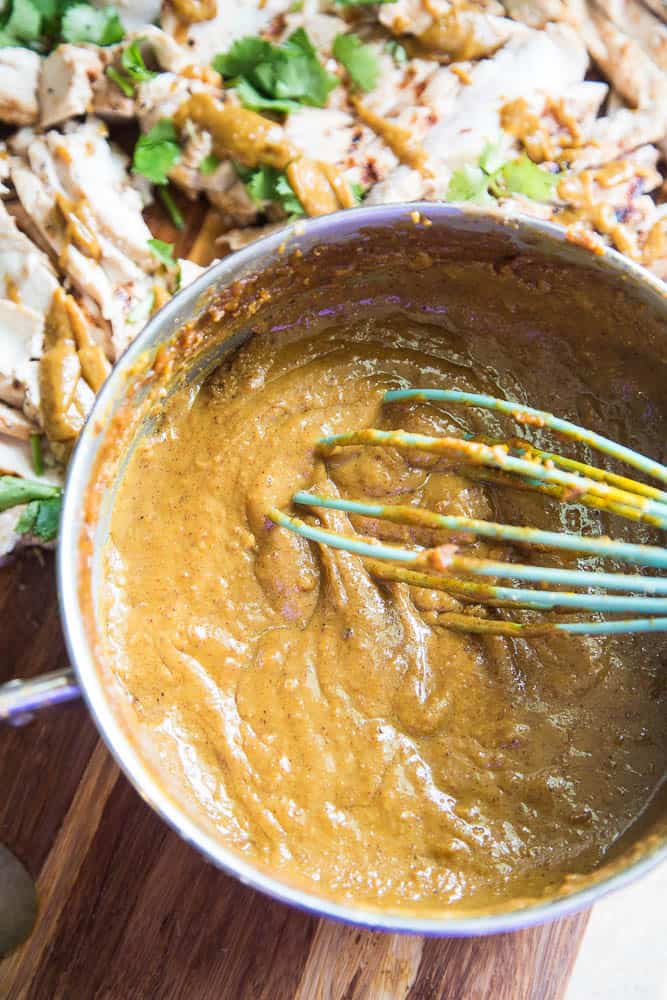 I wouldn't mind putting a few fingers in this, though. I made some warm "peanut" sauce to go with the chicken and it was the best decision I made all week. (Aside from turning off the grill this time.)
I used almond butter as the base and it tastes every bit as good as peanut-based sauces served with Chicken Satay.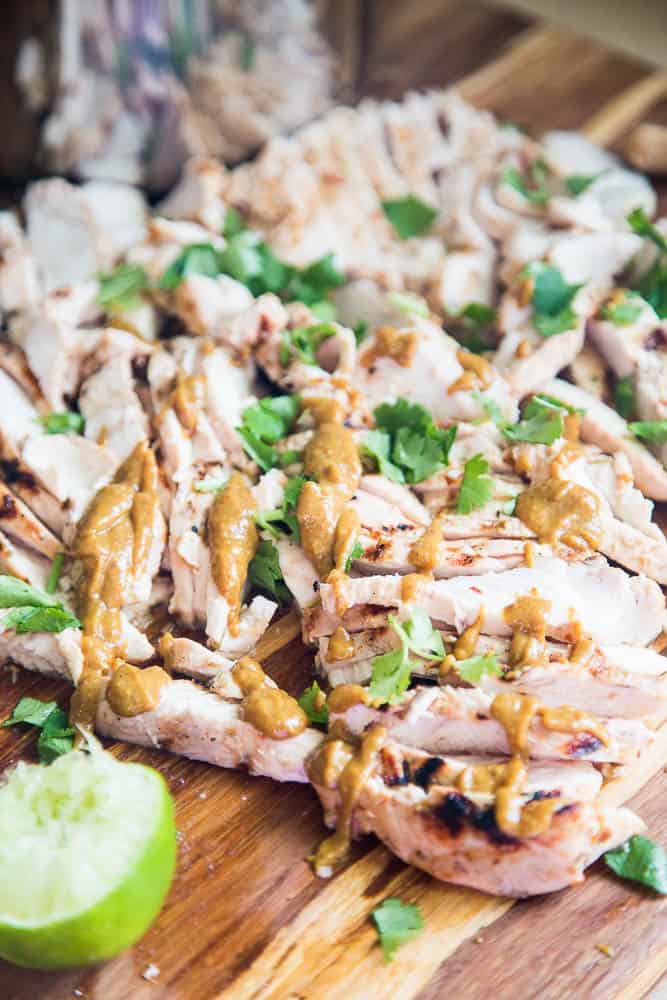 This chicken and would be good in spring rolls, over a bed of rice, and salad greens. Or nachos with Sweet Potato Chips (I just thought of that and I'm SO making it.)
Have you checked out the Thai section of my recipe index? Lots of tasty stuff over there!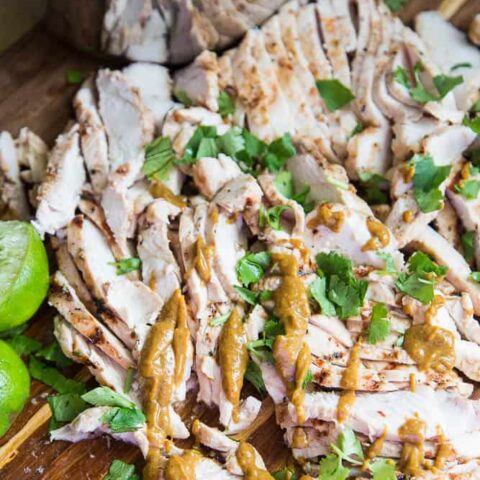 Paleo Thai Grilled Chicken and "Peanut" Sauce
I love how easy this marinade is to pull together -- even during a busy morning! And PLEASE make this "peanut" sauce. It's so SO good and is fabulous over a salad or rice bowl with this grilled chicken and some veggie toppings!
Ingredients
For the chicken:
1 1/2-2 pounds of boneless, skinless chicken breasts or thighs
2 Tablespoons avocado oil
2 Tablespoons coconut sugar
2 limes
1-inch knob of fresh ginger, finely grated with a Microplane
1 teaspoon fish sauce
1-2 teaspoons sambal oelek or Asian chili paste
handful of freshly chopped cilantro
For the sauce:
1 cup creamy almond butter
1 cup chicken broth
6 Tablespoons rice vinegar
3 Tablespoons honey or coconut sugar
3 Tablespoons coconut aminos
1-inch knob fresh ginger, finely grated
1-2 teaspoons sambal oelek or Asian chili paste
1 teaspoon turmeric
1/2-3/4 teaspoon sea salt, to taste
Instructions
Place the chicken in a shallow dish or in a gallon-sized zip-top bag.
In a small bowl whisk together the rest of the ingredients for the chicken -- except the cilantro. Pour it over the chicken, coating evenly, and chill. Let the chicken marinate for at least 2 hours and up to 18 hours.
When you're ready to cook the chicken, preheat the grill to medium-high heat.
Combine all of the ingredients for the almond sauce in a medium skillet. Whisk to combine. Cook over medium-low heat until everything is warm and blended. It doesn't need to boil.
Cook the chicken on the grill until the chicken feels fairly firm, juices run clear and medium to dark grill marks have formed, flipping once or twice. Cooking time depends on the thickness of the chicken, but it should take around 10-15 minutes.
Transfer the chicken to a cutting board and let it rest for 10 minutes before slicing. Slice the chicken, sprinkle the cilantro over the top and serve with a drizzle of almond sauce.