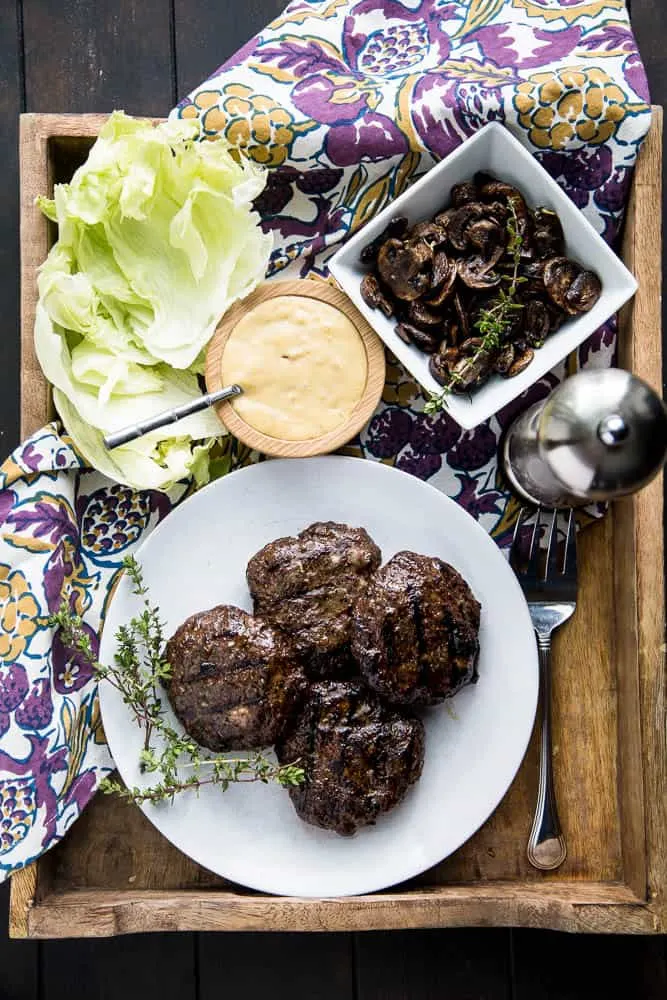 For someone who LOVES a good burger, I have a surprisingly small stash of burger recipes on my site. I've had an idea for an ultimate mushroom burger for a while now and this recipe turned out even better than I hoped!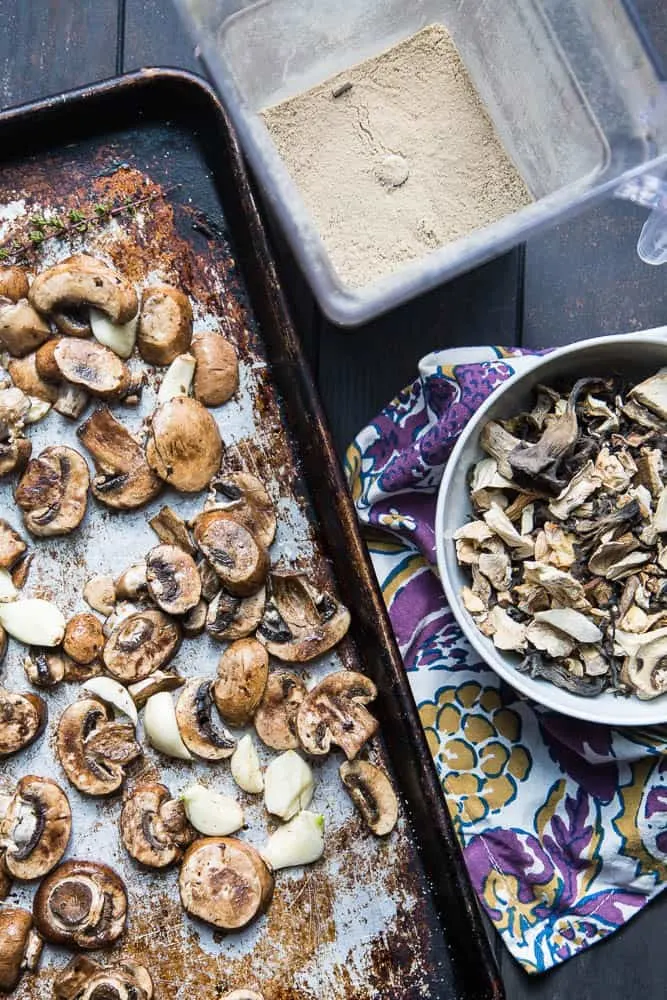 The secret to getting as much mushroom flavor as possible into these burgers is by pulverizing dried mushrooms and mixing them into the meat. I like using my Blendtec for this because it blends better than my food processor (some of the larger mushroom pieces get stuck on the blade, but you can always just remove them.)
I used the same technique in the Creamy Paleo Mushroom Soup with Bacon. (The one where I tricked my kids for years and told them it was bacon soup? bahahaha)
Then, I roast a bunch of fresh mushrooms with whole garlic cloves…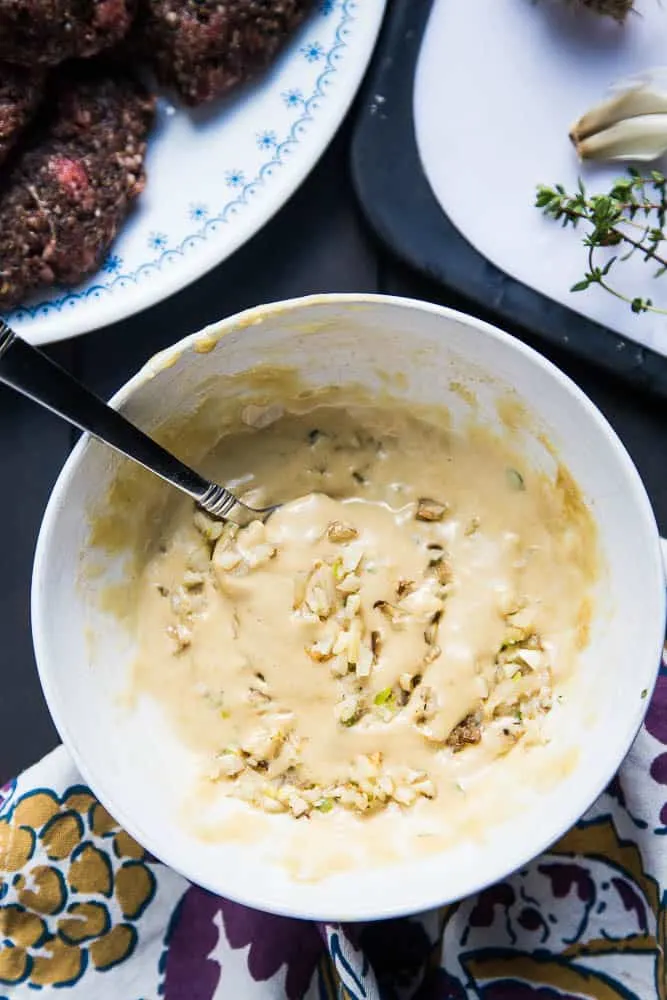 … that end up in this aioli. The garlic, that is. Not the mushrooms. Although, that wouldn't be a bad idea either.
This roasted garlic aioli might be my most favorite aioli I've ever made. (Aiolis are just thinned out, flavored mayo. But aioli is fun to say. And a little fancier.)
It's obviously great on this mushroom burger, but you could put it on other burgers, lettuce wraps, un-wiches, or even as a dip for Sweet Potato Fries.
This mushroom burger is serious umami town. The mushrooms and garlic and herbs and plenty of coconut aminos give the meat and aioli SO much flavor. It doesn't need anything else, really.
Of course my kids wanted to put ketchup on this (and ruin it. ugh.) but they loved these burgers. They protested the roasted mushrooms, which is fine, but little did they know they were still eating mushrooms. *snicker*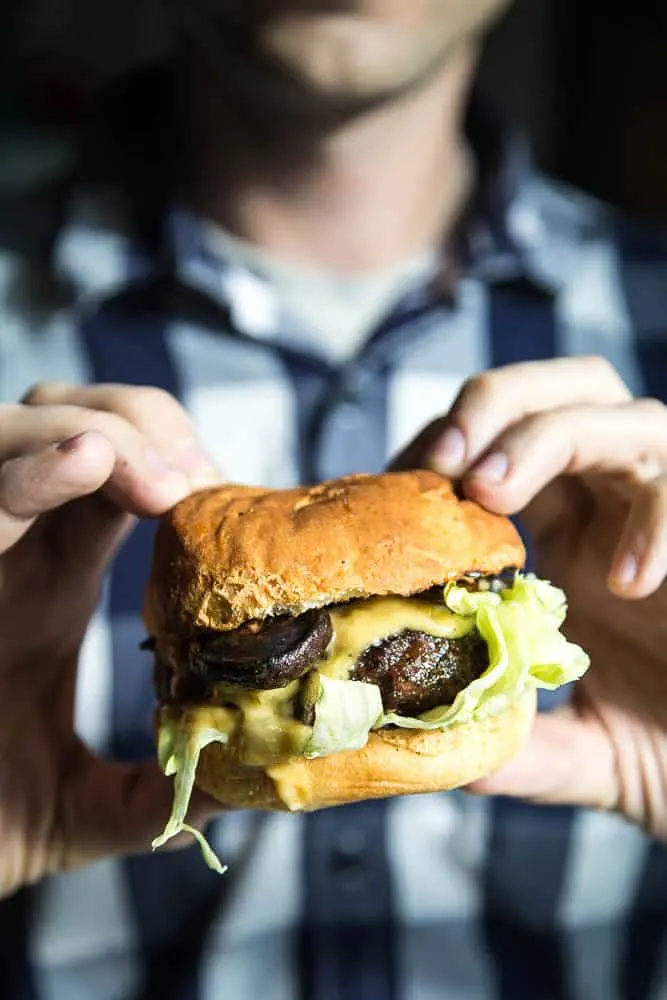 We ate them on lettuce wraps and a few of us had gluten-free buns. That roasted garlic mayo… I want to put it on everything now.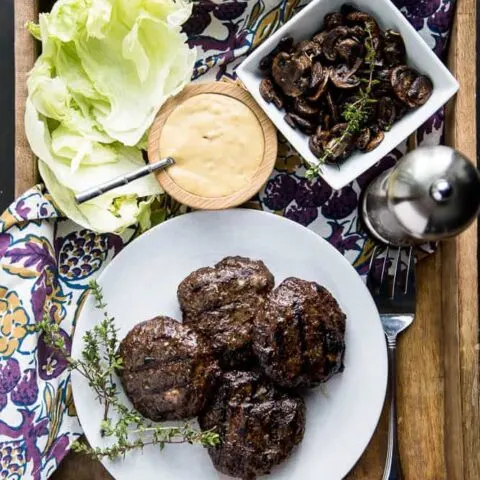 Double Mushroom Burgers with Roasted Garlic Aioli
This double mushroom burger is a fabulous paleo & Whole30 friendly burger full of blended dried mushrooms and topped with roasted mushrooms and roasted garlic aioli.
Ingredients
For the burgers:
1 cup dried mixed mushrooms
1 pound of ground beef
3 tablespoons coconut aminos
1 tablespoon dried minced onion
1 teaspoon sea salt
Lettuce leaves or gluten-free buns
For the mushrooms & aioli:
8 ounces sliced mushrooms (white, brown, or baby bella)
12 whole garlic cloves, peeled
1/4 teaspoon plus pinch of sea salt, divided
1/4 teaspoon black pepper
1 tablespoon avocado oil
1/2 cup paleo-friendly mayonnaise
1 tablespoon coconut aminos
1 teaspoon fresh thyme leaves or a large pinch of dried thyme
1/4 teaspoon garlic powder
Instructions
Pulverize the mushrooms in a high-speed blender or in a food processor until a fine powder forms. If you use a food processor and end up with a few stubborn pieces that won't blend, just remove and discard them.
Put the ground beef in a large bowl. Add the mushroom powder, 3 tablespoons coconut aminos, dried minced onion, and salt. Blend everything together gently with your hands. Divide the meat into 4 sections and form them into patties. Let them rest for a few minutes.
Preheat your grill to medium high heat. Preheat your oven to 425 degrees F.
Put the sliced mushrooms and garlic cloves on a rimmed baking sheet. Sprinkle with 1/4 teaspoon of salt, pepper, and drizzle the avocado oil over the top. Toss everything together with your hands and spread it out evenly on the baking sheet. Roast the mushrooms and garlic on a middle rack in the oven for 10-12 minutes until the mushrooms are deeply browned and the garlic has golden spots.
Remove the pan from the oven, then transfer the garlic to a cutting board and chop it finely. Put the minced garlic in a small bowl and add the mayo, pinch of salt, 1 tablespoon coconut aminos, fresh thyme, and garlic powder. Mix everything together well.
Meanwhile, grill the burgers until cooked through, flipping once, and forming dark grill marks. This should take between 8-12 minutes depending on how thick the patties are.
Assemble the burgers by placing a patty on some lettuce leaves or a bun. Drizzle generously with the roasted garlic aioli and some roasted mushrooms.