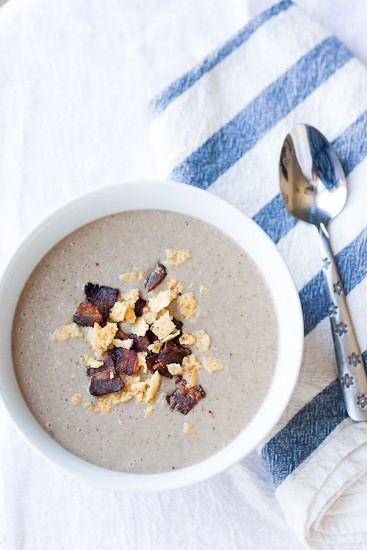 This soup made me feel like a superhero.
One week I found myself with a pound of leftover mushrooms and no plans for them. (Story of a Costco shopper's life.)
Steve and I both like mushrooms, but our kids won't touch them. They don't even know what they taste like, but I can't say I blame them. Mushrooms are weird looking. It's only been in the last few years that I've learned to embrace them. And their funky texture.
Even though it was almost 90 degrees outside, I felt like a pureed soup was my only option other than eating sauteed mushrooms every day for lunch. (TOO. MUCH.) Plus, I'd never made mushroom soup before — much less a paleo mushroom soup.
This happened to be the same week I decided to be more consistent about writing our weekly menu on the chalkboard in the kitchen. The kids like it, and I think it prepares them mentally before we eat so they're not surprised. Or they see something they're not excited about and whine all day. It's a gamble sometimes.
I didn't want to write "Mushroom Soup" on the board in fear of mutiny. I had half of a package of bacon in the fridge and thought I'd incorporate that somehow, too.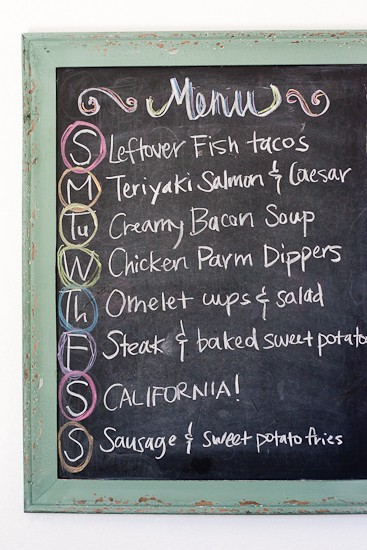 Thus, "Creamy Bacon Soup" was born. Creamy is a nice word. So is bacon. And the soup WAS creamy AND contained bacon so I don't feel like it was a total deception. It was no surprise that they were excited for dinner. I just had to keep them out of the kitchen and hide the mushroom evidence afterward.
And you know what? The little stinkers each ate two bowls and asked me to make it again the next week. My oldest also requested that I put some leftovers in her school lunch (<– WHAT?!) and the other two (and Steve) finished off the rest the next day. The soup is super creamy and has such a nice, deep flavor.
I think it's safe to say I won them over. I'm trying to figure out how long to wait before I tell them that they're actually eating a bowl full of pureed mushrooms.
Fifteen years ought to be long enough.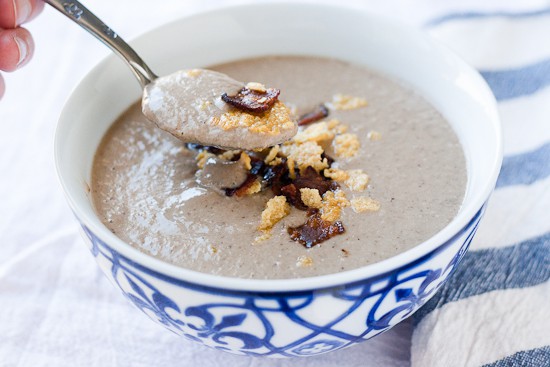 After I posted pics of this on the Perry's Plate Instagram and Facebook page, I got a lot of requests for the recipe from those hoping to trick a loved one into liking mushrooms. This soup has big mushroom flavor, and my kids loved it because they don't know what mushrooms taste like. If texture is an issue, then this should do the trick!
P.S. Those little cheese crisps added a lot to the soup. I use grass-fed cheddar and make them sometimes when we're hankering for croutons for soup or salads. I added the instructions (if you can call it that) in the recipe. They're super easy!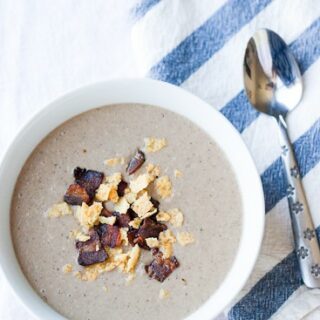 Creamy Paleo Mushroom Soup with Bacon
For years, I called this soup "Creamy Bacon Soup" when I served it to my kids and they happily gobbled it up and asked for seconds and thirds. It wasn't a total deception -- there IS bacon involved....
Ingredients
5 slices thick-cut bacon
1 pound brown mushrooms (cremini are also fine)
1 large yellow onion
1 large sprig of fresh rosemary (or 1/2 teaspoon dried)
1 whole bulb of garlic
3 Tablespons heat-safe oil, like avocado or coconut
1 1/2 quarts beef broth
2 ounces dried shiitake mushrooms
2 cups almond milk
3 Tablespoons red wine vinegar
2 Tablespoons coconut aminos (see note)
Kosher salt and black pepper, to taste
Several slices of grass-fed cheddar cheese, for cheese crisp garnish (optional)
Instructions
Preheat the oven to 425 degrees F.
Wipe the tops of the mushrooms and discard the stems. Quarter them and place them on a rimmed baking sheet. Peel the onion, slice in half, then slice each half into 4-5 wedges. Place them on the baking sheet with the mushrooms. Separate the garlic bulb into cloves and peel them. (See note.) Place the cloves on the baking sheet. Remove the leaves from the rosemary and... place on the baking sheet.
Drizzle the oil over the vegetable mixture, give it a generous sprinkling of salt and black pepper, and toss it around with your hands to coat everything. Spread them out evenly and roast for 20 minutes, stirring it around halfway through.
While the vegetables are roasting, cut the bacon into 1-inch pieces and cook in a large soup pot over medium heat until crispy to your liking. Remove bacon with a slotted spoon and set aside.
Add 1/2 cup of the beef broth to the skillet and stir it around to remove the browned bits from the bottom of the pot. Add the remaining broth and bring to a simmer. Add the dried mushrooms to the pot and cook for 2-3 minutes or until they puff up and soften. Add the roasted vegetables and the almond milk. Simmer for 15 minutes.
Blend the soup by using an immersion blender or working in batches with a blender. Return soup to the stove and add vinegar, aminos, and salt and pepper, to taste. Because I make my own broth and don't salt it, I added about 2 1/2 teaspoons of Kosher salt. You don't need that much if you're using store-bought broth.
Serve with bacon bits and cheese crisps.
To make the cheese crisps, put a several thin slices of cheese in a skillet and cook over medium-high heat. They'll melt, then get bubbly for a while and render off some of its fat, then you'll be able to flip it like a pancake. Once it's starting to become golden brown, remove it from the skillet, let it cool (and crisp up), then break it into pieces.
Notes
Nat's Notes:

1. Coconut aminos is simply a paleo alternative to soy sauce. You can use soy sauce or tamari which is a gluten (wheat) free soy sauce. I use it here to give the soup a deeper umami flavor. It doesn't make it taste like stir-fry.

2. Dismantling a bulb of garlic is pretty easy if you know a coupe of tricks. Put the bulb on the cutting board root-side up and press down with the palm of your hand. It should simply fall apart. Next: peeling the cloves. If you've ever watched Food Network, they all do it the same way. Place the flat side of your knife on the clove and hit the knife with your other hand. The clove should be easy to remove from the peel. If not, hit it again.

3. I buy the big container of dried shiitake mushrooms at Costco and find it to be reasonably priced. You could probably use another type of mushroom, but I'm not well-versed in mushroom varieties to give you a recommendation.