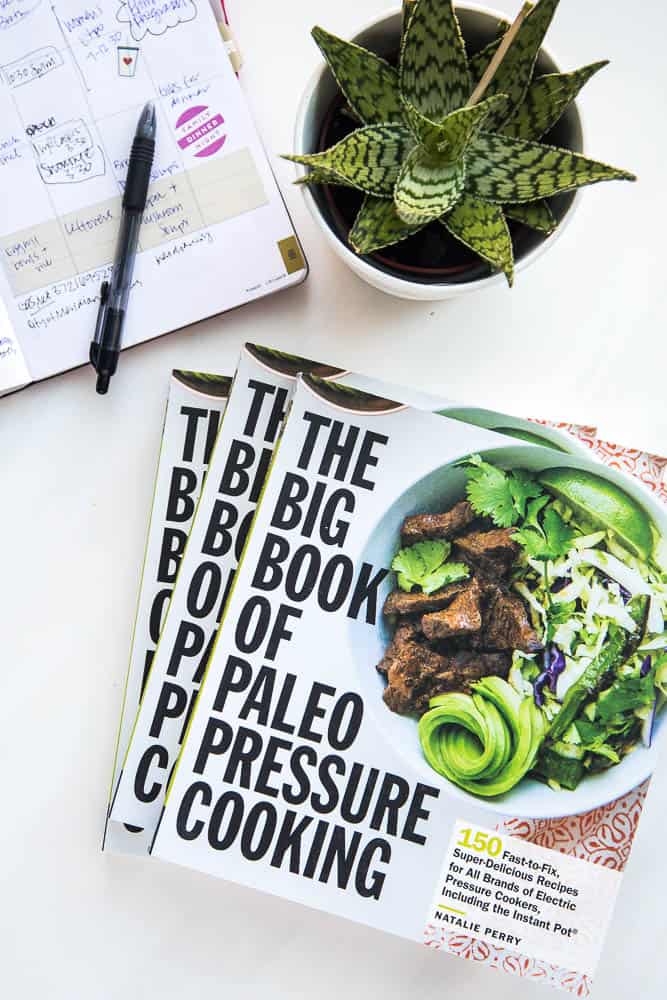 It's been so fun seeing your posts about enjoying my latest cookbook, The Big Book of Paleo Pressure Cooking! Don't tell the first book, but I think this one turned out better. The recipes were more thoroughly tested, the photos are better, and I added a meal prep chapter! *gasp*
Still though, this one suffers a little from second child syndrome.
You know how second children don't always get as many photos taken of them or QUITE as much attention as the first born? Don't get me wrong, we love them both, but that second kid just doesn't have our undivided attention like the first one. It is what it is.
Before my first book came out I had my sneak peek post written and a week's worth of giveaways planned out for my Instagram account.
This time? Well, our lives are pretty crazy at the moment which isn't helping. And I didn't get all of the fanfare prepared like I wanted to. BUT, THIS BOOK IS GOLDEN. And I want to show you a few highlights.
First of all I wanted to give you some stats:
About 100 recipes are Whole30 compliant or easily adaptable.
About 80 recipes are Low-Carb/Keto friendly or easily adaptable.
Most of the recipes do not have eggs or nuts. (A lot of the ones in the dessert chapter do, but that's the nature of paleo baking.)
The recipes don't use a lot of hard-to-find ingredients. If you've got some coconut aminos and either arrowroot or tapioca flour for a little thickening power, you're good to go.
You can use an Instant Pot or any type of electric pressure cooker. I tested all of these using a 6 quart, but most of them will work well in an 8 quart.
Ok, now to the juicy stuff.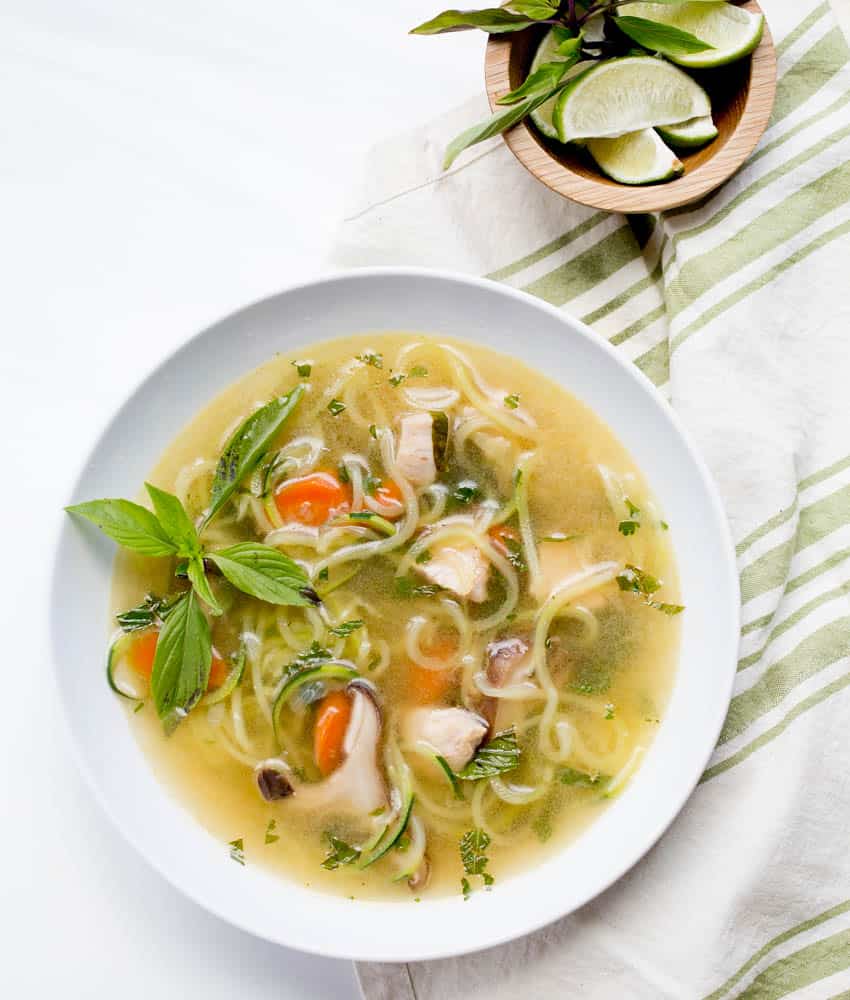 Can we start with soups? Because they're my favorite. This light and easy Thai Chicken Zoodle Soup was a favorite of my kids (After they fished out the mushrooms. Stinkers.)
They also loved the 40-Minute Steak Pho, Cabbage Roll Soup, and Steve and I REALLY loved the Turmeric Detox Broth and the Buffalo Ranch Chicken Chowder!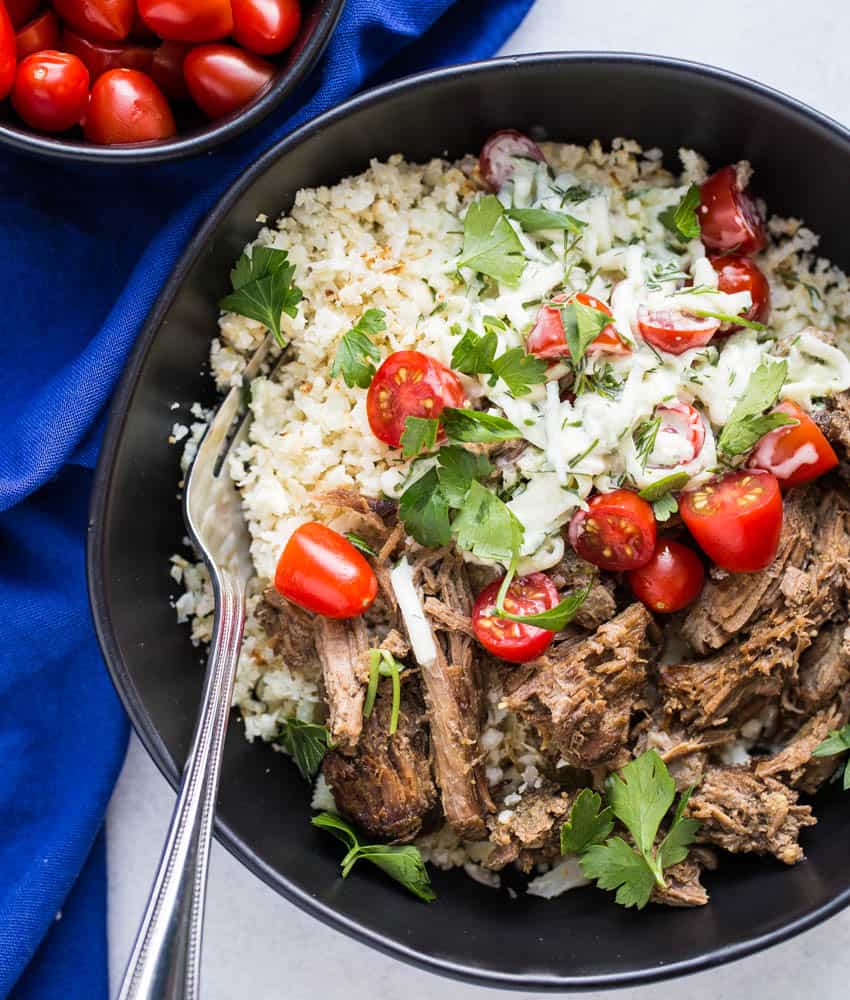 Like slow cookers, Instant Pots (and other electric pressure cookers) are FABULOUS for making big batches of shredded meat, but they do it in a fraction of the amount of time.
That recipe up there is the Gyro-Inspired Shredded Beef. It's like a Greek-ish sort of flavor that pairs well with some Cauliflower Rice and Paleo Tzatziki Sauce. (All recipes in the book!) This bowl MIGHT be my favorite meal in the book. It's a tough call though.
I REALLY love the Chipotle Salsa Shredded Chicken, too. And the Caribbean Pineapple Pulled Pork. It's like choosing favorite children.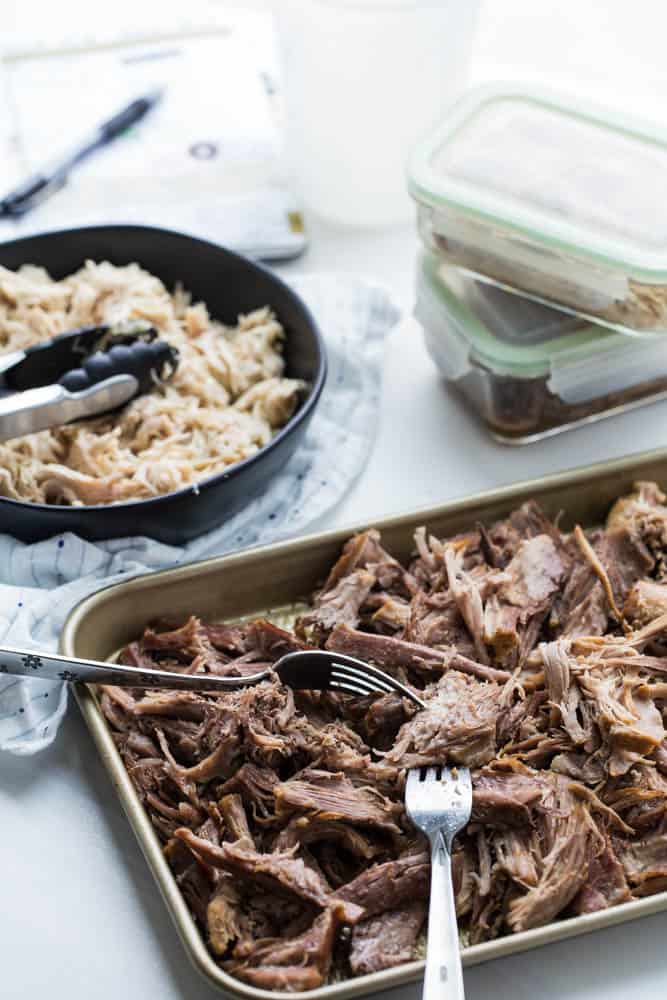 Like I mentioned before, I included a meal prep chapter giving you basic recipes for shredded meat and then a few recipes to use that pre-cooked meat and make a super quick and easy meal during the week.
My favorites in that chapter are the Shortcut Pork Carnitas with Watermelon-Cucumber Salsa and the Sloppy Joe Stuffed Sweet Potatoes.
And….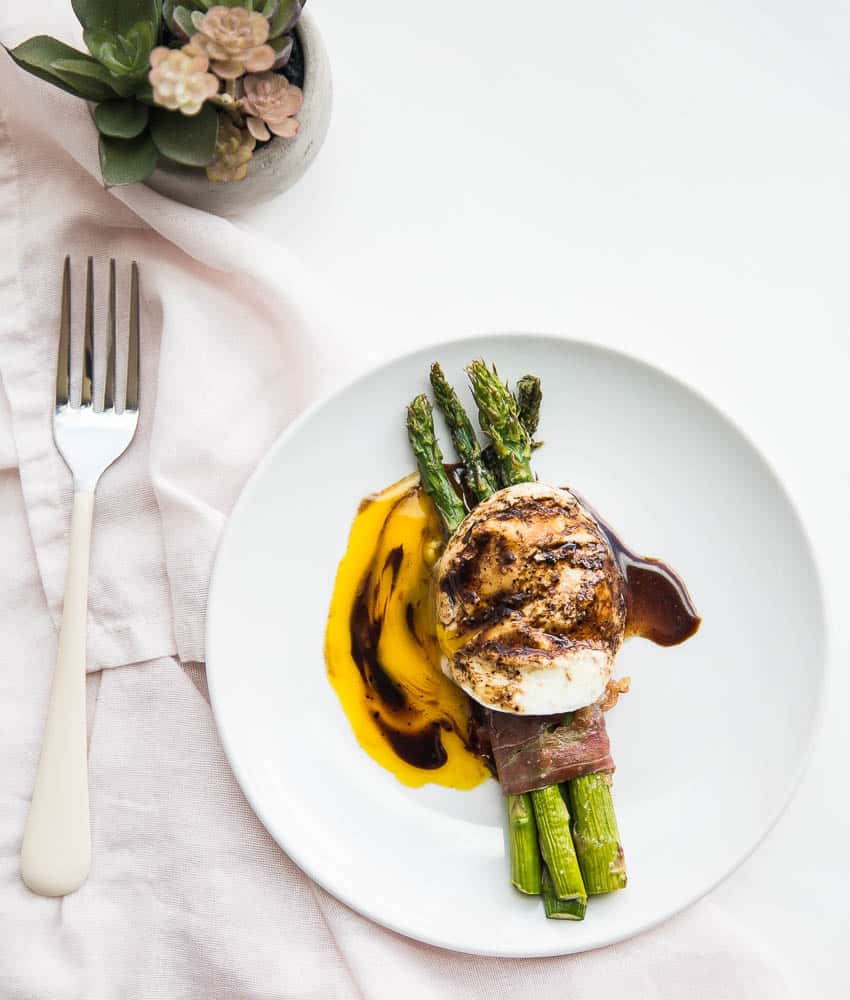 …one section of that meal prep chapter is devoted to EGGS. Instructions for hard-cooking AND poaching!
Did you know you could poach eggs in an Instant Pot? I made some fancy Balsamic Poached Eggs with Prosciutto-Wrapped Asparagus for my book (which is WAY easy and super impressive for a brunch!), but you can doll them up however you like.
All you need are some silicone poaching cups. And you don't have to make a bunch at a time either. Just one if you like.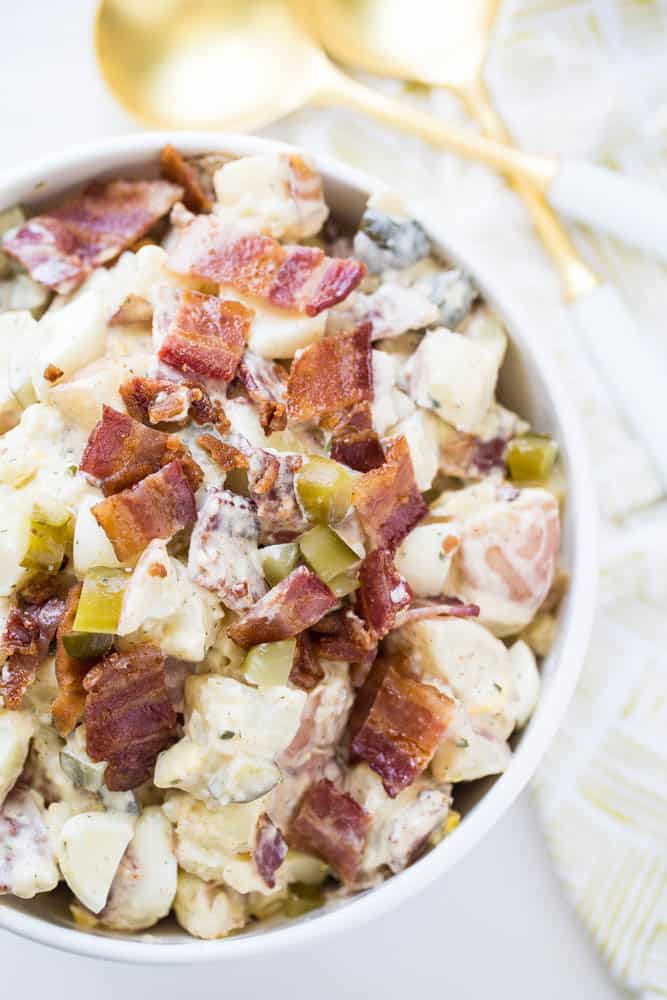 Depending on who you ask, white potatoes may or may not be technically paleo. I love that they're Whole30 compliant, though. Anyway, I couldn't create a side dish chapter without including a few potato salad recipes — especially since potato salads are SO SO easy to make in an Instant Pot . This Bacon Ranch Potato Salad may even change your life. Or maybe the Hot German Potato Salad with Sauerkraut and Bacon.
Potatoes off the table? The German Sweet and Sour Cabbage (Rotkohl) was a favorite of mine along with the Artichokes with Three Aiolis!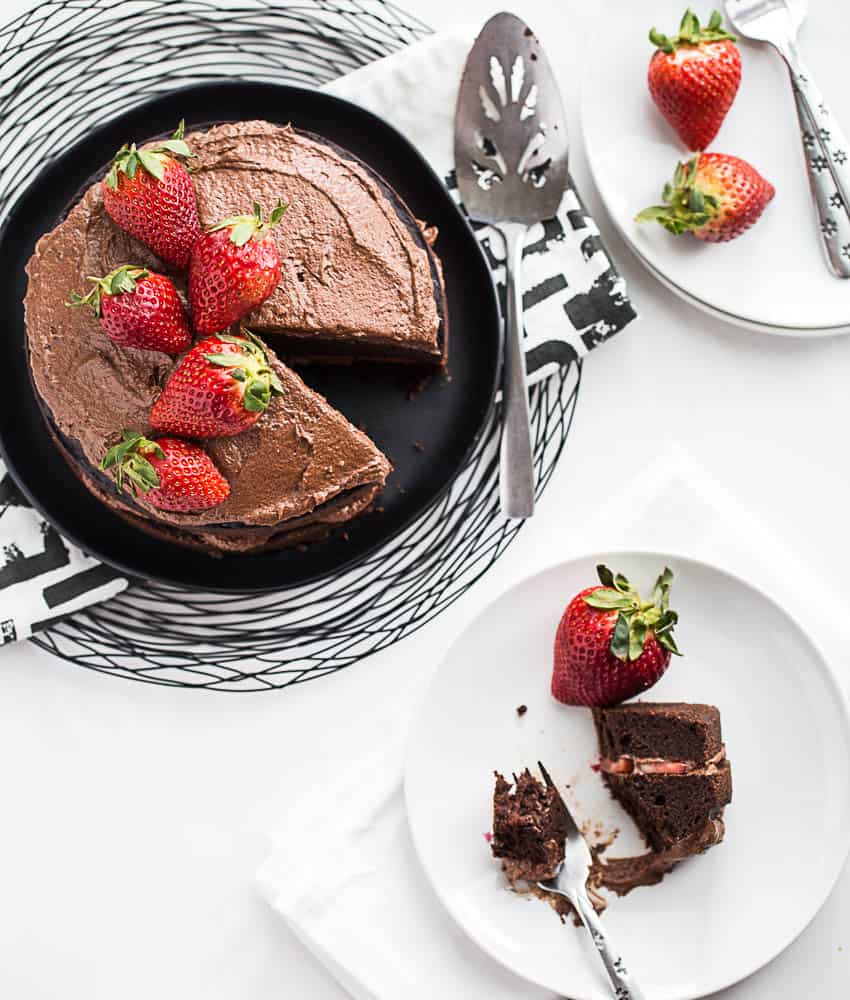 The dessert chapter was so fun! Instant Pots are so versatile when it comes to desserts. I threw in a few cake-like things like this Dark Chocolate and Strawberry Layer Cake and Brown Sugar Peach Mug Cakes. There are also some custard-type treats like the Peppermint Pots de Creme, Salted Caramel Coconut Flan, and the Crustless Chai Pumpkin Pie Cups with Toasted Marshmallow Fluff recipe that I posted a couple weeks ago. (Make those. Seriously.)
And like the first book, I added a basics chapter with more seasoning blends, BBQ sauces, and some tasty cashew-based cheese sauces to play with!
Did you know I wrote a conversion chart for you to use the recipes in my slow cooker book in your Instant Pot? Having both would give you 350 healthy, paleo-friendly recipes! That's almost one for each day of the year. Well, maybe fewers because you probably don't want to eat BBQ sauce for dinner.
The point is, grab a book (or two) if you haven't gotten them yet! Or if you have, I would love for you to leave me a review!
The Big Book of Paleo Slow Cooking