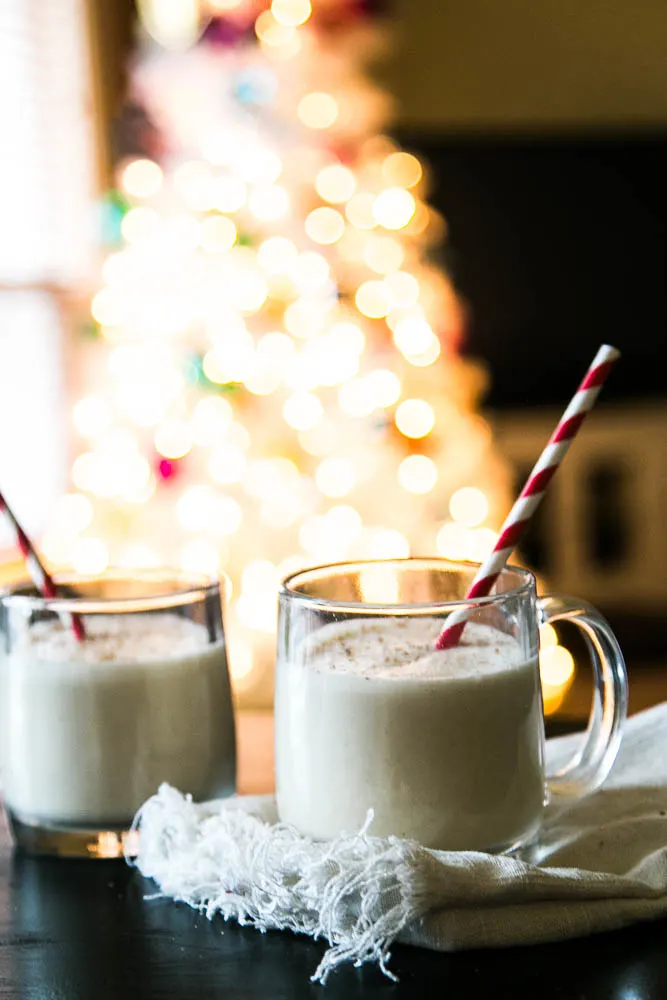 There have been a lot of things I didn't enjoy as a kid that I grew to love as an adult.
Eggnog is one of them. I'm still super particular about the eggnog that I like, though.
When we lived in Reno, the Costco carried half gallon cartons of Producers Dairy brand eggnog. So far, that's my most favorite commercially made eggnog I've ever had.
Steve's a total eggnog junkie and we've tried ALLLL the different kinds. The super junky ones, the dairy-free ones, the local ones, and all the brands we could get our hands on. Producers is still our favorite. And sadly, our Boise Costco doesn't carry it.
[sob]
So, I took it upon myself to make a homemade eggnog that will fill the gap in our hearts. And maybe fill it with something more wholesome, but still totally delicious.
I did it, guys.
The best thing about this eggnog? It only takes 10 minutes to make. And you don't need to cook it.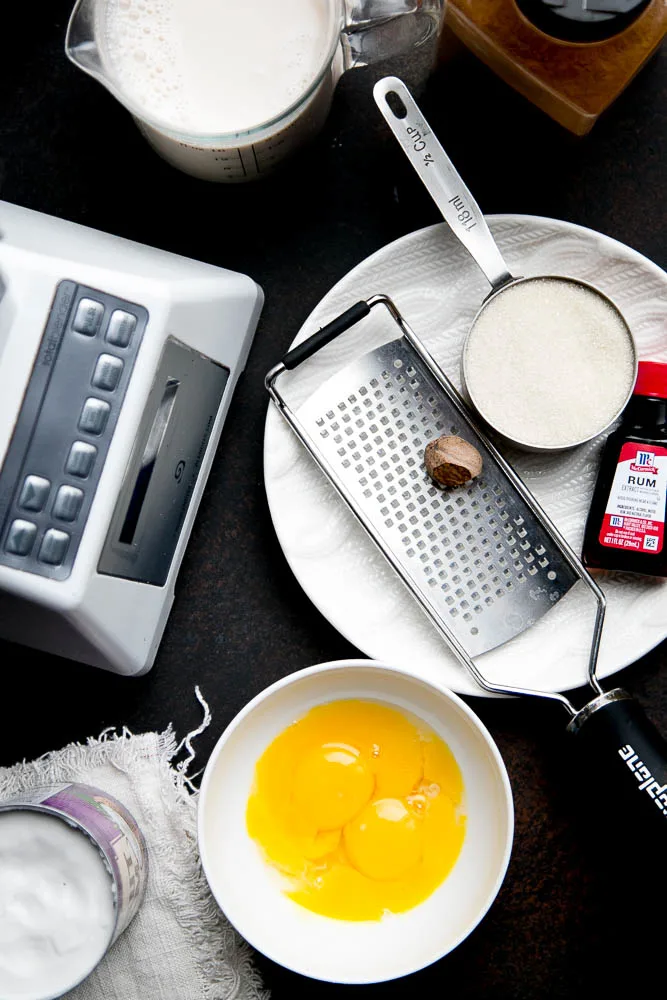 What's in Homemade Eggnog?
Milk
Any kind of milk will do, but the creamier the better. I used vanilla almond milk, but a drinking coconut milk would be good, too, if you wanted to keep this dairy-free.
Cream
Coconut cream works REALLY well here. You could also use heavy cream if dairy isn't an issue.
You can buy cans of coconut cream at a lot of health food stores (Trader Joe's, Sprouts, and Whole Foods have it for sure). For this recipe you don't need a lot of it, so you could use a chilled can of coconut milk and scrape the firmed cream off the top.
Sweetener
I used Lakanto monkfruit sweetener (my favorite low-carb/keto friendly granulated sweetener). No, I don't eat keto, but I like to lean low-carb and keep my sugar intake low.
Amazon sells it, so does Thrive Market. Our Costco occasionally carries it, and has the best price, in my opinion.
If keto isn't your thing, you can use any other sweetener you like. Coconut sugar or maple syrup would be super tasty in this. Just use the same measurements as in the recipe.
If you want to use liquid stevia, then you'll have to add it by taste. I'd start with 1/4 teaspoon and go from there.
Egg yolks
I see you eyeing those egg yolks up there. Are you freaked out by this?
Egg yolks give eggnog richness and thickens it a bit. (Hence the name. EGG-nog.)
If you also make your own mayonnaise, Ranch dressing, and cookie dough, then eating raw egg yolks shouldn't be that big of deal, right?
Especially if you buy high quality eggs.
There are other recipes out there where the yolks are cooked. This one is just a quick zip in the blender. I like to live on the edge like that.
Spices
Cinnamon and nutmeg are the main spices, but you could play around and add cloves or allspice or cardamom for a twist.
I do like using fresh nutmeg, though. Whole nutmeg keeps for a LONG time and you're always guaranteed fresh nutmeg for fall baking. It grates really easily with a Microplane grater.
(Please don't pull out that ground nutmeg from 2004. It won't make this eggnog happy.)
I also like to add a little vanilla extract. (Maple is good, too, here.)
Booze
Eggnog can be boozy or not. It's up to you.
I don't drink alcohol, but I like a little rum flavoring in my eggnog. This is totally optional.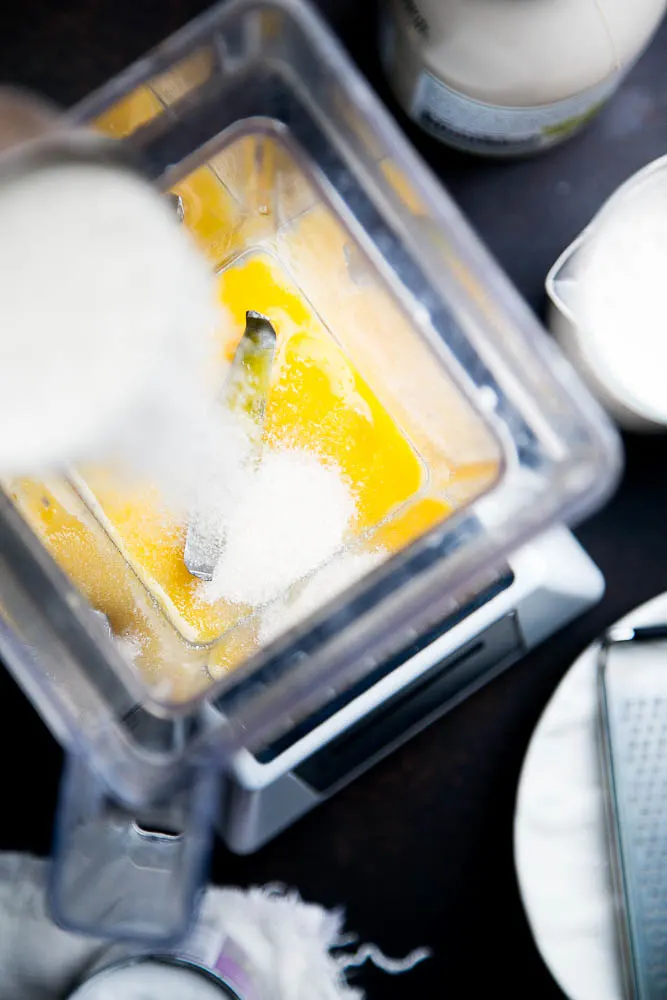 How to Make Eggnog in the Blender
This is the easiest thing, guys. And not much more work than making a green smoothie.
Just put the egg yolks and sweetener in the blender and buzz them up a bit.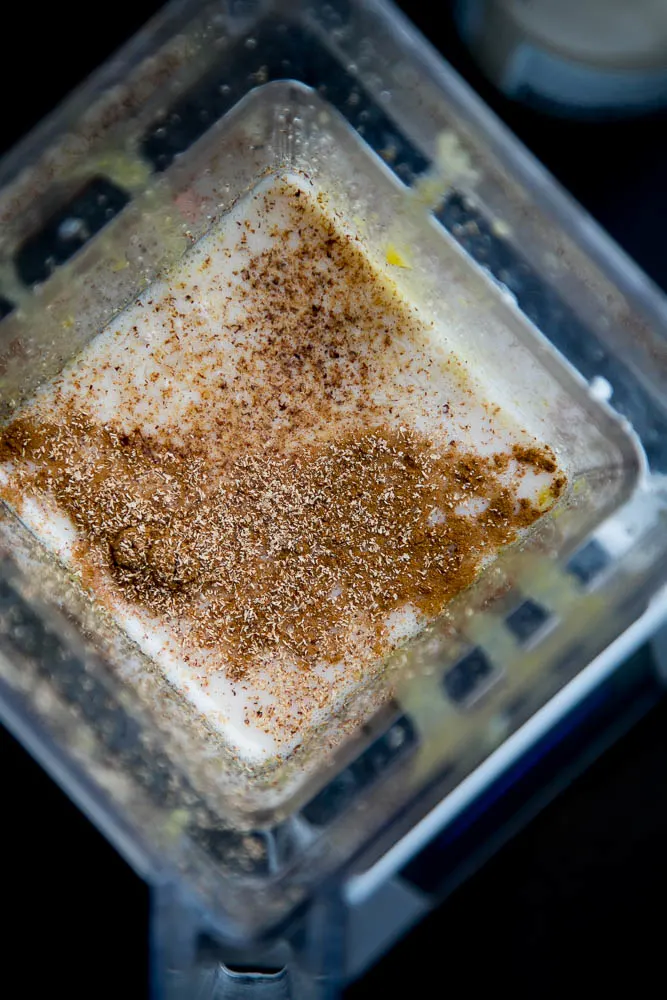 Add the milk and spices.
Aren't those flecks of freshly grated nutmeg beautiful? I feel super cheffy when I'm grating nutmeg.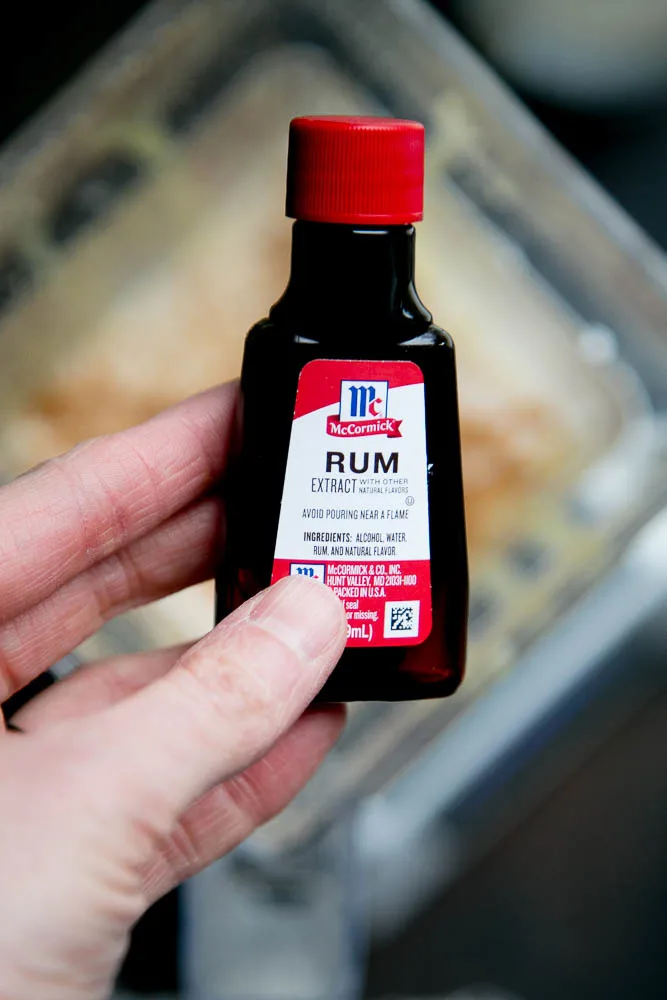 A LITTLE bit of this goes a long way. We're talking 1/4 teaspoon.
This is where you'd add alcohol, if you're using it.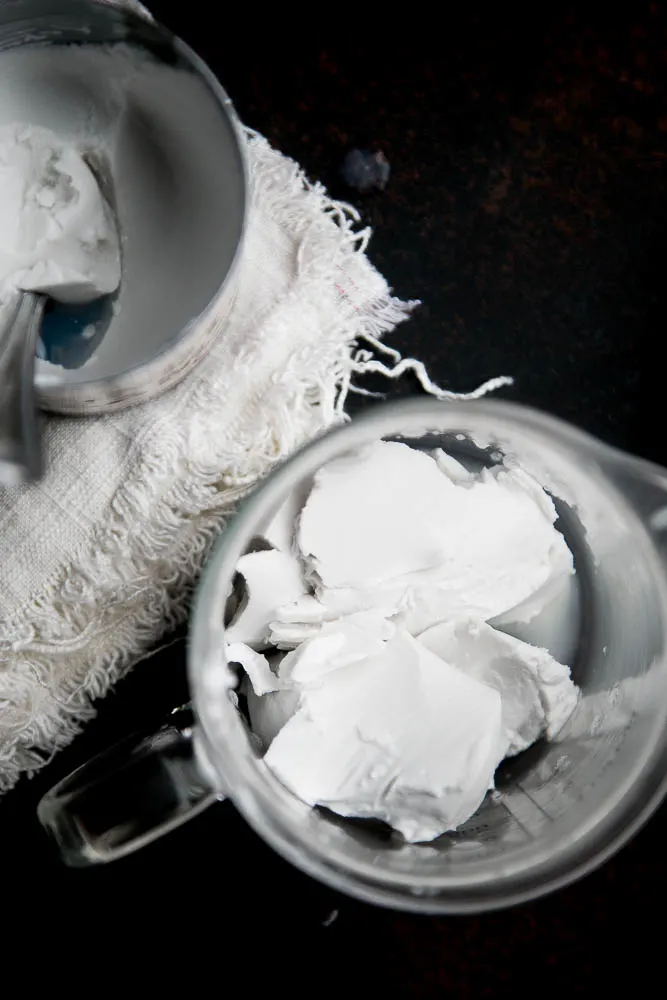 OK, add the coconut cream.
It adds more richness with just a little coconut flavor. It's not too strong.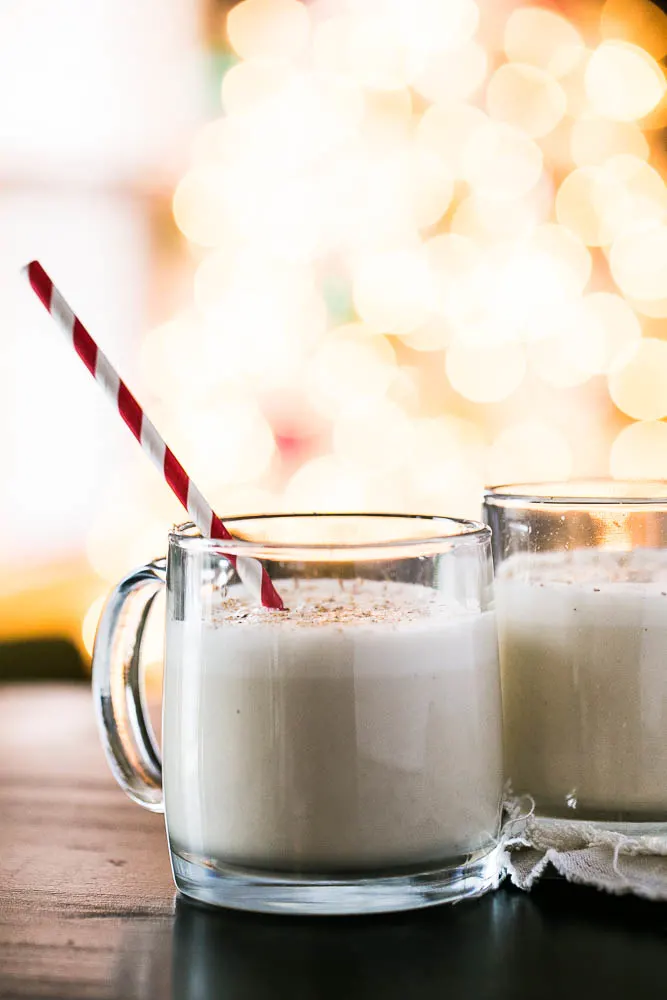 Here's a secret:
This eggnog is ready to drink right out of the blender.
BUT
If you want it extra thick and frothy, buzz it up and stick it in the fridge for a couple of hours. When you put it in the fridge, the coconut cream firms up a little giving it a nice, thick frothy top. Then take it out and pulse it a few times.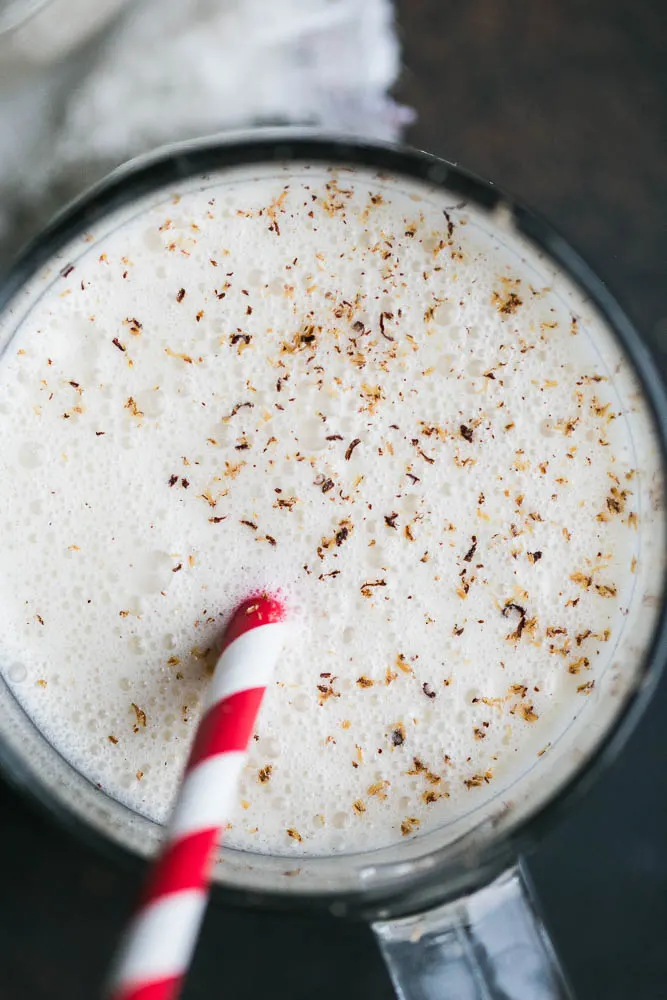 I like to add a touch of grated nutmeg on top. Because it's pretty.
And it's fun to feel cheffy.
If you hoard stripey straws like me, now's a good time to pull them out.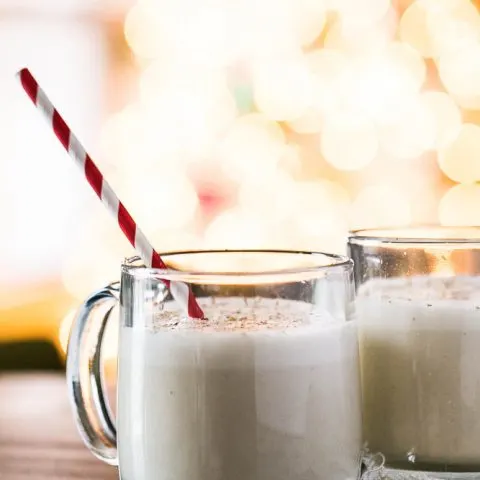 10-Minute Keto Eggnog (Dairy-Free)
Yield:
Makes about 3 cups
All you need is a blender and 10 minutes to make some wholesome, creamy eggnog that's keto-friendly!
Ingredients
4 egg yolks
1/3 cup low-carb granulated sweetener (see note)
2 cups almond milk or coconut drinking milk
1/4 teaspoon cinnamon
1/8th teaspoon freshly ground nutmeg
1/4 teaspoon vanilla extract
1/4 teaspoon rum extract
1/2 cup coconut cream
Instructions
Put the egg yolks and sweetener in the blender. Pulse to blend it well.
Add the remaining ingredients and blend until completely smooth.
Pour into glasses and drink immediately or chill for a couple of hourse and pulse it again for a thicker, frothier eggnog.
Notes
Nat's Notes:
1. Any low-carb/keto granulated sweetner work here. I like Lakanto monkfruit sweetener and Swerve the best. If you prefer to use regular sweeteners, I'd recommend using coconut sugar or pure maple syrup for this.
2. 1 6-ounce serving contains 120 calories | 11g fat | 4g protein | 1 net carb
Nutrition Information
Yield

4
Serving Size

6 ounces
Amount Per Serving
Calories

480
Disclosure: This post may contain Amazon affiliate links. Purchases made by using these links don't cost you any extra and helps to keep my content free.