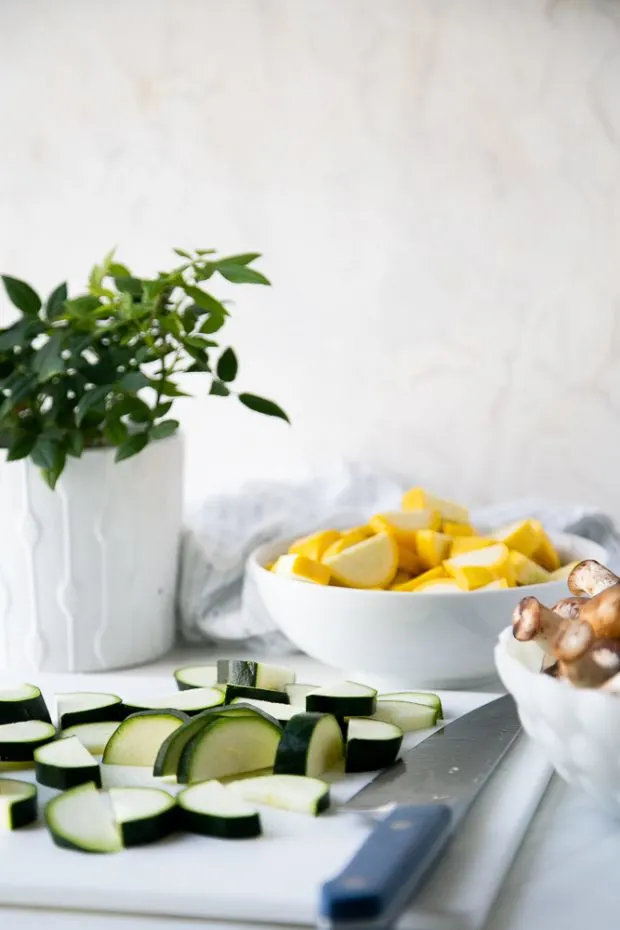 This post is in partnership with Fresh Menu Kitchen. All opinions shared are my own.
Ingredient prepping has become one of my favorite hacks to save time in the kitchen during the week!
It's not exactly like meal prepping, which is cooking entire main dishes and sides to serve during the next few days — it's just prepping the components. Like chopping vegetables, prepping protein, and cooking grains.
And sometimes cooking them simply — like roasting a butternut squash if you plan on making a soup later in the week.
I've got some tips for you — best types of produce to prep and some of my favorite containers for storage (psst… I found the BEST reusable freezer bags!)
I've also included a simple skillet meal idea you can adapt and throw together when you need it!
Why prep ingredients ahead of time?
It's easier than full-scale meal prepping. If the thought of completely preparing multiple meals in one day exhausts you, then just prep the ingredients.
It makes dinnertime prep quicker and easier. Batch chopping vegetables is much more efficient than the cumulative time it takes to chop things before every meal.
You'll make healthier meal choices. Pulling out your cutting board and chopping a bunch of stuff can be a big a hurdle when trying to eat more healthy. If everything is prepped ahead of time, that hurdle disappears. Especially when trying to find something quick for lunch!
Reduces food waste. Most of the time ingredient prepping reduces food waste because if it's prepped it's more likely to get used. However, chopped vegetables spoil more quickly, so don't get overambitious in your prep. (I've done this a few times. Oops.)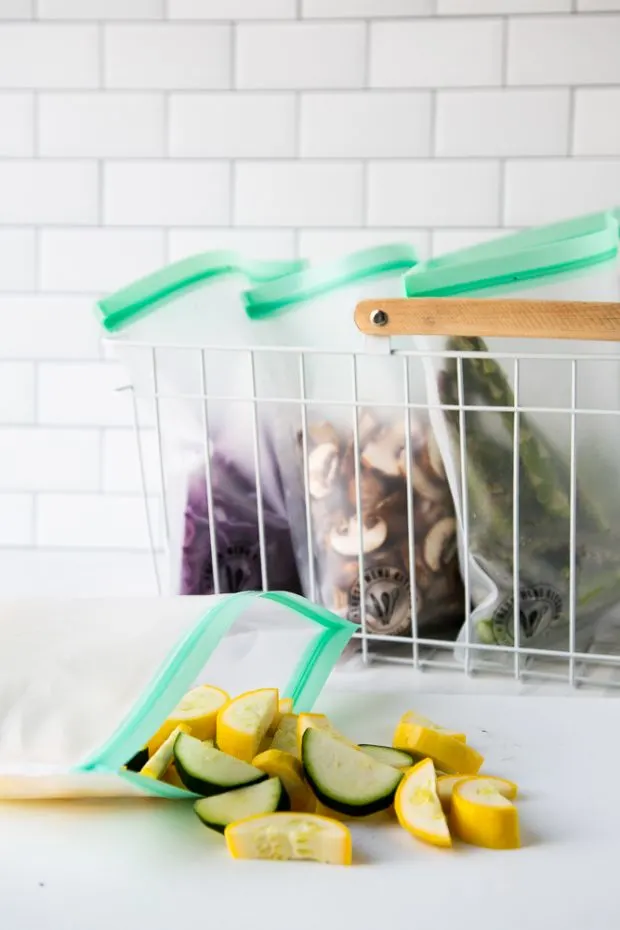 What is the best way to store chopped vegetables?
One of the most common questions I get asked when I post my ingredient prep videos on Instagram is "what containers do you use?" followed by "how long do things last in the fridge after they've been chopped?"
Ideally, using something eco-friendly and reusable is the best choice. For a while I was using glass containers with snap-on lids or larger plastic containers.
Lidded containers are great for storing squishable things like washed berries and salad greens that I want to last more than 3 days.
But for everything else? They were constantly taking up tons of space in my fridge and my dishwasher.
And I'd hunt for a container for some dinner leftovers only to find most of them filled with my prepped ingredients.
THE SOLUTION? REUSABLE ZIP TOP BAGS
Like most of you, I'm trying to reduce the amount of single-use plastic we use as a family. Disposable zip-top bags are one that I had a hard time working around.
Sure you can reuse the disposable ones, but they're a pain to wash. And more often than not, they get ripped while trying to wash them because they're flimsy.
I found these Fresh Menu Kitchen reusable freezer bags, and I've been loving them so far!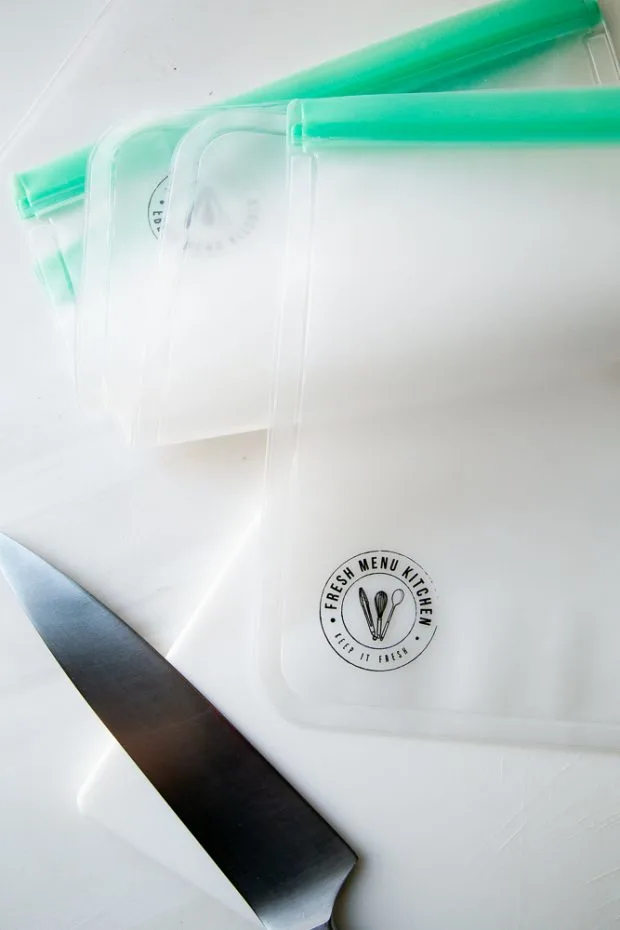 These Fresh Menu Kitchen bags are far better than others I've tried because…
They're sturdy, but still lay flat and don't take up a lot of space to store.
The corners are ROUNDED which makes them easier to clean!
They're made from food-grade PEVA and they're BPA-free and durable.
They're freezer safe!
I haven't stored liquids in them yet (like soup), but they claim to be leak-proof. The zip top seems to be sturdy and secure.
They're a small, family-owned business.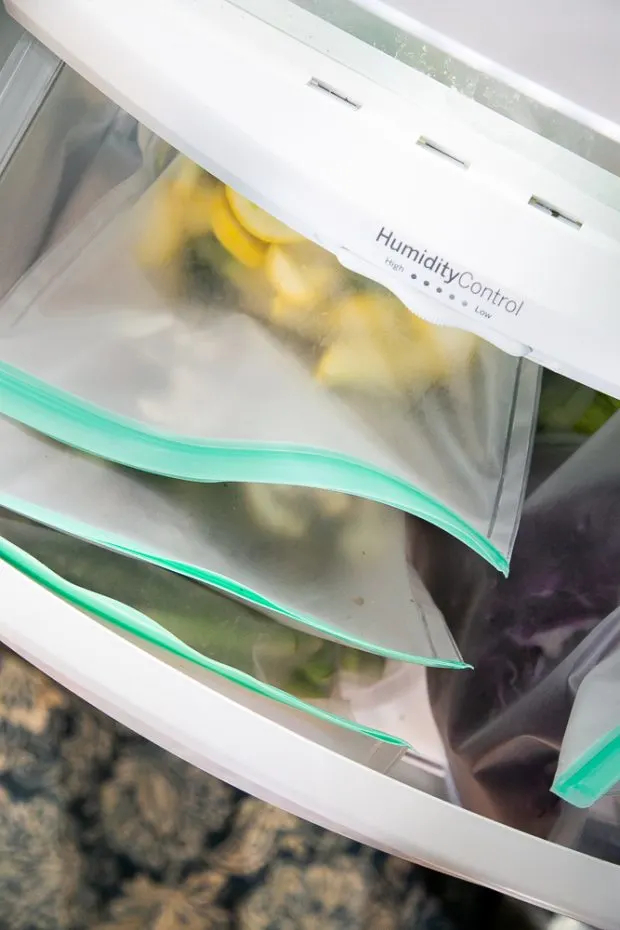 I can fit 5-6 bags of prepped vegetables in one of my produce drawers! I love how it frees up shelf space and I still have leftover containers for…. leftovers.
I use these bags to store a cut sourdough loaf. I was constantly using disposable bags or plastic wrap (which never gets put back on correctly by kids) and love that I have a reusable option.
I also use one for whatever blocks of cheese we're working on.
You can find these on Amazon! Here's a link for you again — Fresh Menu Kitchen reusable freezer bags.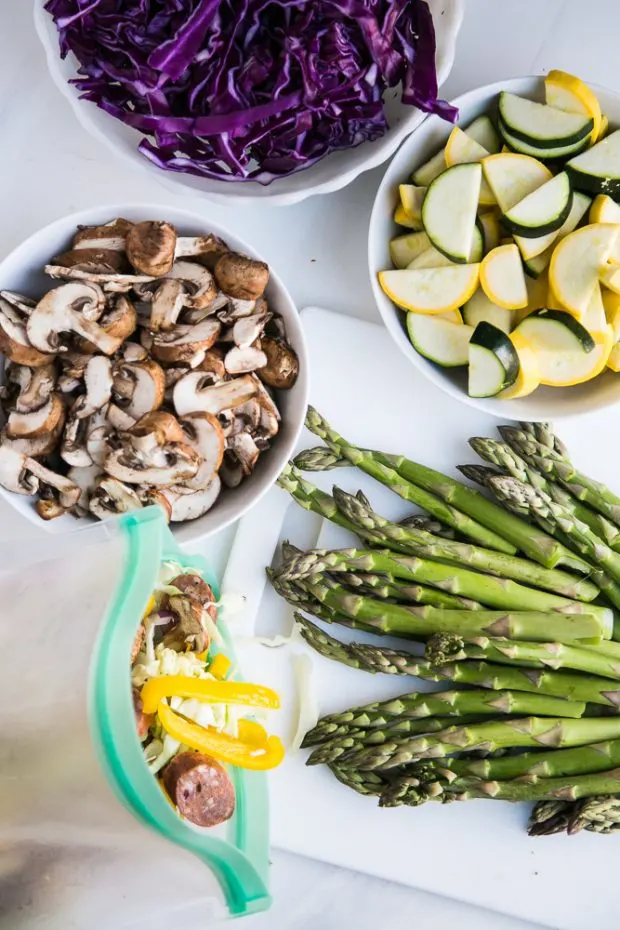 What are the best foods to prep ahead of time?
This is by no means an exhaustive list of things that are good for prepping ahead of time. Just things that I've often prepped myself and a few extra ideas for you.
I included an estimated length of time they'll stay fresh in the fridge, too. That time will vary depending on how the vegetables are prepped, too. The smaller you cut something, the faster it will spoil.
VEGETABLES
Pretty much any vegetable that won't starting browning a few minutes after you cut it. (Like white potatoes. Don't prep those unless you plan on storing them in a big bowl of water.)
Salad greens and other leafy greens — 3-5 days
Root vegetables (carrots, beets, sweet potatoes, etc.) — 7-10 days
Cruciferous vegetables (cauliflower, broccoli, Brussels sprouts, cabbage) — 5-7 days
All squash (zucchini, yellow squash, butternut) — 3-5 days
Other things like mushrooms, onions, tomatoes, celery, asparagus, & bell peppers — 3-5 days, depending on what it is
PROTEIN
Prepped protein is a lifesaver!
Bulk batches of shredded or grilled chicken, beef, & pork. (Don't cook fish ahead of time.) You could even throw some meat in a marinade so it's ready to cook later.
Hard-cooked eggs
Bulk batches of beans & lentils (if you make yours from scratch)
GRAINS
Having a cooked batch of rice or some other grain helps to easily round out a meal. I usually do jasmine or wild rice, but you can easily batch cook any grain you like.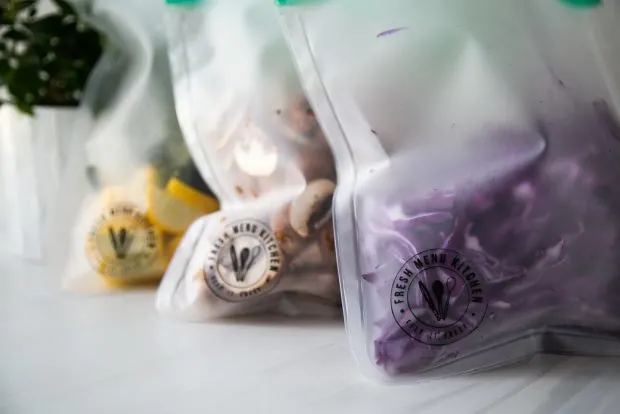 Easy Recipes for Prepped Ingredients
I created a Meal Prep Section in my Recipe Index for things that you can easily prep completely during your prepping session! Some things are cooked, some aren't.
Or you can use that section to hunt for something to do with [insert chopped vegetable] when you're planning some meals.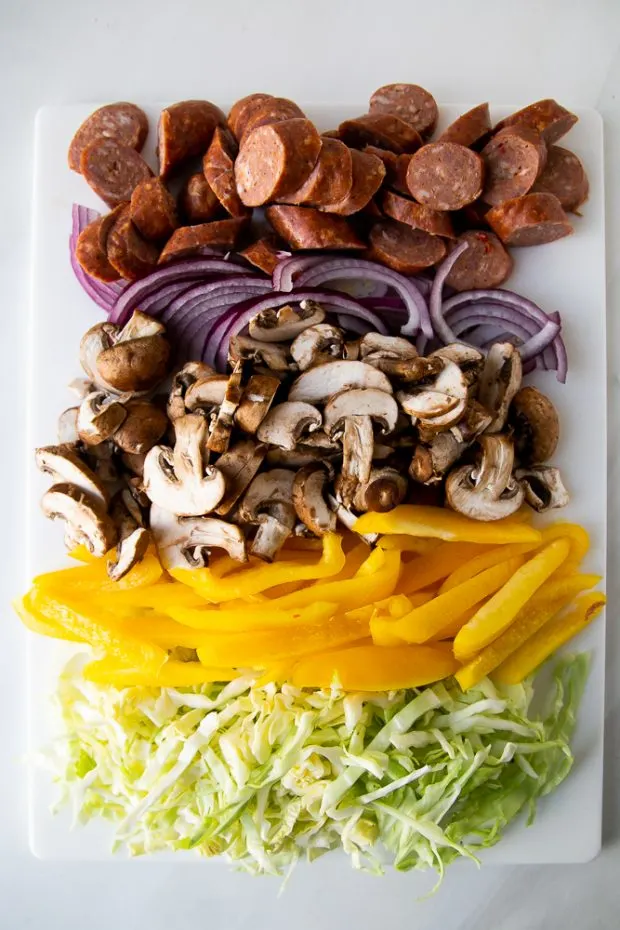 While I was getting this post together I had the idea to mix some of my prepped vegetables in a bag with some chopped andouille sausage.
Like one of those stir-fry or skillet kits you find at the grocery store.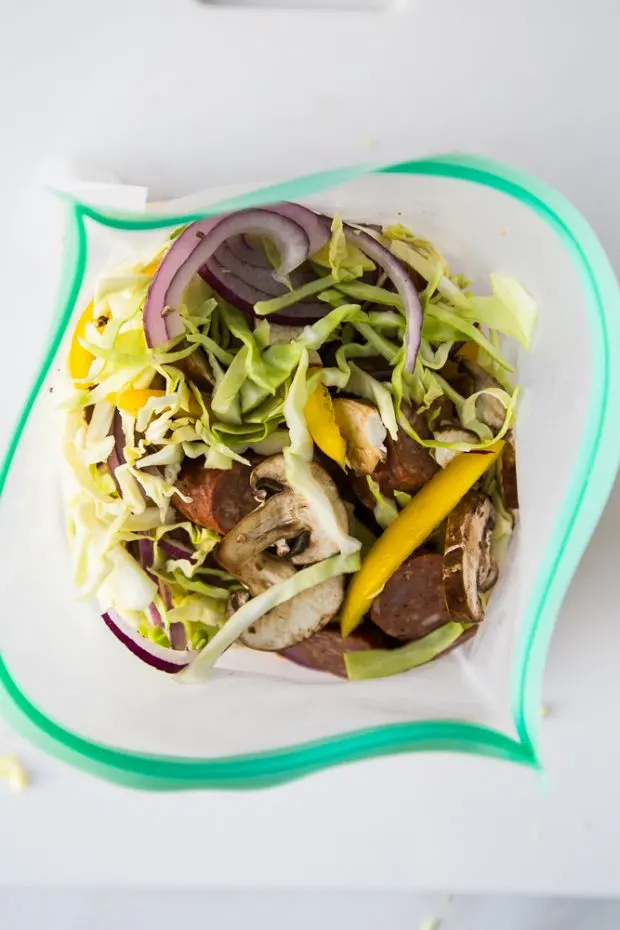 This was the best idea ever. And made several delicious lunches for Steve and me!
I literally grabbed a handful of the sausage/veggie mixture, threw it in a hot skillet with some avocado oil and cooked it for 10-ish minutes with some garlic salt.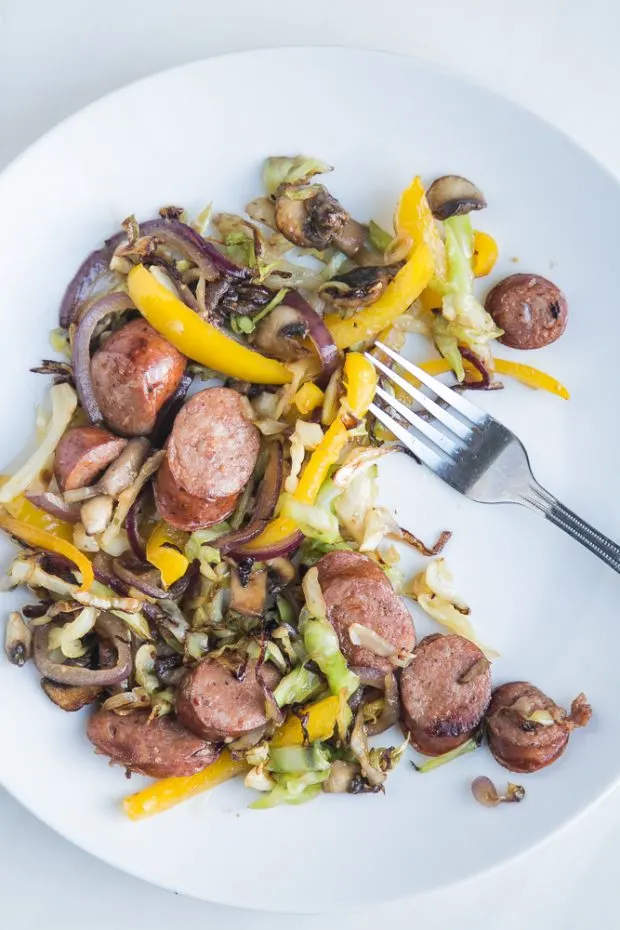 So, so good. And so easy and versatile! This particular combination of vegetables and sausage was good, but I can see potential for changing it up.
I'm totally doing this more often.
I hope I've inspired you to try ingredient prepping to safe yourself some time during those hurried weeknights!
I'd love to see how it goes — post your ingredient prep session on social media and tag me so I can send you some love! @perrysplate #perrysplate.
And don't forget to order some Fresh Menu Kitchen bags and let me know how you like them!