Cabbage Steaks are a versatile, fun cabbage recipe that you can dress up or down as much as you like. We loved it with dill pesto.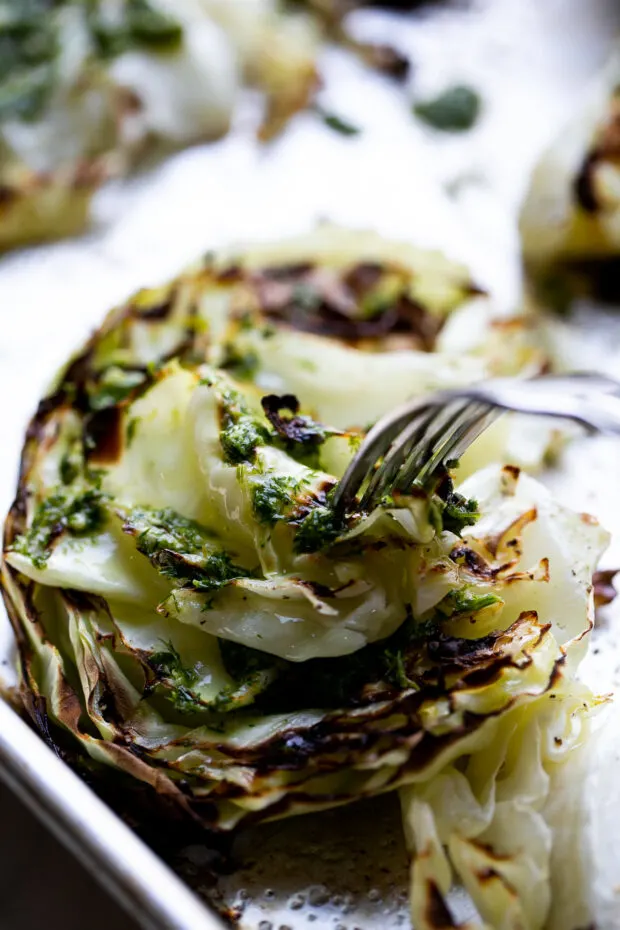 The phrase "cabbage steak" cracks me up.
I mean, a disk of sliced green cabbage is a far cry from a steak. Same with cauliflower "steaks".
I suppose calling them steaks gives you this mental image of a round-ish slab of something. Whatever the reason, I'm going to go along with it because it's funny.
And roasting cabbage as steaks is a fun and delicious way to serve them! It's a paleo-friendly, low carb and keto-friendly side dish, too. PLUS cabbage is so, so cheap. Talk about an easy side dish that's also super economical!
We're big fans of cabbage around here — I mean, Steve loves cabbage more than anyone I've ever met. It cracks me up. Cruciferous vegetables are some of my favorites, too, so I'm happy to oblige. (Mmm. Brussels Sprouts.)
This is one of our favorite cabbage recipes and our favorite way to make vegetables in general. Roasting is the best.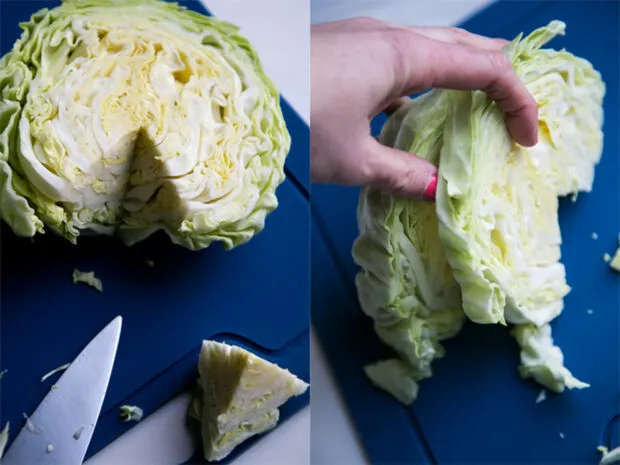 How to cut cabbage to make steaks
There are a couple of ways to do this, but I'll show you the way I always do it. Pull out a cutting board, friend!
First, slice the cabbage in half — through the core, too. Remove the outer leaves and any that look a little sad.
Cut out the cores out with a sharp knife. If you want. Leaving the cores in tact will make it easier to keep the steaks together, but then you have to eat around them later. I'd rather just cut them out at the beginning.
Place the cabbage half core-side down and cut each half into 3 inch-wide pieces, so you have six rounds.
If you have an extra large head of cabbage you might have more than this.
What kind of cabbage can I use?
You can use green cabbage or red cabbage. (Or purple cabbage — do you call it red or purple? Honestly, it looks more purple to me.)
I don't recommend using napa or savoy cabbage for this recipe. Save those for stir-fries and salads!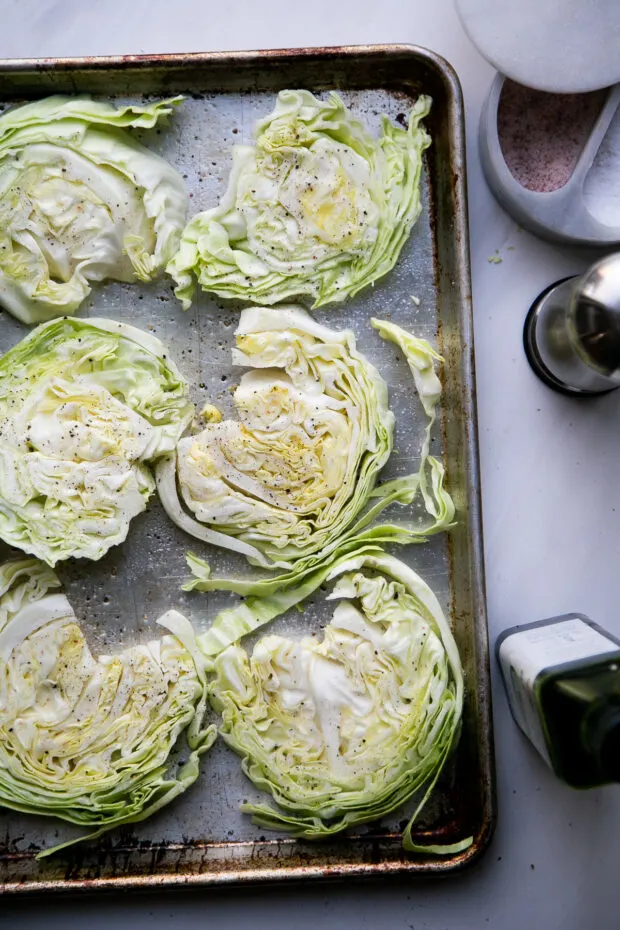 Prepping Cabbage Steaks to Roast
Once you lay the cabbage slices out in a single layer on a large, rimmed baking sheet, it's time to give them some flavor! Flip the two end of the cabbage pieces cut-side up, so those layers can get all of that heat.
I don't use parchment paper for this because these steaks are going under the broiler, and I'd prefer not to start a fire in my oven.
Because I'm serving these cabbage steaks with Dill Pesto, I'm going to dress them simply.
I sprinkled them with sea salt and black pepper, and drizzled them with cooking oil (avocado oil, not extra-virgin olive oil) Use kosher salt if you prefer.
You could use garlic powder or a microplaned garlic clove, too. If you use fresh garlic, I'd recommend mixing it with the oil in a small bowl first so you don't end up with clumps of garlic on the cabbage.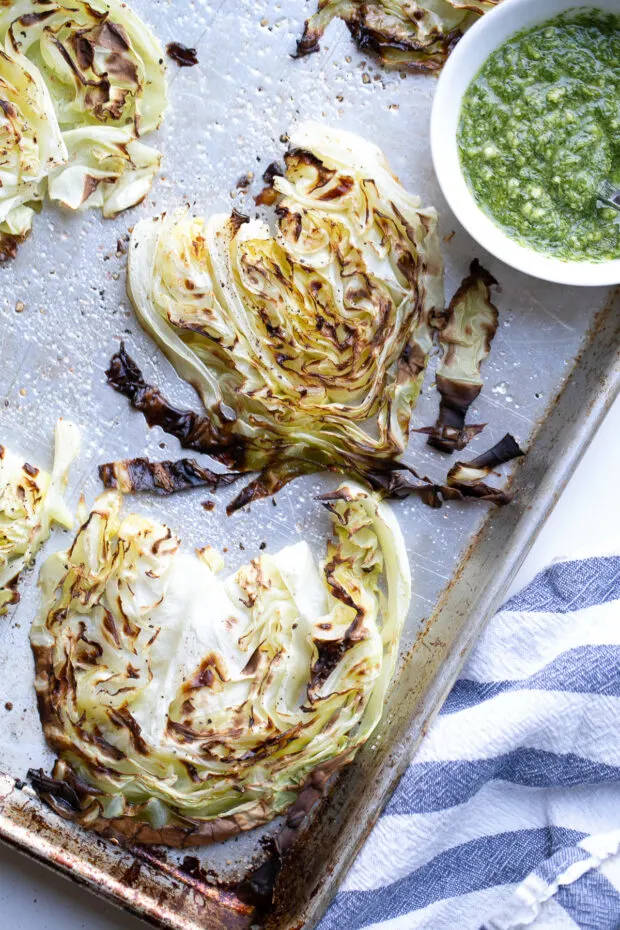 Why Do You Broil the Cabbage?
For one reason — to get some good color and crispy edges on the cabbage before the whole thing turns to mush.
Cabbage cooks really quickly, so if I were to roast this on medium heat (like 350 degrees F) it would be an overcooked mess with no caramelized edges.
Can I use an Air Fryer?
Try it! The drawback here would be that the heat wouldn't be quite as high as an oven broiler, and you couldn't cook as many rounds at a time. But air frying is apparently magical, so it's worth a shot if you're really wanting to do this.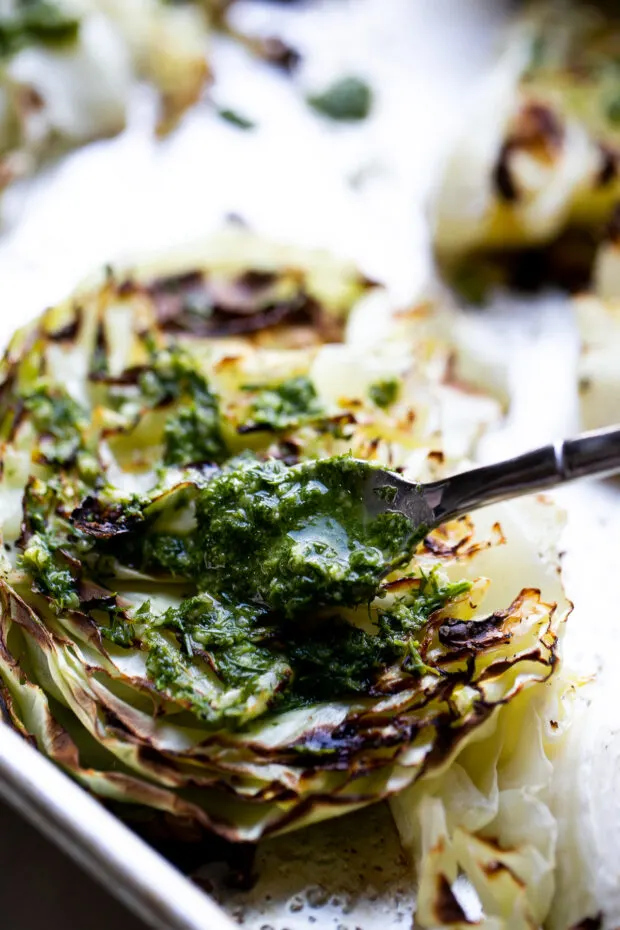 How to Serve Cabbage Steaks
When they come out of the oven, I smear some Dill Pesto on each round and eat them as soon as they're cool enough. We REALLY love this particular combination, but you can use other kinds of pesto if you want. I have recipes for dairy-free Basil Pesto and Cilantro Pesto, too, and they would both be delicious.
A drizzle of balsamic vinegar or some sharp crumbly cheese — like feta cheese, shaved parmesan cheese, or blue cheese would be good options, too.
Or BBQ sauce! Cabbage has such a neutral flavor profile. It'll go with a lot of things! There are a lot of creative ways to dress up this roasted cabbage recipe.
Can I make this recipe ahead of time?
No, I don't recommend it. You can store leftovers in an airtight container for a few days, but they'll lose their crispness. I recommend broiling them right before you eat them.
You can prep them a day or two ahead of time though! Just arrange the slices of cabbage on the large rimmed baking sheet and cover with plastic wrap before storing in the fridge. Then pop them in the oven when you're ready to cook them.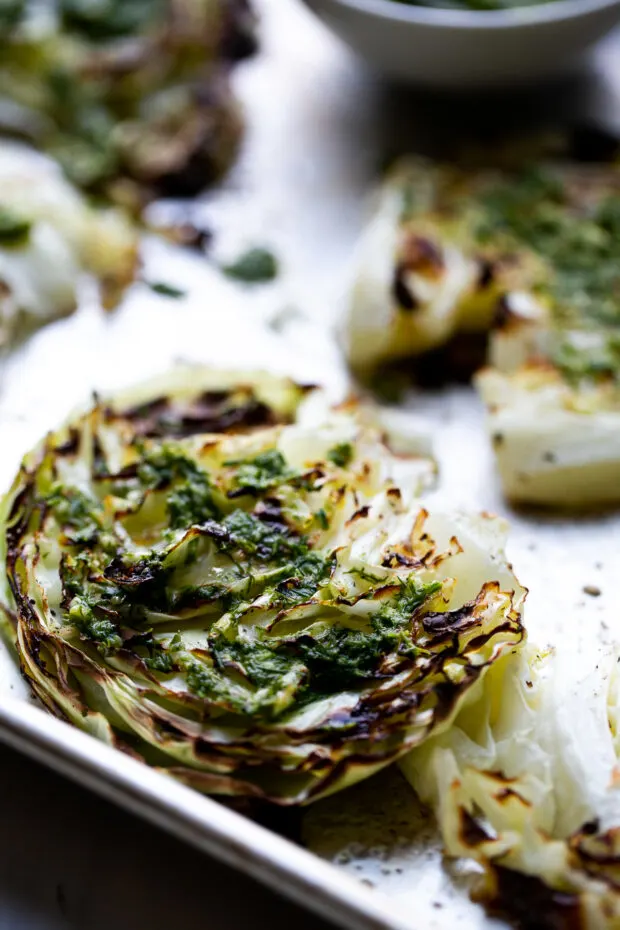 What do you Serve with Cabbage Steaks?
Looking for some main dish ideas? Cabbage steaks are a perfect side dish idea for any of these recipes:
Lamb Loin Chops with Rosemary & Garlic — Quick little marinated lamb loin chops for any occasion! The marinade on these chops would be great for beef steaks, too.
Mini Skillet Meatloaves are a great main dish and the sauce on these meatloaves would be DELISH on the cabbage!
Easy Lentil Curry would be a tasty meatless meal served over these cabbage steaks. Cilantro Pesto would be really great here.
A simple Roasted Chicken would be delicious with roasted cabbage! Just pop the cabbage in the oven while the chicken is resting.
Baked Cod with Pesto already has some pesto action — just add the cabbage!
Serve this cabbage with Easy Instant Pot BBQ Pulled Pork or The Best Instant Pot Ribs!
If you liked this cabbage steak recipe, try one of the other easy cabbage recipes!
More Cabbage Recipes on Perry's Plate
Cooked
Caramelized Cabbage & Bacon is another peasant-y type dish with just a handful of ingredients.
Egg Roll in a Bowl with Sriracha Mayo is a great use for some extra cabbage laying around!
The Best Borscht is my favorite way to use up a lot of cabbage. It's definitely prep-heavy with lots of chopping, but a big batch of this soup is our favorite things to nosh on for a few days!
Raw
Southwest Cabbage Slaw might be the most-often made salad recipe on my site. It almost literally goes with everything. We especially love it as a taco topping!
Cabbage Slaw with Cucumber Yogurt Sauce is a riff on that other slaw, but with a creamy yogurt dressing.
Sweet Kale Salad has some shredded cabbage in it as well! It's a knock off of the salad kit sold at Costco.
---
If you make one of my recipes, be sure to post it on social media and tag me at @perrysplate or #perrysplate so I can send you some love!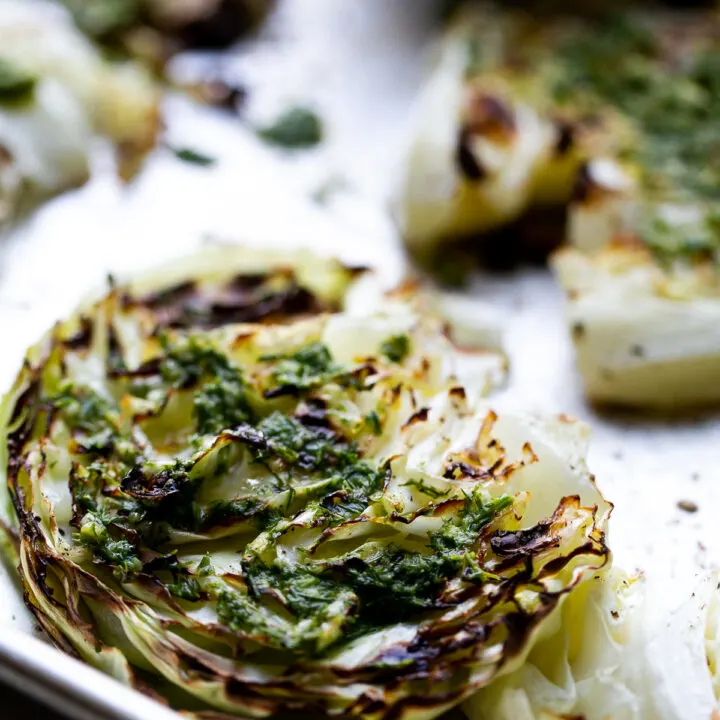 Roasted Cabbage Steaks with Dill Pesto
Roasted cabbage is a quick, easy, and inexpensive side dish! We love it with dill pesto, but you can use any pesto you like. Or try a different topping!
Ingredients
1 medium head of cabbage
2 Tablespoons heat-safe cooking oil like avocado or coconut
1/4 teaspoons sea salt
A few cranks of freshly ground black pepper
Instructions
Preheat oven to high broil. Or just "broil" if your oven doesn't have the high/low option.
Cut the cabbage head in half, cutting through the center of the core. Remove the outer leaves and any leaves that are wilted or browned.
Remove the core making angled cuts with a sharp knife (see image in post for reference). Place each cabbage half on a flat surface, core-side down and slice into three 1-inch pieces, roughly.
Arrange the large cabbage slices on a large rimmed baking sheet. Sprinkle with salt and pepper and drizzle with the oil.
Broil on a center rack in the oven for 12-15 minutes or until the edges of the cabbage slices turn dark golden brown.
Remove from the oven and serve with a smear of Dill Pesto.
Notes
Use any kind of pesto you like here! I included recipes for dairy-free basil pesto and cilantro pesto in the recipe post. You could also sprinkle on some sharp, crumbly cheese, or drizzle with balsamic vinegar or glaze.
Nutrition Information
Yield

6
Serving Size

1
Amount Per Serving
Calories

143
Total Fat

11g
Saturated Fat

5g
Trans Fat

0g
Unsaturated Fat

6g
Cholesterol

0mg
Sodium

132mg
Carbohydrates

11g
Fiber

4g
Sugar

6g
Protein

1g
The information shown is an estimate provided by an online nutrition calculator. It should not be considered a substitute for a professional nutritionist's advice.