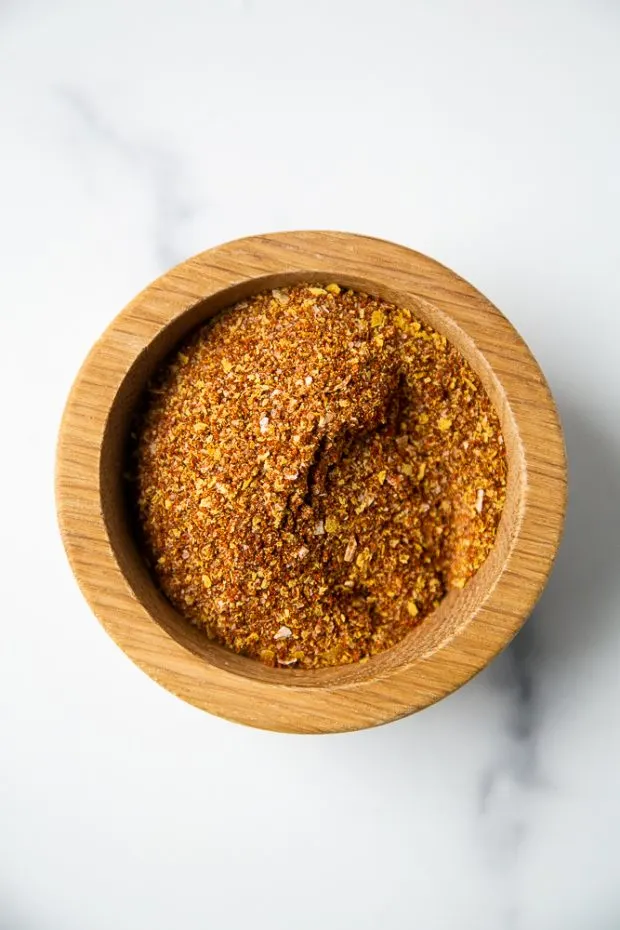 If you've been following along for a few years, you've probably tried my Homemade Taco Seasoning. It's one of the oldest and most beloved recipes on my site.
(If you haven't — you should. It's the best basic homemade taco seasoning you'll use! I know several of my readers have gifted it during Christmastime. Yep.)
Recently I've been itching to make a smokier, slightly spicy variation on taco seasoning. May I present a new member of my spice blend family — Smoky Chipotle Taco Seasoning.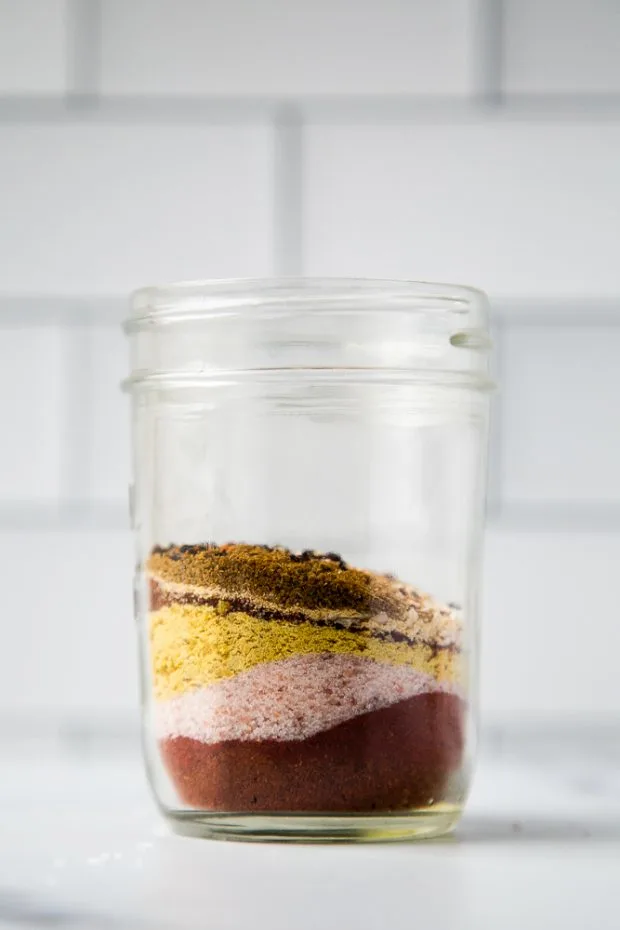 OF COURSE I made a #spiceblendsandart! One of my favorite things to do when I'm refilling a spice blend is to stack them like this and see the layers of color and texture.
Food is so pretty.
You may be looking at that yellow stuff in the middle wondering what it is…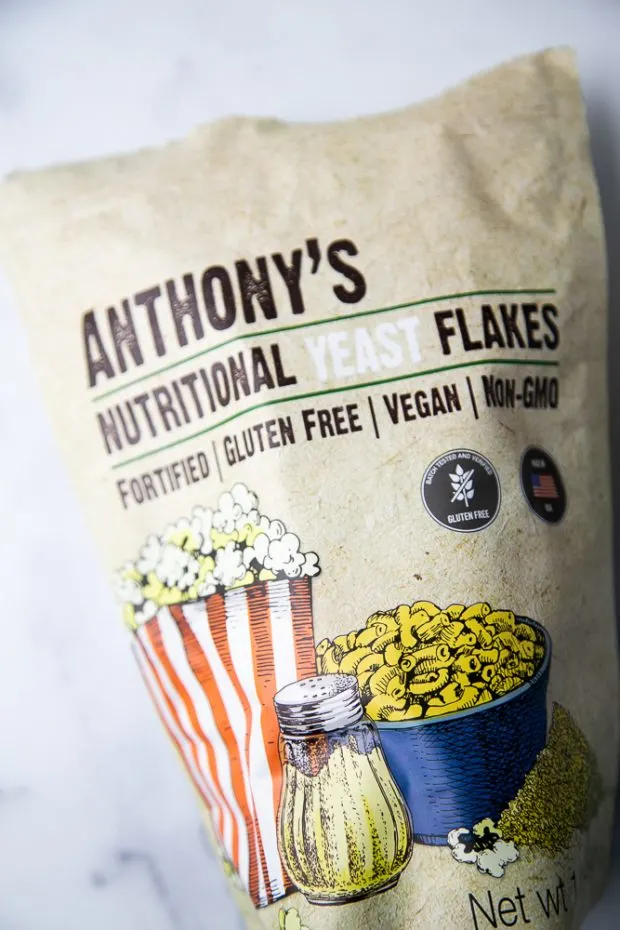 Why this Smoky Chipotle Taco Seasoning is Unique
The first is nutritional yeast. If you're not familiar with nutritional yeast, it's basically dehydrated, deactivated yeast. It's often used as a vegan seasoning because it gives a "cheesy" sort of flavor to whatever you add it to.
I got the idea to add nutritional yeast to my taco seasoning after trying Siete's taco seasoning packet, which has nutritional yeast.
I loved the flavor it added so I used it for this spice blend.
Nutritional yeast can be found in most grocery stores. I buy Anthony's Nutritional Yeast in bulk on Amazon.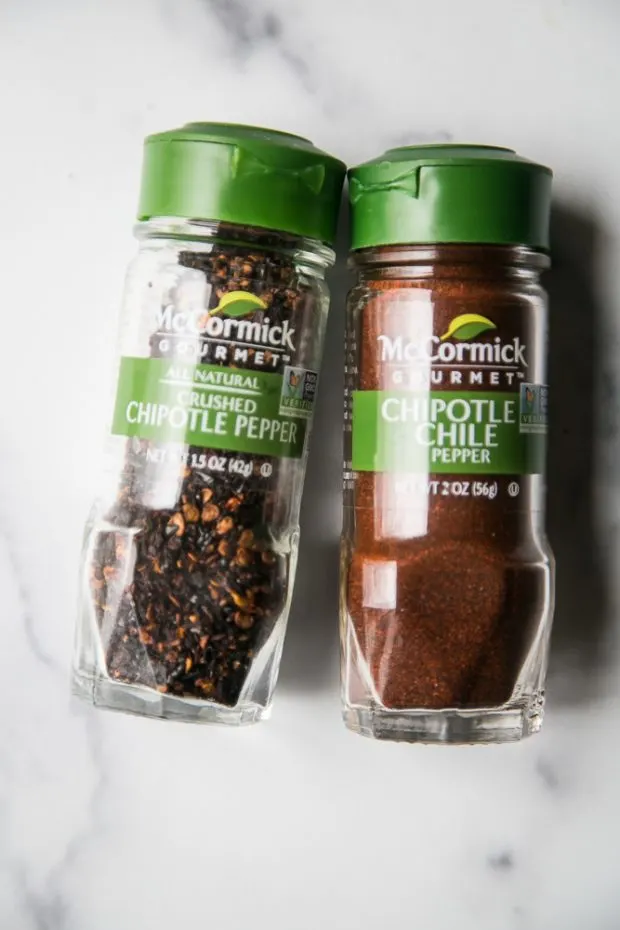 Second, it has a smoky chipotle flavor.
Have you ever used dried chipotle powder? I bought some awhile back and got hooked. It's spicier than regular chili powder, but not quite as spicy as cayenne. Still, use it sparingly if you're sensitive to heat.
It's nice to have on hand as a replacement for the canned chipotles in adobo sauce. (Especially if you're following a nutritional protocol like Whole30– the canned chipotles usually contain sugar.)
I've seen this in a few grocery store, but not all of them. After a quick search I found some on Amazon that might beat any price I've seen in a store — Frontier Ground Chipotle Powder.
Also pictured is some crushed chipotle pepper flakes. These might be trickier to find — I just happened upon it at the grocery store, but I haven't seen it many places since. If you don't have this — no worries. Just use regular pepper flakes.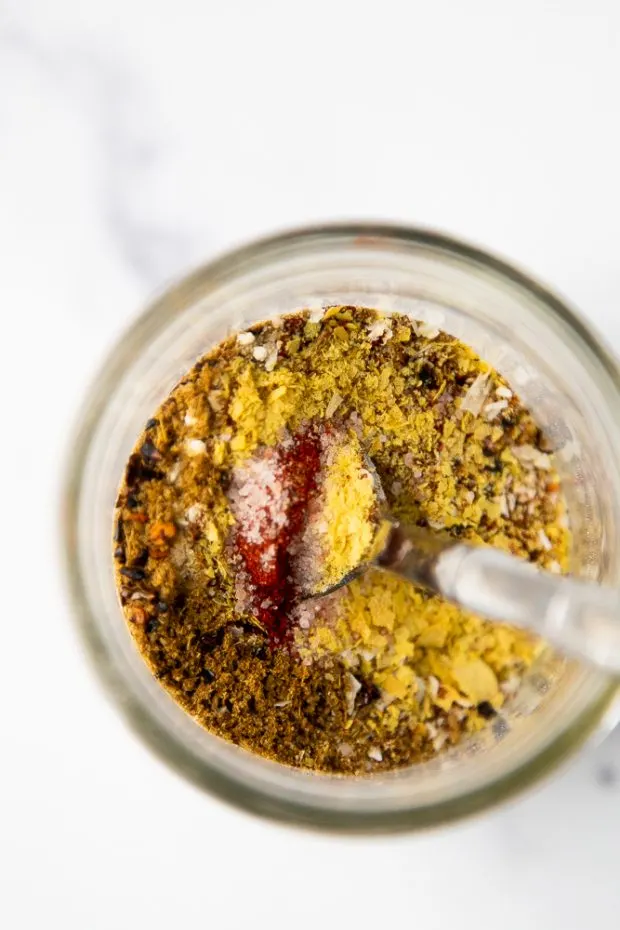 How spicy is this blend?
Roughly medium heat — depending on how you use it. You could always adjust the heat level to your liking. I added some suggestions in the recipe notes.
I've used it in recipes for my family and my kids protested when I made ground taco beef (I may have been a little heavy handed that night).
But they were fine when I used it in a grilled chicken marinade, in Marinated Steak Fajitas, or in my Fiesta Popcorn Chicken breading.
---
If you make one of my recipes, be sure to post it on social media and tag me at @perrysplate or #perrysplate so I can send you some love!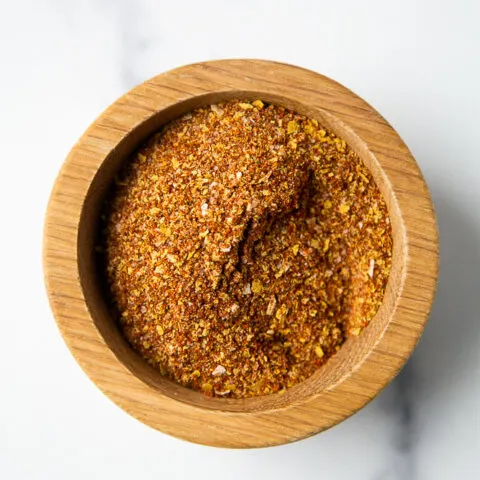 Smoky Chipotle Taco Seasoning
This smoky, slightly spicy take on taco seasoning is a fun alternative to regular taco seasoning!
Ingredients
2 Tablespoons nutritional yeast
1 Tablespoon chili powder
1 Tablespoon smoked paprika
1 Tablespoon pink Himalayan salt or fine sea salt
1 1/2 teaspoons dried chipotle powder
1 teaspoon dried minced onion (or 1/2 tsp onion powder)
1/2 teaspoon granulated garlic
1/2 teaspoon ground cumin
1/8 teaspoon crushed red pepper flakes (chipotle, if you can find it)
Instructions
Combine all of the ingredients into a lidded container and shake well. Store at room temperature for up to 18 months.
Notes
Nat's Notes:
If you dislike nutritional yeast, feel free to leave it out.
If you can find ancho chili powder, use that in place of regular chili powder.
Recommended Products
As an Amazon Associate and member of other affiliate programs, I earn from qualifying purchases.