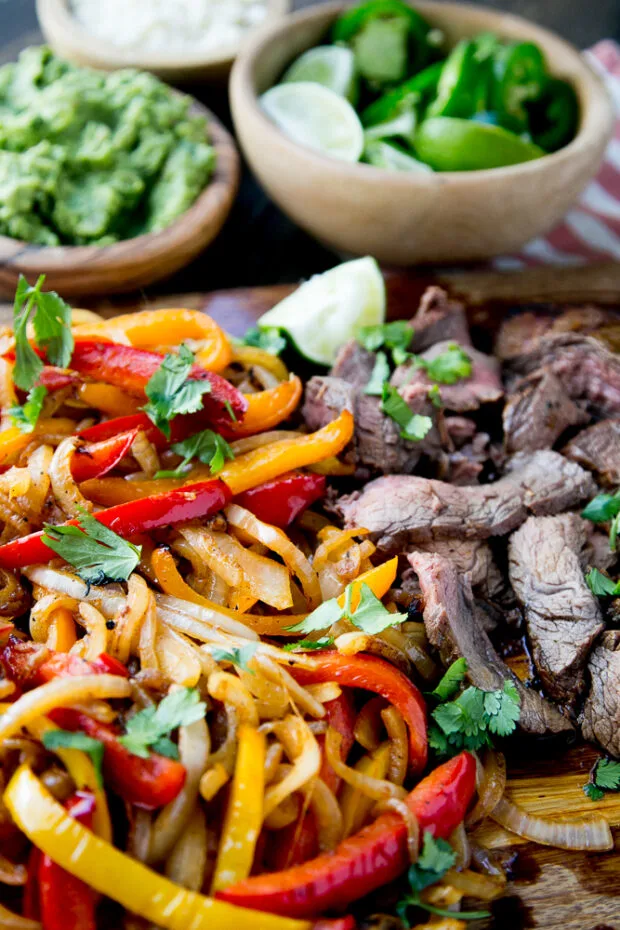 After I posted The Best Chicken Fajitas (they really are), I tried that same marinade with some steak fajitas.
You know what? It wasn't as good with steak.
Beef has a stronger flavor and needed a deeper, smokier sort of flavor.
So, I got to work and created the best steak fajitas I've ever made!
Steve was especially excited about this one — he always orders steak fajitas when we go out for Mexican. It's almost Father's Day, too, so here you go, hon!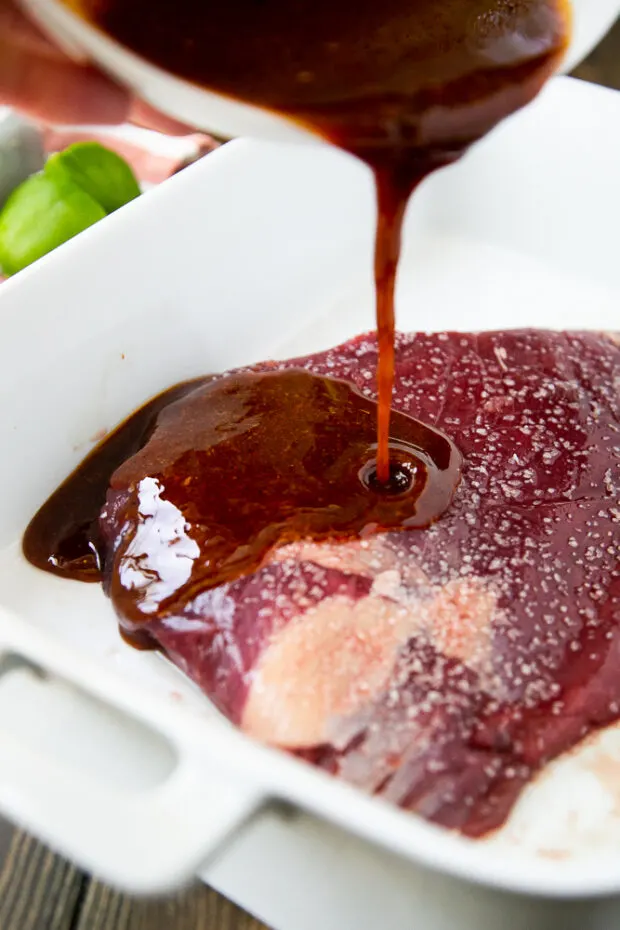 What type of steak is best for fajitas?
Flank steak is typically the most common cut of beef for steak fajitas. It's a thin, relatively inexpensive cut of meat, which works to your benefit. It's easy to infuse flavor when meat isn't so thick.
Skirt steak would also work well because it's similar in thickness as flank steak.
You can also use other types of steak — like strip steak or sirloin steak. I'd stay away from thicker cuts like ribeye.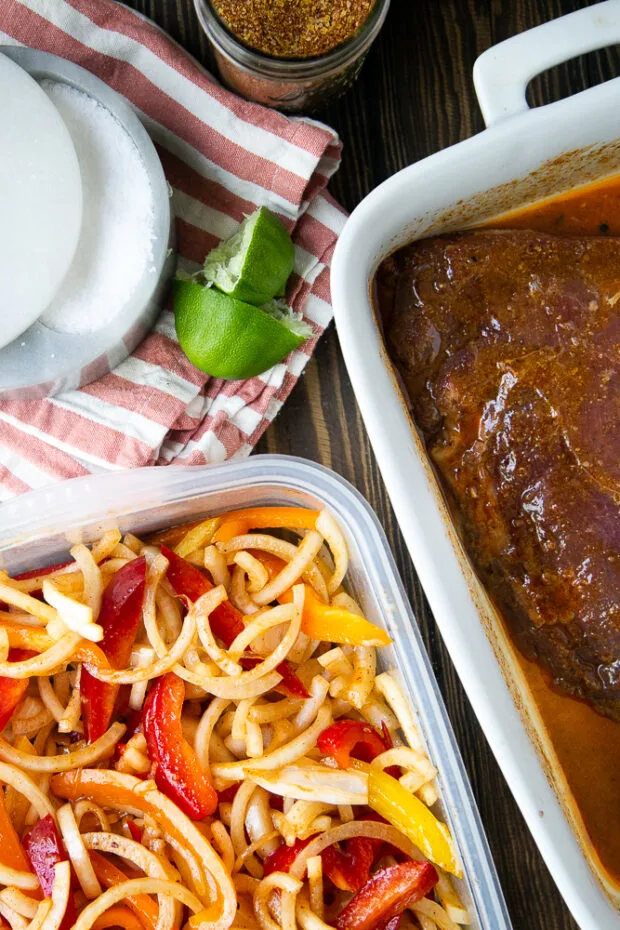 The secret ingredient is the Smoky Chipotle Taco Seasoning I posted recently. If you have a batch of that on hand, the marinade comes together really quickly!
I love that taco seasoning so much.
If you don't want to use my blend for this recipe you can use regular taco seasoning and add a diced chipotle pepper from a can of chipotle in adobo sauce (about 2 teaspoons if you can find them pre-chopped.)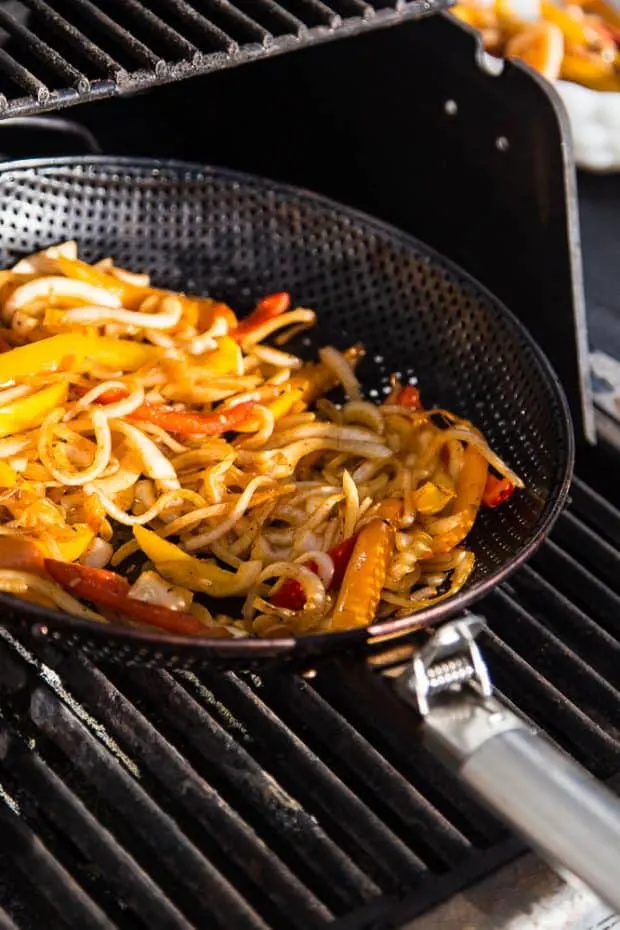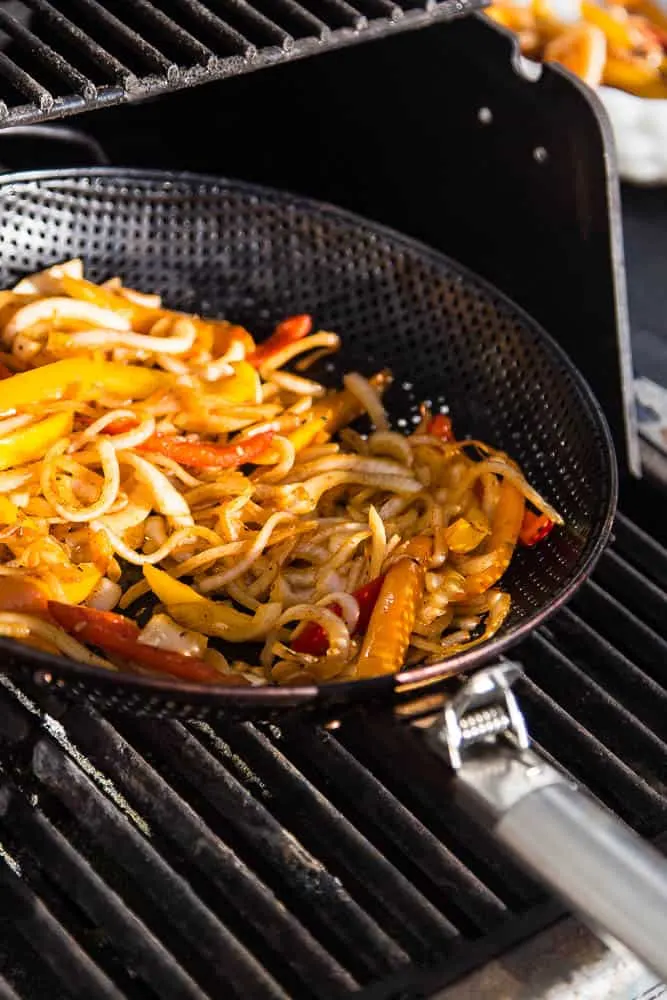 How to cook fajita peppers and onions
I like to slice my peppers and onions into strips and marinate them along with the meat. It gives them SO much flavor this way, but cooking them on the grill can be tricky.
My favorite way to cook peppers and onions for fajitas is using a grill skillet. If you don't have one and you do a lot of grilling, I HIGHLY recommend getting one.
I got my stainless steel one from Williams-Sonoma several years back (they don't sell this particular one anymore), but Amazon has a similar one. I like that the handles are removable so you can close your grill lid.
Don't have a grill skillet? Saute them in a REALLY hot oiled pan in batches so you get some nice coloring. Don't try to cook them all at once or you'll have some sad, steamed vegetables.
You can also broil them on the highest oven rack.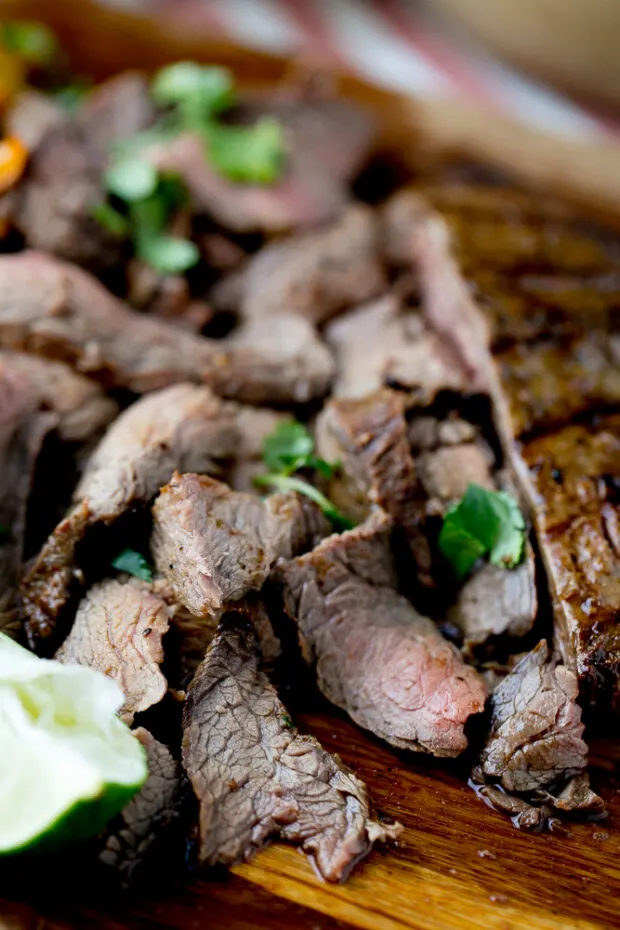 How to cut across the grain
You've heard the term "cutting across the grain" in steak recipes, right?
This simply means to cut in the opposite direction (or perpendicular) to the direction of the meat grain (or striation lines in the meat).
When you cut opposite of those lines you're cutting through a lot of connective tissue that you'd have to chew through if you cut WITH the grain, or parallel to the lines going through the meat. You don't want that.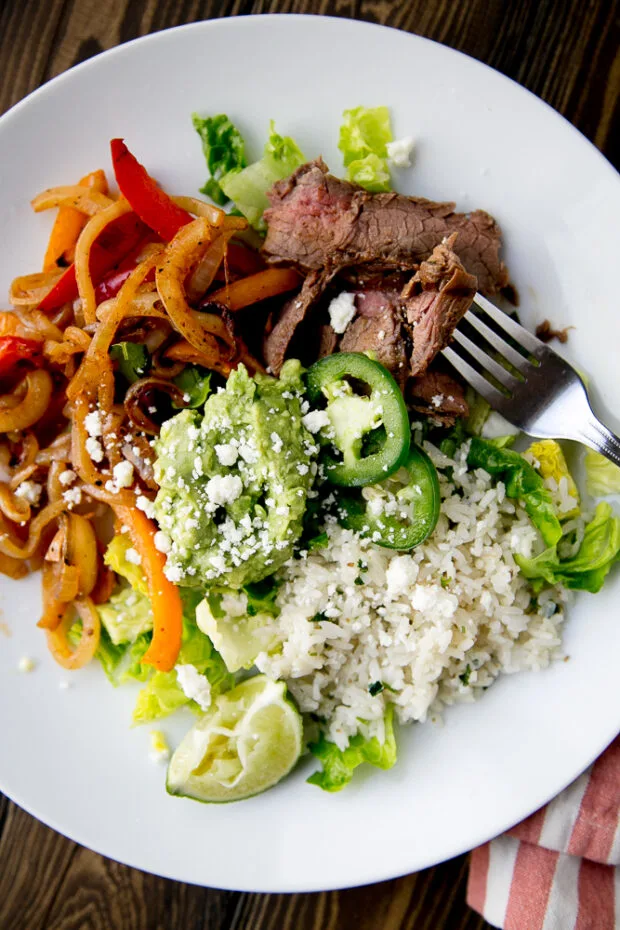 Sometimes we serve fajitas in tortillas, but my favorite is to make a big ol' salad out of it. Mmmmm.
Here are some of my favorite sides and garnish recipes to serve with fajitas!
---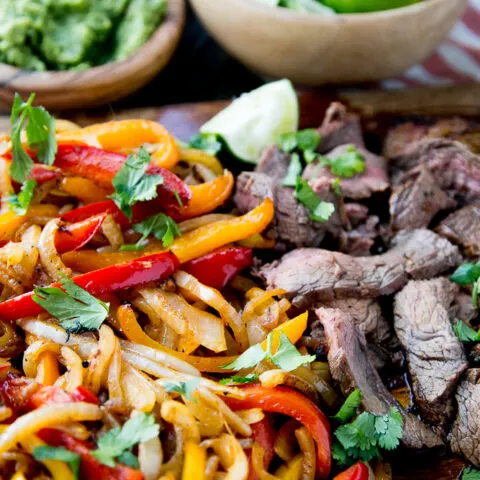 Marinated Steak Fajitas
Total Time:
6 hours
40 minutes
Flank steak and veggies are marinated in a smoky marinated with a touch of heat to make these super flavorful fajitas! Use them to make traditional fajitas or throw them on a salad (our favorite way to eat them!) And save the leftovers for breakfast the next day.
Ingredients
For the marinade:
2 Tablespoons oil
2 Tablespoons coconut aminos
2 teaspoons coconut sugar
2 teaspoons hot sauce
2 limes
For the fajitas:
1 1-2 pound flank steak
1/2 teaspoon salt
2 bell peppers, any color
2 medium yellow onions
Fresh, chopped cilantro
Your favorite paleo or gluten-free tortillas
Fajita toppings (guacamole, salsa, sour cream, jalapenos, extra lime wedges, cotija cheese.)
Instructions
Lay the flank steak in a shallow dish or ziptop bag. Sprinkle with 1/2 teaspoon of salt. Let it sit while you prepare the rest.
Chop the bell peppers and onions into 1/2-inch strips and put them in a separate shallow dish or ziptop bag.
For the marinade, whisk the oil, coconut aminos, taco seasoning, coconut sugar, hot sauce, and the juice from both limes.
Pour 2/3 of the marinade over the meat and the rest over the peppers & onions. Turn the meat and vegetables a few times (or mush the bag around with your hands) until everything is coated well. Marinate everything (chilled) for at least 4 hours or up to 18 hours. (See recipe note.)
Pull the steak out of the fridge about 30 minutes before you plan on cooking it so you can get some of the chill off.
Start cooking the peppers and onion in 2-3 batches using a grill skillet or a very hot stainless or cast-iron pan on the stove top. Cook each batch for 10-12 minutes until the onions are very tender and golden brown.
Preheat your grill or stove-top grill pan to high heat. Cook the steak for 4-5 minutes on each side until the internal temperature reaches 130-135 for medium rare or about 145 for medium doneness. Remove it from the grill to rest for 10-15 minutes before slicing.
Slice the steak thinly, against the grain (perpendicular to the lines running through the steak) and serve in tortillas with some cooked peppers & onions and your favorite toppings.
Notes
Nat's Note: If you plan on marinating your steak for more than 8 hours, add the marinade to the peppers & onions later, like a few hours before cooking. If they marinate too long they might get mushy.
Recommended Products
As an Amazon Associate and member of other affiliate programs, I earn from qualifying purchases.