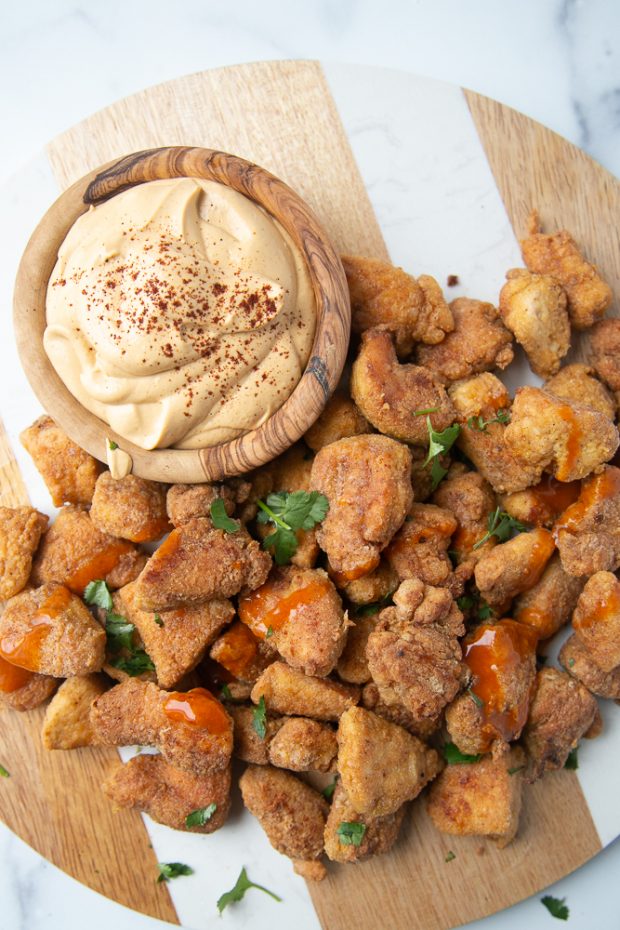 Popcorn chicken is one of those things we never get tired of.
I try to make extra so I can have some leftovers to heat up for lunch, but the little buggers almost always eat everything.
Luckily popcorn chicken is super easy to make, so I'll just keep making bigger batches until I have a respectable amount left for a meal later in the week.
This particular version has my Smoky Chipotle Taco Seasoning in the marinade AND the breading to give it have a boost of Tex-Mex flavor. (You can use any taco seasoning you like. I'm just partial to that one at the moment.)
And it goes beautifully with my Chipotle Vegan Queso recipe.
Let's make some!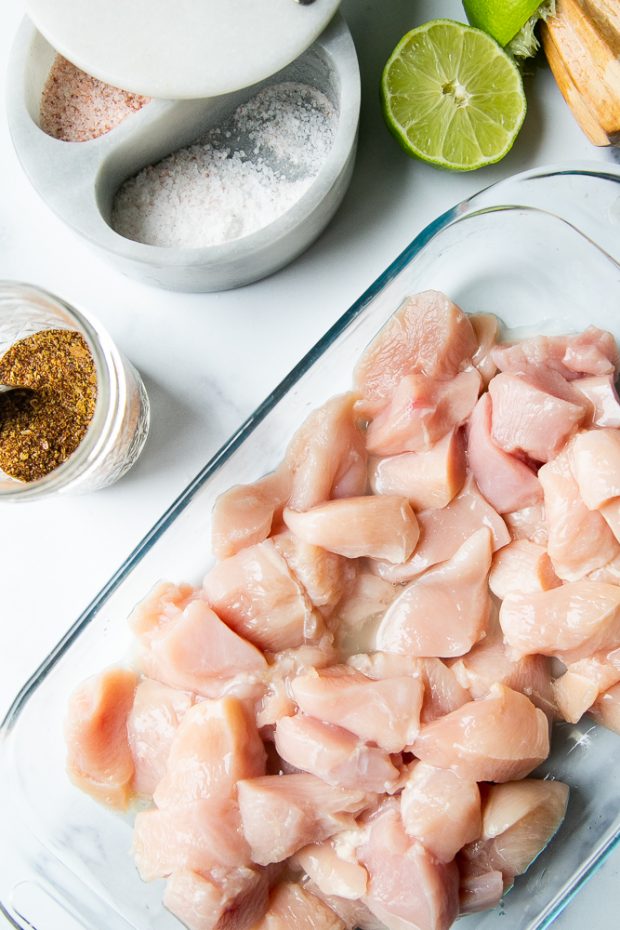 This popcorn chicken recipe starts off with a simple marinade. You can marinate it at room temperature for about 30-45 minutes or you can prep it several hours ahead or the night before.
Simple Marinade Ingredients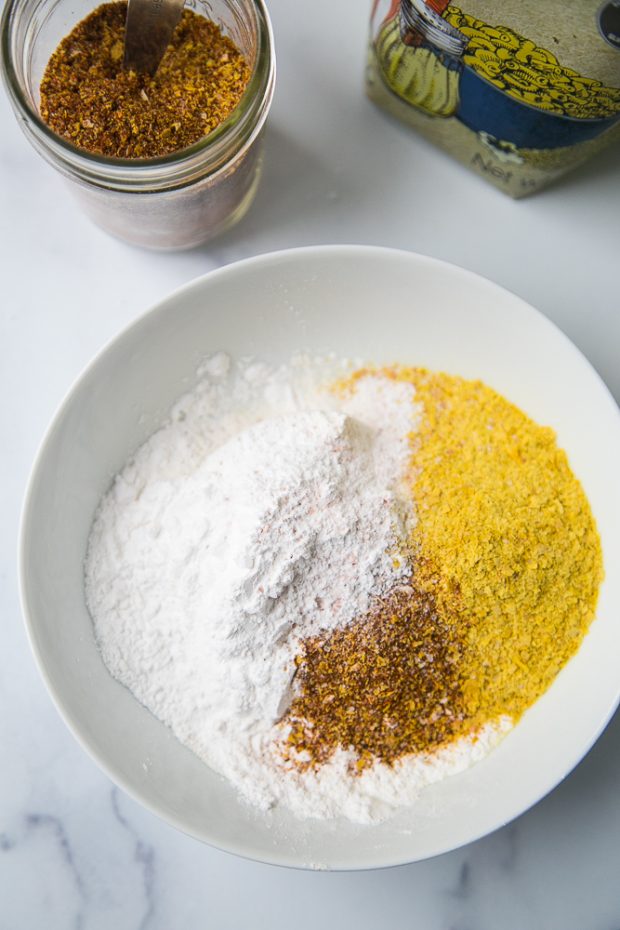 Grain-Free Popcorn Chicken Breading Ingredients
Tapioca Flour (or Arrowroot Flour)
Salt
The breading is easy, too!
I love the addition of nutritional yeast to give it a boost of flavor. And the mixture of cassava & tapioca (or arrowroot) flours is the perfect grain-free breading ratio.
Using all cassava flour makes the coating a little chalky.
Using all tapioca flour makes it gummy when the chicken cools off.
Using a little of each gives you a light, crispy coating that keeps its texture.
I buy my cassava flour and nutritional yeast on Amazon. I really like the brand Anthony's and the price is great, too.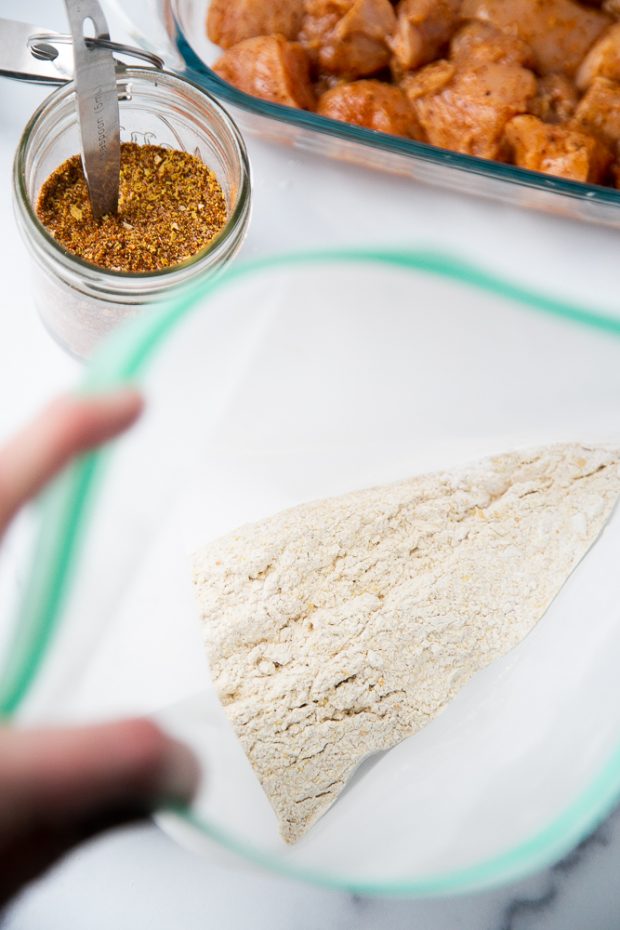 I use the shake & bake method by combining the breading ingredients into a gallon-sized bag.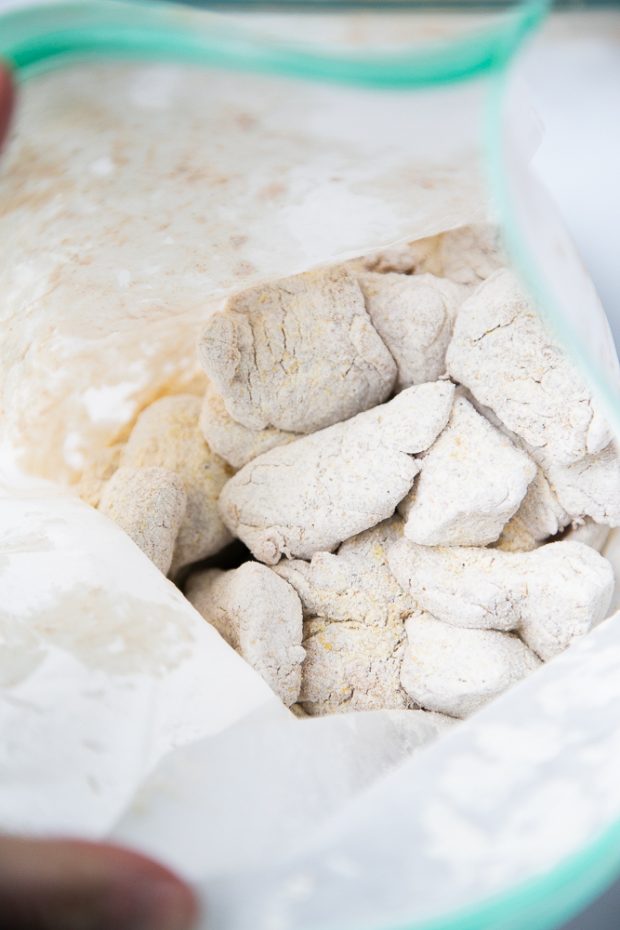 I used to think this method would make a big mess and the breading would be clumpy.
It surprises me every time how well it works!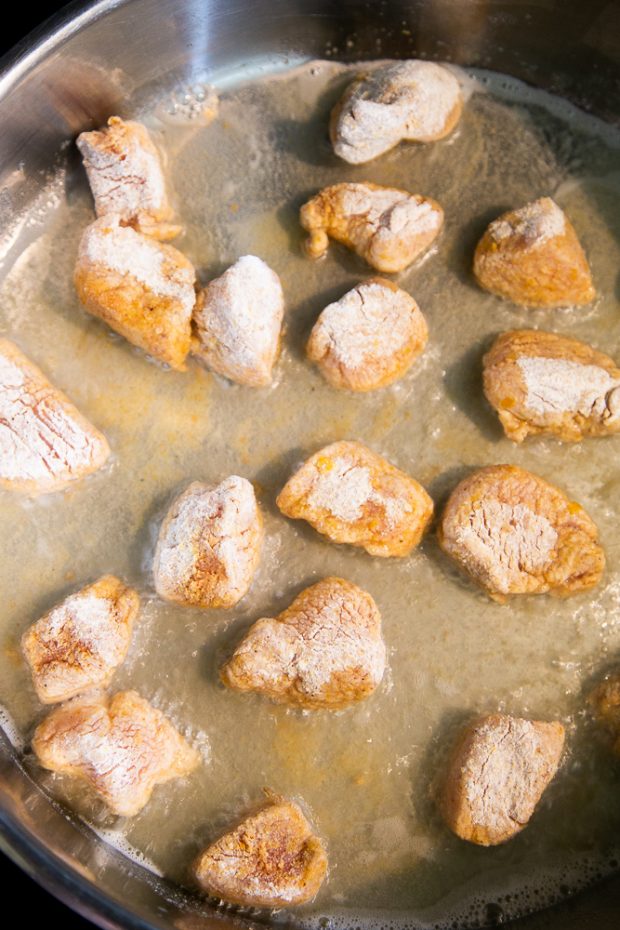 Tips for Pan-Frying Popcorn Chicken
Cover the pan with 1/4″ of oil and let it get really hot before you add the chicken. Not smoking, but pretty close.
Shake off the excess flour before putting the chicken pieces in the pan. If you have too much "sediment" in the pan it'll end up burning after the 2nd or 3rd batch.
Don't overcrowd the pan.
Once you put the chicken in the pan, DON'T TOUCH IT FOR AT LEAST 3-4 MINUTES. Especially if you aren't using a non-stick pan. It'll stick and then you'll be sad.
Once the chicken has formed a crust on the bottom it should be easy to flip them over.
Don't over cook them! They should be firm to the touch, with the slightest amount of give. And the crust should be golden brown.
Transfer them to a wire rack on top of a sheet pan instead of a plate with papertowels. This will allow them to cool without getting soggy on the bottom. I like to keep the pan in a warm oven while I cook the rest of the chicken.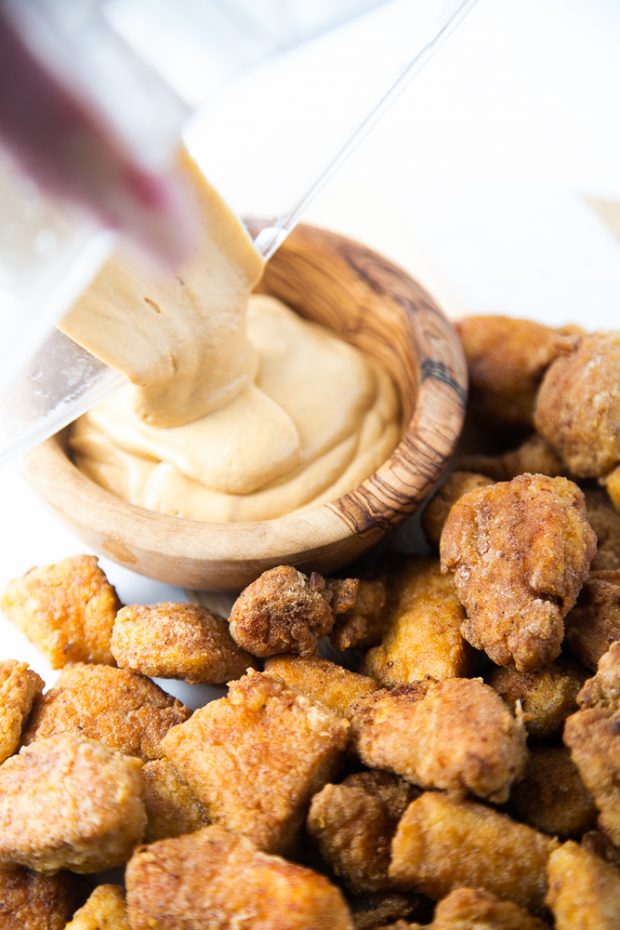 Don't they look delicious??
Steve and I loved them with my Chipotle Vegan Queso. Make sure to soak your cashews the morning before you make these.
You could also serve them with another kind of dip — like a Mexi-Ranch, enchilada sauce, guacamole or a drizzle of Hot Honey Cilantro Glaze. (Recipe coming soon!)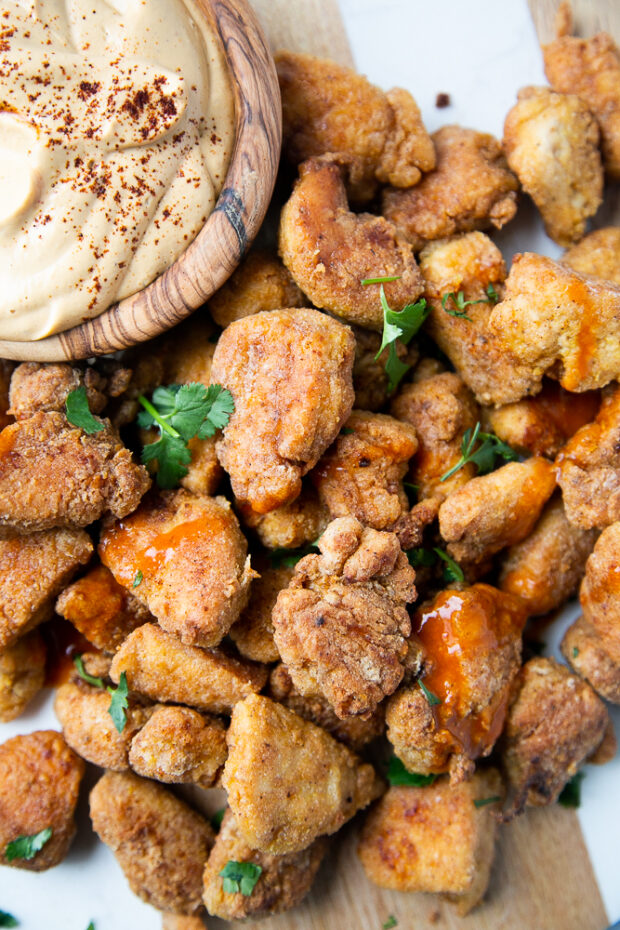 More Ideas for Serving Fiesta Popcorn Chicken
Popcorn chicken is usually an appetizer, but we eat it as a main dish! Here are a few ideas of how you can make this into a meal:
POPCORN CHICKEN SALAD — Add them to a bed of lettuce or some Southwest Cabbage Slaw and drizzle them with some paleo ranch and a side of avocado. And your favorite taco salad fixings.
POPCORN CHICKEN TACOS — Since this chicken has Tex-Mex/Latin flavors, it would be totally delicious in a taco. You can even chop them up to make them easier to put into tacos. A drizzle of my Citrus Crema would be delicious with this!
POPCORN CHICKEN SNACK PLATTER — Serve this alongside some fresh veg crudites or sweet potato fries with a couple of dips and you won't even need utensils! My kids love meals like that.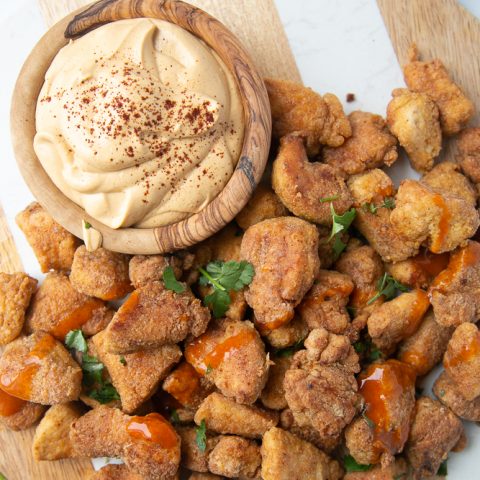 Paleo Fiesta Popcorn Chicken with Vegan Queso
These juicy morsels of tender chicken are coated in a grain-free (and nut-free!) breading. They're a perfect pairing with my Chipotle Vegan Queso dip!
Ingredients
1 1/2 - 2 pounds of chicken breast or thighs, cut into 1 - 1/12 inch pieces
2 juicy limes
5 teaspoons taco seasoning, divided
1/2 teaspoon + pinch of sea salt
1/3 cup cassava flour
1/3 cup tapioca flour (or arrowroot flour)
1/3 cup nutritional yeast
Coconut oil or avocado oil, for pan-frying
Instructions
Be sure to soak the cashews for the queso dip either the morning before you eat or an hour or two before by pouring boiling water over them. (See queso recipe for details.)
Put the chicken pieces in a shallow dish. Squirt the juice from one of the limes over the chicken. Sprinkle 3 teaspoons of taco seasoning and 1/2 teaspoon of salt on top and mix everything around until the chicken is evenly coated. Let it sit for 30-45 minutes at room temperature to marinate or up to 24 hours chilled.
While the chicken is marinating, make the Chipotle Vegan Queso dip and set it aside while you make the chicken.
When you're ready to cook the chicken, put the cassava flour, tapioca flour, nutritional yeast, a pinch of salt and the remaining 2 teaspoons of taco seasoning into a large gallon-sized zip-top bag. Shake it around to mix it well.
Add the chicken pieces to the bag and shake it around really well to coat all of the chicken in the breading. Let it rest inside the bag while you get the oil ready.
Put enough oil in a large skillet to cover the bottom in about 1/4" of oil. Bring it to high heat. The oil should "shimmer" on the bottom and a drop of water should sizzle loudly.
Fry the chicken in 2-3 batches, depending on the size of your pan. When you put a batch of chicken in the pan, don't touch it for at least 3-4 minutes to allow it to form a crust. Otherwise it's going to stick.
Flip the chicken pieces over and cook for 2-3 minutes on the other side until the chicken is cooked through and mostly firm when you poke it with a pair of tongs.
Transfer the chicken to a wire rack sitting on a rimmed sheet pan to cool. (I put it in a warm oven to keep the chicken warm.)
Cook the remaining batches of chicken, cut the remaining lime into wedges, and serve with the queso dip and lime slices. A shake or two of hot sauce is good on these, too!