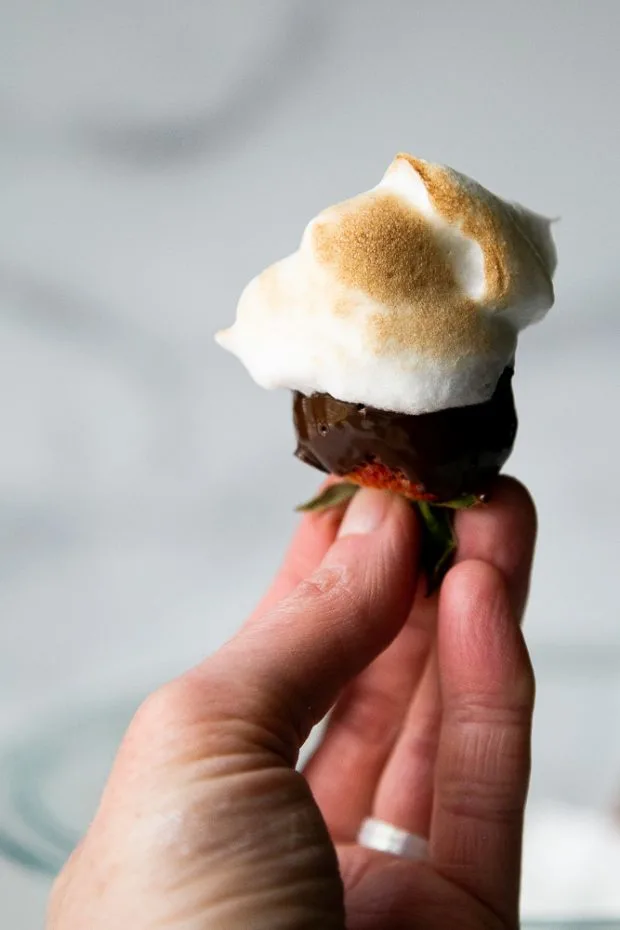 Does anyone remember these? I posted them YEARS ago and called these "Tortured Strawberries"
It's a chocolate covered strawberry dipped in marshmallow fluff AND THEN TOASTED WITH A TORCH.
Yes, for real. And, yes, it's as good as it sounds.
PSSST: There's a way to make these low-carb and keto-friendly!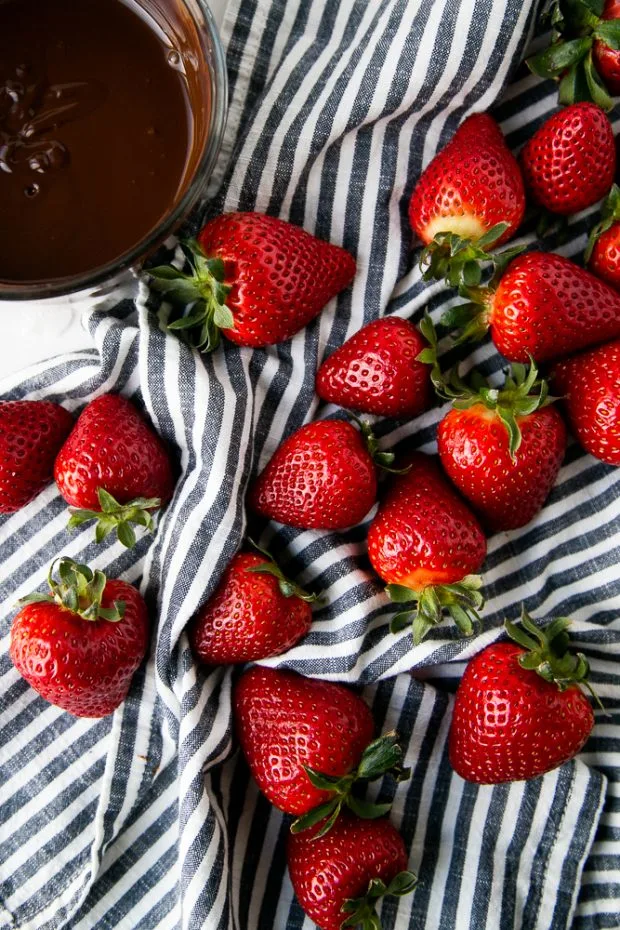 Mothers Day is a more appropriate time to use strawberries in desserts than Valentine's Day. I mean, look at how red and gorgeous these berries are!
Have you ever made chocolate covered strawberries? They're easier than they seem. As far as easy desserts go, they're high on the impressive meter and low on effort. The best kind, really.
Tips for making chocolate covered strawberries
Melt the chocolate gradually. It burns easily, so do 20-second intervals in the microwave (the easiest way) or set up a double-boiler situation with a bowl that nestles inside of a pot of simmering water (not the easiest way).
Speaking of water, DON'T GET WATER IN THE CHOCOLATE. It'll make the chocolate seize up and get stiff and weird. If this happens, you can add a teaspoon of coconut oil and pop it in the microwave for 15 seconds and it should get smooth again.
Make sure your strawberries are completely dry before you dip them. It also helps if they're room temperature so the warm chocolate doesn't make them sweat.
Put a sheet of parchment or wax paper on a sheet pan to make the strawberries easier to move around while they're sticky.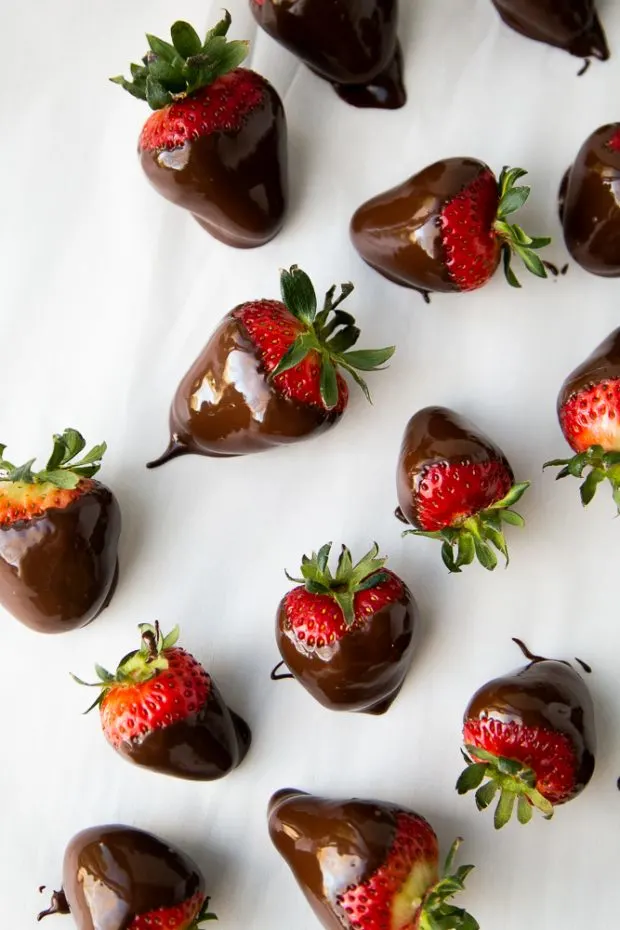 Can I make chocolate covered strawberries ahead of time?
Yes! Chocolate covered strawberries keep for about 4-5 days covered and chilled.
Can I make the marshmallow fluff ahead of time?
If you use a low-carb sweetener, then nope. You'll want to use that immediately because it doesn't last long. Swerve sweetener tends to do better in this fluff than Lakanto monkfruit sweetener, too.
If you use regular cane sugar you can make it a couple of hours ahead and keep it chilled, but honestly, it's best if you whip it up immediately before you plan to use it.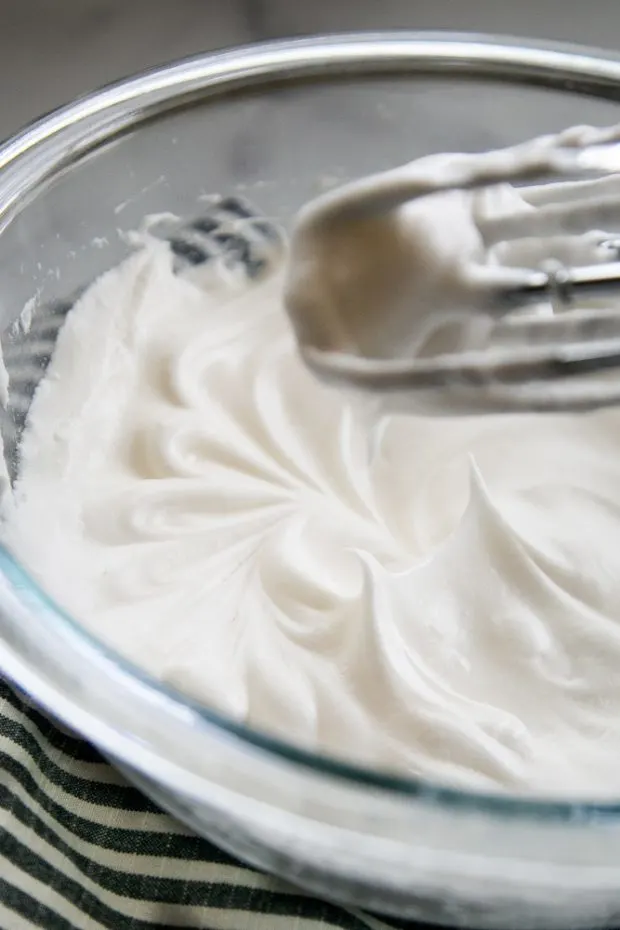 This marshmallow fluff takes less than 10 minutes! See how it holds its peaks when you lift the beaters? That's what you're going for.
If you whip it too long it'll start to break down — using monkfruit sweetener is less forgiving than cane sugar.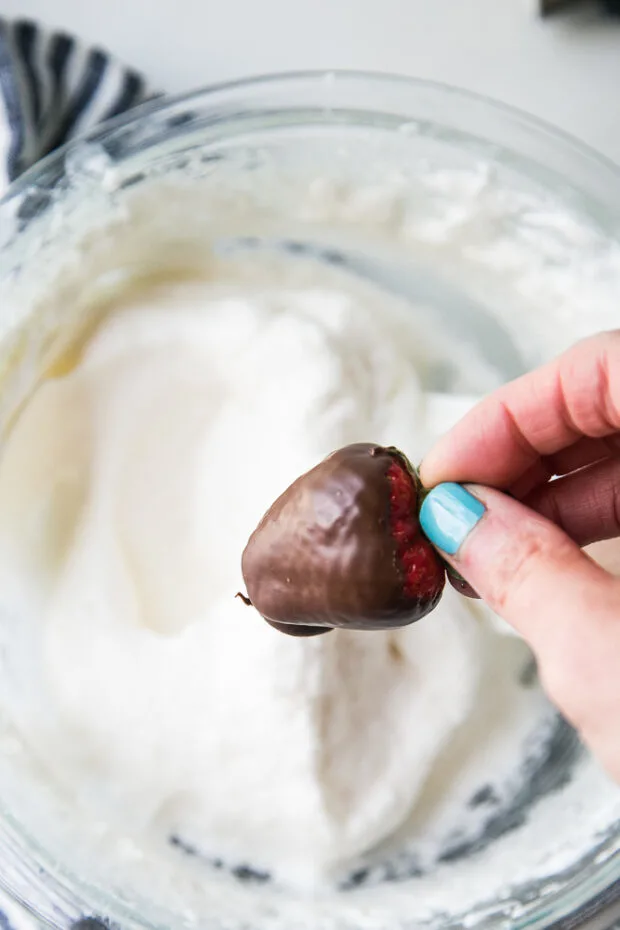 Once the chocolate has set up on the strawberries, you can take them for a ride in this fluff!
If your marshmallow fluff is still warm, you may end up with some chocolate streaks in the bowl, but is chocolate-streaked marshmallow fluff a bad thing?
Probably not.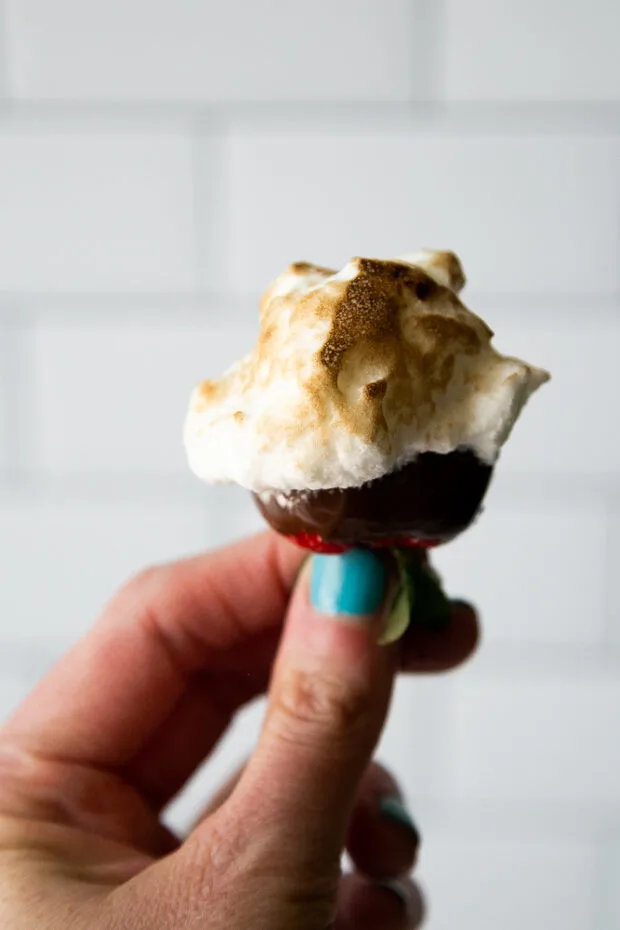 And then torch them!
My old torch was on its last leg, so I just ordered this Kitchen Torch from Amazon. They sell butane refills, too, so you might want to grab both if you need them.
If you don't have a torch you can stick them on a skewer and toast them over a gas burner or campfire, but be warned — the chocolate melts really easily and you might lose the chocolate AND the marshmallow fluff if you aren't careful.
We like to make these when we have company over and everyone gets a kick out of torching their own strawberries!
You can also use your torch to make some Instant Pot Crustless Pumpkin Pie Cups with Toasted Marshmallow Fluff!
(I love toasted marshmallow fluff if you can't tell.)
If you make one of my recipes, be sure to post it on social media and tag me at @perrysplate or #perrysplate so I can send you some love!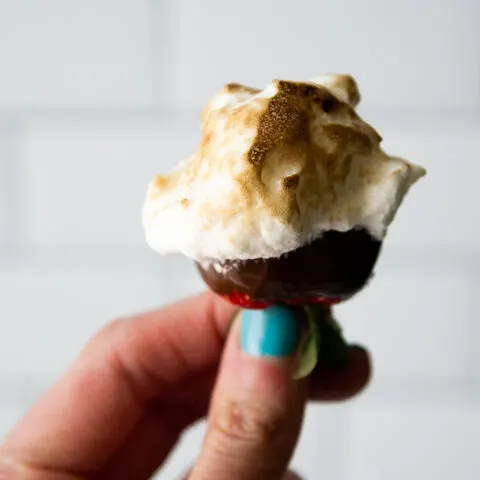 Chocolate Covered Strawberries with Toasted Marshmallow Fluff
Yield:
1 pound of strawberries
aka Chocolate Covered (or not) Strawberries in Bruleed Marshmallow Crème
Ingredients
For the strawberries:
1 pound strawberries, rinsed and dried
6 ounces dark chocolate chips or a bar cut into small chunks
1 teaspoon coconut oil
For the marshmallow fluff:
2 egg whites
1/2 cup granulated sweetener (see note)
Pinch cream of tartar
1/2 teaspoon vanilla extract
Pinch salt
Special equipment:
Instructions
Make sure the strawberries are completely dry and preferably at room temperature.
Put the chocolate and coconut oil into a small bowl and microwave in 20-second intervals, stirring after each one, until the chocolate is completely melted and smooth.
Lay a piece of wax or parchment paper on a sheet pan. Dip the strawberries, shaking off the excess chocolate and lay them on the paper. Place the pan in the freezer for about 5-10 minutes until the chocolate is set.
When you're ready to dip them in marshmallow fluff, set up a double-boiler situation with a heat-safe bowl that nestles inside a medium saucepan. Put about an inch of water in the saucepan. Bring the water to a low boil.
Combine egg whites and sweetener in the heat-safe bowl. Place the bowl on top of the saucepan. Stir constantly with a spatula or a whisk until the whites are very warm to the touch and the sweetener has dissolved.
Turn off the heat and transfer the bowl to your countertop. Whisk in the cream of tartar, salt, and vanilla. Beat the whites with an electric mixer until stiff peaks form, about 2-5 minutes, depending on the sweetener you use (see note). Marshmallow fluff is ready when it's smooth and holds stiff peaks. Don't overbeat.
Dip and swirl each strawberry into the marshmallow fluff. Using a blowtorch (or gas burner, if you are using skewers), brown crème as desired. Place on serving plate or directly into your mouth. :)
Notes
Nat's Notes:
You can use a low-carb sweetener (like Swerve or Lakanto, but Swerve works better than Lakanto) if you like. It takes longer to dissolve into the egg whites, it whips up faster, but the fluff doesn't last as long as regular sweetener -- it changes texture pretty quickly, so use it immediately. Liquid sweeteners don't work as well here.
Also, you'll need 1/2 cup of sweetener. If you cut back on the sweetener it'll affect the texture of the marshmallow fluff.
Stevia-sweetened chocolate like Lily's works really well in this recipe, if you're trying to reduce the sugar content.
This would also be good with apple or pear slices.
Recommended Products
As an Amazon Associate and member of other affiliate programs, I earn from qualifying purchases.