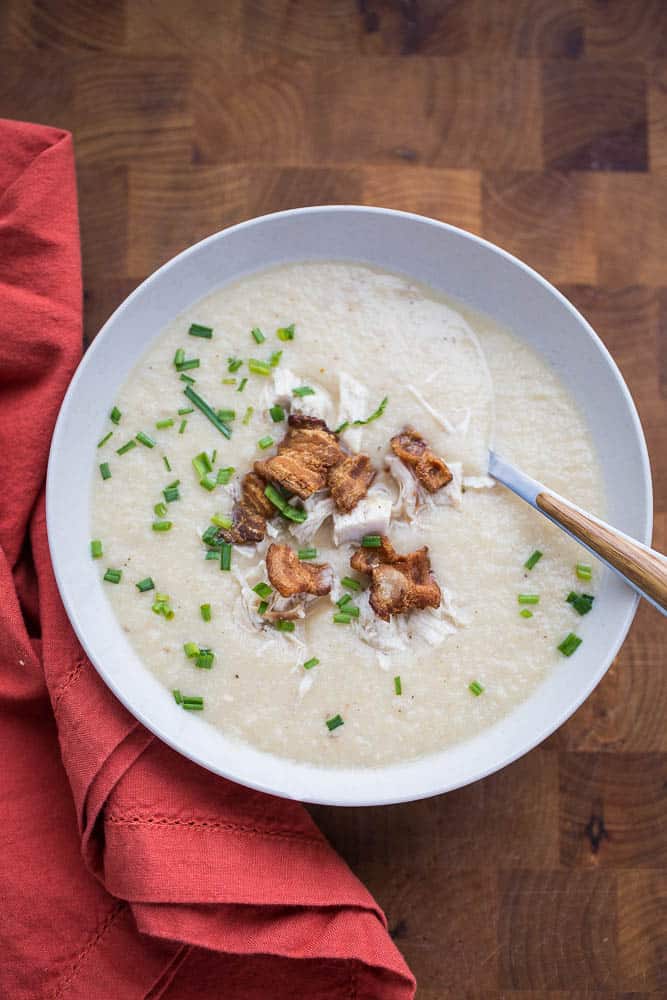 Last week I was sitting with Steve in the Orange County airport craving this cauliflower soup. Or a salad. Or even a piece of fresh fruit.
We spent last weekend attending the Natural Products Expo (Expo West) in Anaheim, CA, and used this as an excuse to have a kid-free vacation. The SECOND kid-free vacation we've had since we had kids. Long overdue, right?
We spent a day at Universal Studios (Harry Potter World! Amazing!) and a day and a half at the Expo which was such a crazy place. There were over 2000 exhibitors and over 70,000 attendees at this thing. Mind blowing, right? Add the fact that everyone gave you a sample or a pamphlet or a bite to eat at almost every booth and…. that extra suitcase came in handy.
I tried to highlight some of the great products I found in my Instagram stories, but I'll have more later to show you.
After a day and a half of eating samples at the Expo, I was still craving fresh food because all of it was pre-packaged, yet relatively healthy energy bars, nuts, trail mixes, gluten/grain-free crackers, grass-fed jerky, yogurt, and cheese, protein shakes, vinegar drinks, oxigenated water, naturally-sweetened chocolate, oils, dips…. and all I've been able to think about was a giant salad bar. Or a bowl of soup.
Maybe even this soup.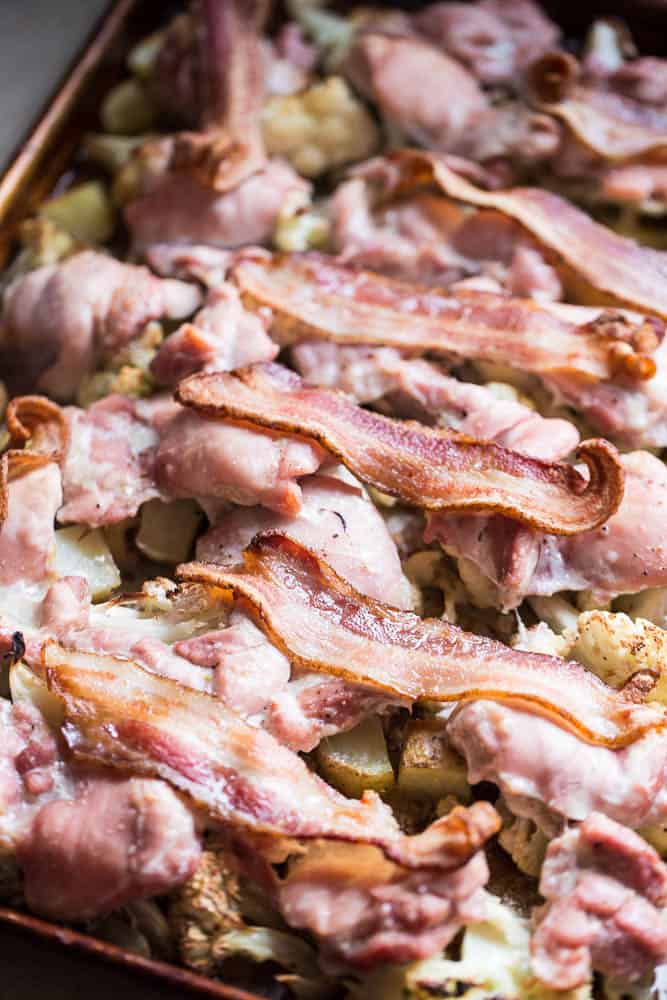 A while back I did a tutorial post for Pioneer Woman's Tasty Kitchen Blog for Bacon-Stuffed Roasted Chicken Cauliflower. This is still one of the most divine-smelling dishes I have ever made — bacon + roast chicken + caramelized vegetables. It's intoxicating.
I took the bones of that recipe and made my own little twists — using chicken thighs and baking it all on a sheet pan. When you take this sheet pan of roasted heaven out of your oven and you want to eat it as-is — GO AHEAD. It'll be one of your favorite sheet pan meals, I promise.
I decided to take this one step further by blending up the roasted vegetable and garlic and adding some chicken stock to make a cozy soup. The roasted chicken and bacon pieces are then added on top to create some meatiness and texture.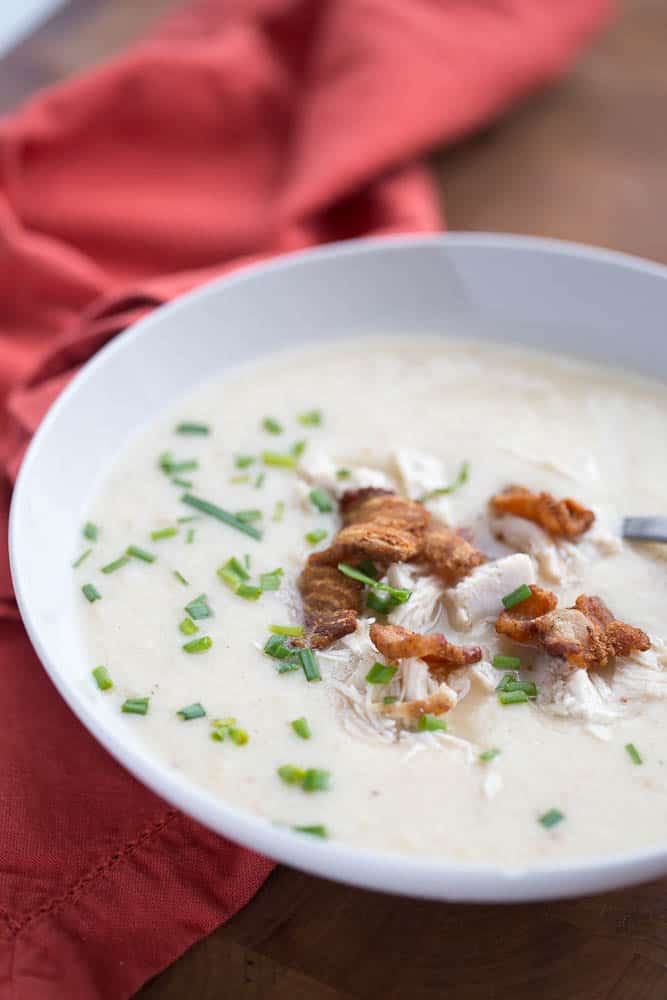 And as an extra bonus — this soup is gluten-free, paleo-friendly, and Whole30 compliant (if you've got compliant bacon).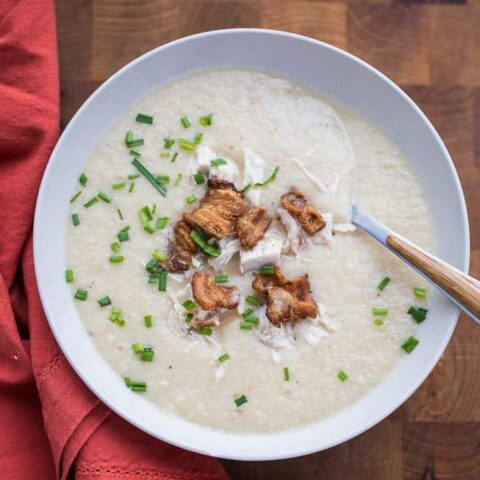 Bacon-Roasted Chicken & Cauliflower Soup
Total Time:
1 hour
30 minutes
You'll love this creamy, hearty soup, but if you pull that sheet pan out of the oven and want to eat the roasted meat and vegetables as is, go right ahead.
Ingredients
1 medium head of cauliflower, cut into 2-inch florets
1 large white potato (Yukon gold or 2 medium red potatoes), cut into 1-inch pieces
About 10 whole garlic cloves, peeled
3 Tablespoons avocado oil, divided
1 teaspoon sea salt, divided
1/2 teaspoon black pepper, divided
2 pounds boneless, skinless chicken thighs or drumsticks
1 10-12 ounce package of bacon
1 quart of chicken stock
1 Tablespoon red wine vinegar
Chopped chives or thinly sliced green onions, for serving
Instructions
Preheat the oven to 425 degrees F.
Place the cauliflower, potatoes, and whole garlic cloves on a heavy rimmed sheet pan. Drizzle with 2 Tablespoons of avocado oil, then sprinkle with 1/2 teaspoon of salt and 1/4 teaspoon of pepper. Use your hands to toss everything together and then spread the vegetables out evenly on the pan.
Roast for 20 minutes.
Remove the pan from the oven. Flip the vegetables around, then lay the chicken evenly on top of the vegetables. Lay the bacon slices over the chicken. Return the pan to the oven and roast for another 35-40 minutes until the bacon is cooked to your liking and the chicken is cooked through.
Transfer the bacon to a bowl. Transfer the chicken to a cutting board and cover to keep warm.
Transfer the vegetables and pan juices to a large soup pot. Add the chicken broth to the pot with 1 teaspoon of salt. Bring the mixture to a simmer. Use an immersion blender to blend the soup until smooth. (Or blend in batches using a counter-top blender.) Add the red wine vinegar. Taste, and add a little more salt or vinegar if it needs some brightening.
Chop the chicken and crumble the bacon.
Serve the soup with bits of chicken and bacon and a sprinkle of chives.
Notes
Nat's Note: If you're avoiding white potatoes you can use parsnips, turnips, or an additional half head of cauliflower in place of the white potato. The white potato simply adds some creaminess and helps the soup to blend more smoothly.