These healthy meal plans are for six dinner recipes and a dessert thrown in for fun! All of these recipes are (mostly) paleo friendly, seasonal, and most can be easily adapted to be Keto/Low-Carb or Whole30 friendly.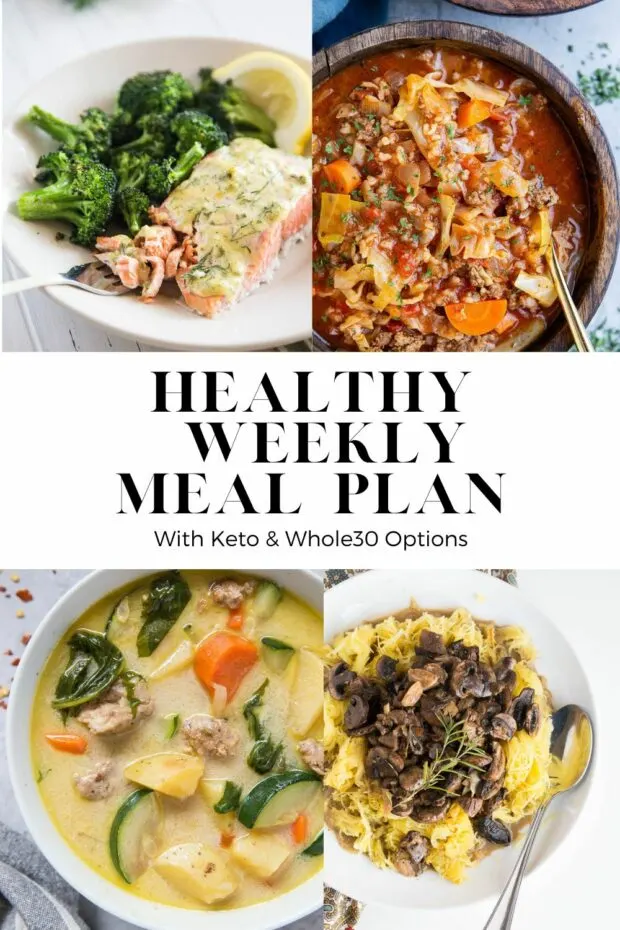 Hey, friends!
Julia and I are in full cozy mode and pulling some soups and stews mixed with a couple of lighter sheet pan dishes this month.
I also included a super easy Instant Pot BBQ Pulled Pork recipe you can make and save leftovers for the weekend! I love putting leftover pulled pork on pizza, nachos or even this BBQ Pulled Pork Spaghetti Squash Bake.
Of course there's dessert! My Gluten Free Apple Cookies with Maple Glaze will make your kitchen smell better than any candle out there.
Enjoy the most beautiful month of the year!
xoxo
Natalie
---
Sunday
SPAGHETTI SQUASH WITH ROASTED MUSHROOMS AND GARLIC SAUCE — If you're looking for a recipe that checks a lot of dietary preference boxes, this might be the unicorn. It's vegetarian (or vegan), paleo, Whole30 friendly AND low carb. AND it's a sheet pan meal! (It's delicious, too!)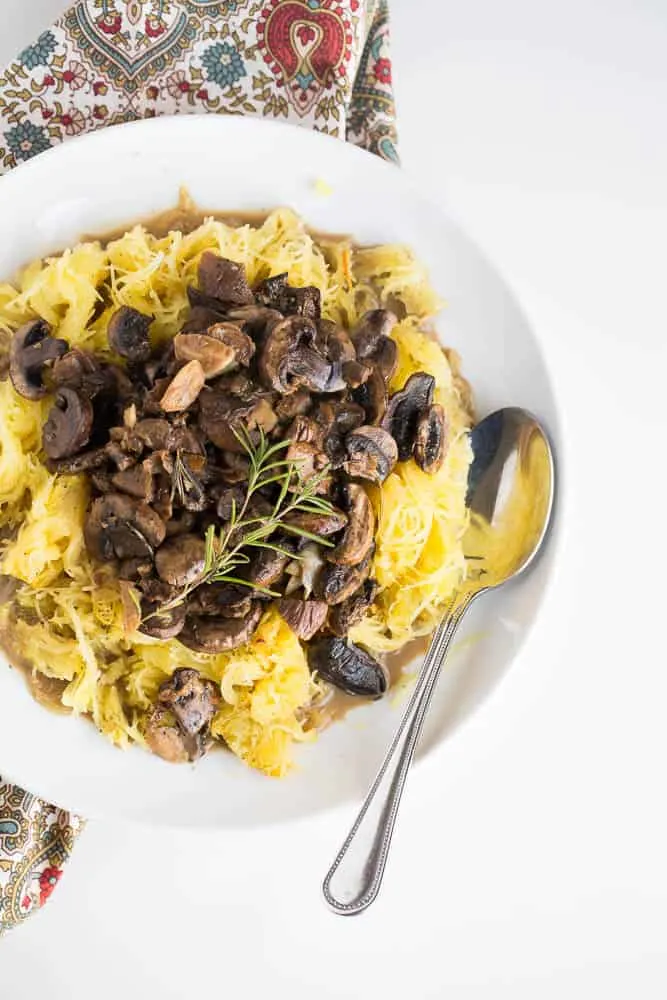 Special Diet Note: Recipe is vegetarian, paleo, low-carb, and Whole30 friendly.
Prep Ahead: No need to prep ahead.
Substitutions: If you don't want to use dried mushrooms, omit it from the recipe and use twice as many fresh mushrooms. If you aren't dairy free, using some heavy cream and parmesan in place of the coconut cream is great in this recipe!
Monday
CROCK POT THAI CHICKEN CURRY — This recipe is a goof-proof method for preparing Thai curry. This simple dump and go slow cooker meal is perfect for weekly meal prep and just as tasty as the authentic version.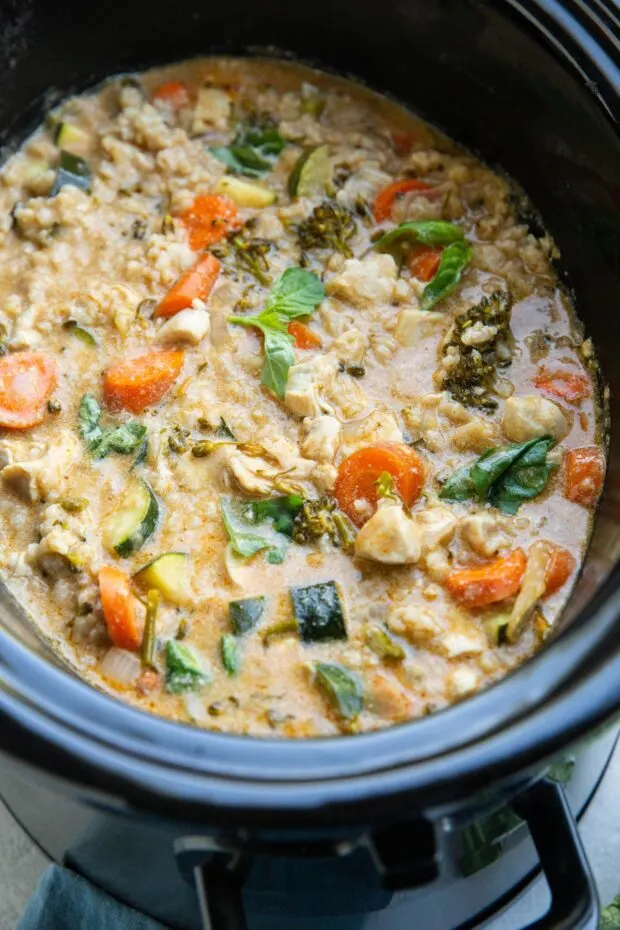 Special Diet Note: Recipe is paleo and low-carb as written. You can make it whole30 by omitting the pure maple syrup. To keep the recipe paleo, low-carb, or whole30, serve the curry with cauliflower rice or zucchini noodles instead of regular rice.
Prep Ahead: The prep for this recipe doesn't require very much time so no advance prep is needed. The whole recipe saves very well, so feel free to make the whole thing up to 5 days in advance.
Substitutions: Use your favorite curry paste (yellow, green, or red) to make your favorite type of curry. You can also mix up the vegetables or leave the vegetables out.
Tuesday
CREAMY GARLIC DILL ROASTED SALMON — I think dill is one of the most underrated herbs out there. It really shines in this roasted salmon recipe with a creamy garlic sauce baked on top!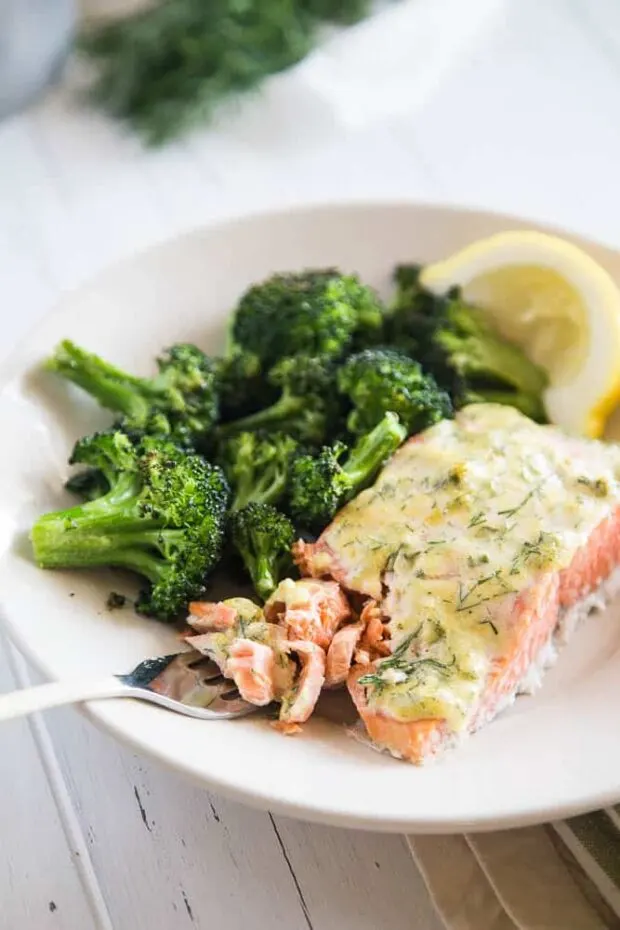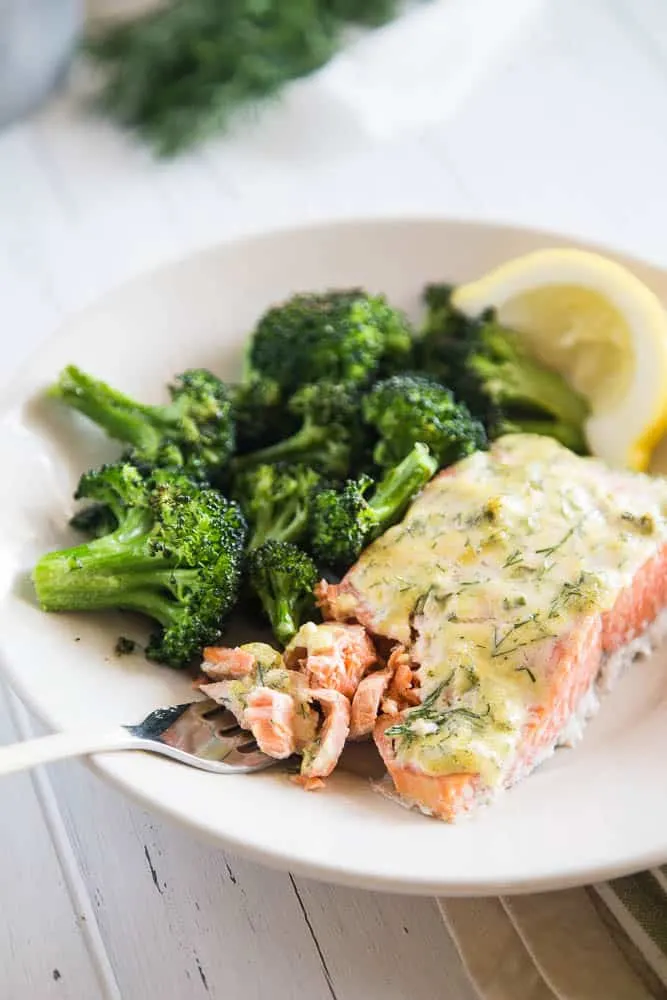 Special Diet Note: Recipe is paleo, low-carb, and Whole30 friendly.
Prep Ahead: No prep needed!
Substitutions: Serve this with some roasted vegetables — just add another pan to your oven and roast them alongside the salmon or serve with a fresh salad.
Wednesday
CABBAGE ROLL SOUP — This cozy soup with ground beef, vegetables and a rich tomato broth produces dreamy comfort food for the fall and winter months.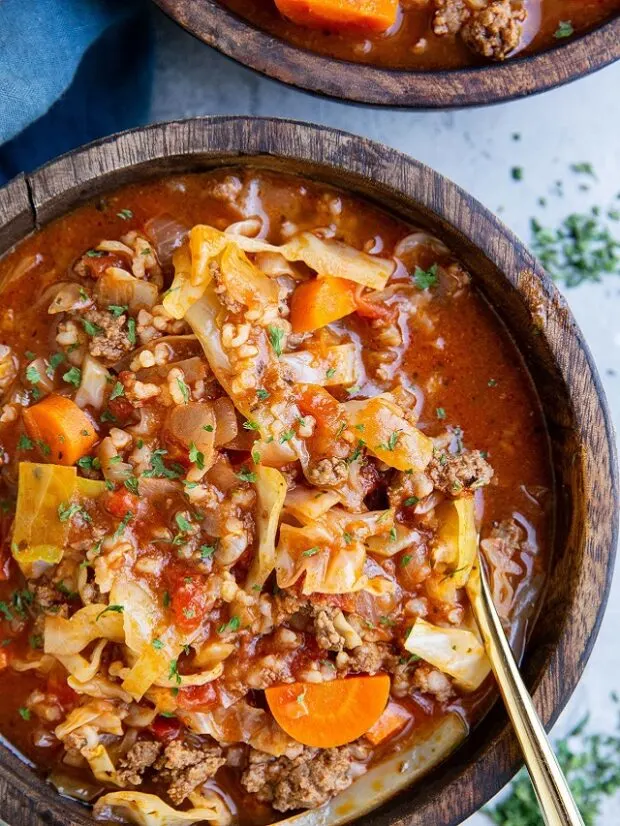 Special Diet Note: This soup recipe can be made paleo or low-carb by omitting the rice.
Prep Ahead: No advance prep is needed for this simple soup recipe!
Substitutions: Use ground turkey or chicken instead of ground beef. You can add various veggies like brococli, cauliflower, zucchini, etc.
Thursday
EASY INSTANT POT BBQ PULLED PORK — Everyone needs a great BBQ Pulled Pork recipe. This one is super easy using an Instant Pot Pressure cooker! Add your favorite BBQ sauce to make this your own or use one of my homemade sauces linked below.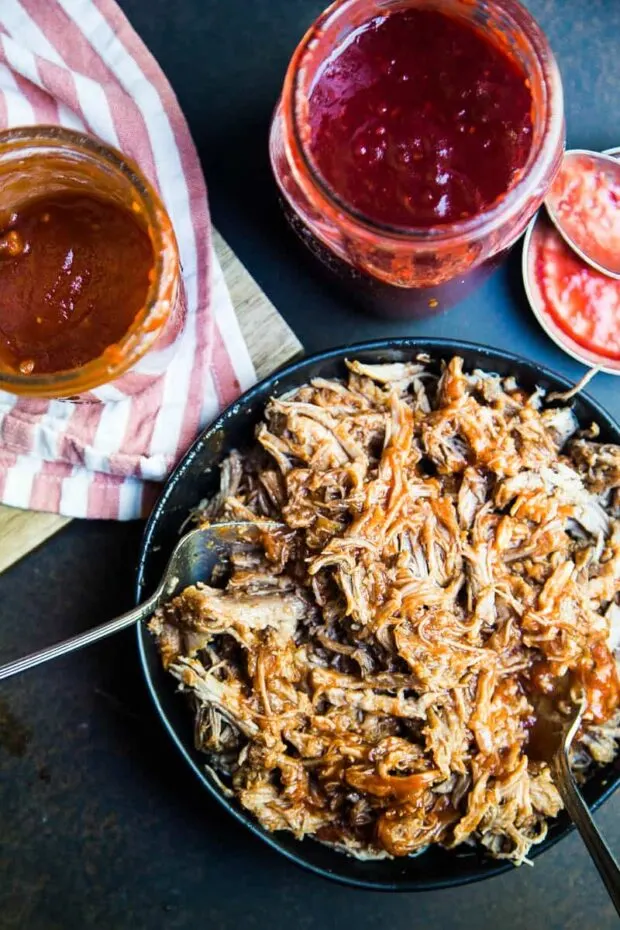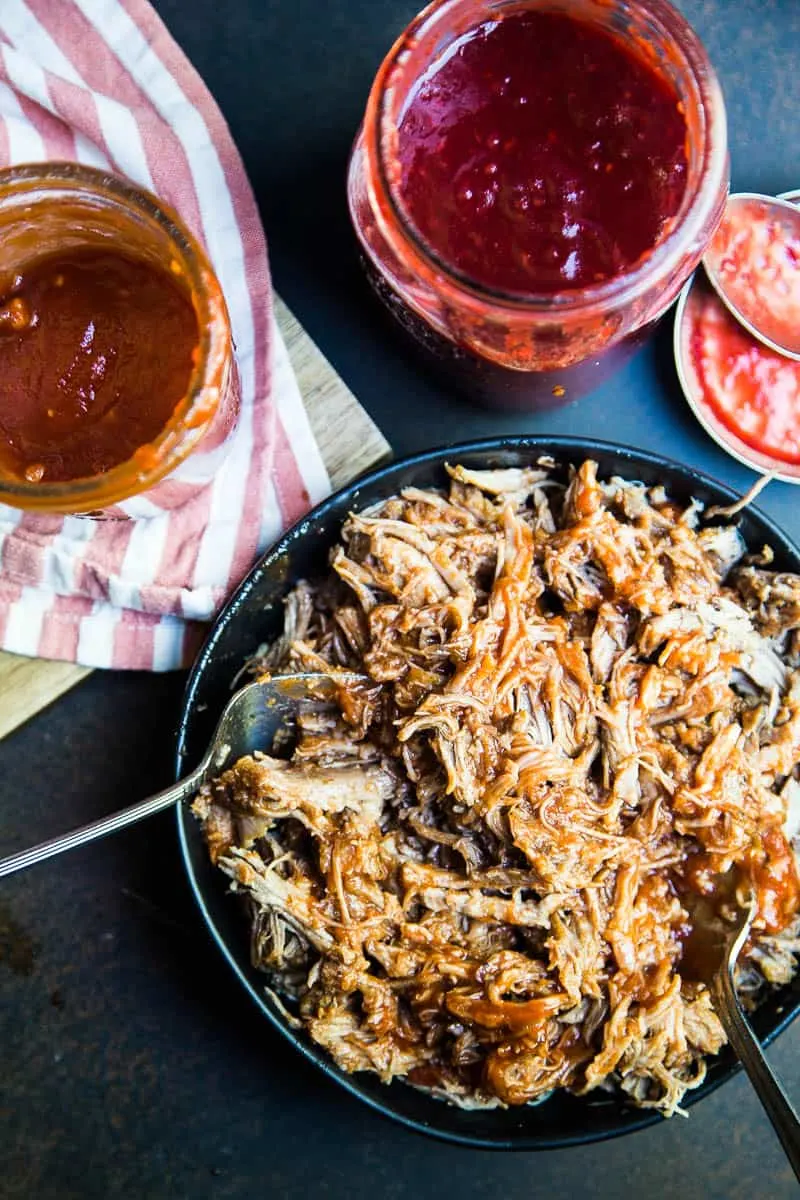 Special Diet Note: Recipe is paleo and Whole30 friendly depending on the type of BBQ sauce you use.
Prep Ahead: This pulled pork can be made a few days in advance and easily warmed up for an easy meal later. Freezes well, too!
Substitutions: Serve with your favorite vegetables or salad. Primal Kitchen makes great naturally-sweetened BBQ sauces, but if you're looking for a homemade one to control the sugar content, here are a few of my favorites: Balsamic BBQ Sauce, Honey Lime Ginger BBQ Sauce, Raspberry Chipotle BBQ Sauce.
Friday
HEALTHY GROUND TURKEY SOUP WITH VEGETABLES — This soup is a clean and comforting meal perfect for soothing the belly and soul. Make it if you're feeling under the weather, or if you just love a great nourishing soup recipe!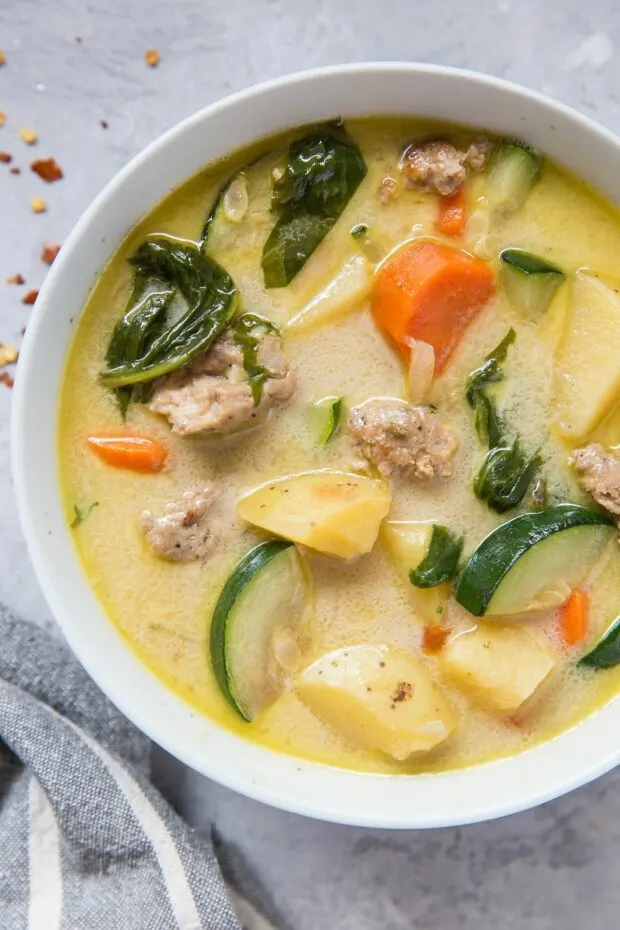 Special Diet Note: This recipe is paleo, whole30 and can be made low-carb by omitting the potatoes or substituting them for cauliflower.
Prep Ahead: No advance prep is needed for this soup as it comes together rather quickly
Substitutions: Mix it up with your favorite in-season vegetables. You can also swap out the meat for ground pork or ground beef.
Dessert
GLUTEN-FREE APPLE COOKIES WITH MAPLE GLAZE — These soft cookies are topped with a maple glaze and are perfect for fall! They remind me of little apple cakes with bits of tart green apple. They're also naturally sweetened!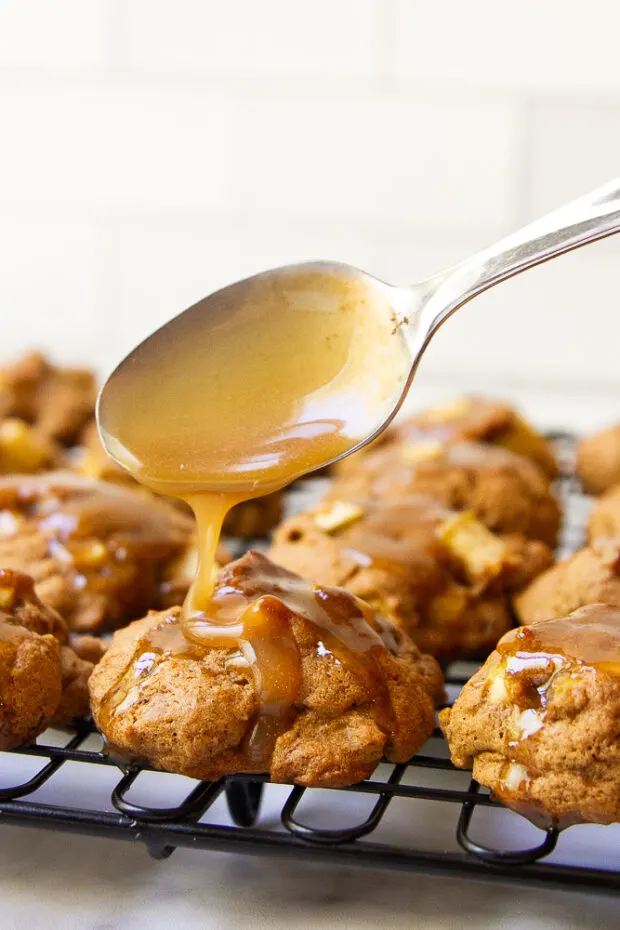 Special Diet Note: This recipe is gluten free and naturally sweetened.
Prep Ahead: No advance prep needed. These cookies are best eaten within 2-3 days.
Substitutions: I recommend Namaste Gluten-Free flour because it works well in cookies. If you have a different gluten-free flour blend you like to use in cookies, feel free to swap it out. You can find Namaste flour on Amazon or at some Costco stores.
Grocery List
Click HERE to download a handy printable grocery list!