These Paleo-friendly meal plans are for six dinner recipes and a dessert thrown in for fun! All of these recipes are paleo friendly, seasonal, and most can be easily adapted to be Keto/Low-Carb or Whole30 friendly.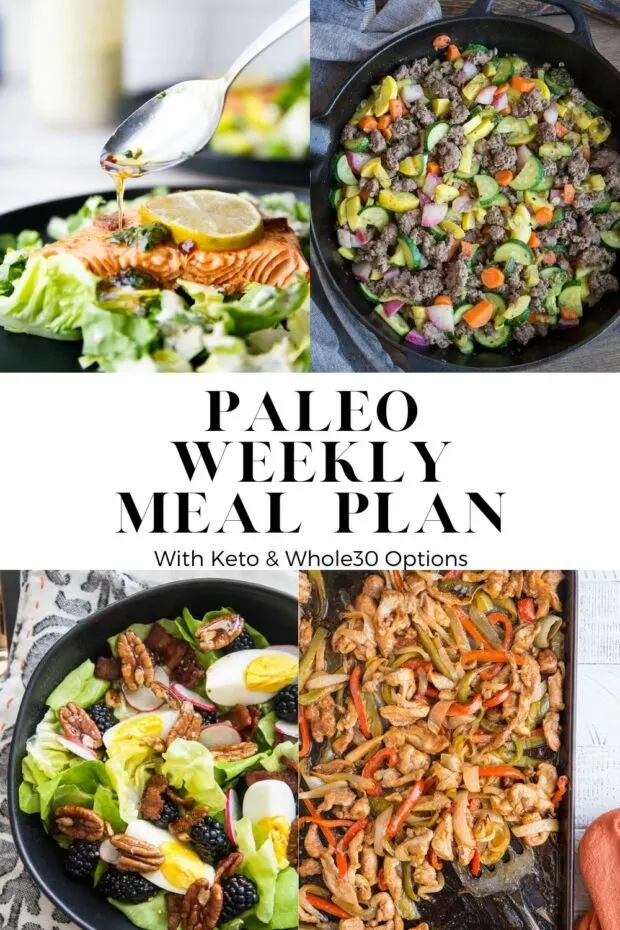 Hi, friends!
This week we're keeping things and easy & springy with some colorful, crisp salads and one-pan meals.
I included my new Sweet Chipotle Salmon with Hot Honey Glaze recipe, too. That honey glaze has become one of my favorite condiments. Let me know what you think!
We also included a tasty, flourless brownie recipe with a secret ingredient.
Natalie
---
Sunday
PALEO CHINESE CHICKEN SALAD – Light and healthy Paleo Chinese Chicken Salad with sesame ginger dressing that is soy-free, sugar-free, and free of canola oil.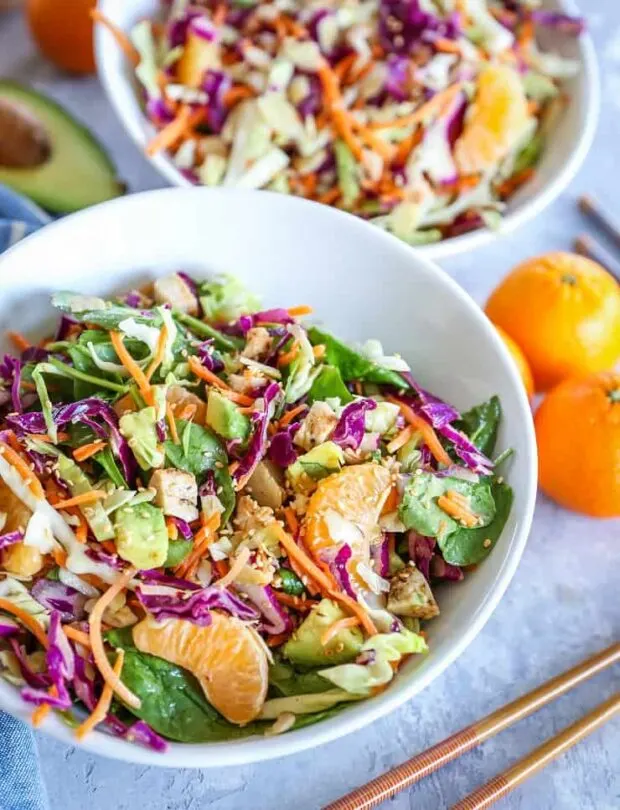 Special Diet Note: Recipe is Paleo. It can be made whole30 by omitting the honey from the dressing
Prep Ahead: Make the salad dressing up to 1 week in advance!
Substitutions: Use your favorite store-bought sesame ginger salad dressing to omit some of the prep, and/or use leftover or rotisserie chicken instead of preparing chicken.
Monday
SWEET CHIPOTLE SALMON WITH HOT HONEY GLAZE — This simple salmon has a triple punch of sweet, smoky, & spicy! The honey glaze is a MUST and is super easy to make.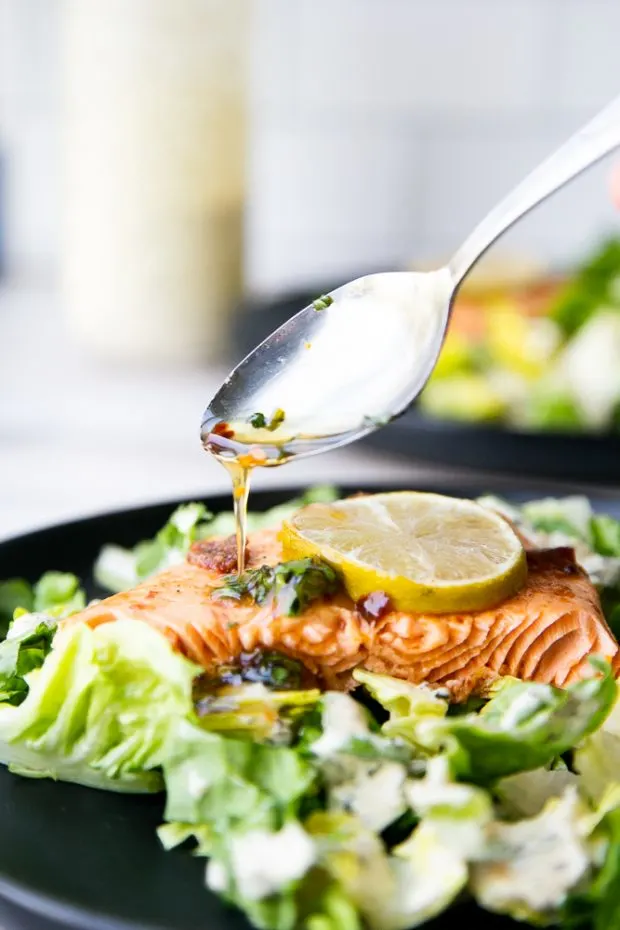 Special Diet Note: Recipe is paleo as is.
Prep Ahead: You can make the honey glaze up to a week in advance.
Substitutions: To make this Whole30 friendly, omit the glaze and the coconut sugar from the salmon rub. Also, use 1/2 tsp dried chipotle powder in place of the diced chipotles in adobo sauce.
Tuesday
30-MINUTE VEGETABLE AND GROUND BEEF SKILLET — This nutritious recipe contains a plethora of fresh vegetables and grass-fed ground beef – the perfect meal for those who follow a paleo, keto, low-carb, or low-FODMAP diet.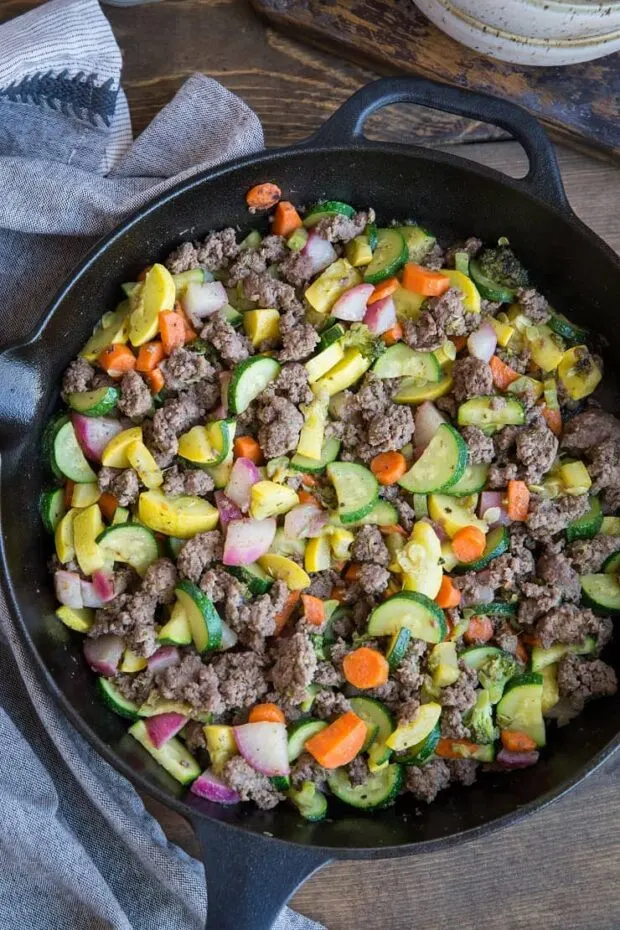 Special Diet Note: Recipe is paleo, whole30, keto, and low-FODMAP.
Prep Ahead: No advance prep is needed!
Substitutions: Use your favorite veggies and/or swap out the ground beef for ground chicken or turkey.
Wednesday
BLACKBERRY, BACON, & EGG SALAD WITH MAPLE VINAIGRETTE — Bacon and blackberries are such a great combination. Make extra hard-boiled eggs and maple dijon vinaigrette so you can make it for easy weekday lunches!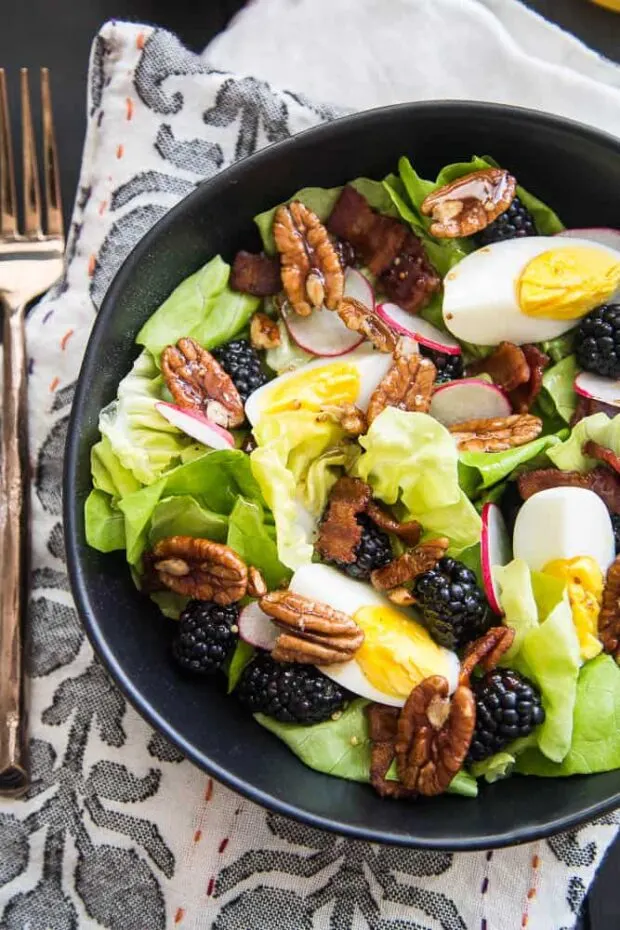 Special Diet Note: Recipe is primal as is with grass-fed cheese. Omit the cheese to make it strictly dairy-free.
Prep Ahead: Boil the eggs and cook the bacon ahead of time for quicker prep.
Substitutions: Swap out the blackberries for strawberries or raspberries. Use any kind of nut you like, candied or otherwise.
Thursday
SHEET PAN CHICKEN FAJITAS — The chicken turns out amazingly tender with a nice crisp and the peppers and onions are loaded with flavor!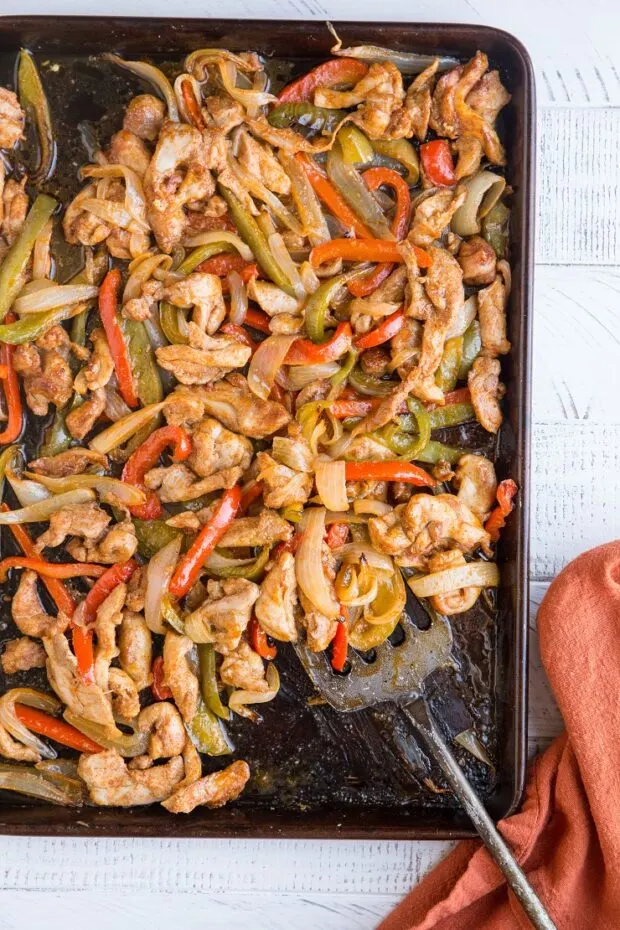 Special Diet Note: This chicken fajitas recipe is paleo, whole30, and keto.
Prep Ahead: Chicken can be marinated up to 48 hours in advance
Substitutions: Serve it up according to your nutritional needs – use it for tacos, burritos, or serve with cauliflower rice and roasted veggies to keep it low-carb.
Friday
15-MINUTE SUN-DRIED TOMATO OMELET — This is a one-serving recipe that's easy to scale up for as many omelets as you need! I like to puree the sun-dried tomatoes, but you can mince them if you like.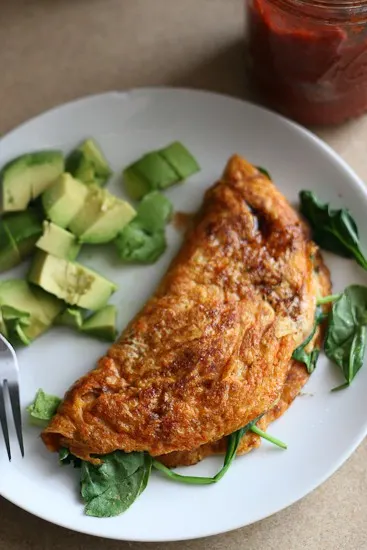 Special Diet Note: Recipe is primal and low carb with grass-fed cheese. Omit cheese to make it dairy-free and Whole30 friendly.
Prep Ahead: If you choose to use sun-dried tomato puree, do this ahead of time.
Substitutions: Use baby kale or another hearty green in place of the spinach if you like.
Dessert
FLOURLESS AVOCADO BROWNIES — This is an easy grain-free, refined sugar-free paleo dessert recipe. The brownie batter is made easily in your food processor and only requires a handful of basic ingredients.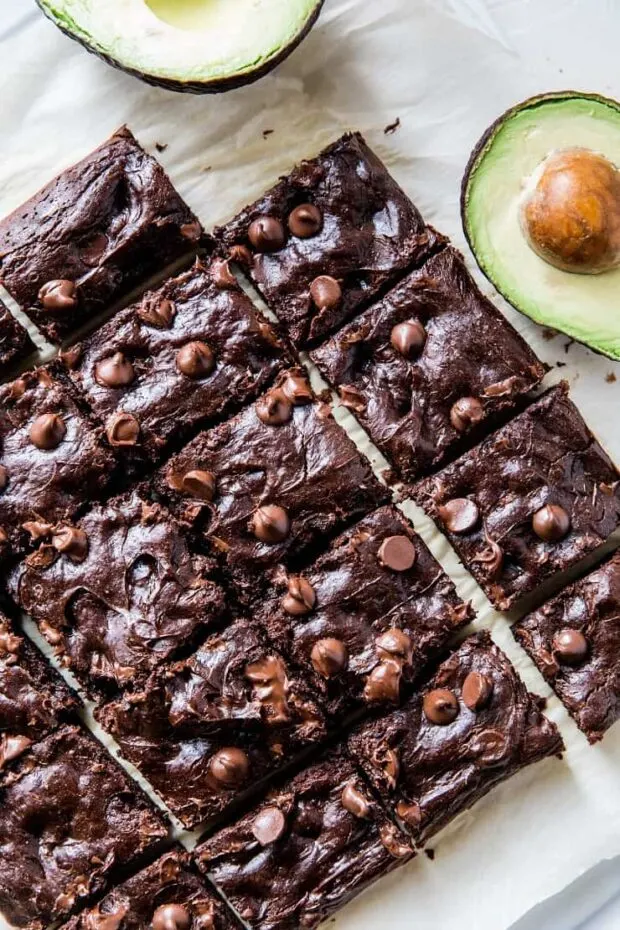 Special Diet Note: Paleo!
Substitutions: Use dairy-free and/or sugar-free chocolate chips if desired.
Grocery List
Click HERE to download a handy printable grocery list!