A fancy breakfast in 15 minutes? I could eat this sun-dried tomato and spinach omelet every morning!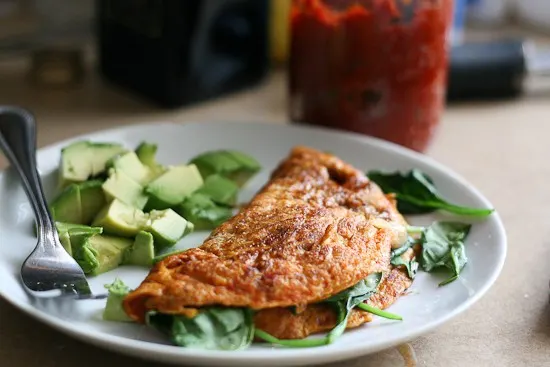 Are you a fan of sun-dried tomatoes? How about a fan of 10-minute lunches that don't involve stuff between two slices of bread?
A few years ago I discovered that my husband doesn't like sun-dried tomatoes after I had just bought them in bulk. And that was after years of incorporating them into our meals. He really is a patient husband. After he broke the news to me he clarified that he likes the flavor of sun-dried tomatoes, but doesn't like the intensity of large pieces.
My solution: turn remainder of the jar into sun-dried tomato pesto. A lot of fantastic recipes came out of that post (click on the pesto links to see all the recipes).
One of those recipes I used in a recent catering job. After that job, I had over two dozen egg whites and a big bowl of pureed sun-dried tomatoes sitting in the fridge.
Or, in other words, I had lunch for over a week. Turns out sun-dried tomato paste makes insanely good omelets.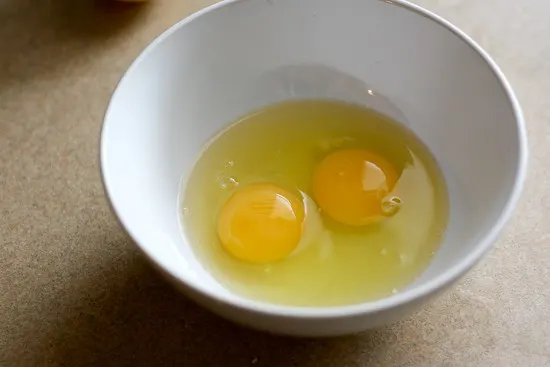 Eat the yolks! I tolerated the egg white omelets because I didn't want them to go to waste, but I missed my yolks. Yolks from farm-fresh eggs are healthy fats! None of that "low fat is best" baloney going on in this house.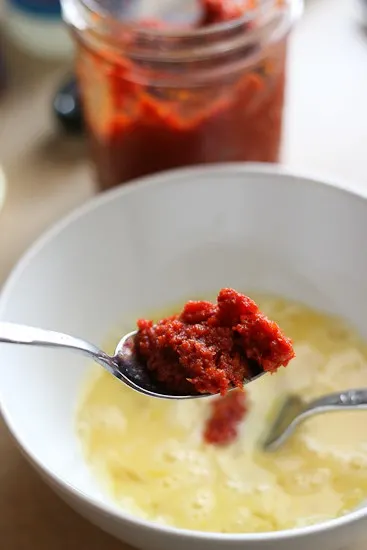 This time I didn't make the pesto, but simply pureed the sun-dried tomatoes. Whisk a spoonful of this into the eggs.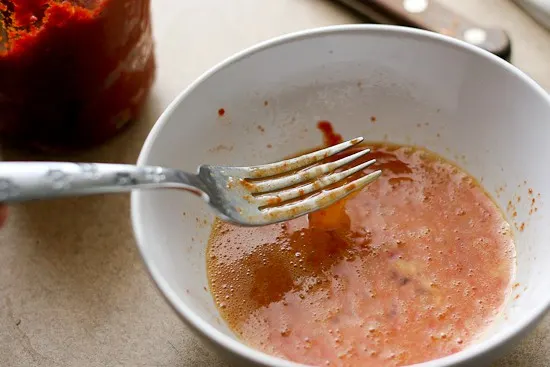 Which is actually kind of hard. It doesn't spread itself evenly in the eggs, but that's alright.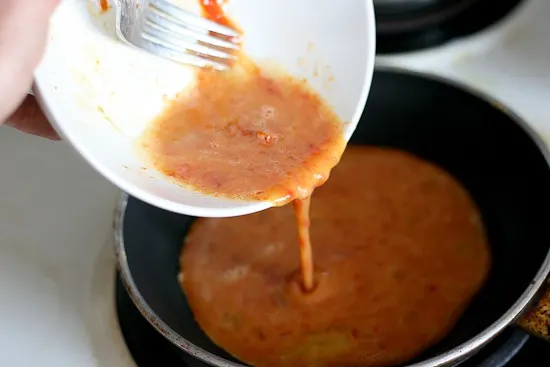 Pour it into a small skillet. (Preferably coated with some bacon drippings. I told you we're not fat-phobic around here.)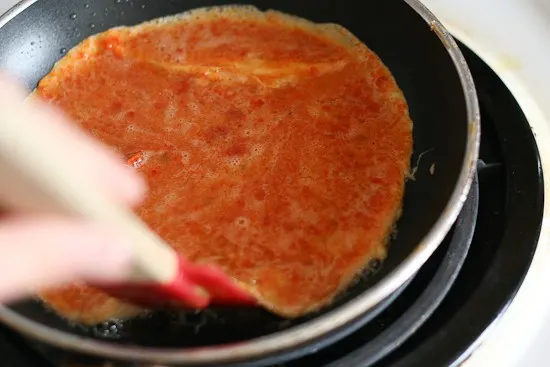 I make my omeletes like Bobby Flay does. After watching him do his thing during an omelet Throwdown, I always do it this way. Lift around the edges and let the uncooked, runny stuff go underneath. Keep doing it until no more egg runs around on the top. As soon as it's solid enough to flip, do it.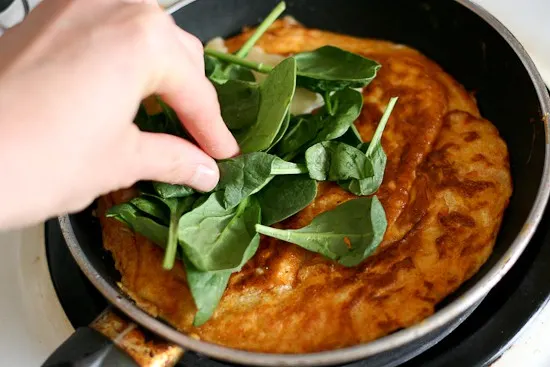 This one got a little darker than I wanted. Oh well.
Put your toppings in there. Quickly now. I added some baby spinach and a couple slices of Kerrygold Reserve Cheddar. (I'm a recent convert to Kerrygold grass-fed cheese. I love it.)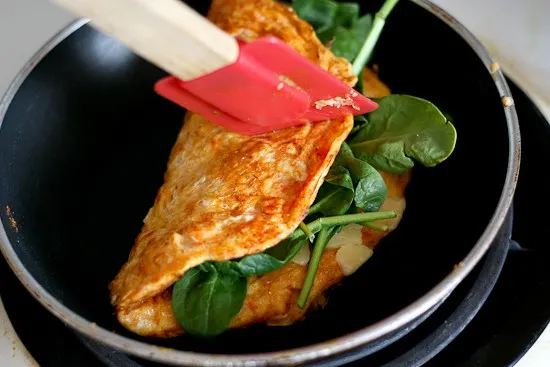 Fold it over, and if the omelet is particularly thick, hold it closed with a spatula.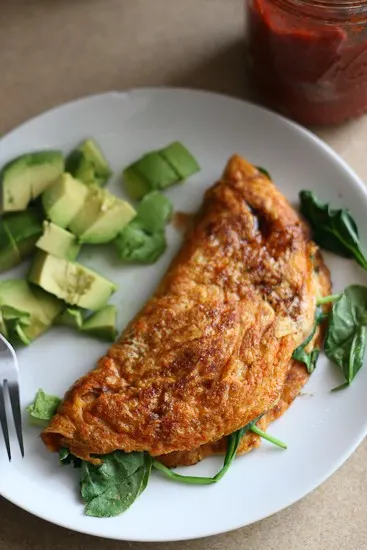 When the spinach is wilted a little and the cheese has started to melt, transfer it to a plate and let it sit for a few minutes. Drizzle some balsamic vinegar over the top and dice up some avocado to go on the side.
It'll be your favorite lunch, ever.
---
If you make one of my recipes, be sure to post it on social media and tag me at @perrysplate or #perrysplate so I can send you some love!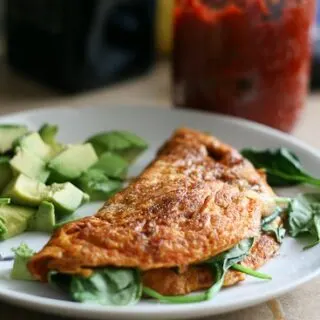 10-minute Sun-dried Tomato and Spinach Omelet
Pureed sun-dried tomatoes (or sun-dried tomato pesto) is a great way to liven up a basic omelet!
Ingredients
2 farm-fresh eggs
1 Tablespoon of sun-dried tomato puree (see note)
fat to coat the pan (bacon drippings, coconut oil, grass-fed butter, etc.)
1 handful of baby spinach
1-2 slices of grass-fed cheese (optional)
balsamic vinegar, for drizzling
chopped avocado, for garnish
salt and pepper, to taste
Instructions
Crack the eggs into a bowl and beat with a fork. Add the tomato puree and a generous pinch of salt and pepper. Combine well.
Heat a small non-stick skillet over medium heat, and add a teaspoon of bacon drippings, coconut oil, or grass-fed butter. Add egg mixture, and tilt the pan to spread egg mixture evenly. As the eggs begin to solidify around the edges, run a rubber spatula under the edges and let the uncooked egg mixture run underneath the omelet. When the omelet is just cooked through enough (mixture is solid enough on top so it doesn't drip anywhere), flip over.
Place the spinach and the eggs on half of the omelet and fold in half, holding it in place for a minute or so with the spatula, if necessary. When the spinach is wilted and the cheese is mostly melted, remove from the skillet. (You can also flip the omelet over if you're worried about one side being too dark.)
Drizzle with balsamic vinegar and serve with some chopped avocado.
Notes
Nat's Note:
1. To puree the sun-dried tomatoes, simply add them to a food processor or high-speed blender with just enough of the oil from the jar to get things going. Store in an air-tight container in the fridge for a couple of weeks.
This post may contain affiliate links. Any purchases made by using these links won't cost you any extra and helps keep my content free. These links may be Amazon links as I am part of the Amazon Associate Program.