This simple chipotle salmon has a triple punch of sweet, smoky, & spicy! The hot honey glaze is a MUST and is super easy to make.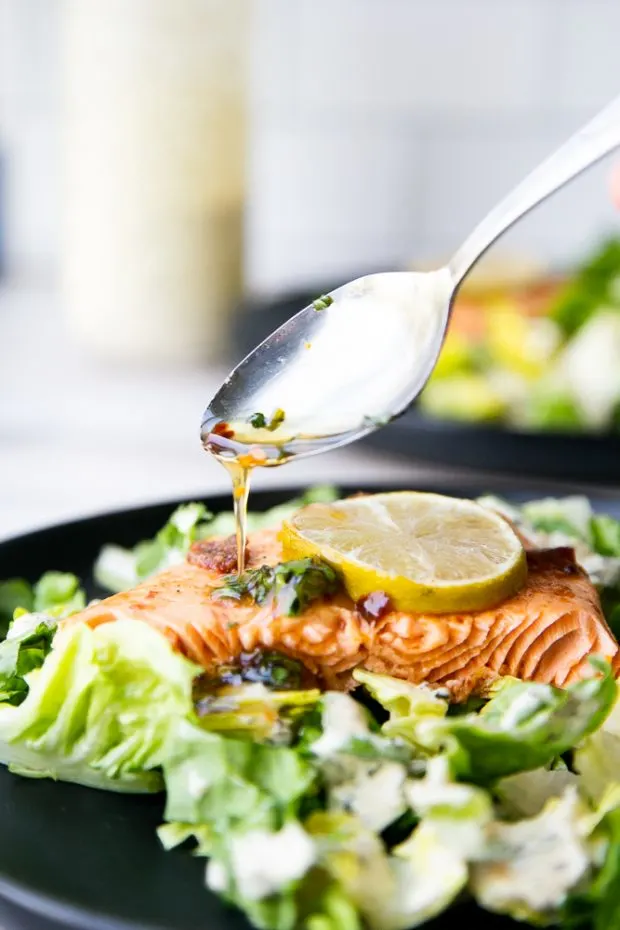 I love salmon. Like, big puffy heart love salmon.
If you want to know the truth, I created this Sweet Chipotle Salmon recipe because I wanted another vehicle for Hot Honey Cilantro Glaze.
Luckily it paired SO well with this salmon! (And REALLY good with the Roasted Jalapeno Ranch Dressing on this salad. I can't even.)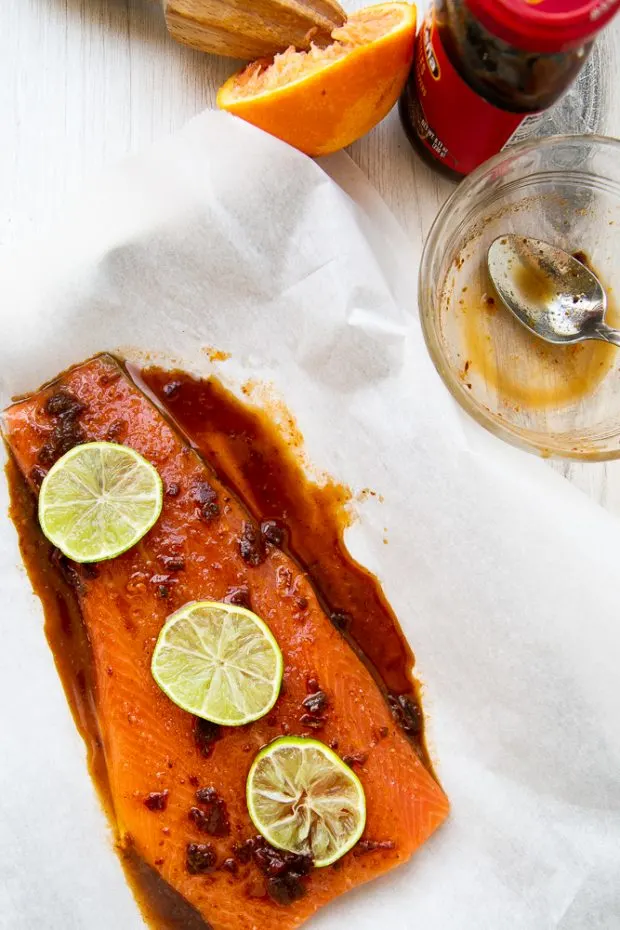 Isn't this a gorgeous piece of fish?
It was from my Sitka Salmon Shares box! Sitka is a community-supported fishery that sends out high-quality, wild-caught fish from family-owned fisheries in Alaska.
It's been some of the BEST fish I've ever had.
If you want to give Sitka a try, use the code PERRYSPLATE to get $25 off your first box!
Have you ever cooked fish "en papillote" or "in paper"?
It's my favorite way to cook fish because it seals in the moisture and helps the flavors get into the fish more deeply.
How to cook salmon in a packet
There are a couple of different ways to do salmon in a packet.
Use parchment. Form a packet by tearing off a piece of parchment twice the size of your fish. Fold the parchment in half, covering the fish and crimp/fold the edges, starting at one end and creating a mostly sealed packet. You can only bake parchment packets in the oven because they'd burn on a grill, obviously.
Use foil. I only use foil for fish that has skin so the foil isn't touching the fish directly. (Rumor has it, aluminum can leech into food when cooked at high temps.) Form the packets the same way and either cook in a hot oven or directly on the grill.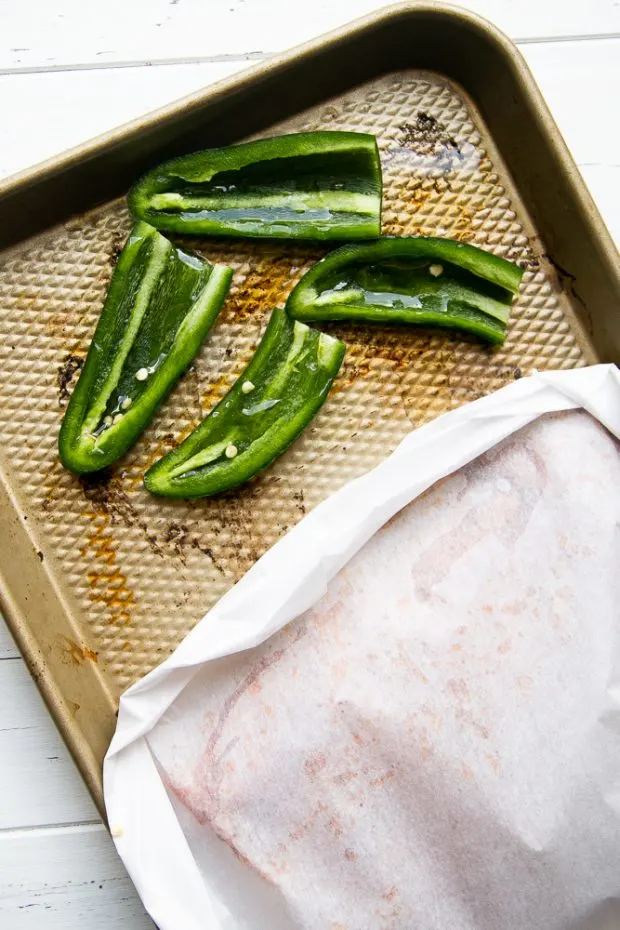 If you plan on making the Roasted Jalapeno Ranch Dressing, you can toss the jalapenos on the pan with the salmon packet.
You can also add some quick cooking vegetables to roast, like asparagus, thin slices of summer squash, broccoli, or bell peppers.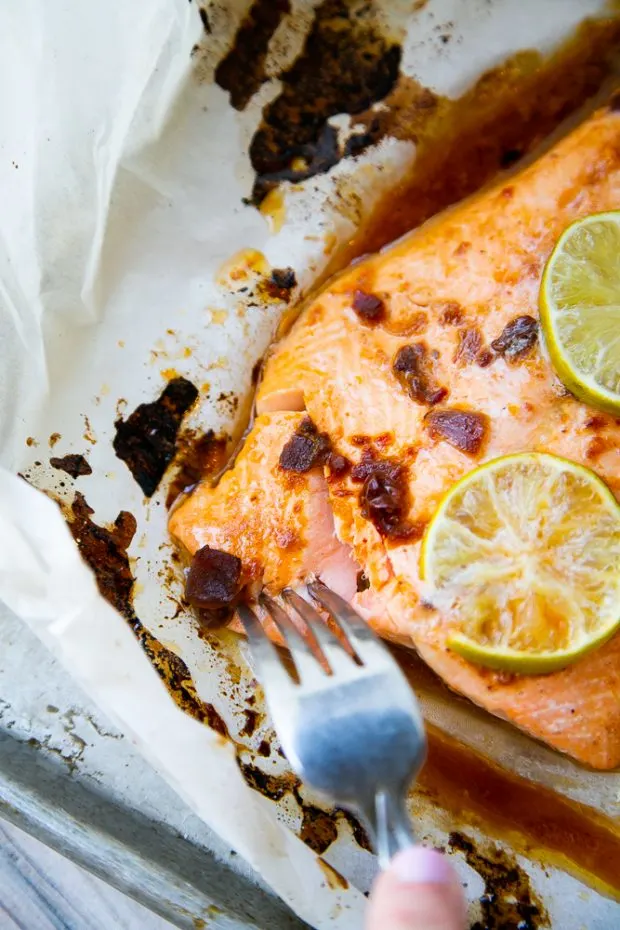 Tips for cooking salmon packets
Sprinkle on the salt first. This lets the salt penetrate the fish better before being rubbed or soaked in other things.
After you add the rest of the seasonings, let the fish marinate for about 15-20 minutes before cooking.
Add some kind of fat to the fillet. This adds some richness to the fish. I like little pats of butter, but a drizzle of olive oil would be nice, too.
Always use some kind of citrus/acid. Lemon or lime juice (and slices) are usually my first choice, but you can use vinegar, too. Acid brightens flavors — especially fish!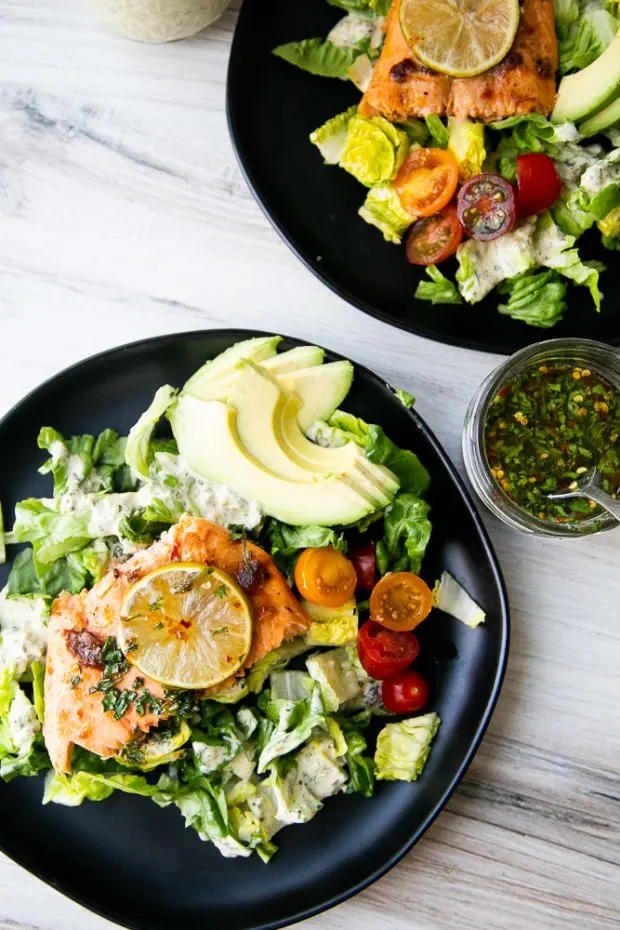 I find myself constantly trying to turn everything into a salad.
My kids are not amused by this, but they will eat salads for the most part, so I call that a win.
This Sweet Chipotle Salmon was EXCELLENT with the Hot Honey Glaze on a bed of greens tossed in Roasted Jalapeno Ranch. Super stellar combination.
More ways to use Sweet Chipotle Salmon
Make tacos! Some grain-free taco shells or tortillas, creamy avocados, and Southwest Cabbage Slaw would make some pretty tasty salmon tacos.
Make rice bowls! Build a bowl with Instant Pot Coconut Rice, Grilled Pineapple & Jalapeno Salsa Pico, and lots of fresh lime juice! YUM.
Serve alongside some roasted vegetables. Make it a sheet pan meal by putting some quicker-cooking vegetables on the pan with your foil packet! Asparagus, broccoli, thinly cut summer squash, or bell pepper strips would be great options.
---
If you make one of my recipes, be sure to post it on social media and tag me at @perrysplate or #perrysplate so I can send you some love!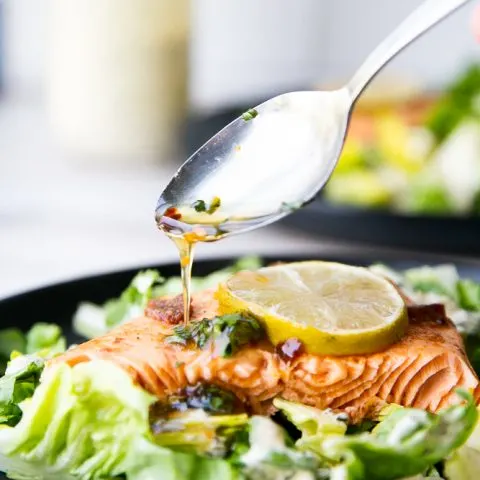 Sweet Chipotle Salmon with Hot Honey Glaze
This simple chipotle salmon has a triple punch of sweet, smoky, & spicy! The hot honey glaze is a MUST and is super easy to make.
Ingredients
12-16 oz salmon fillet or 5-6 individual fillets
1/2 teaspoon pink Himalayan salt or sea salt
1 minced chipotle pepper from a can of chipotle peppers in adobo sauce
1 tablespoon coconut sugar or honey
1 orange
2 large limes
2 tablespoons grass-fed butter or olive oil
Instructions
Preheat your oven to 450 degrees F.
Tear off a piece of parchment twice the size of your salmon fillet(s). Lay the fillets on half of the parchment, skin-side down. Sprinkle with salt.
Make the Hot Honey Cilantro Glaze while the salted salmon rests.
In a small bow, combine the minced chipotle pepper, coconut sugar, 1/4 teaspoon orange zest, 2 Tablespoons orange juice, and the juice from the lime (about 1-2 Tablespoons).
Pour the mixture over the salmon fillets. Divide the butter into fourths and put the pieces of butter on top of the salmon. If you have individual fillets, put a little piece on each fillet.
Cut the remaining lime in half. Create 2-3 thin slices from the lime and lay them on top of the salmon. Save the rest for serving.
Fold the parchment in half over the salmon and crimp the edges to seal. Start on one end and crimp/fold, making your way around the opening until the whole thing is sealed.
Place the packet on a rimmed baking sheet. Roast for 9-11 minutes for a whole fillet and about 5-6 minutes for individual fillets.
Salmon is finished cooking when it just starts to pull away from itself in sections. It overcooks quickly, so watch it closely.
Serve immediately with a drizzle of the honey glaze and lime wedges.
Notes
Nat's Notes:
If you use foil, place the salmon skin-side down and roast as directed or cook on a hot grill for 8-10 minutes (for a whole fillet).