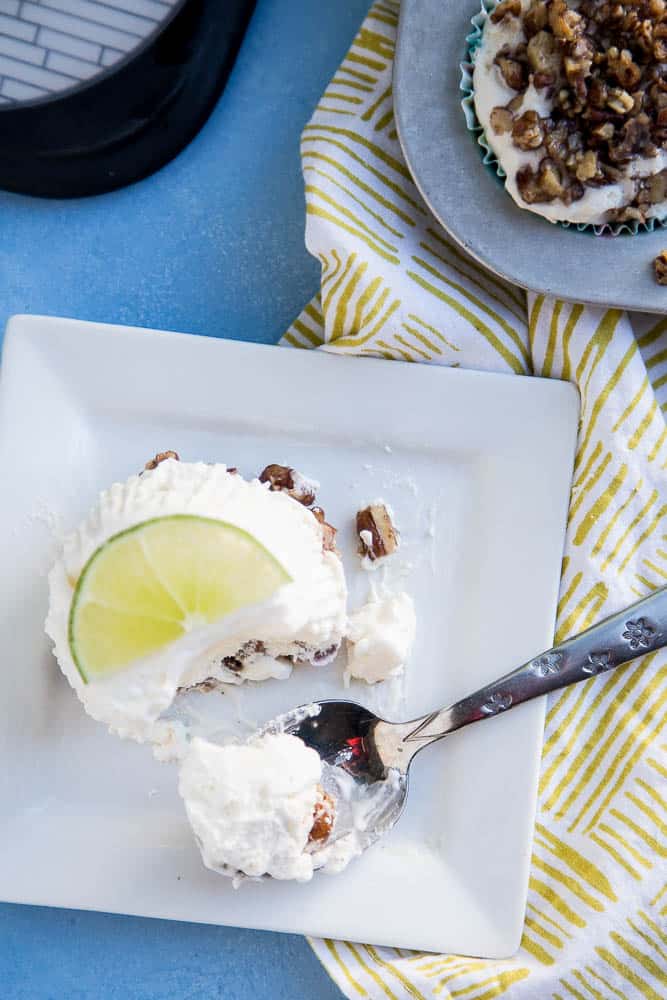 Today is a great day, my friends. Steve and I are leaving on a red-eye to New York City tonight to spend a few days there for an early anniversary getaway. I can't tell you how excited I am. Summertime takes it toll on me REALLY quickly since I'm not one of those moms who loves having all their kids home all day during the summer. Luckily they can go outside and we can make fun frozen desserts — like these Keto Frozen Key Lime Mini Pies.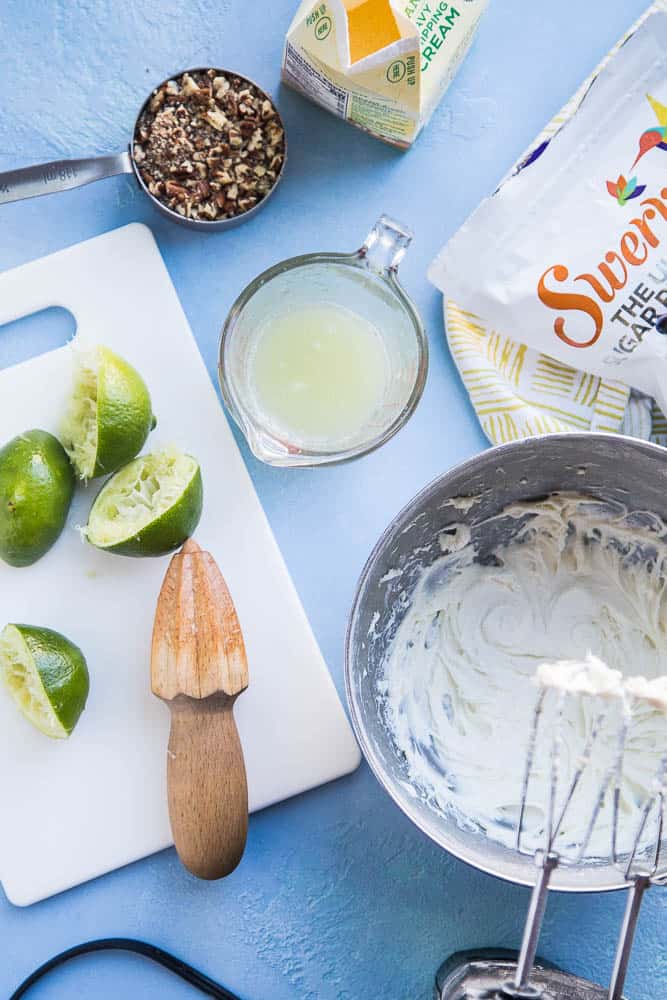 This is another recipe from Carolyn Ketchum's newest book, Easy Keto Desserts. She is a serious cookbook-producing machine! This is her third cookbook in less than a year. (Can you hear my head exploding?)
This one does have dairy, but I included some paleo modifications in the recipe notes if you're off dairy and aren't into low-carb sweeteners.
Still have that bag of Swerve erythritol-based sweetener you used for the White Chocolate Raspberry Fat Bombs or the Keto Chocolate Tahini Fat Bombs? (See? Lots of uses!) Pull it out for this, too.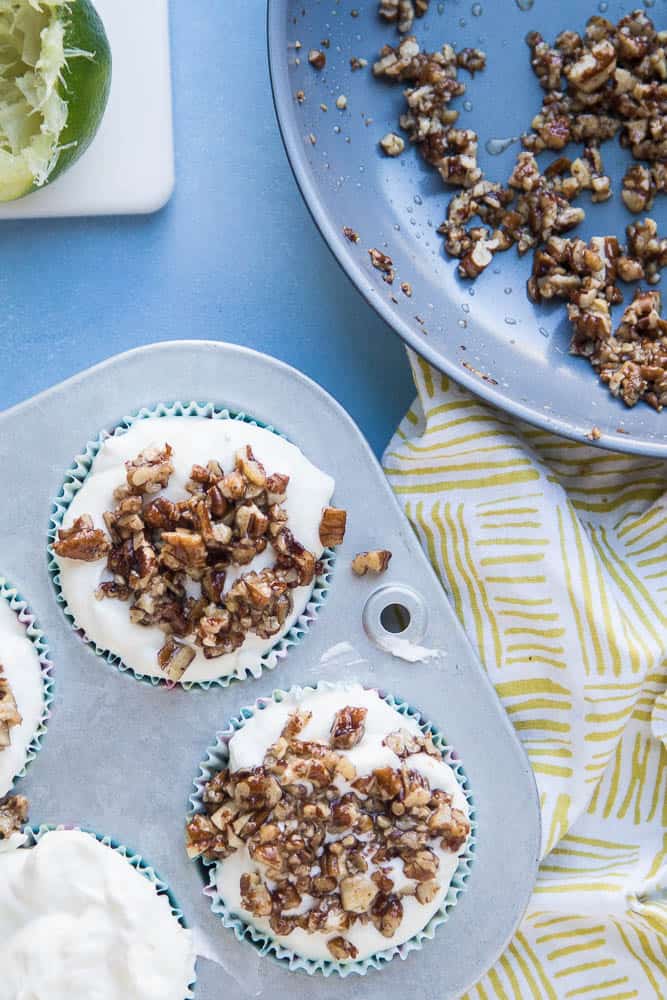 These little cups have a creamy, bright lime flavor, which I love, but my favorite part is the candied pecan crumble on the top. Er… bottom, when you flip them around to eat them.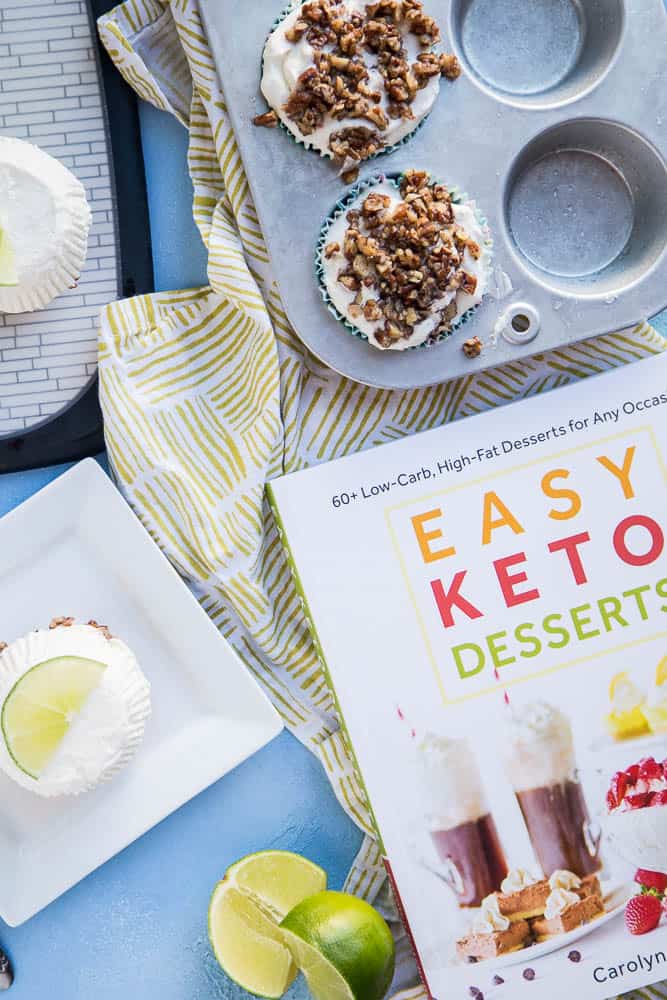 Another good thing about these is that they can hang out in the freezer and wait until you're ready to eat them. They don't dry out on the counter and "force" you into eating more than you need to by glaring at you all day as you go in and out of the kitchen.
I can see lemon or orange versions being good, too! Or a MEYER LEMON one. I'm totally going to try that the next time I see them pop up in the grocery store.
Easy Keto Desserts releases TODAY! Go grab a copy and be sure to check out Carolyn's blog, All Day I Dream About Food for more keto dessert action. (Seriously. She's a master.)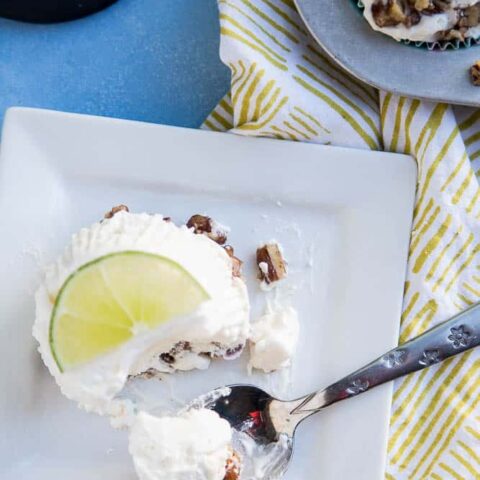 Keto Frozen Key Lime Mini Pies
Total Time:
4 hours
27 minutes
Keto Frozen Key Lime Mini Pies are so easy to make, and they can hang out in the freezer until you need them. I love the crumbly candied pecan crust on the bottom! You can make them dairy-free, too.
Ingredients
4 ounces cream cheese, softened
1/4 cup plus 2 Tablespoons powdered erythritol-based sweetener (or other powdered low-carb sweetener)
1/3 cup Key lime juice (or regular lime juice)
1/2 cup heavy whipping cream
1 Tablespoon butter (salted or unsalted)
1/2 cup finely chopped raw pecans
1 Tablespoon granulated erythritol-based sweetener (or other granulated low-carb sweetener)
1/4 teaspoon salt
Additional lime slices and whipped cream, for garnish, if desired
Instructions
Line 6 standard-sized muffin cups with paper or silicone liners.
In a medium bowl, beat the cream cheese and 1/4 cup of the powdered sweetener with an electric mixer until smooth. Beat in the lime juice.
In another bowl, beat the cream with the remaining 2 Tablespoons of powdered sweetener until it holds stiff peaks. Fold the whipped cream into the cream cheese mixture until well combined. Divide the mixture among the lined muffin cups, filling each cup to the top.
Melt the butter in a small skillet over medium heat. Add the pecans and the granulated sweetener and cook for 5-7 minutes, until the pecans are toasted and fragrant. Sprinkle with the salt, then remove from the heat and let cool for 5 minutes.
Sprinkle the pecan mixture over the lime mixture in the muffin cups, pressing lightly to adhere.
Freeze for 3-4 hours, until set. Invert the pies onto a plate and remove the liners before serving.
Notes
Nat's Notes:

1. If you freeze these for longer than 6 hours they'll become very hard, but soften when you let them sit on the counter for 20-30 minutes before serving.
2. If you're not keto and you'd rather not use low-carb sweetener, replace both sweeteners with an equal amount of honey or pure maple syrup. I wouldn't recommend using coconut sugar in the filling because it will be grainy, but it would be fine to use it with the nuts.
3. To make this dairy-free, use dairy-free cream cheese (Kitehill makes a great one!) and use whipped coconut cream and coconut oil in place of the heavy cream and butter.
Nutritional info (per cup): Calories 219 | Fat 20.5g | Protein 2.4g | Carbs 3.7g | Fiber .9g | Erythritol: 17.5g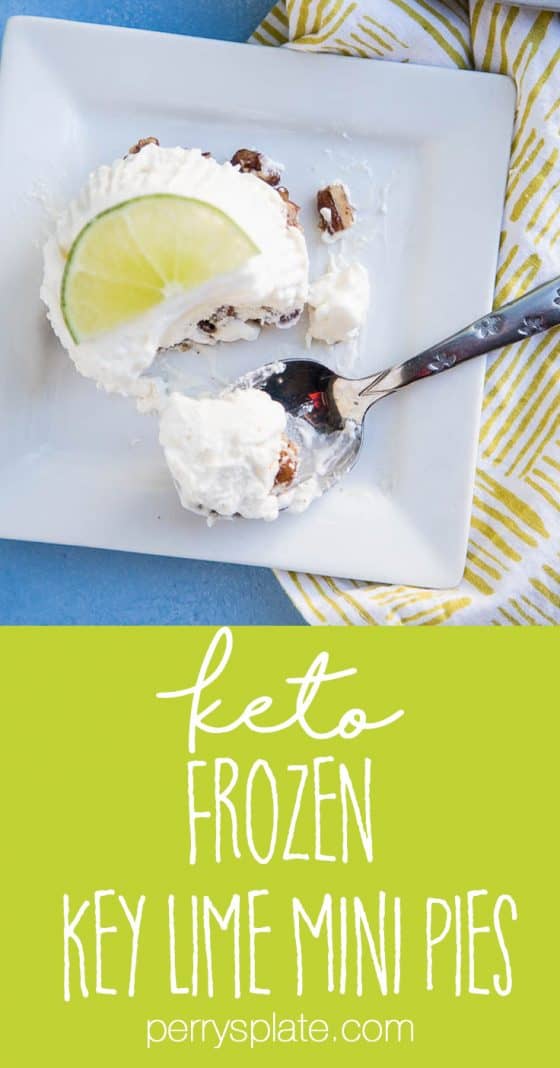 Disclosure: This post contains Amazon affiliate links. Purchases made by using these links doesn't cost you any extra and helps to keep my content free.
SaveSave
SaveSave