These Paleo-friendly meal plans are for six dinner recipes and a dessert thrown in for fun! All of these recipes are paleo friendly, seasonal, and most can be easily adapted to be Keto/Low-Carb or Whole30 friendly.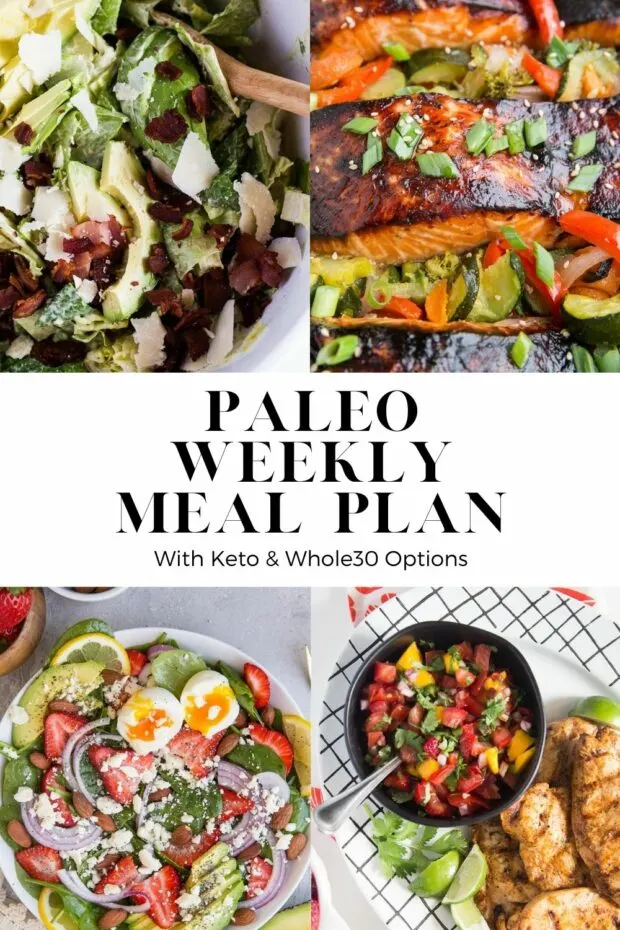 Gasp. Guess what??
We bought a pellet grill/smoker (from Camp Chef) and I'm beyond excited to start playing with it!
Do you have one? What's your favorite thing to make in it??
This week's meal plan is super fresh and light!
We added a grilling recipe and a couple of excuses to buy a bunch of strawberries this week. You can use them for Julia's salad and the strawberry-mango salsa to go along with my grilled chicken!
And pro-tip: Make the Baked Basil Chicken & Simple Roasted Tomato Soup over the weekend and eat them together during the week! YUM!
Should be a tasty week. Enjoy the sun!
Natalie
---
Sunday
TERIYAKI SALMON — This salmon with roasted vegetables is a mouth-watering delicious and clean meal! This simple recipe can be made any night of the week and even salmon naysayers will love it!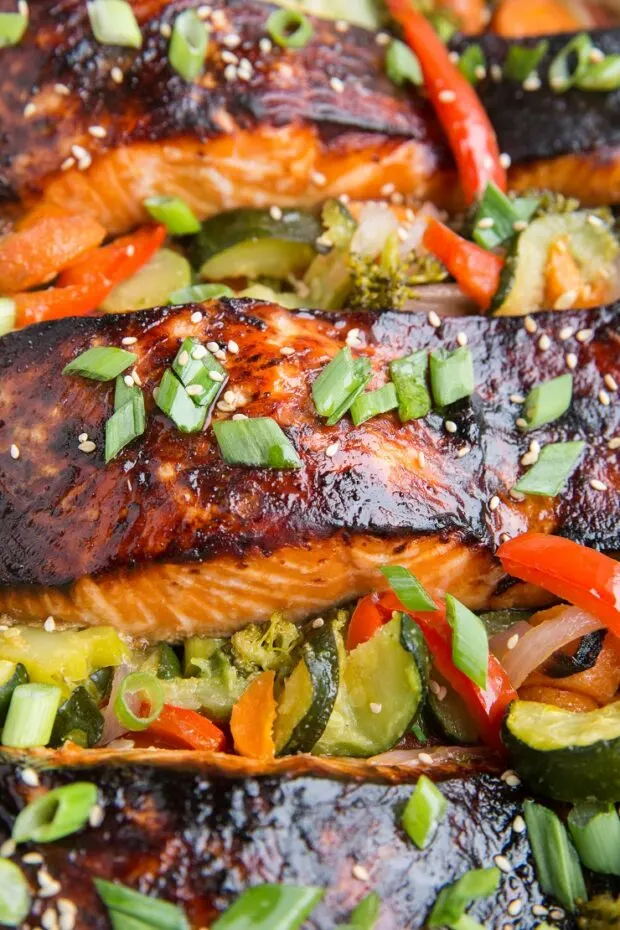 Special Diet Note: Recipe is paleo and whole30.
Prep Ahead: Marinate the salmon up to 12 hours in advance.
Substitutions: Use your favorite veggies and/or teriyaki sauce. Use store-bought Paleo teriyaki sauce, make homemade Paleo Teriyaki Sauce, or use your favorite!
Monday
GRILLED CHIPOTLE-LIME CHICKEN WITH STRAWBERRY MANGO SALSA — I love the way the fiery chipotle flavors mix with the sweet, fruity salsa. This is an easy grilled chicken recipe to throw together on a summer weeknight.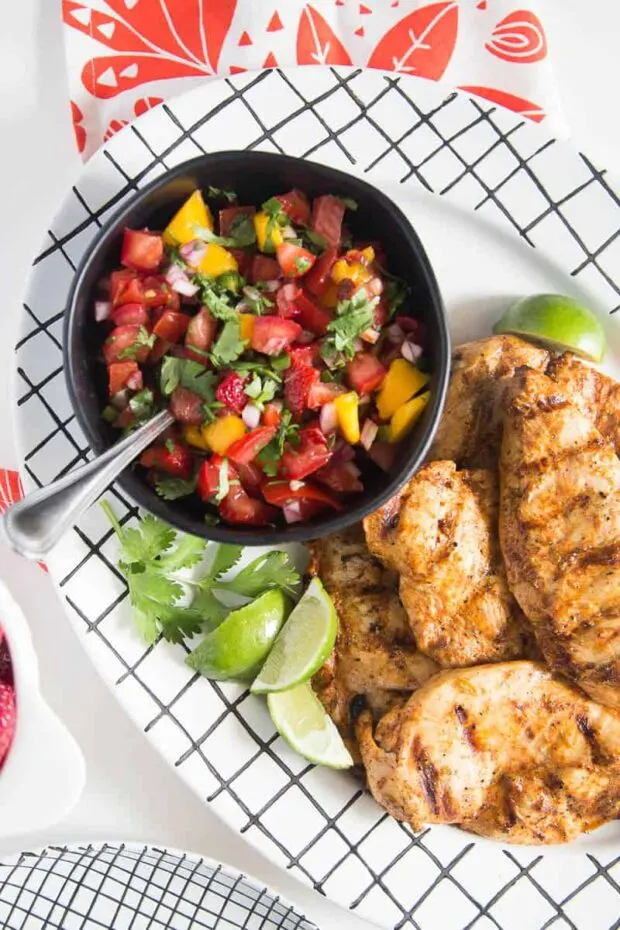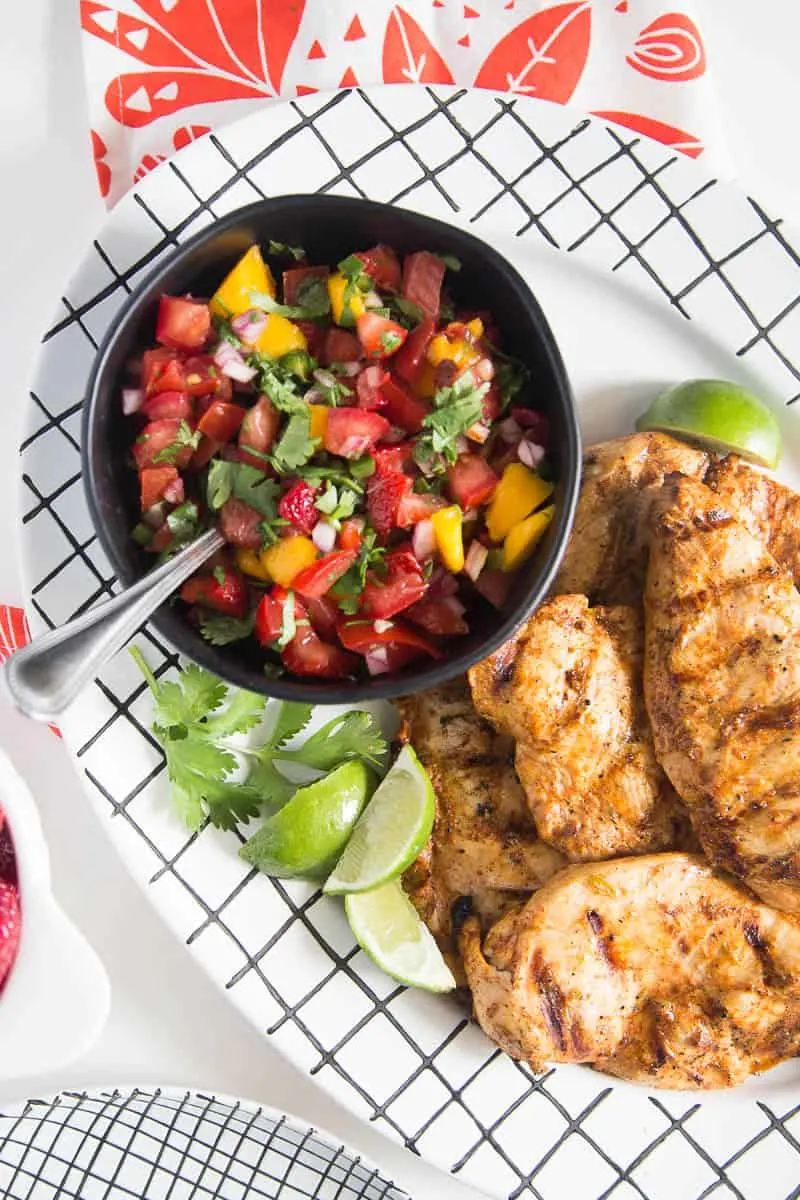 Special Diet Note: Recipe is paleo. Use 1/2 tsp dried chipotle powder in place of the chipotle peppers to make it whole30 friendly.
Prep Ahead: Marinate the chicken up to 18 hours ahead and make the salsa 1-2 days beforehand.
Substitutions: Use pineapple in place of the mango if you like. And if you can't find chipotles in adobo sauce, use 1/2 tsp dried chipotle powder.
Tuesday
STRAWBERRY SPINACH SALAD WITH POPPY SEED DRESSING — This salad is a texture fest! Avocado, roasted almonds, red onion, 6-minute jammy egg, and feta cheese makes this salad famously delicious! An epic crowd-pleaser, this salad is great for any summer gathering.
Special Diet Note: Recipe is Paleo/Primal. Make it dairy-free and whole30-compliant by omitting the feta cheese
Prep Ahead: Make the dressing up to 5 days in advance or use your favorite store-bought or homemade dressing.
Substitutions: Use blackberries or raspberries in place of the strawberries or a different type of nut or cheese! There are a lot of ways to adapt this recipe.
Wednesday
SIMPLE ROASTED TOMATO SOUP — All you need are some perfectly ripe summer tomatoes and a handful of other ingredients to make the best tomato soup. It also freezes nicely, which is nice if you happen to get a tomato soup craving next February.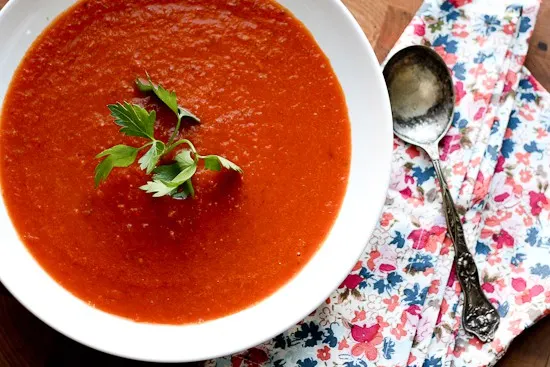 Special Diet Note: Recipe is paleo & Whole30 friendly.
Prep Ahead: Vegetables can be roasted a few days ahead.
Substitutions: Stir in some basil pesto, infused olive oil, or add some chili flakes for some heat.
Thursday
BASIL BAKED CHICKEN — This recipe is a fresh, herby, flavorful main entrée. You're not going to believe how easy this finger-lickin' good, juicy tender chicken thigh recipe is!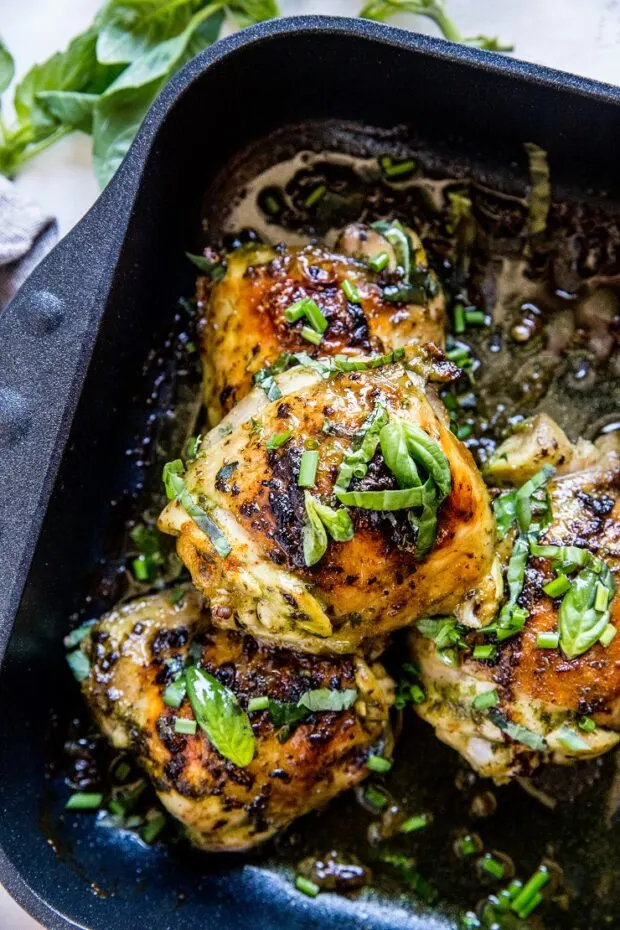 Special Diet Note: Recipe is paleo, keto, and Whole30.
Prep Ahead: Marinate the chicken up to 24 hours in advance.
Substitutions: You can grill the chicken instead of baking it! We do both in my household! Serve with choice of sides. I go with Stir Fry Vegetables or Roasted Vegetables.
Friday
AVOCADO BACON PARMESAN SALAD — Avocado + bacon + Parmesan might be my all-time favorite combination. The tangy avocado dressing pulls everything together. The lettuce? Merely a vehicle for greatness.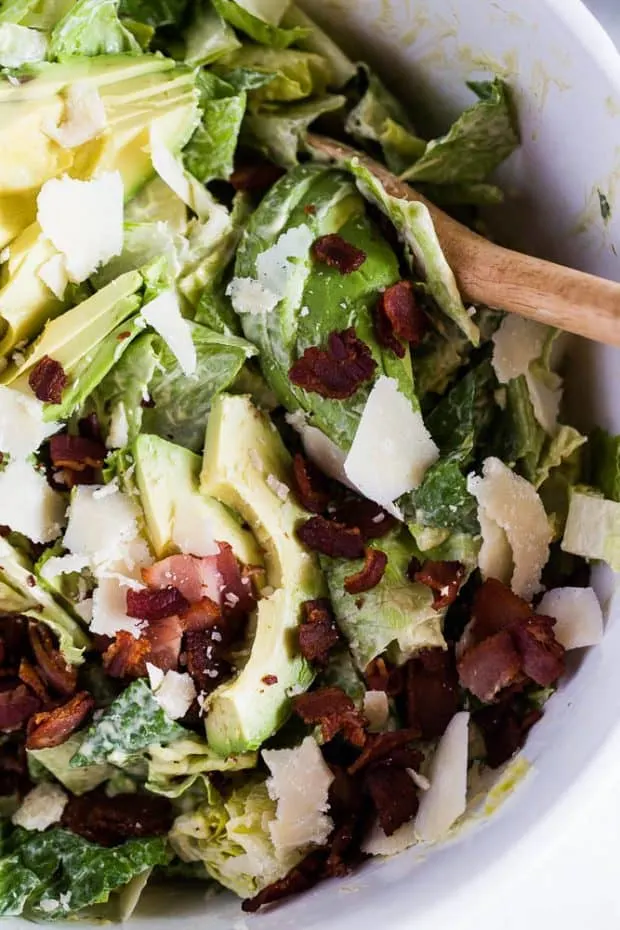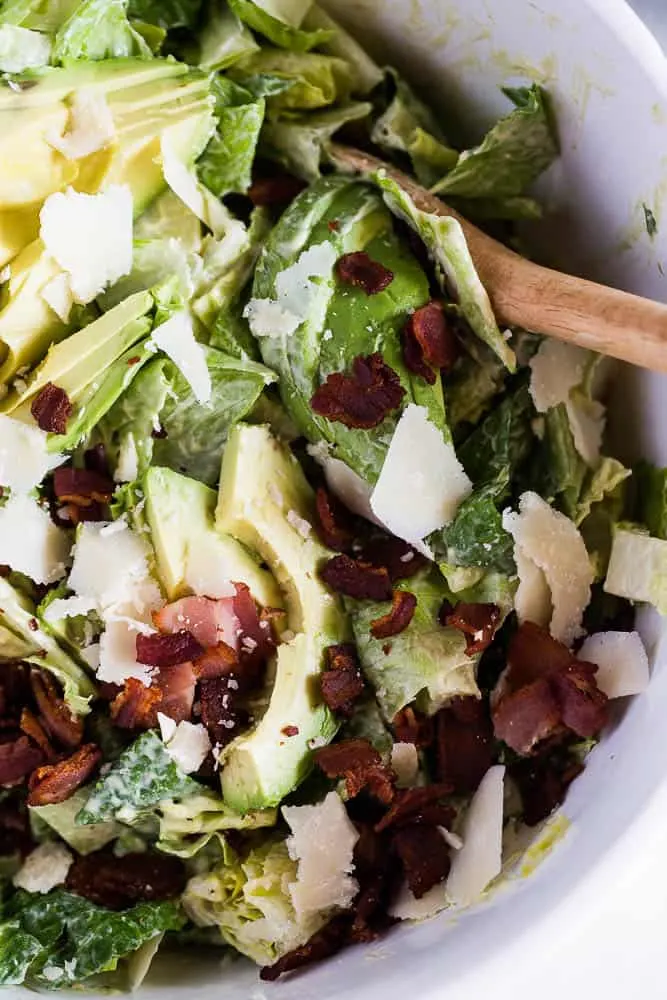 Special Diet Note: Recipe is primal. Omit the parmesan and use more mayo in place of the sour cream to make it completely dairy-free.
Prep Ahead: Make the dressing 1-2 days in advance.
Substitutions: Swap out the bacon for some leftover grilled chicken or salmon from earlier in the week.
Dessert
PALEO BLUEBERRY CAKE — This cake has low-carb options and can be made dairy-free and refined sugar-free. This delicious blueberry delight couldn't be easier to make and is a lovely breakfast for sharing.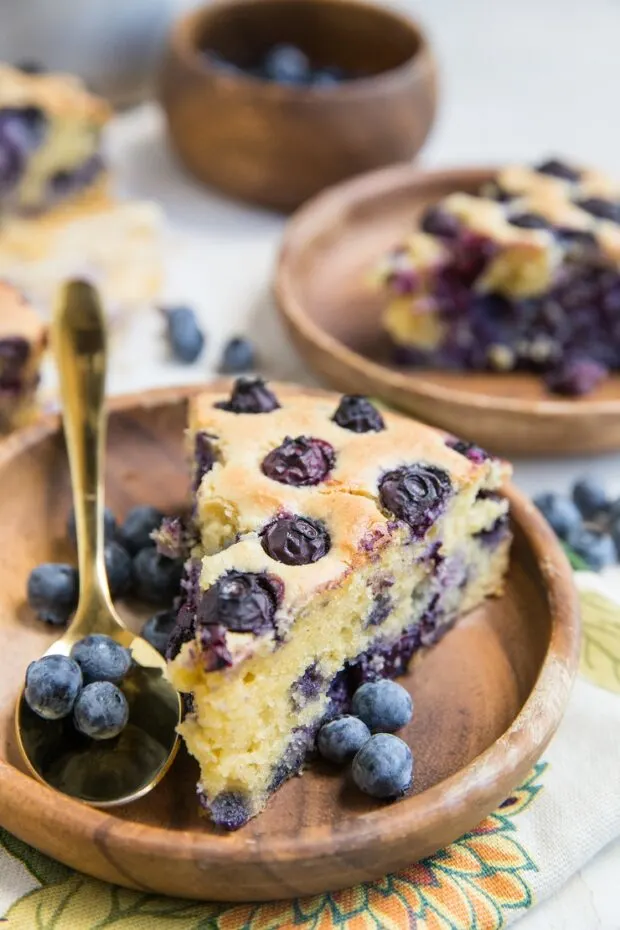 Special Diet Note: The cake is paleo!
Substitutions: Use strawberries, raspberries, or blackberries instead of blueberries if you'd like.
Grocery List
Click HERE to download a handy printable grocery list!