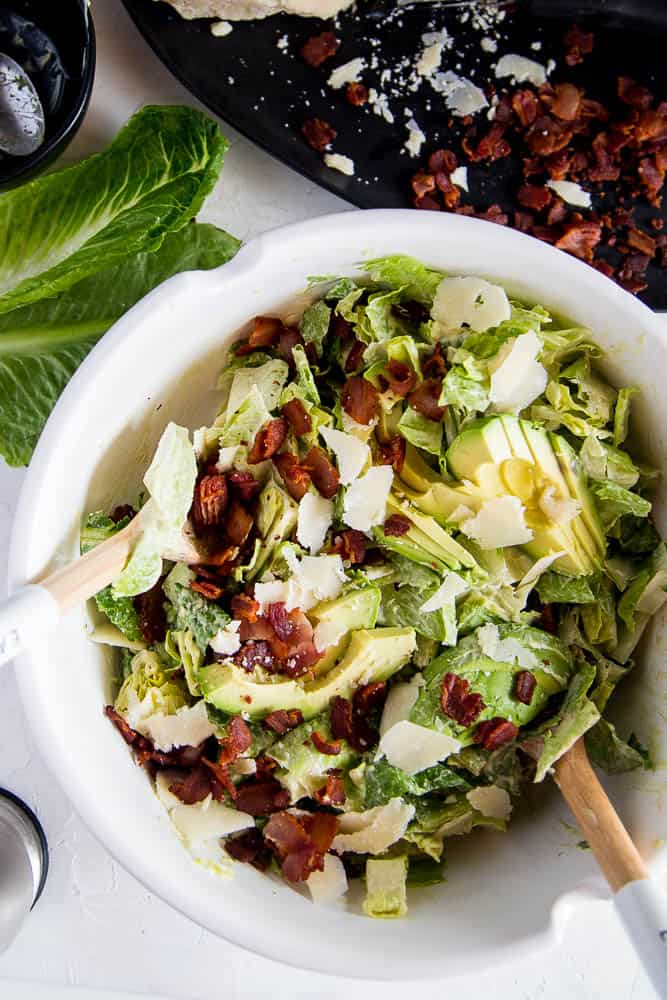 I know I just posted a bunch of salads, but I think this one deserved some attention on its own.
I think it's clear that I really like bacon. I also really like avocados.
Guacamole, thanks to my dad, was one of my first solid foods as a baby. I've loved guacamole since before I had teeth, but it's only been in the last few years that I've liked avocados on their own.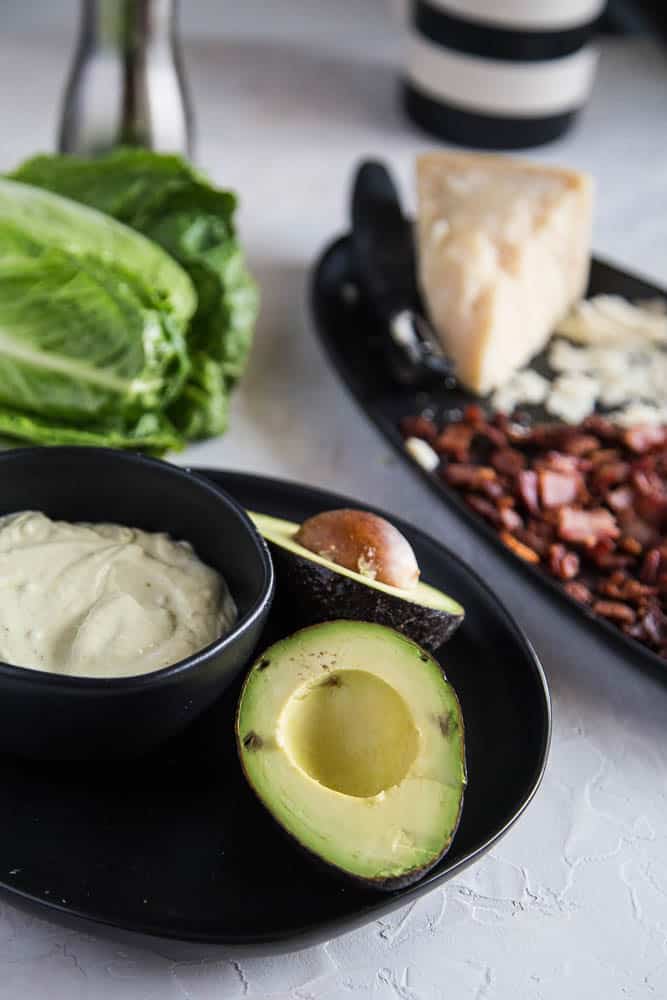 Avocados and bacon are a rockstar combination. One of my absolute favorites. And I think it gives this salad a feeling of unexpected decadence.
Like, a salad you'd serve to a salad-hater, but hoping the avocado, bacon, and fresh parmesan distracts them from noticing they're actually eating a salad. It totally worked on my kids.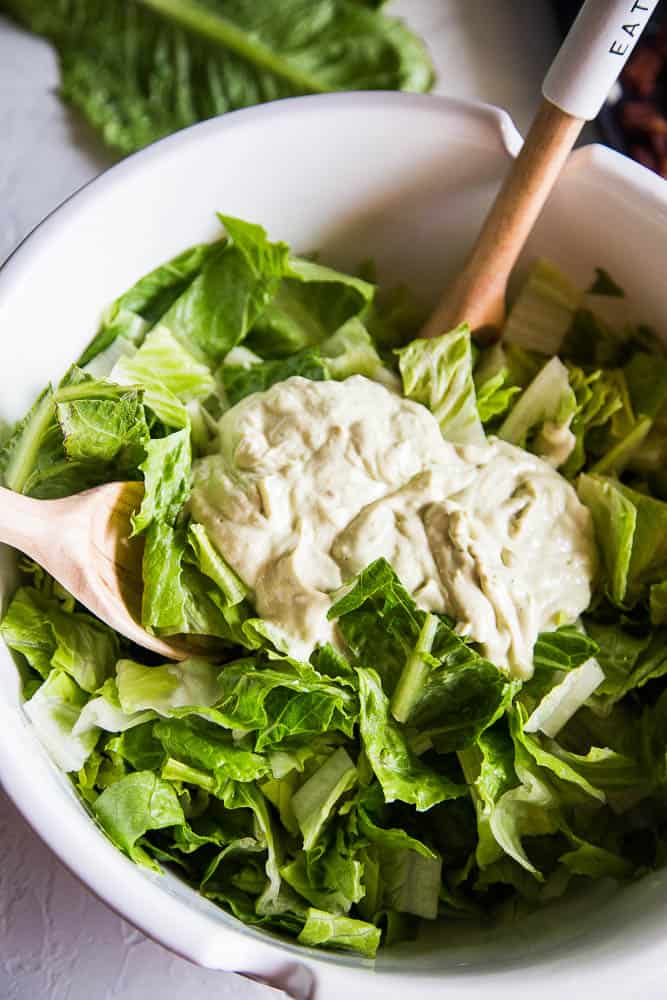 And let me tell you about this dressing – it's creamy and has a splash of apple cider vinegar.
It looks rather bland, but put a bit on your tongue and you'll immediately notice its spunk. Kind of like pop rocks. Without the popping. Or the corn syrup. (OK, bad comparison.)
More like a pleasant tang which brings this whole bowl of amazing together nicely.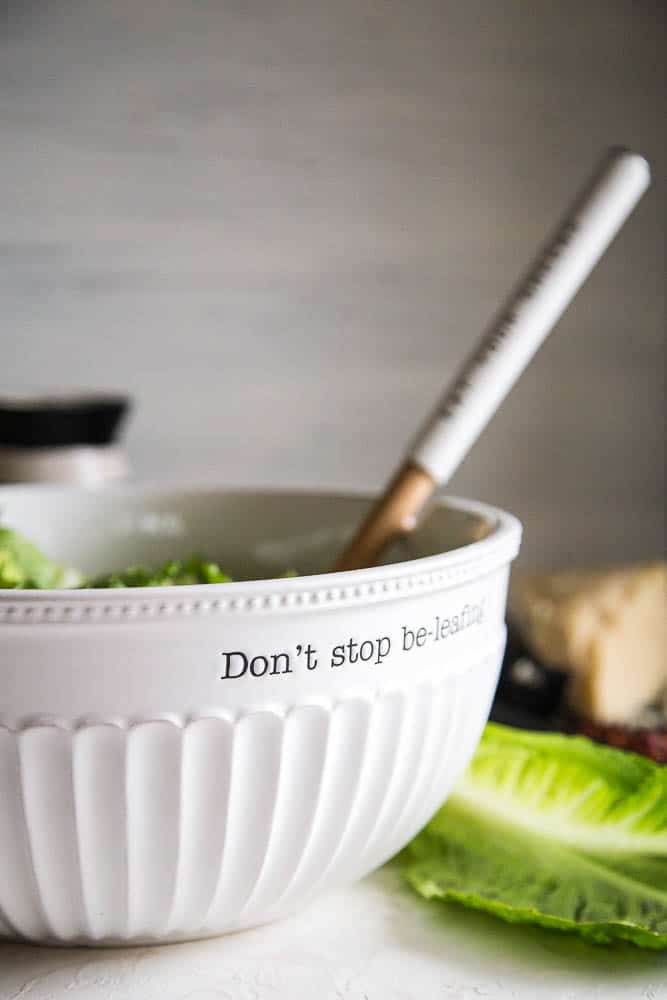 Speaking of bowls….
Isn't this bowl awesom-mazing? (My 6-year-old made up that word. I love it.) I found it at the new Albertsons Marketplace they opened here in Meridian. (It's the most glorious grocery store I've ever been to. Seriously.)
Don't Stop Be-leafing. I love a good pun. Plus I'm married to Steve Perry. (I'll let you young ones chew on that one for a bit.)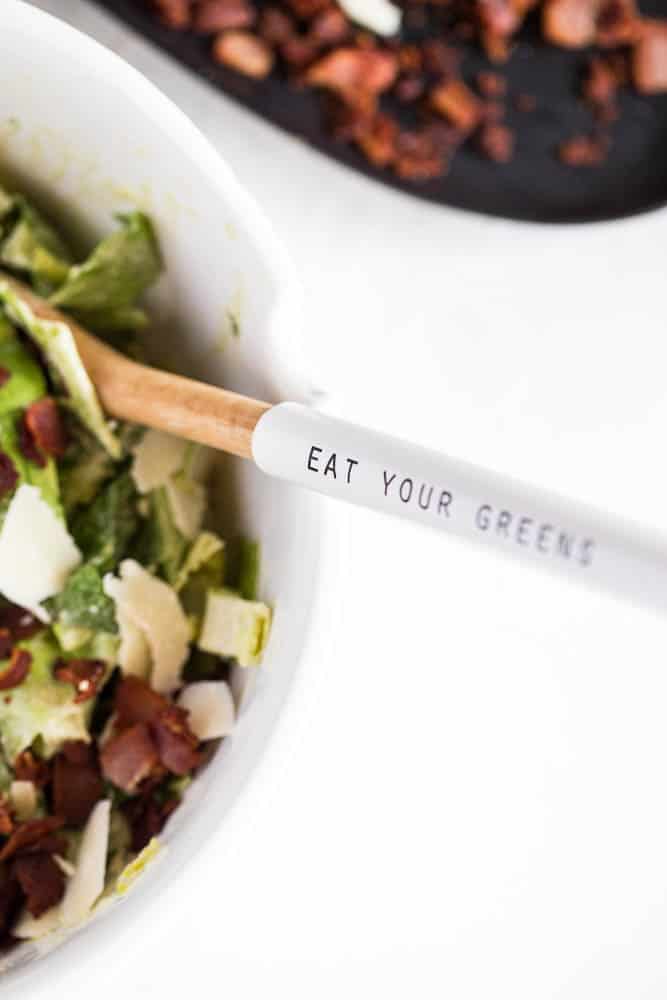 And look at the tongs! I love this set so much. Is there anything in your kitchen that makes you ridiculously happy?
Besides an abundance of avocado, bacon, and Parm, that is.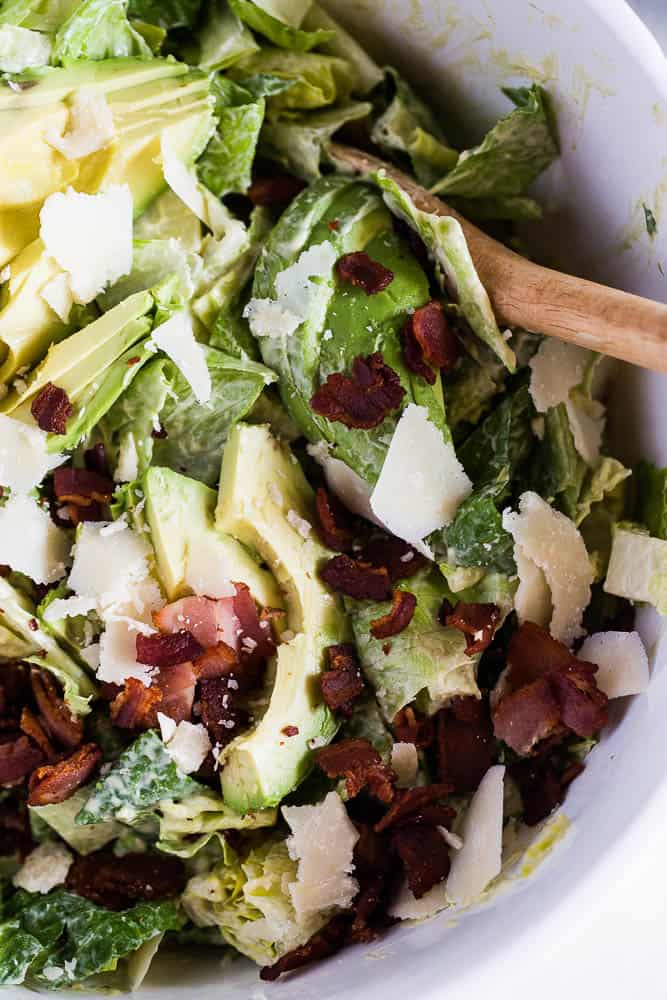 We liked this salad so much (even the kids) that I made it twice in 2 weeks. That's love.
If you like this salad with it's creamy dressing, you may want to try some of the others I have on Perry's Plate! (Some of these link to The Pioneer Woman, Food & Family where I contribute… in case you're confused when you click.)
Tasty Potluck Salads with Creamy Dressing
Grilled Vegetable and Andouille Salad with Spicy Ranch
SaveSave
---
If you make this recipe, be sure to post it to social media and tag me at @perrysplate or #perrysplate so I can send you some love!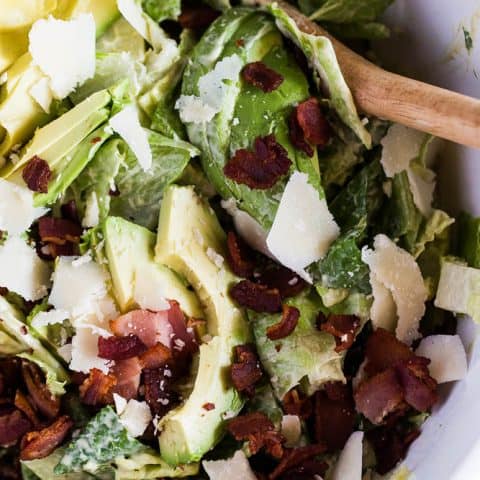 Avocado Bacon Parmesan Salad with Tangy Avocado Dressing
Avocado + bacon + Parmesan might be my all-time favorite combination. The tangy avocado dressing pulls everything together. The lettuce? Merely a vehicle for greatness.
Ingredients
For the salad
1 avocado, peeled, pitted, and sliced
6 ounces of bacon, cooked and crumbled
1/3 cup fresh Parmesan or Romano cheese shavings
12 ounces of salad greens
For the dressing
1/2 of an avocado, peeled, pitted and cut into large chunks
1 green onion, sliced
3 Tablespoons sour cream
3 Tablespoons mayonnaise or plain yogurt
1 Tablespoon apple cider vinegar
1 teaspoon honey
1 teaspoon Dijon mustard
salt and pepper, to taste
Instructions
To prepare the dressing, place all dressing ingredients into a small food processor and blend until smooth. Adjust salt and pepper as needed.
Toss dressing with salad greens and top with avocado slices, bacon crumbles, and cheese shavings.