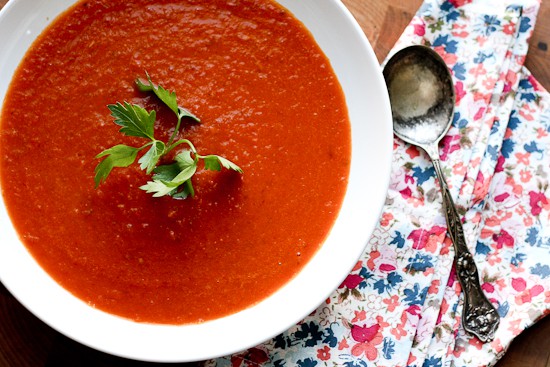 I'm so, SO grateful I had a leftover pot of this tomato soup in the fridge this week. A girl can only handle so many "whisk contents of packet into boiling water" meals. No, I haven't fallen off the clean eating wagon. We're doing an emergency preparedness exercise this week.
…at which I'm miserably failing. Tuesday we had some errands to run immediately after dinner so by the time the kids were in bed and I went to tackle the dinner mess, it was dark. Scrubbing dried/scorched food off of pots (still getting the hang of the grill burner), wiping down the countertops, and sweeping the floor by candlelight isn't fun — especially when I remembered seeing a few stray ants under the kitchen table just hours earlier.
I was frustrated about some other things that had happened that day, too, so I flipped the lights on and pretended for an hour that the world wasn't, in fact, coming to an end.
I may have also spent an hour a half hour on Pinterest that night.
Oh, and I've had a strange feeling in my stomach since the just-add-water meals began. Steve, too. To say I'd kill for a smoothie right now is becoming quite literal.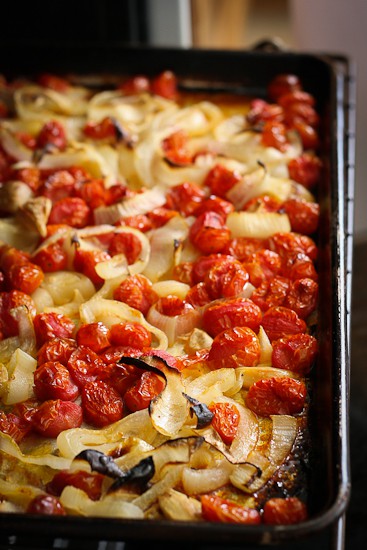 This soup helped save my sanity. You can use a combination of fresh and canned tomatoes until the tomatoes start raining down late summer. If you do that, I recommend using sweet cherry or grape tomatoes for the best flavor.
I left the recipe (which I snagged from the Food Network site after watching Tyler's Ultimate several years ago) plain to make it easier to customize to your liking. You can blend in fresh basil or add basil pesto at the end. Cilantro pesto would be good, too!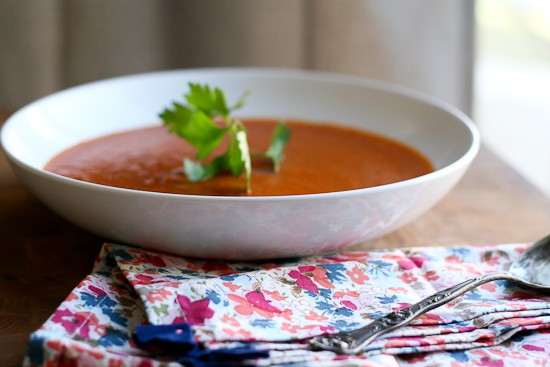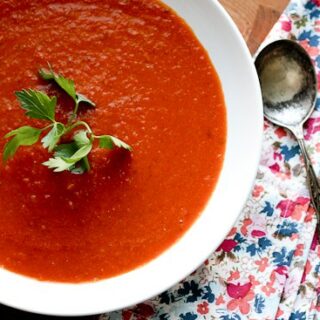 Simple Roasted Tomato Soup
This soup is just as its described -- simple. All you need are some perfectly ripe summer tomatoes and a handful of other ingredients to make the best tomato soup. It also freezes nicely, which is nice if you happen to get a tomato soup craving in February.
Ingredients
2 1/2 pounds fresh tomatoes (mix of fresh heirlooms, cherry, vine and plum tomatoes)
6 cloves garlic, peeled
2 small yellow onions, sliced
1/2 cup heat-safe oil, like coconut or avocado
Salt and freshly ground black pepper
1 quart chicken or vegetable stock
2 bay leaves
4 tablespoons ghee or grass-fed butter
1/2 tsp salt
Instructions
Preheat the oven to 425 degrees F.
Wash, core and cut the tomatoes into halves. (You don't need to do this with cherry or grape tomatoes. Just roast them whole.) Spread the tomatoes, garlic cloves and onions onto a baking tray.
Drizzle with 1/2 cup of heat-safe oil and season with salt and pepper. Roast for 20 to 30 minutes, or until caramelized and dark brown on the edges.
Remove roasted tomatoes, garlic and onion from the oven and transfer to a large pot. Add 3/4 of the chicken stock, bay leaves, and butter.
Bring to a boil, reduce heat and simmer for 15 to 20 minutes or until liquid has reduced by a third.
Wash and dry basil leaves, if using, and add to the pot. Use an immersion blender to puree the soup until smooth or transfer pot contents to a regular blender and puree in batches.
Return soup to low heat and adjust consistency with remaining chicken stock, if necessary. Season to taste with salt and freshly ground black pepper. Serve with a swirl of pesto (basil or cilantro would be great) and perhaps a splash of cream, if you're in the mood.