Use up some extra garden tomatoes in this simple and flavorful Roasted Tomato Soup! Swirl pesto into it or dip a grilled cheese sandwich. Or freeze it and save it for a cold day in February.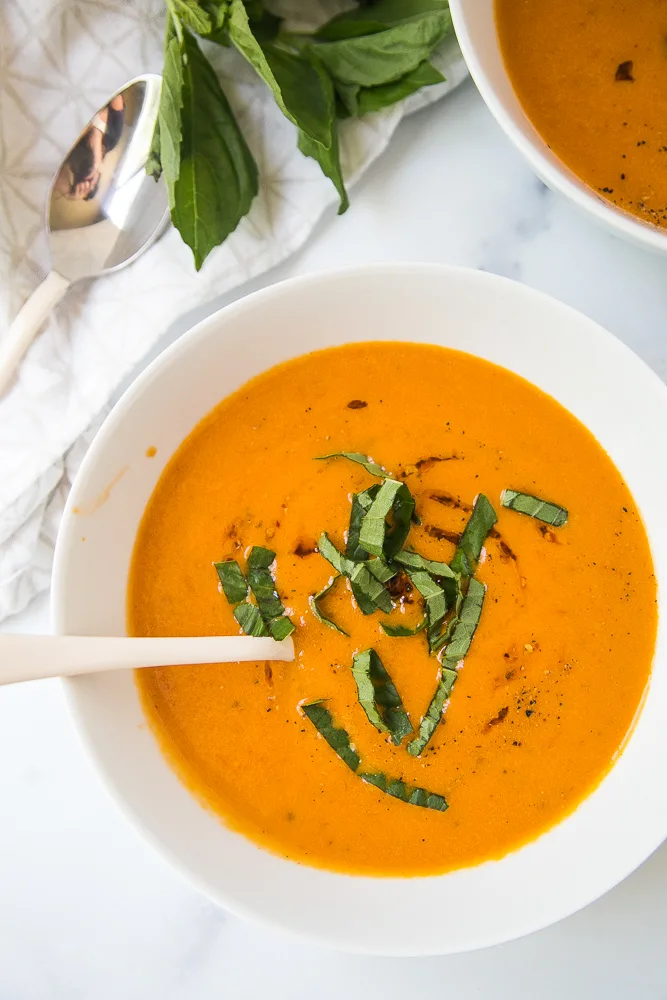 One of the best parts of summer is garden-fresh tomatoes. They're also one of the only things I can grow successfully.
99% of the time I use my garden tomatoes to make Smoky Grilled Salsa, Balsamic Roasted Tomato Sauce, or this Roasted Tomato Soup.
Sounds like I'm in a rut, but I like to think of it as "finding my groove".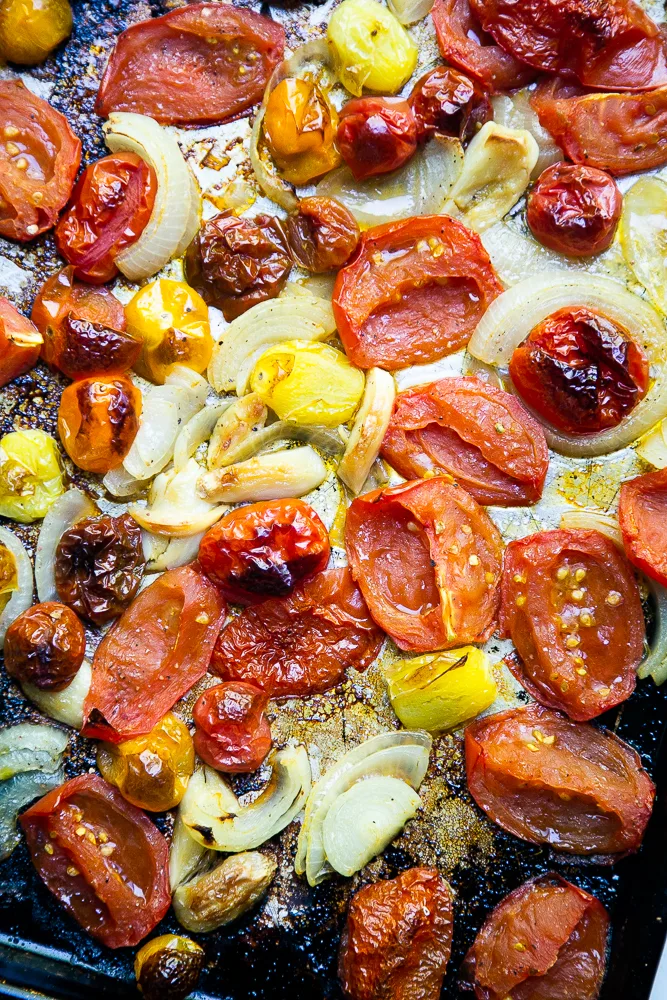 This soup save my sanity one year when I thought it would be a good idea to buy a 20lb box of tomatoes.
It's SUPER easy, too. I love the flavor from all of the roasty vegetables. You can even roast them ahead of time!
TIP: Make sure you get some good color on those tomatoes! Let them roast until you see dark brown spots.

After roasting, those caramelized onions, garlic, and tomatoes simmer with some chicken broth, bay leaves, and a hunk of butter.
Don't leave out the hunk of butter unless you absolutely need the soup to be dairy free. Ghee is delicious in this, too. (Make some homemade ghee!)
I use my immersion blender to buzz up this soup, but you can use a blender.
Sometimes immersion blenders don't get all of the tomato skins blended up, so if you're worried about finding those in your teeth, blend it for an extra few minutes or transfer it to a high-powered blender to get it extra smooth.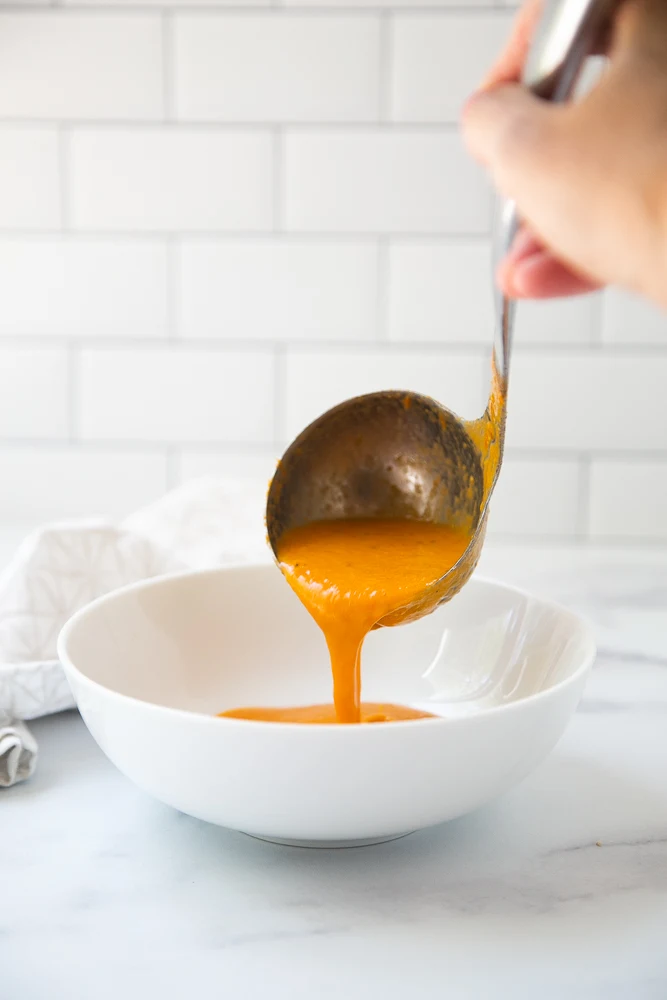 What kind of tomatoes are best for tomato soup?
You can use a combination of fresh and canned tomatoes until the tomatoes start raining down late summer.
Honestly, any fresh tomatoes would be delicious in this. I recommend using a combination of tomatoes, like vine-ripened along with some sweet cherry or grape tomatoes for the best flavor.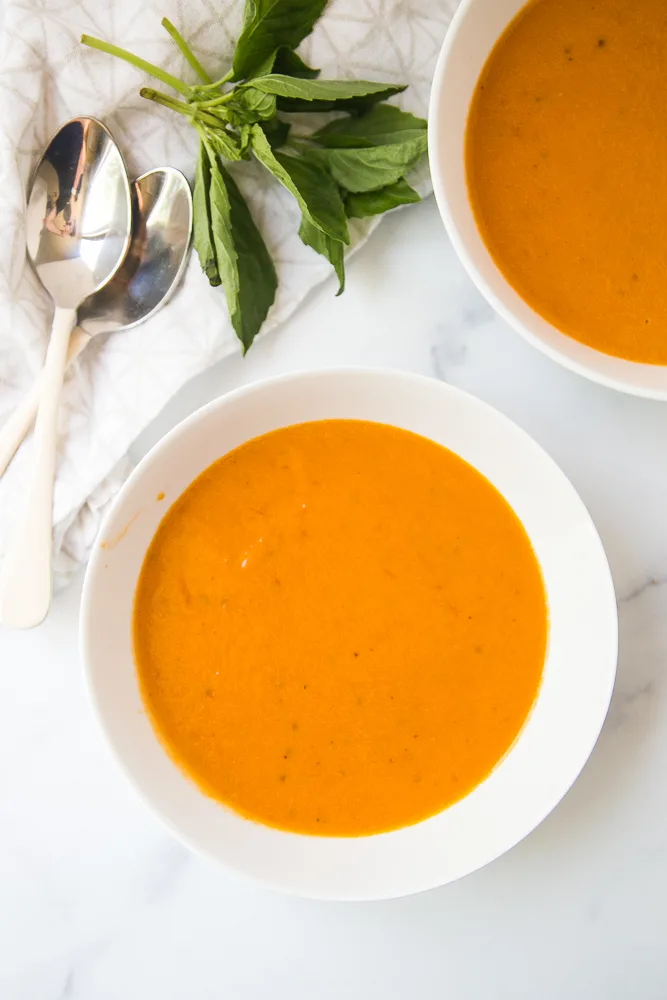 I intentionally left this recipe rather plain to make it easier to customize!
Here are a few ways to dress up this soup. (Or don't dress it up. It's totally delicious as-is.)
Ways to spruce up tomato soup
PESTO. Basil pesto, dill pesto, sun-dried tomato pesto, cilantro pesto. Any pesto would be great here.
CHEESE. Goat cheese is my personal favorite in tomato soup, but Parmesan shavings would be lovely, too. Use a cheese that has a strong flavor.
HERBS. Blend a bunch of basil into the soup. Or scatter some on top.
FLAVORED OILS. Garlic or chili-infused olive oil gives it some extra pop.
PROTEIN. Sometime I throw in some leftover protein from earlier meals. Things like grilled chicken, shrimp, steak, and pulled pork go really nicely in this soup and give it more texture.
CREAM. A splash of cream never made anything less tasty. Just sayin'.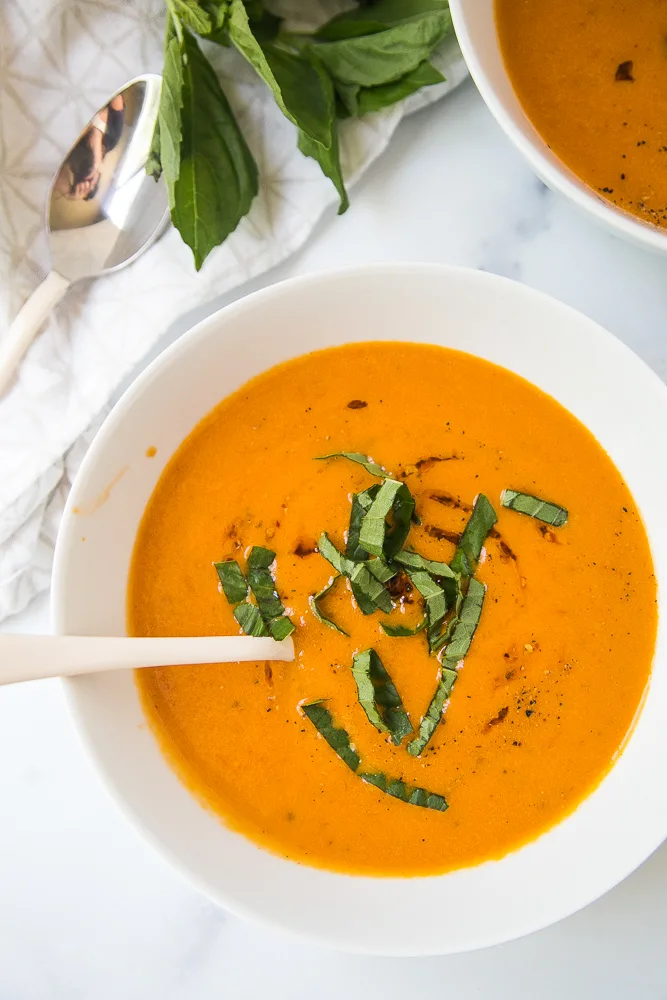 Can you freeze tomato soup?
Yep! Just transfer the soup to some freezer-safe containers (I love these deli containers from Amazon.) or quart/gallon zip-top bags.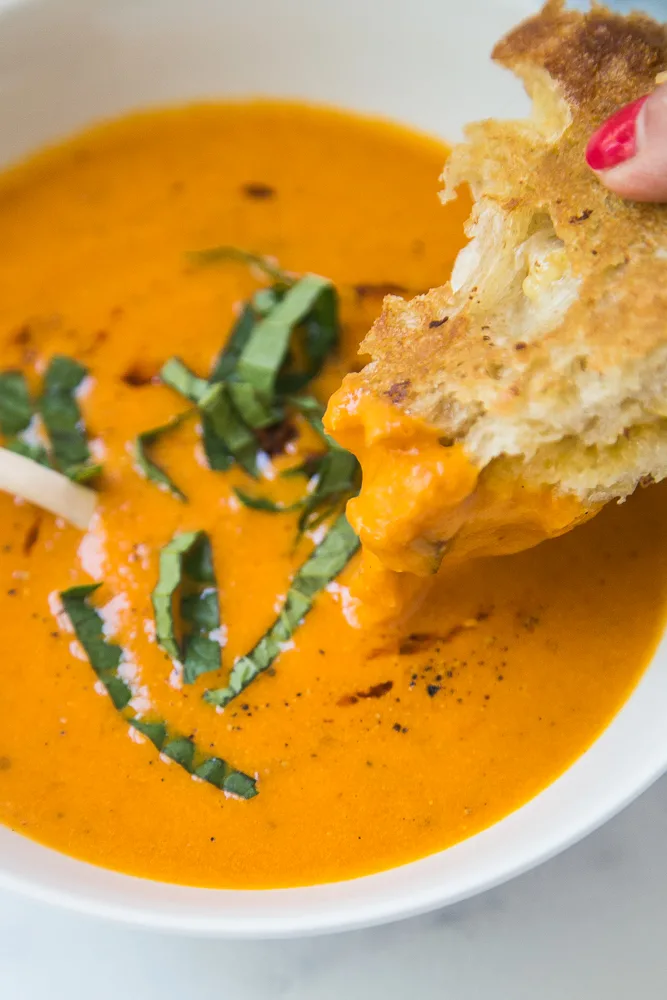 I don't eat a lot of bread these days, but a sourdough grilled cheese is the optimal dipper for tomato soup.
I can't resist it.
More blended vegetarian soup recipes
If you like this one, you'll love these other silky smooth meatless soups. I love a good blended soup. Mmm.
For fall, I love a good blended squash soup! Indian-Inspired Butternut Squash Soup and Easy Chipotle Lime Squash Soup are both great with a butternut or a kabocha squash!
If you're in the keto camp, here's a fun tomato soup for you — Roasted Tomato Jalapeno & Cheddar Soup. Cozy, but not heavy!
Here's another creamy but not heavy soup for you: Creamy Paleo Mushroom Soup. (I like bacon here, but it's optional!)
If you've got some extra pesto on hand, stir it in to this Garlic Almond Soup. A potato-based soup blended with almonds!
---
If you make one of my recipes, be sure to post it on social media and tag me at @perrysplate or #perrysplate so I can send you some love!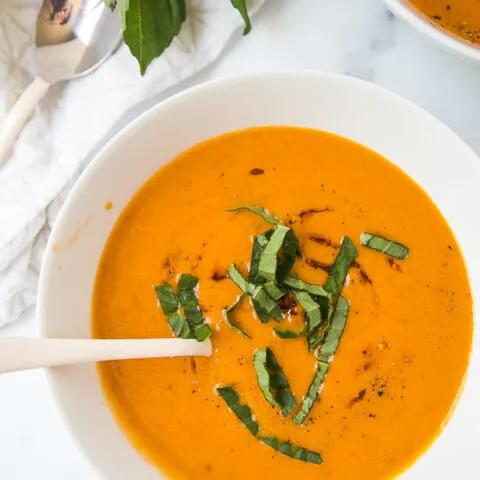 Simple Roasted Tomato Soup
This soup is just as its described -- simple. All you need are some perfectly ripe summer tomatoes and a handful of other ingredients to make the best tomato soup. It also freezes nicely, which is nice if you happen to get a tomato soup craving in February.
Ingredients
3 pounds fresh tomatoes (mix of fresh heirlooms, cherry, vine and plum tomatoes)
6 cloves garlic, peeled
2 small yellow onions, sliced
1/2 cup heat-safe oil, like coconut or avocado
Salt and freshly ground black pepper
1 quart chicken or vegetable stock
2 bay leaves
4 tablespoons ghee or grass-fed butter
1/2 tsp salt
Instructions
Preheat the oven to 450 degrees F.
Wash, core and cut the tomatoes into halves. (You don't need to do this with cherry or grape tomatoes. Just roast them whole.) Spread the tomatoes, garlic cloves and onions onto a baking tray.
Drizzle with 1/2 cup of heat-safe oil and season with salt and pepper. Roast for 30 minutes, or until caramelized and dark brown on the edges.
Remove roasted tomatoes, garlic and onion from the oven and transfer to a large pot. Add the chicken stock, bay leaves, and butter.
Bring to a boil, reduce heat and simmer for 10 minutes.
Use an immersion blender to puree the soup until smooth or transfer pot contents to a regular blender and puree in batches.
Season to taste with salt and freshly ground black pepper. Serve with a swirl of pesto (basil or cilantro would be great) and perhaps a splash of cream, if you're in the mood.
Recommended Products
As an Amazon Associate and member of other affiliate programs, I earn from qualifying purchases.
This post may contain affiliate links. Any purchases made by using these links won't cost you any extra and helps keep my content free. These links may be Amazon links as I am part of the Amazon Associate Program.