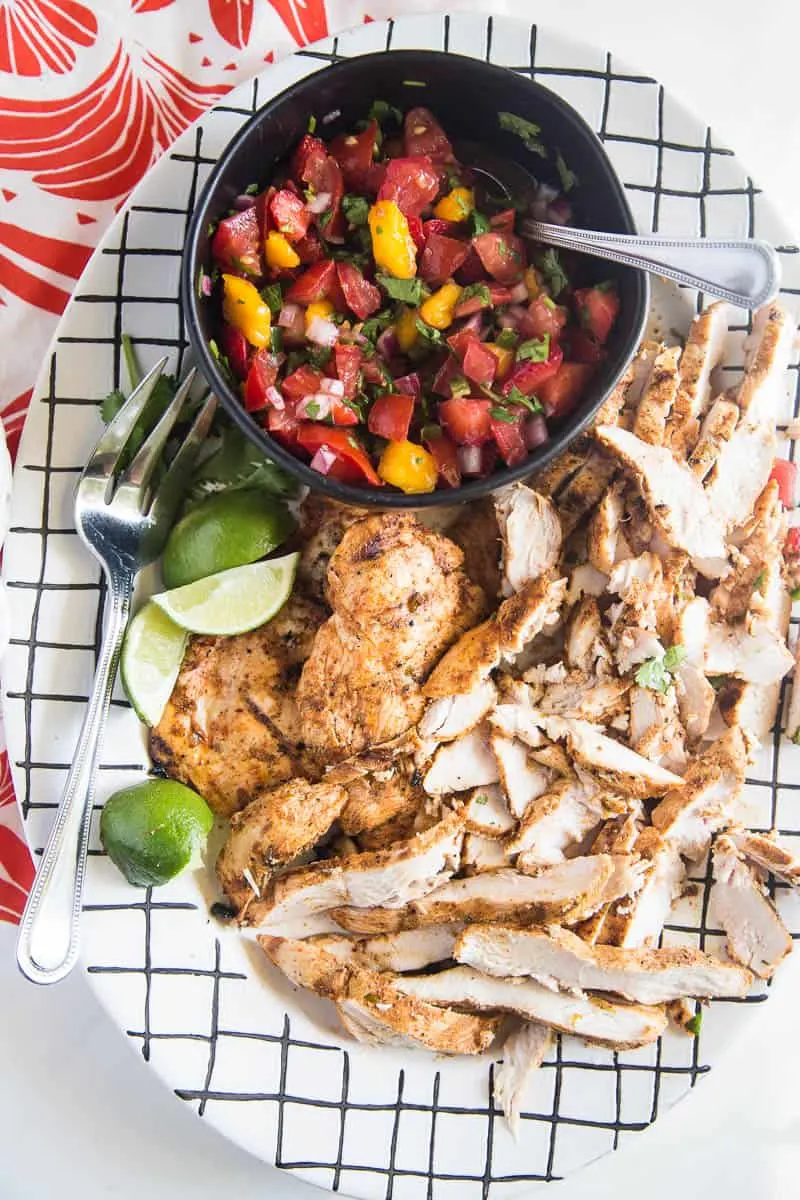 If you make anything I post this summer — it has to be this grilled chicken recipe.
Actually…. I've got another recipe in the pipeline I could say the same thing about.
But first, make this. This chipotle-lime marinade is SO SO AMAZING. It goes perfectly with the fruity salsa on top!
Yeah, you could make the chicken and use it in chicken tacos with a dollop of guac (so good), but please make the strawberry mango salsa to go with it.
To be honest, it's probably more like a pico de gallo than a salsa, but I'm from Idaho, and we call all of them all salsa. (I'd like to know how many people died inside when they read that.)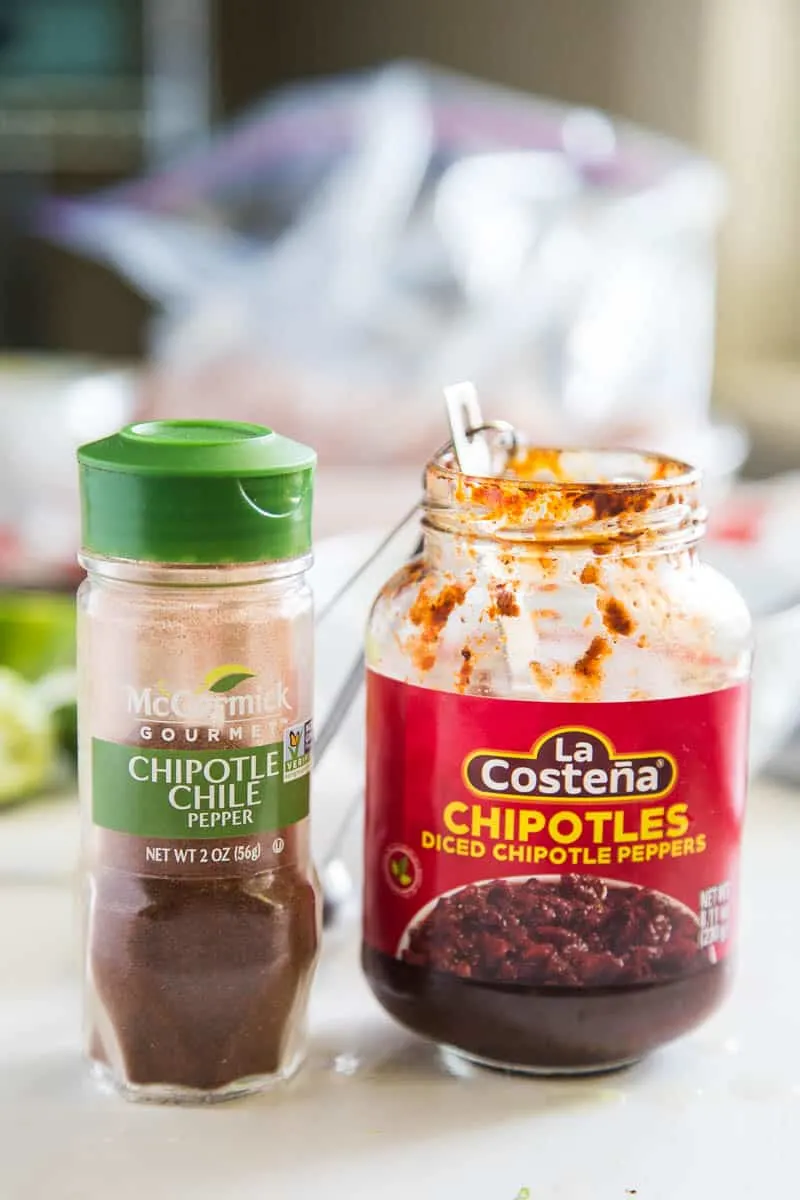 A Word About Chipotle Peppers
First thing's first. I'm sure you've used chipotles in adobo sauce before, yet? I might be a little fuzzy on the difference between salsa and pico, but I do know what a chipotle is. It's a smoked jalapeno. Sometimes you'll see them dried. Sometimes you'll see them canned with a spicy tomato-based sauce (adobo sauce).
Chipotle peppers are one of my favorite Latin ingredients with their delightful spicy-smoky flavor. Mmm. I love them.
A can of chipotles in adobo sauce can be cumbersome sometimes because I rarely use more than one pepper in a recipe. (They're pretty spicy.) One of two things usually happens:
I put the partial can in the fridge covered with plastic wrap and good intentions of using them before they mold. (We know how that ends, right?)
I put each pepper with a little sauce in an ice cube tray, freeze them, put the cubes in a freezer bag, and then completely forget about them a few months later when I open another can of peppers to use 1 pepper.
The freezer method is actually a great idea — if I kept better inventory in my freezer.
GOOD NEWS! I recently found chipotles that were already chopped! They keep for quite a while, too, and I don't have to chop them.
I also use dried chipotle powder which you can find in the spice section in most grocery stores. It's about as spicy as cayenne pepper, so keep that in mind when you're using it in a recipe. It's not mild like regular chili powder.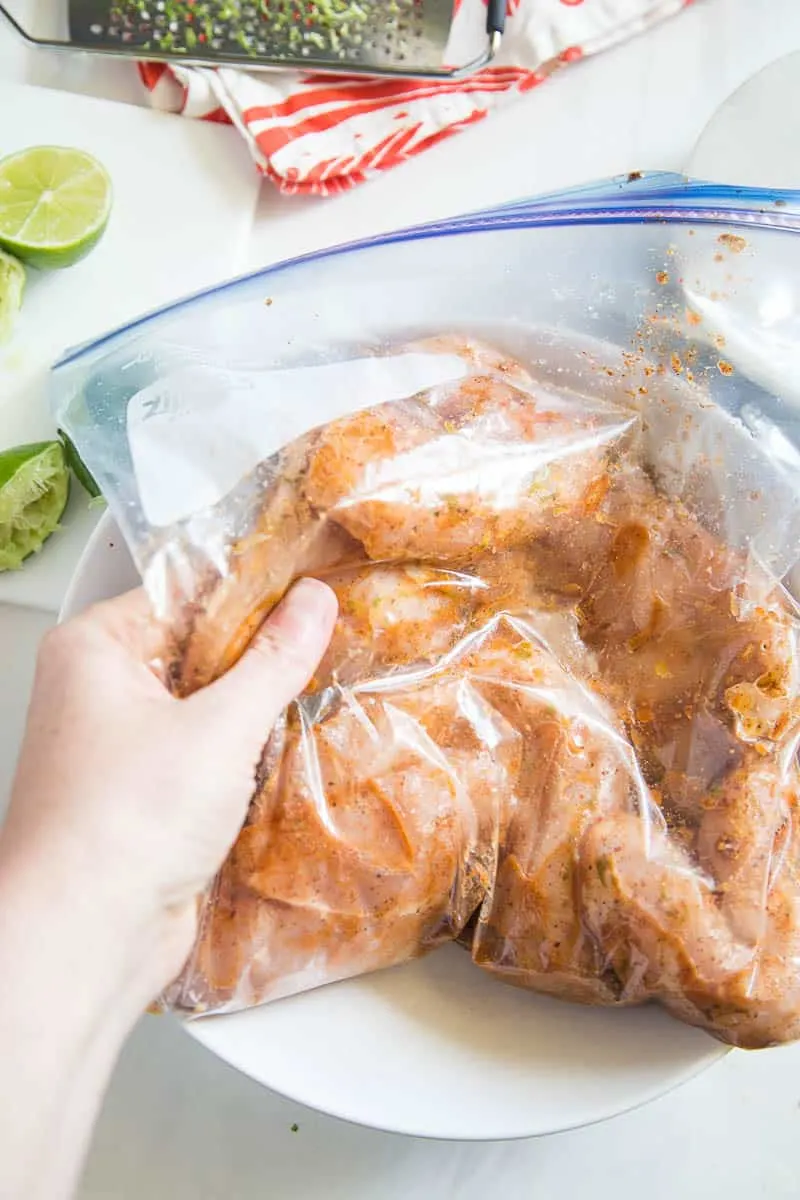 When I see things that are "Chipotle-Lime" flavored, I'm always disappointed that I don't detect the lime.
In this marinade — you taste the lime. There are 2 limes juiced and a bunch of zest in there.
This is a pretty potent marinade, too, so you could leave it at room temperature for around 30 minutes and get some pretty good flavor on that chicken — if the breasts are fairly thin. Or leave them in the fridge for at least 4 hours, up to 18 hours.
A good way to get a lot of flavor in the meat is to make sure it isn't too thick. I like to take the thicker breasts and butterfly them to create a couple of thinner pieces.
Plus they cook more quickly, too. But to get juicy grilled chicken, the key is to not overcook it. That's the danger, though, of having thinner pieces, so you just have to be more careful when you're grilling them. Cooking chicken can be tricky like that. Chicken thighs can be more forgiving in that department, so feel free to use those instead of boneless skinless chicken breasts if you like.
Not only did I put chipotle peppers in the marinade, I put a little in the salsa. It didn't make it too spicy, but gave it a hint of smokey heat. Kind of like when you put chile-lime seasoning on fresh mango. (Apparently that's a thing now.)
You can definitely put more chipotles in there. I didn't want to blow my kids' faces off, so I held back.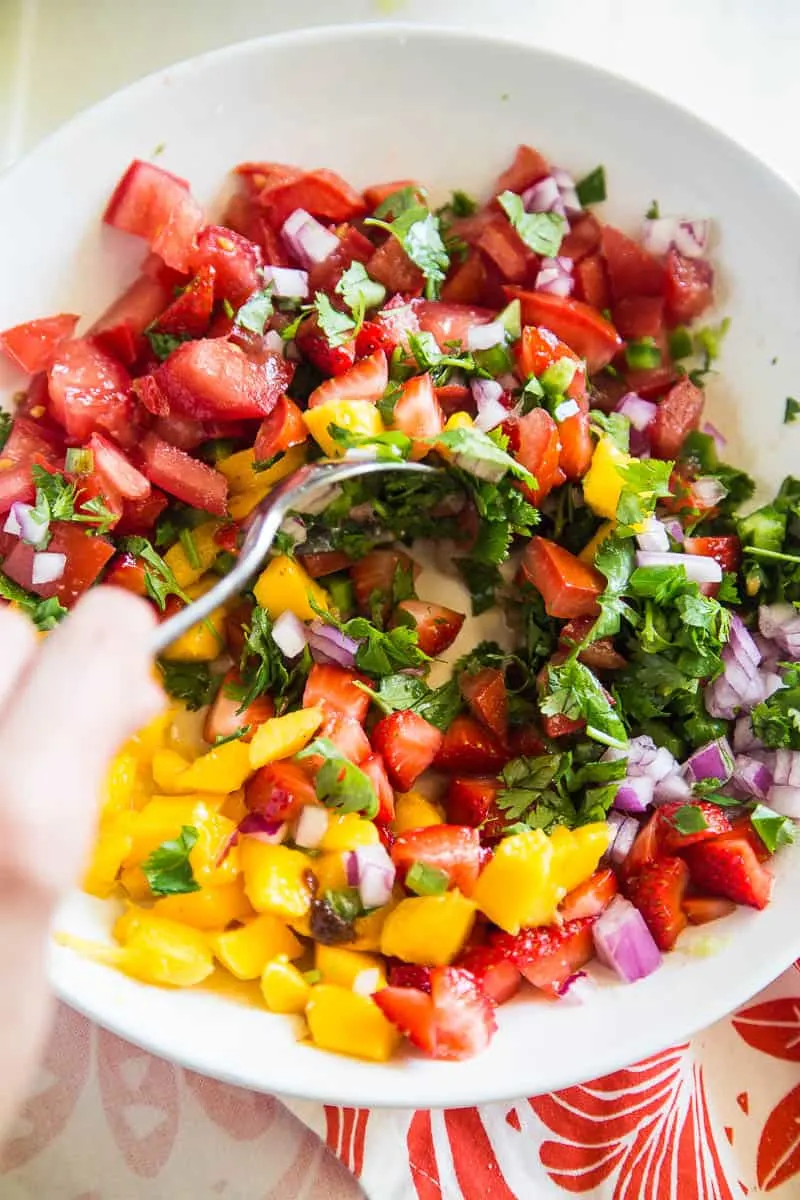 Sigh. Isn't this pretty? I love all the colors in there.
Like, the only reason I used a red onion was to add some of that gorgeous color.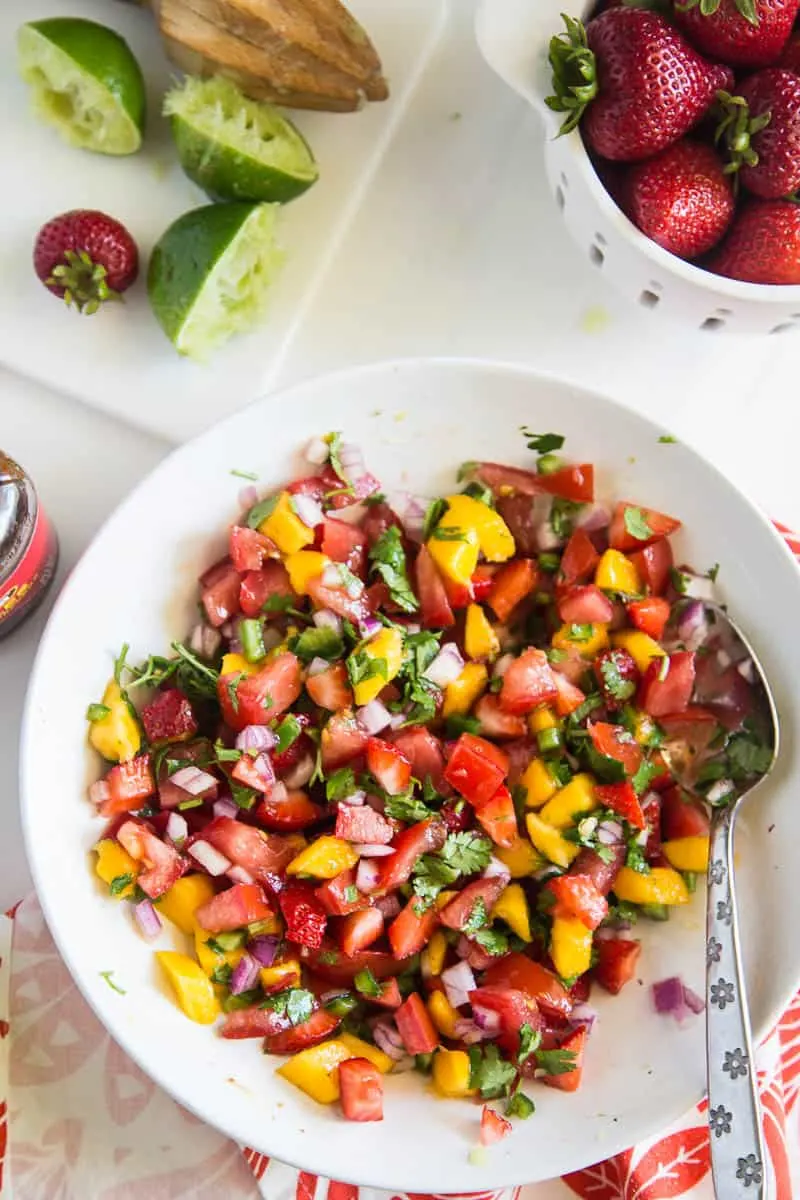 This might be my favorite mango salsa recipe. It think some avocados would be good, too.
One thing about this, though — don't make this salsa too far ahead of time. One or two hours tops.
The strawberries start to break down in that lime juice pretty quickly and turn all translucent and weird. They also release a lot of juice. Still tastes good that way, but if you're going for aesthetics, just make the salsa around an hour before you serve it.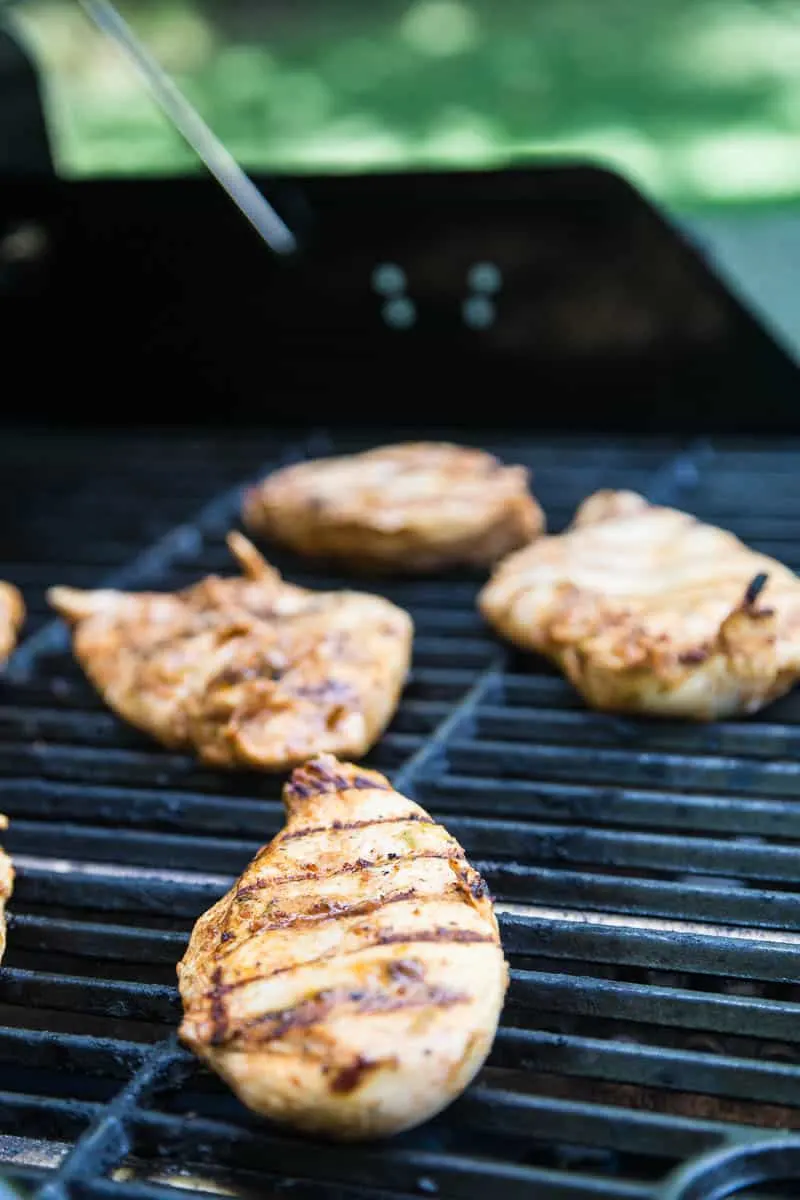 When we moved in December we had to leave our grill behind because we couldn't fit it on the truck. Boo.
We replaced it recently, and I couldn't wait to start grilling ALL THE THINGS.
Sometimes when we have people over for dinner and they see me outside flipping things around on the grill they act surprised that Steve isn't the one doing it. When did grilling become such a stereotypical male thing to do? I'm pretty sure when we all lived in caves, the women were the ones who manned (har har) the fire while the men were off hunting.
I fully support equal grilling rights, though. Steve doesn't mind grilling, but more often than not I'm the one out there because I like it.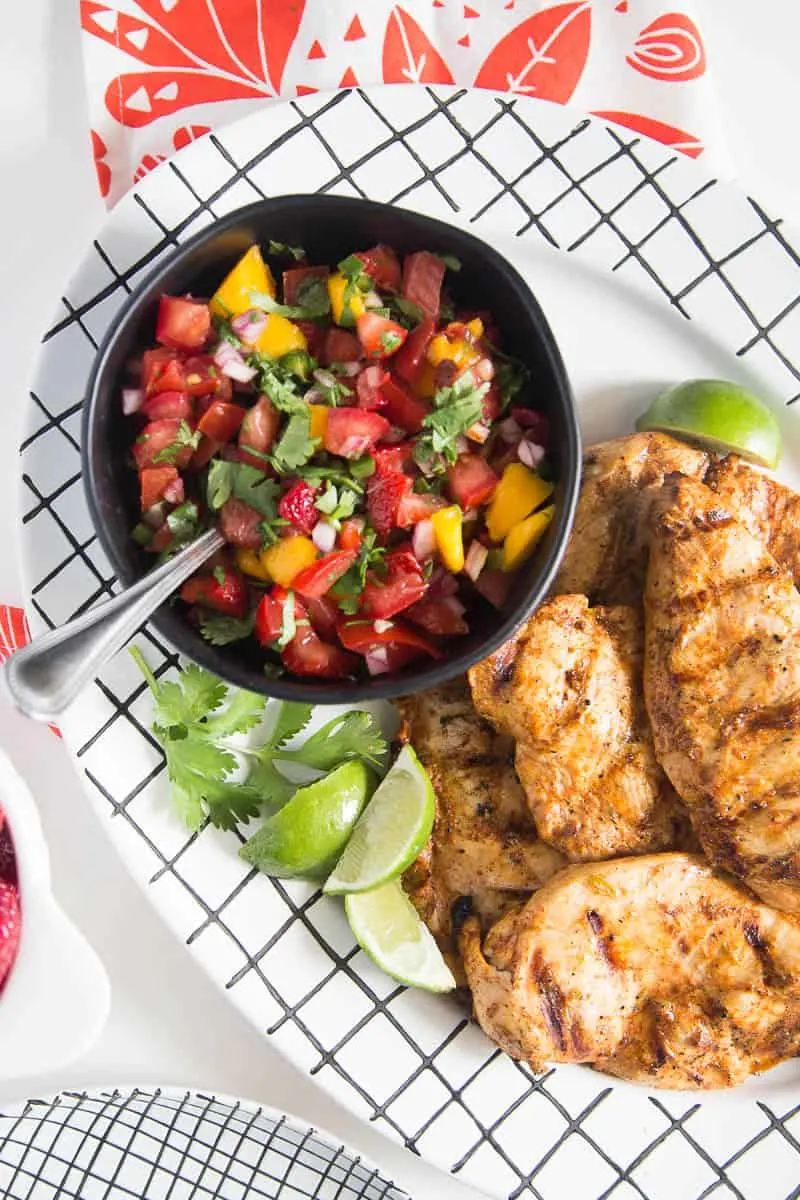 Gorgeous, right?? This is a great recipe for entertaining or a potluck with friends! We ate this with some cilantro lime rice (I need to post this recipe because I make it all the time) and sweet potato fries (because I get twitchy if there isn't a vegetable on the table for dinner).
You could also use this in a taco salad — like a riff on my Chile-Lime Fish Taco Bowls!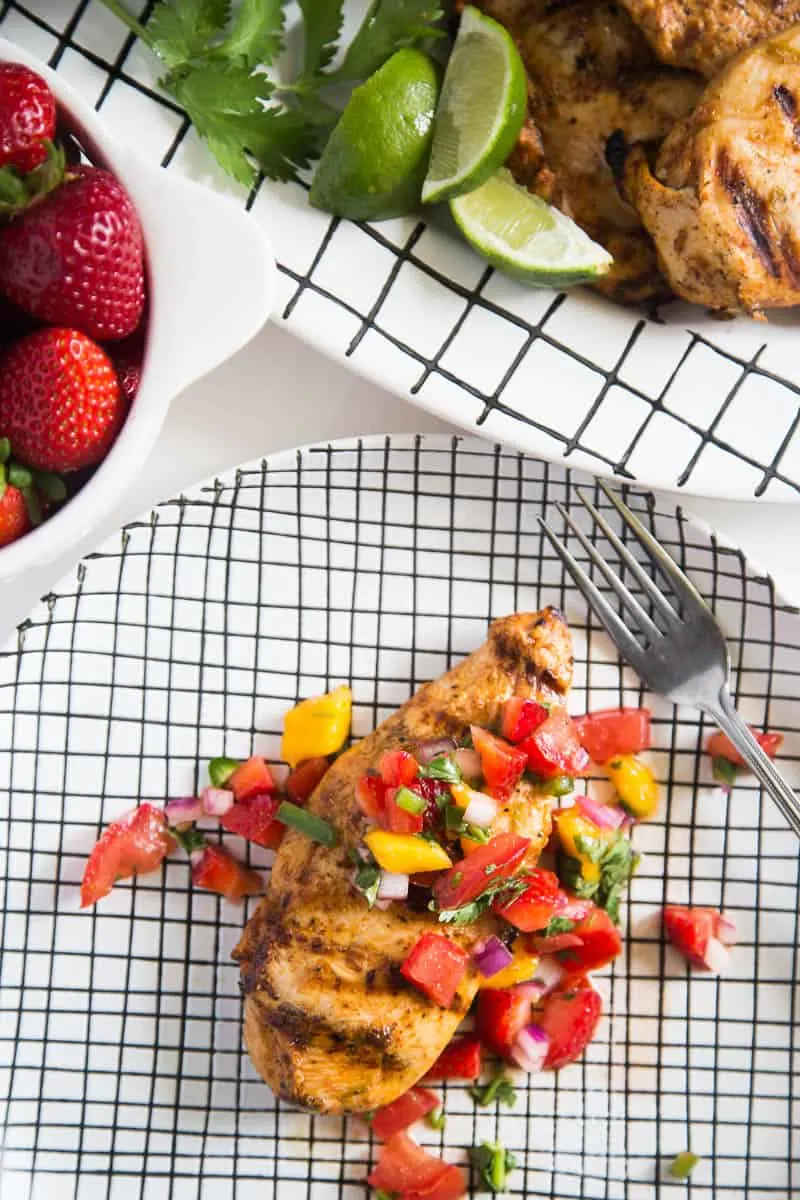 Want more marinated chicken recipes?
Try my Thai Chicken Sheet Pan Dinner or the Best Chicken Fajitas of your life. (I'm pretty confident in that statement.)
If you love the mango paired with the chicken, you'll love these Grilled Jerk Chicken & Mango Bowls, too! Or Greek Marinated Chicken & Potatoes. Or Grilled Moroccan Chicken! Or Perfect Lemon Grilled Chicken that's SO GOOD with everything!
I kind of like grilled chicken. Can you tell?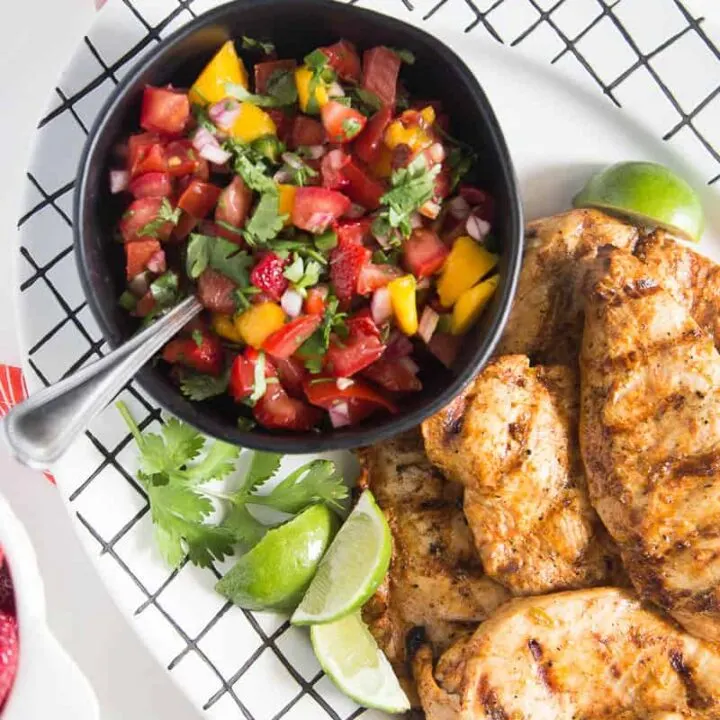 Chipotle-Lime Grilled Chicken with Strawberry Mango Salsa
Total Time:
4 hours
35 minutes
I love the way the fiery chipotle flavors mix with the sweet, fruity salsa. This is an easy grilled chicken recipe to throw together on a summer weeknight.
Ingredients
For the Chicken:
1 1/2 pounds chicken breasts (3 large breasts or 5-6 smaller ones)
1 teaspoon sea salt
2-3 Tablespoons freshly squeezed lime juice
2 Tablespoon avocado oil
1 teaspoon chili powder
1/2 teaspoon dried chipotle powder or 1 teaspoon diced chipotle peppers from a can of chipotles in adobo sauce
1/4 teaspoon ground cumin
1/4 teaspoon garlic powder
1/4 teaspoon black pepper
For the Salsa
1 pound tomatoes, diced
2/3 cup diced strawberries (about 6 large)
2/3 diced mango (about 1 whole)
1/4 cup diced onion
1 jalapeno pepper, seeded and diced finely
1-2 Tablespoons freshly squeezed lime juice
1/2 cup fresh chopped cilantro
1/4 teaspoon sea salt
Big pinch of dried chipotle powder or 1/4 teaspoon diced chipotle peppers from a can of chipotles in adobo sauce
Instructions
If you're using 3 large chicken breasts, cut them horizontally (butterfly them) so you have 6 thinner breasts. Sprinkle them with the salt and put them in a shallow dish or in a large zip top plastic bag for marinating.
In a small bowl combine the lime juice, avocado oil, chili powder, chipotle powder, cumin, garlic powder, and black pepper.
Whisk well and pour it over the chicken. Toss the chicken around in the bag to coat everything in the marinade. Marinate for about 45 minutes at room temperature or for at least 4 hours in the fridge up to 18 hours.
Within an hour or two of cooking the chicken, prep the salsa. (I wouldn't do this too far ahead because the strawberries break down pretty quickly.)
Put all of the salsa ingredients into a large bowl and mix well. Taste and add more salt, lime juice, or chipotle (if you want it spicier) if needed. Cover and chill until ready to use.
Preheat your grill (or grill pan on the stove) to high heat. Cook the chicken for 5-6 minutes on both sides until it's cooked through and juices are running clear from the meat. Cooking time might vary depending on the thickness of the chicken.
Serve the salsa over the chicken.