These Paleo-friendly meal plans are for six dinner recipes and a dessert thrown in for fun! All of these recipes are paleo friendly, seasonal, and most can be easily adapted to be Keto/Low-Carb or Whole30 friendly.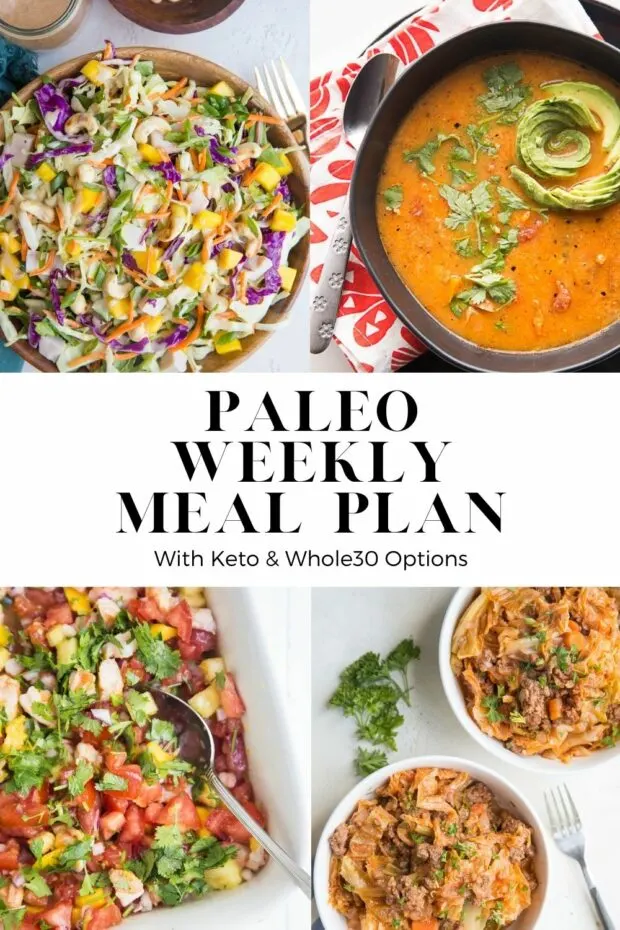 Hey friends!
This week we've got a lot of chicken action for you — including my favorite hack of turning leftovers from one meal into a completely different meal! (Psst… make extra Chicken Fajitas for the Leftover Chicken Fajita Soup later this week!)
If it's too hot for soup, skip it and make a double batch of my Tropical Shrimp Ceviche. It's my favorite no-cook meal!
Julia brings a fresh, chopped salad with tasty Thai flavors, a DELICIOUS roasted chicken recipe, and the most scrumptious blueberry bars I've ever seen.
Should be a great week!
Natalie
---
Sunday
THAI CHICKEN CHOPPED SALAD — Thai Chicken Chopped Salad with crunchy cabbage, carrot, toasted cashews, and a delicious creamy sesame ginger peanut dressing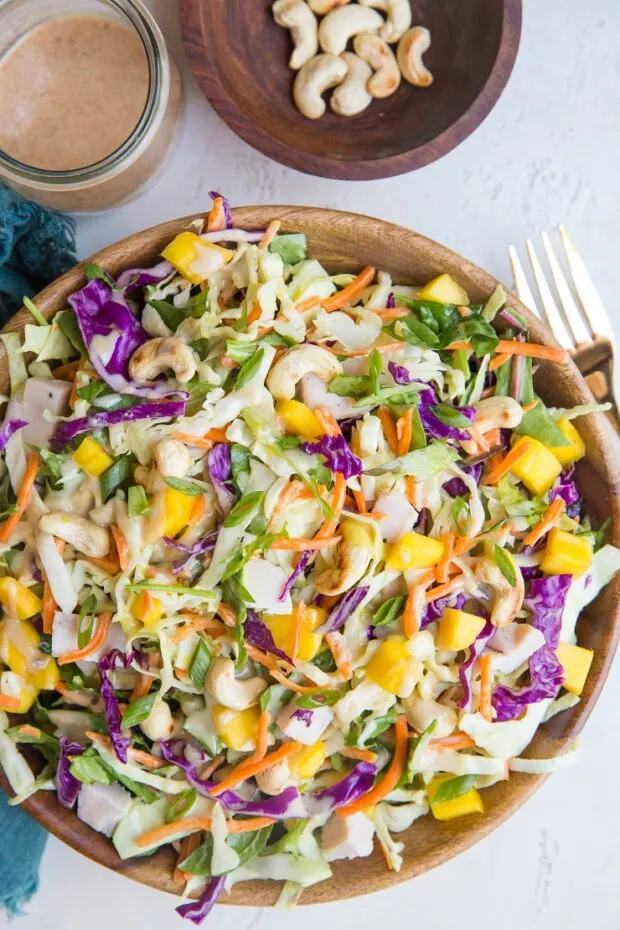 Special Diet Note: Paleo and low-carb. Make it keto by omitting the mango.
Prep Ahead: Make the dressing up to 5 days in advance, and/or cook chicken up to 3 days ahead of time.
Substitutions: Use peanut butter for the dressing instead of almond butter. Use any type of leftover chicken for the salad. Add your favorite salad ingredients to use up what you have on hand. There is a decent amount of chicken on the menu this week, so feel free to swap it for a different protein.
Monday
THE BEST CHICKEN FAJITAS — No, really. These are the best chicken fajitas — citrusy with a hint of heat and they make the BEST leftovers! Make a little extra for the Leftover Chicken Fajita Soup later in the week!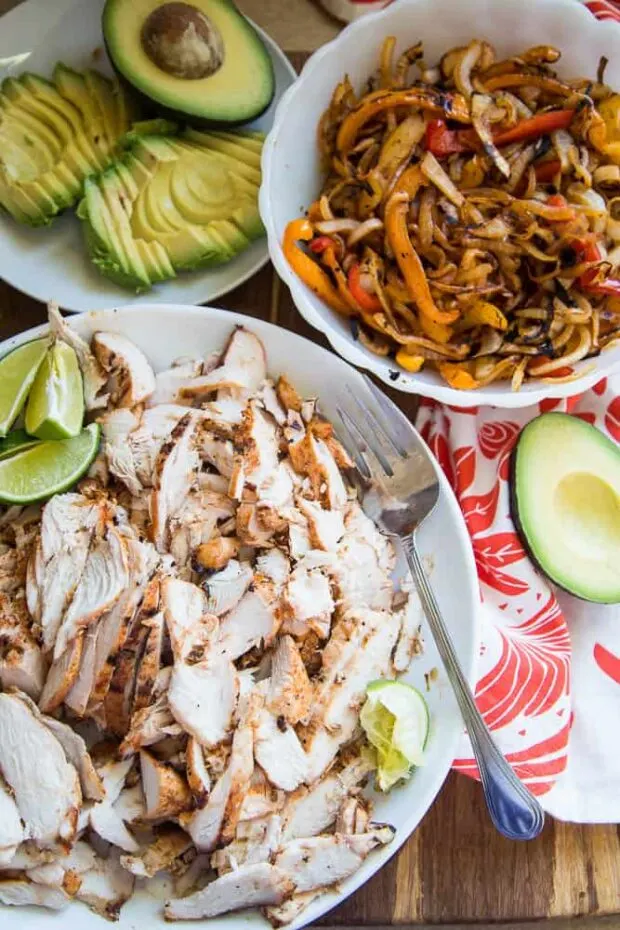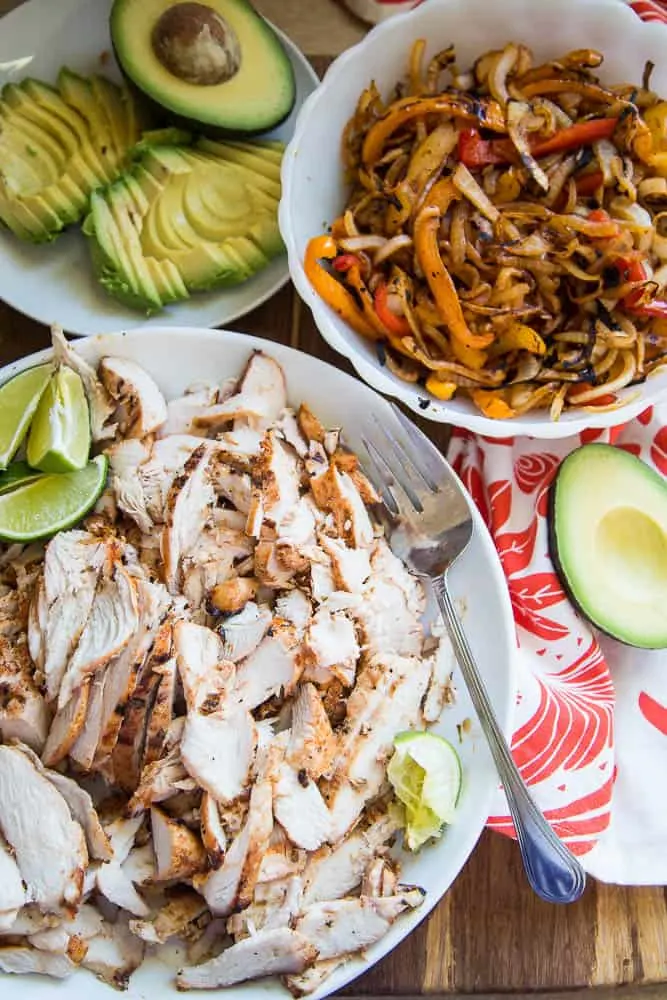 Special Diet Note: Recipe is paleo, Whole30 friendly, and low carb.
Prep Ahead: Chicken can marinate for up to 24 hours.
Substitutions: if you don't have coconut aminos you can substitute worcestershire sauce.
Tuesday
UNSTUFFED CABBAGE ROLLS — Unstuffed Cabbage Bowls with ground beef, onion, garlic, tomato sauce, and green cabbage are deconstructed cabbage rolls…in a bowl!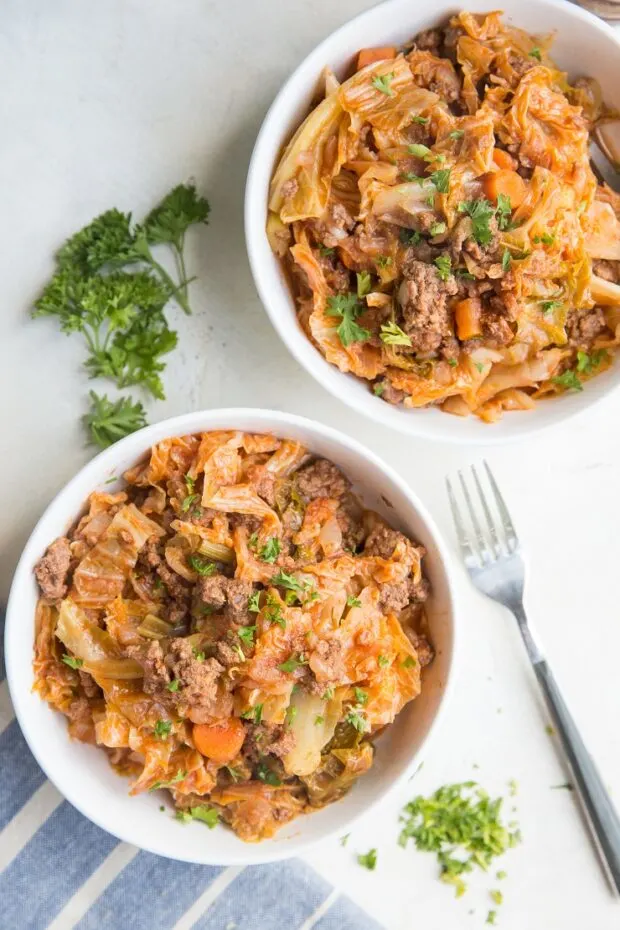 Special Diet Note: RecipRecipe is paleo, whole30, keto, and low-carb. Make it AIP by using a "nomatto" tomato sauce.
Prep Ahead: No need to prep ahead as the recipe comes together relatively quickly in one shot.
Substitutions: Replace the ground beef with ground turkey or chicken.
Wednesday
TROPICAL SHRIMP CEVICHE –The pineapple and mango chunks give this shrimp ceviche a fun, sweet burst of flavor. Like you're in the tropics. (Wishful thinking here in Idaho.) We ate these with some grain-free tortilla chips, but it's also good on a fish taco bowl or on a taco salad!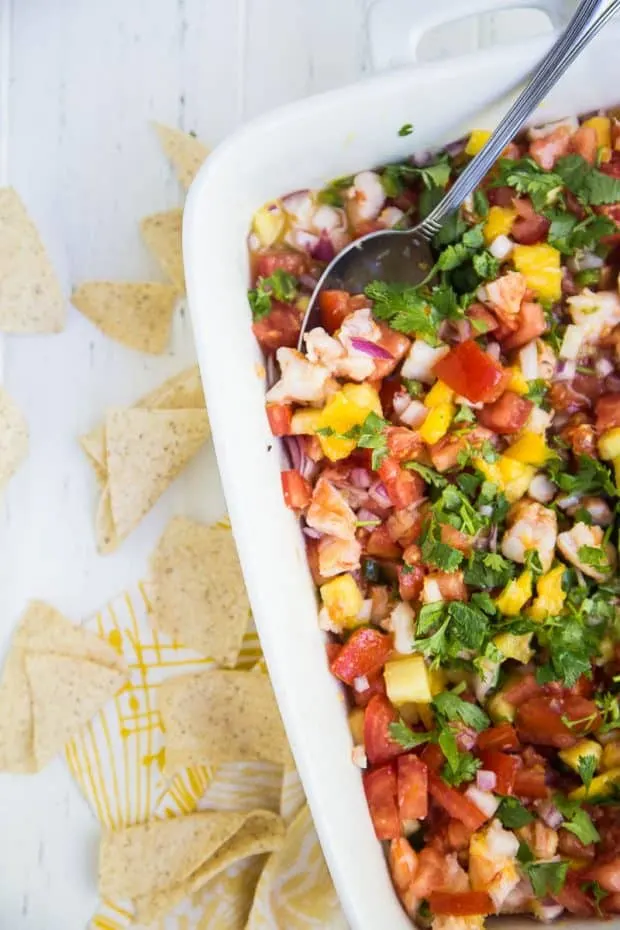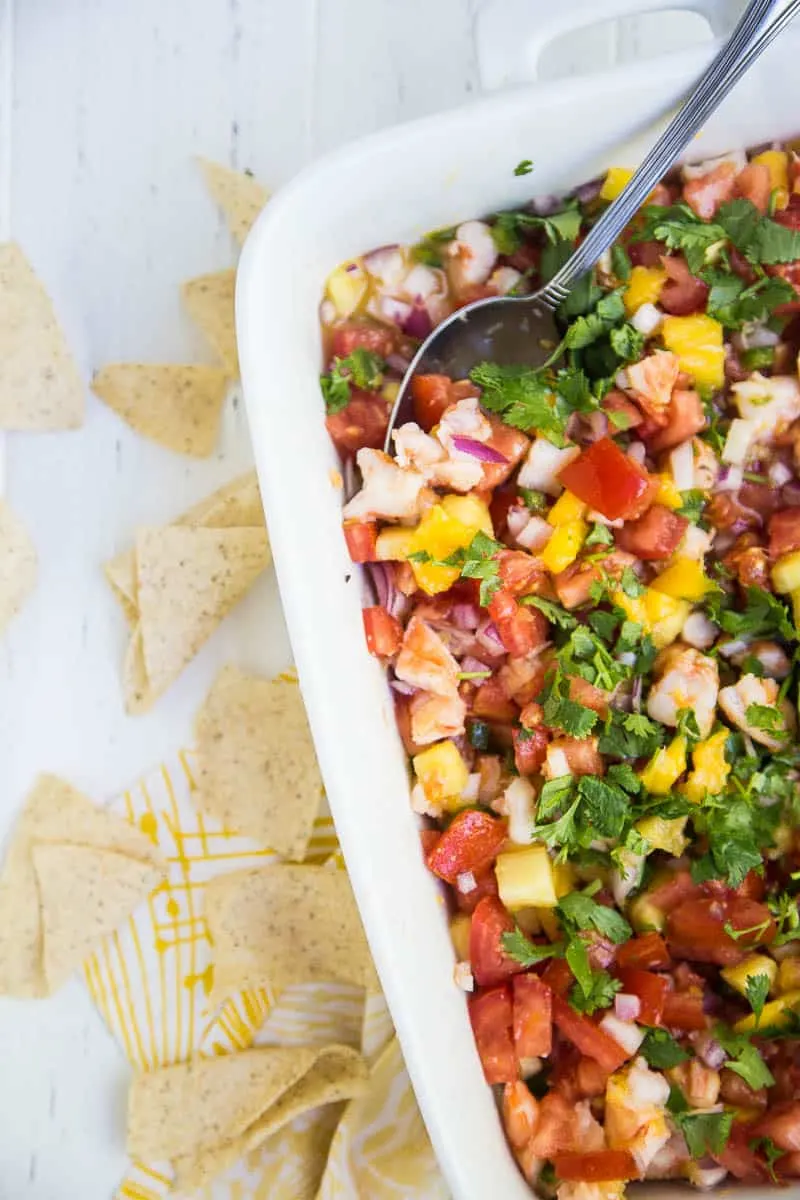 Special Diet Note: Recipe is paleo with grain-free chips and Whole30 friendly if you eat it like a salad over fresh greens.
Prep Ahead: You can make this 1-2 days in advance.
Substitutions: You can swap out the pineapple or mangoes for fresh peaches if you like.
Thursday
BAKED LEMON GARLIC ROSEMARY CHICKEN — A simple, unpretentious recipe that exudes a fancy vibe while requiring minimal effort, Baked Garlic Lemon Rosemary Chicken has incredible flavor and turns out fall-off-the-bone exquisite!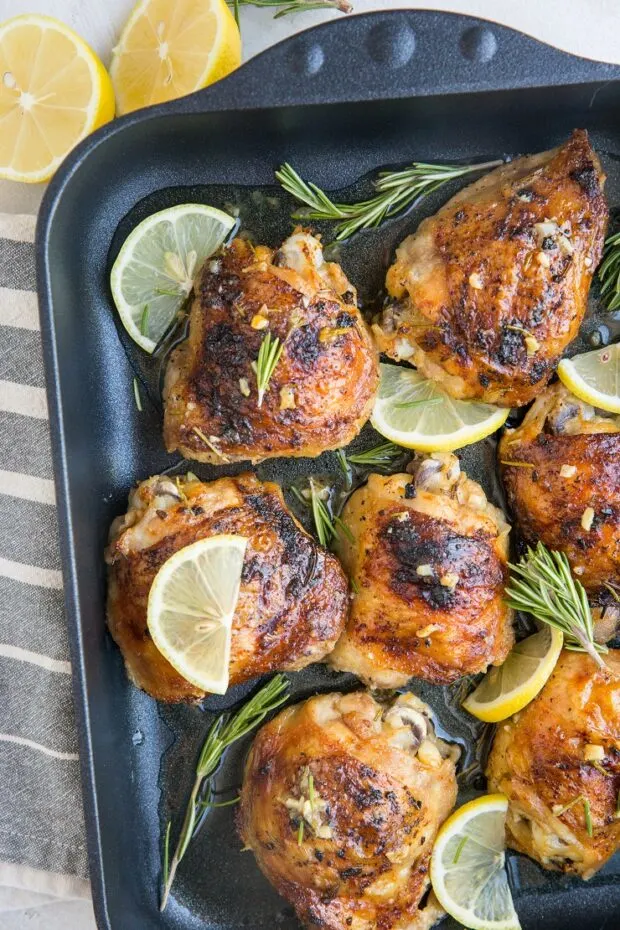 Special Diet Note: Paleo, whole30, keto and AIP!
Prep Ahead: The chicken can be marinated up to 24 hours in advance.
Substitutions: Serve the chicken with your choice of sides. Julia recommends her easy Stir Fry Vegetables , Crowd Pleasing Roasted Vegetables, or Crispy Baked Sweet Potato Fries.
Friday
LEFTOVER CHICKEN FAJITA SOUP — Take your leftover chicken and vegetables from fajita night and make this quick and easy soup with all the fajita flavors!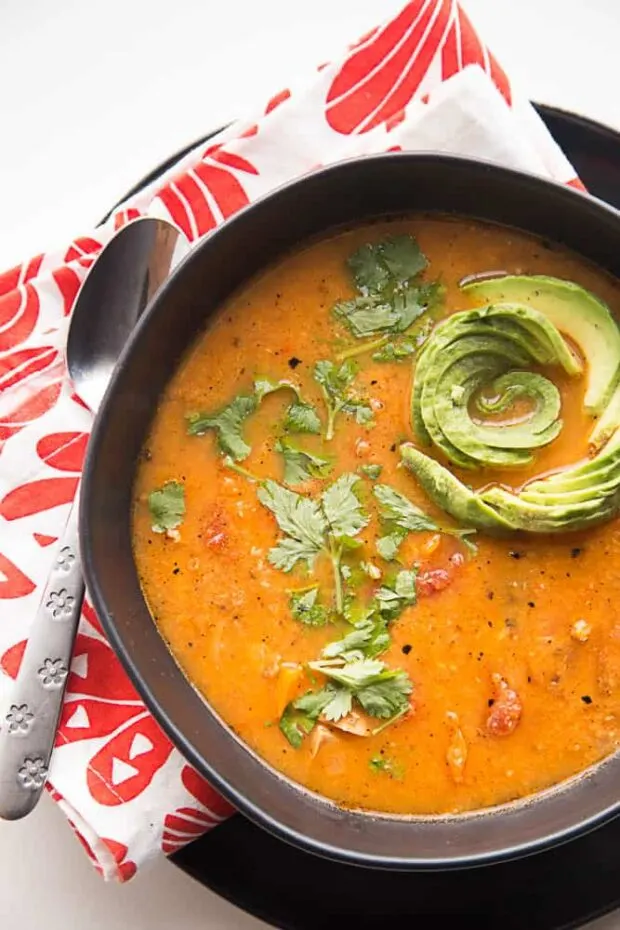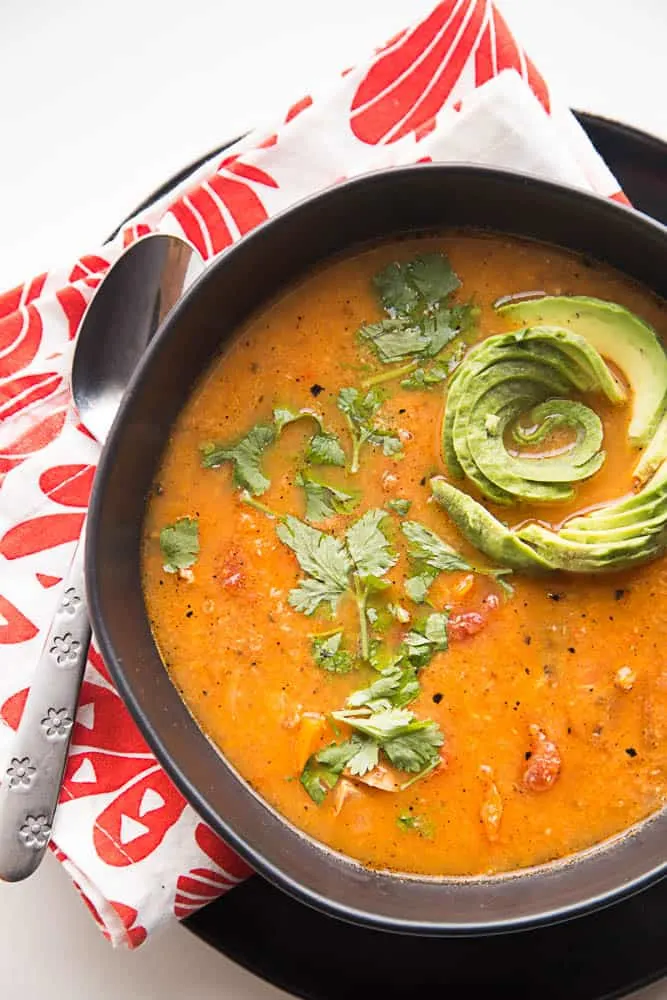 Special Diet Note: Recipe is paleo & Whole30 friendly.
Prep Ahead: This soup comes together quickly, so no prep is needed.
Substitutions: If you'd rather use your fajita leftovers for a fajita salad, don't worry about getting the extra soup ingredients.
Dessert
PALEO BLUEBERRY CRUMBLE BARS — Paleo Blueberry Crumb Bars made grain-free, refined sugar-free and dairy-free using almond flour, coconut oil and pure maple syrup.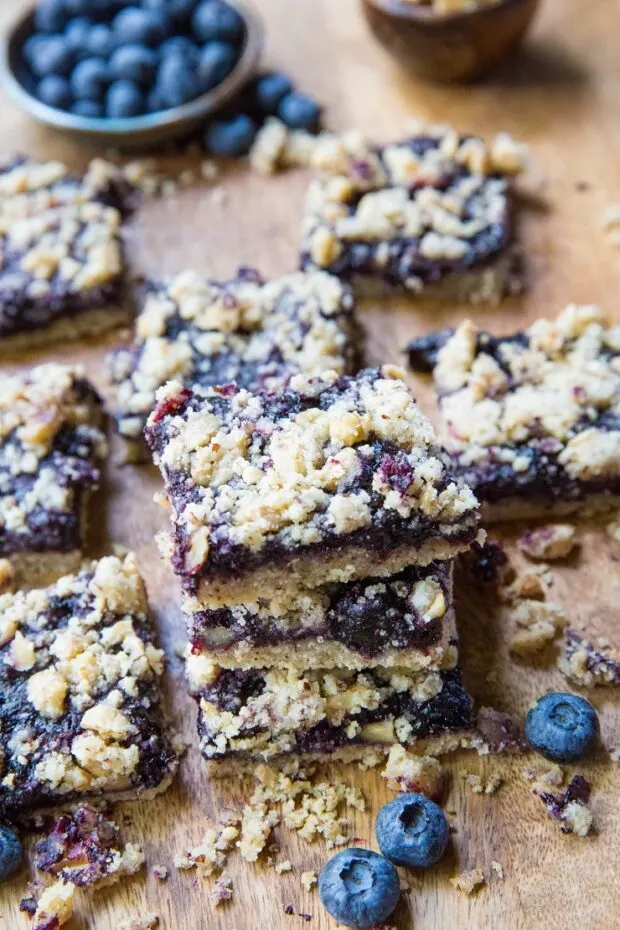 Special Diet Note: This recipe is vegan and paleo. It can easily be made keto by using sugar-free granulated sweetener instead of pure maple syrup.
Prep Ahead: No advance prep needed…this dessert comes together quickly!
Substitutions: Swap the almond flour with hazelnut flour (don't use coconut flour), or use sugar-free sweetener to make the recipe low-carb/keto. As an alternative, make Julia's Keto Strawberry Crumb Bars.
Grocery List
Click HERE to download a handy printable grocery list!