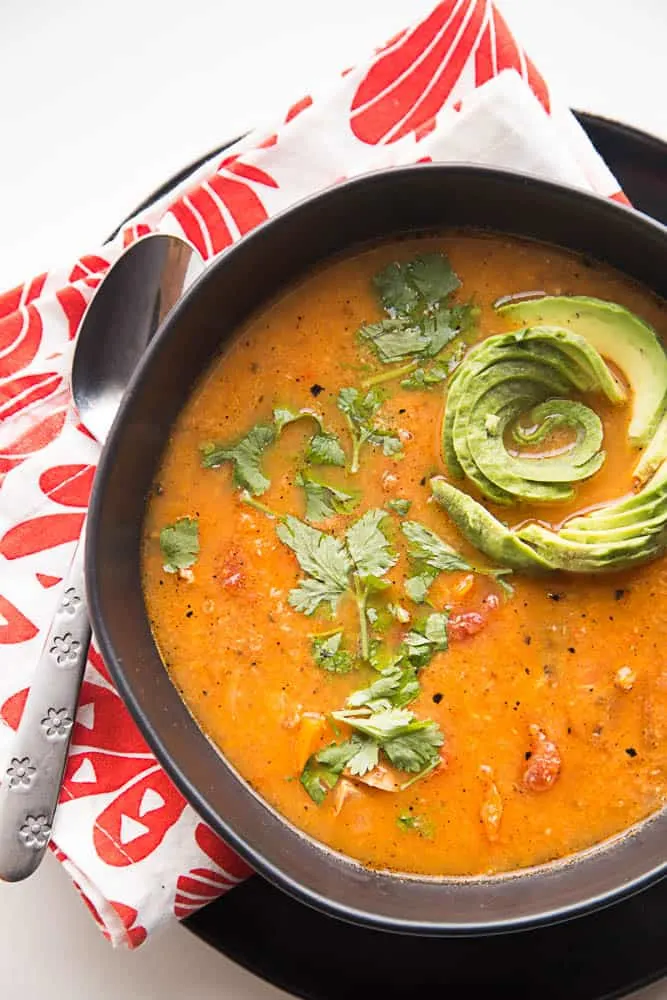 I've had a chicken fajita soup like this on the brain ever since I posted The Best Chicken Fajitas.
I thought if I took the flavors in that recipes and simply made a soup out of it, I'd end up with what I had envisioned.
Nope. I ended up with a so-so soup. That soup went to a church potluck and was entirely eaten in an hour, so it wasn't necessarily bad.
But, I thought it still needed some tweaking.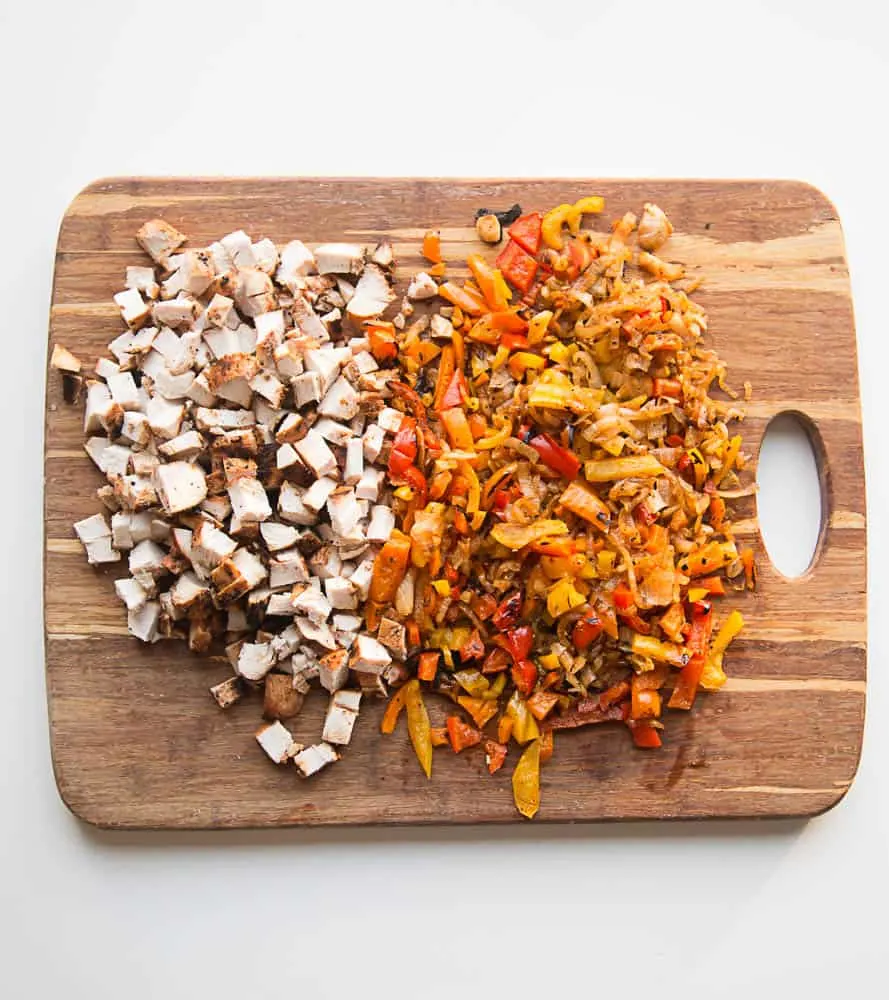 Turns out what was missing was THE FIRE.
How to make Chicken Fajita Soup
I don't know what it is about fajita leftovers, but they are my favorite leftovers ever.
Make extra chicken fajitas
It's the LEFTOVERS that make this soup so dang delicious.
I think those flavors come from the chicken and veg being slightly charred on a grill, caramelized, and then marinating in those charred, caramelized juices overnight in the fridge.
THAT is what I wanted my soup to taste like.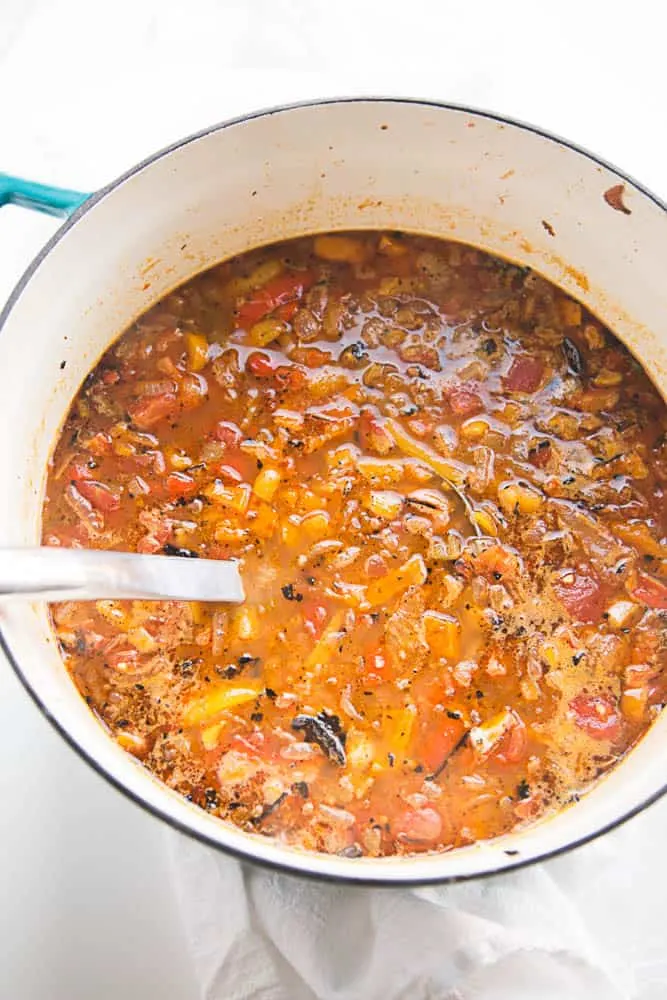 See all of those gorgeous little black specks? That's what you need.
Chop up the leftovers & add ingredients to make the soup
When my kids peeked in there they saw their worst nightmare — chunks of onions, peppers, and tomatoes. *eyeroll*
I blended part of it to make it thicker and creamier, and my kids actually liked the blended part better so I blended more for them.
I liked it partially blended. Blending the whole thing (which I've also tried) makes the texture kind of mealy because of the chicken.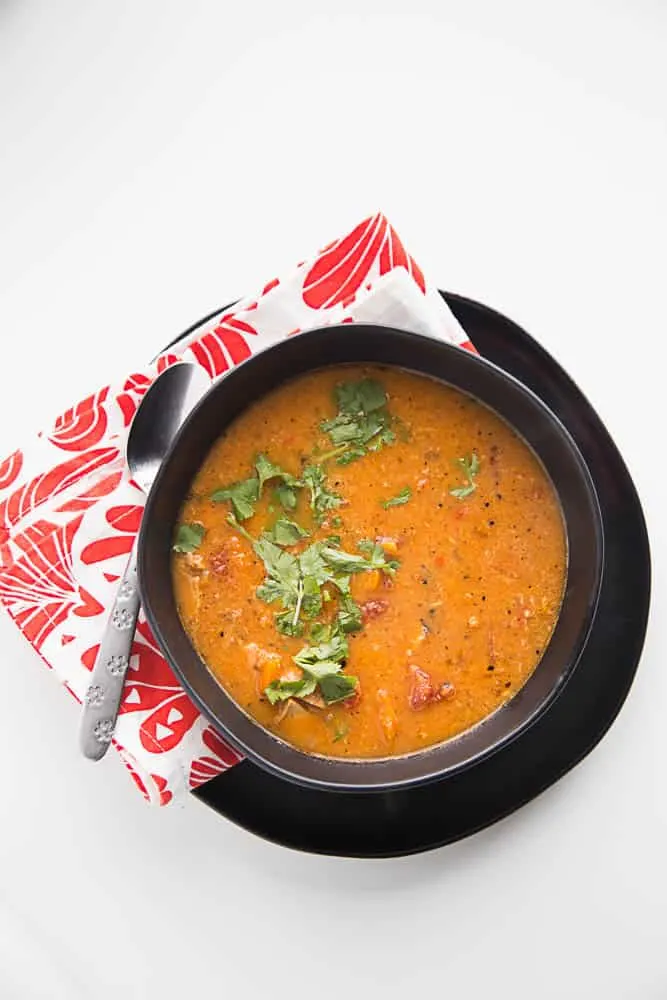 See? Better.
It's still missing something, though…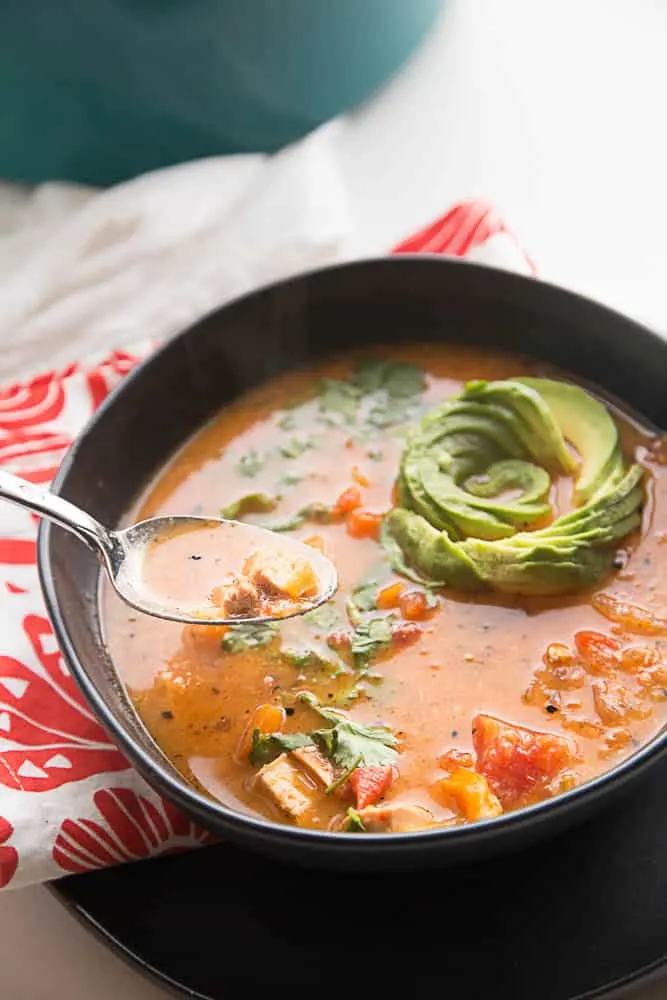 Add toppings (like avocados)
Of course you need an avo rose.
And psst… this recipe is Whole30 compliant! Just use ghee or avocado oil when you start the soup.
Go add The Best Chicken Fajitas to your next meal plan and make extra so you have two meals in one!
More Recipes on Perry's Plate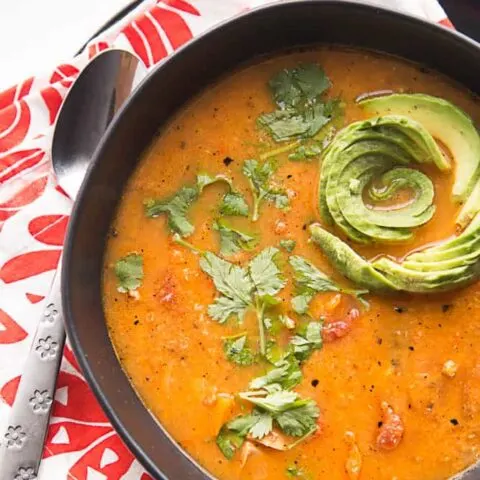 Leftover Chicken Fajita Soup
Make a double batch of The Best Chicken Fajitas so you can whip up this Leftover Chicken Fajita Soup on a busy weeknight!
Ingredients
Leftovers from The Best Chicken Fajitas (roughly 3 chicken breasts, 3 bell peppers, and 2 onions worth of leftovers)
3 Tablespoons ghee or grass-fed butter. Or avocado oil
1 1/2 quarts chicken broth
1 15-ounce can diced tomatoes
1 4-ounce can of diced green chiles
1 teaspoon minced garlic
Juice from 1 small orange
Juice from 1 juicy lime
1 cup chopped fresh cilantro
1/2 teaspoon sea salt, to taste
Avocado, for serving
Instructions
If you haven't already, chop the leftover chicken, bell peppers, and onions from your recent fajita night.
Heat the butter or oil in a large soup pot over medium heat. Add the fajita leftovers and cook until heated through.
Add the next seven ingredients. Bring the soup to a simmer and let it gently cook for about 15 minutes.
Ladle 3-4 cups of the soup into a blender pitcher and blend until smooth. Pour the blended soup back into the pot.
Stir in the cilantro and salt. Taste, and add more salt or lime if needed.
Serve with chopped avocado.
Notes
1. The Chorizo Seasoning is the same blend as you used if you made my chicken fajita recipe. It's a blend of common spices and is TOTALLY delicious.