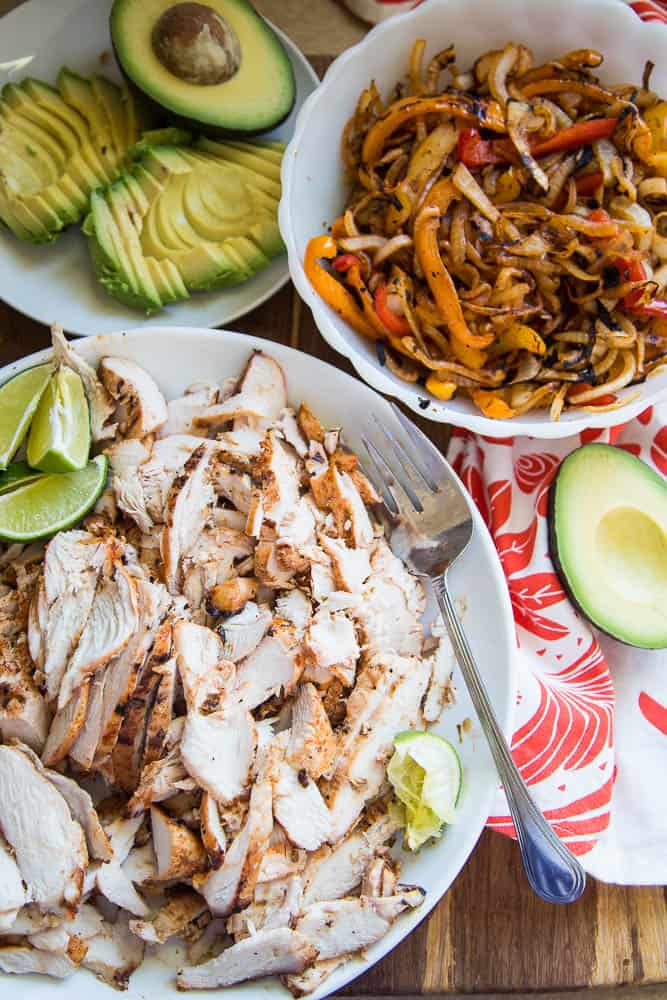 I only make fajitas for two reasons. Both these chicken fajitas and my steak fajitas are the BOMB.
It's Father's Day or Steve's birthday. He loves fajitas.
I have a hankering for fajita leftovers. Grilled chicken fajita leftovers are the BEST — especially tossed in a large skillet with some eggs and hashbrowns. *drool*
Don't get me wrong, I love eating them the day I cook them, but there's something magical that happens when they reheat. I don't know what it is, but I swear I could eat them for every meal until they're gone.
Luckily these are easy chicken fajitas, so I could go on a fajita binge all summer if I felt so inclined. Just marinate the chicken and cook it the next day. Easy peasy.
I've used a few fajita recipes over the years and fudged my own for a while, and then I went on a mission to make the BEST CHICKEN FAJITAS. I like them a little citrusy, a little smoky, and a little spicy*.
And because I'm a weirdo, I can't just go out and buy fajita seasoning. I needed to create my own blend. (Which, let's be honest, is better anyway.)
*The spice is usually hot sauce on top when I'm done because a couple of my weirdo children can't handle the slightest amount of heat. Believe me, I've tried. They're currently at the Pepper Jack Cheese Level of spicy food training. So… not that far. If you'd like to add cayenne to the marinade and give them some kick — I would totally support that.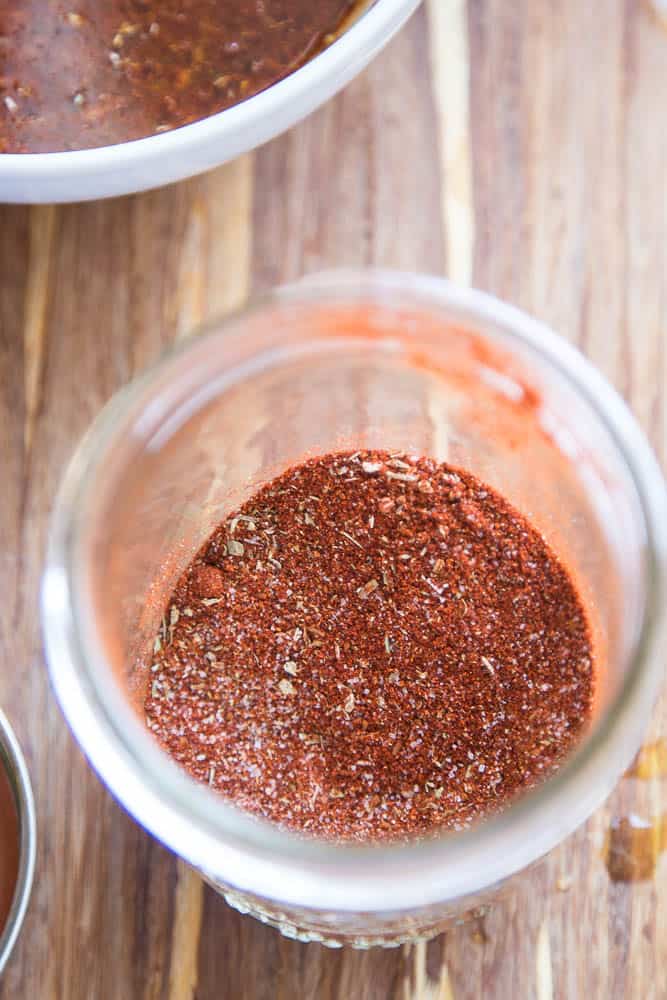 I used my Copycat Chipotle Chorizo seasoning in place of fajita seasoning. It's one of my favorite blends, and I'm happy to have another use for it! It's a blend of a few different types of paprika along with a few other things you probably already have in your cupboard.
I love this seasoning because it's different from other fajita seasoning which is mostly chili powder based. This one has chili powder, too, but it uses three different kinds of paprika — sweet (the regular kind everyone has), smoked, and Hungarian or hot paprika (Which isn't too hot. Not like cayenne pepper.)
So it gives it a different sort of flavor. It's hard to describe, but once you try it, it may dethrone your taco seasoning.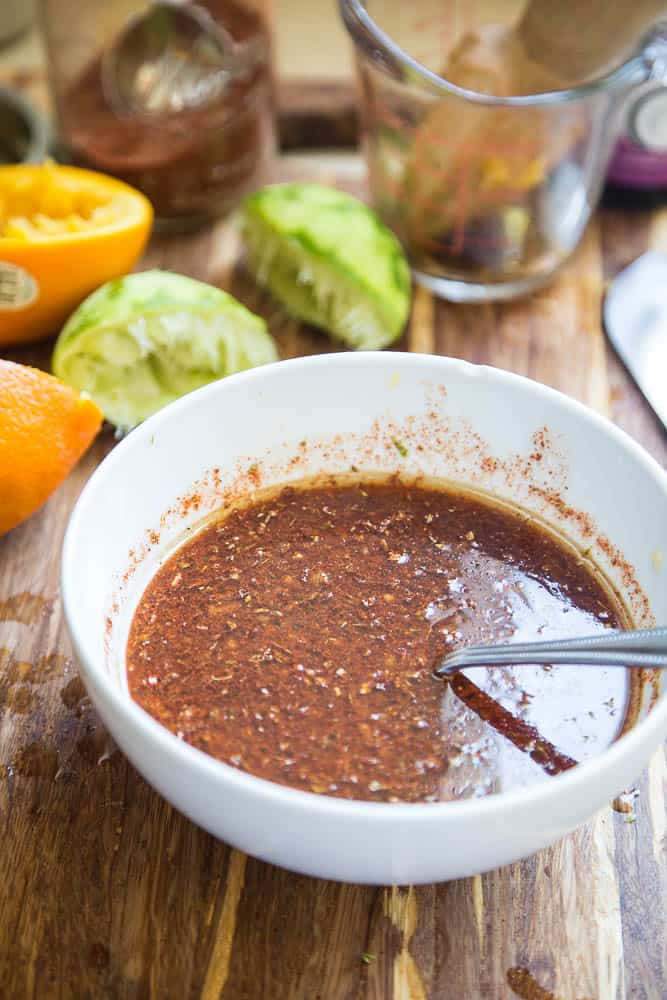 Once you have the seasoning made (make a lot and keep it in a mason jar — it makes amazing taco meat!) the marinade comes together really quickly with just a few ingredients.
I even included this seasoning recipe in my newest cookbook, The Big Book of Paleo Pressure Cooking, and threw in a few recipes to use the seasoning! Like Buffalo Ranch Chicken Chowder, Turkey, Bacon, and Avocado Chili, and Chile-Lime Drumsticks with Braised Cabbage.
Anyway, back to the recipe…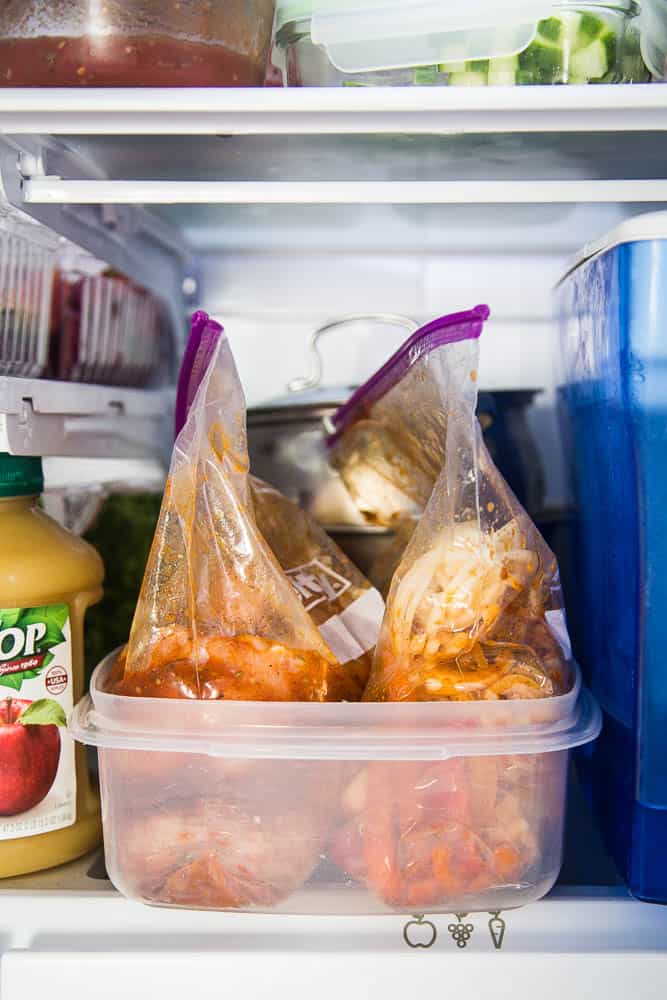 One thing I love about this recipe is that the marinade is split between the meat and the chopped bell peppers and onions. One marinade for both. I put the vegetables in a separate bag from the chicken because the chicken takes longer to cook and it would be a pain to separate everything.
Just prep these in the morning or the night before and you can go from zero to fajita in just a few minutes.
You could marinate these in a couple of shallow bowls or in a ziplock bags. I like the bags because I can flip everything around more easily to get everything coated in the marinade nicely. A large bowl is cool, too. Just so everything gets covered.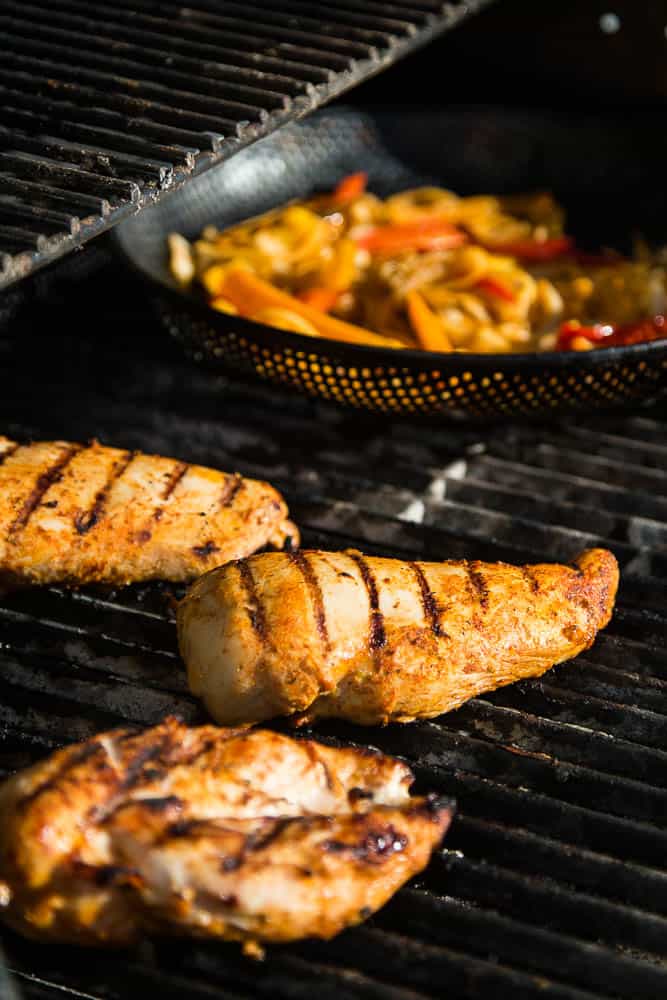 Then you throw everything on the grill. But make sure the grill is hot first. Did you know your meat will have a lower chance of sticking to the grill if it's super hot? Just throwing that out there. This also applies to cooking with stainless cookware.
Our poor grill. It looks like it's from 1994, but it's really only 5 years old. It's been well-loved, rained on, blown onto the lawn during windstorms (and pieces broken off), but it still cooks like a champ.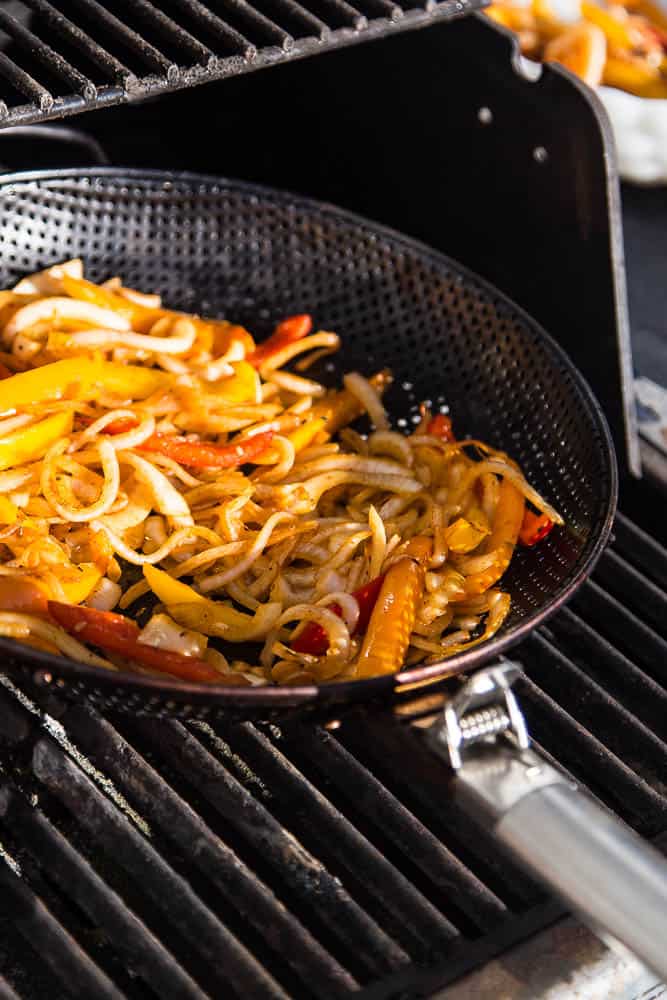 One thing — If you grill a lot, I HIGHLY recommend getting a grill skillet. I LOVE mine. My mom gave it to me several years ago — it's a stainless one from Williams-Sonoma, and it has a detachable handle. I didn't see it on their website, but I found a similar grill skillet on Amazon.
I love me some skewers, but honestly I'd rather toss everything into that skillet then to skewer things for 20 minutes. Not that you'd even skewer fajitas. I just got sidetracked and had to tell you that. Because I really love that grill skillet.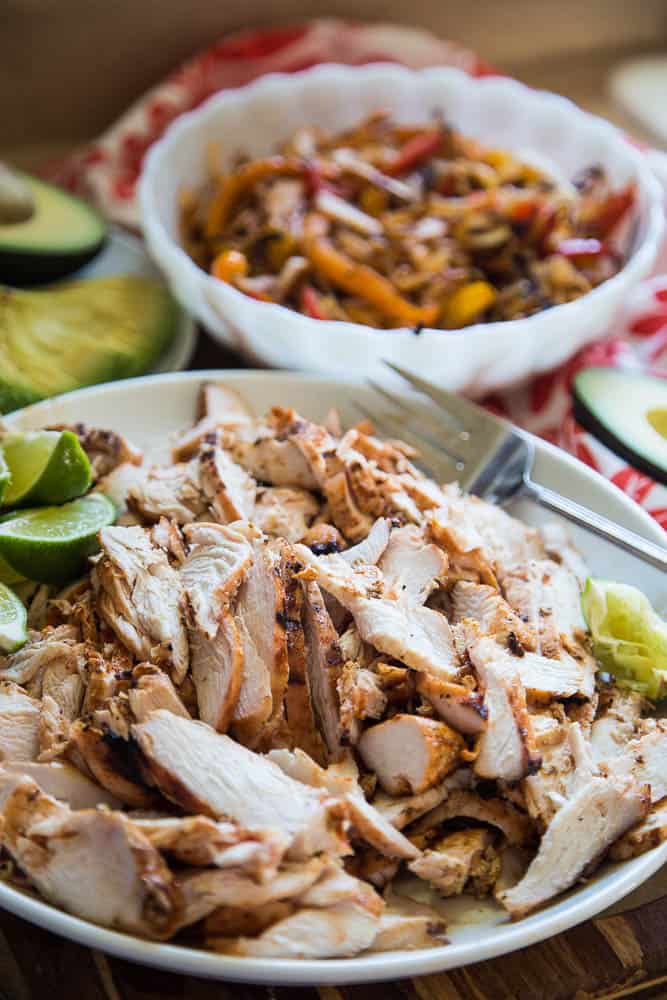 This thinly sliced, juicy chicken breast will make your dreams come true. I like to squirt some lime juice over the top after I cut it. You could add more when you add the chicken to a flour tortilla or to a salad. You can customize this to fit any lifestyle you like!
If you're eating gluten/grain-free, Paleo, or Whole30, just serve everything over a pile of Romaine lettuce with a drizzle of spiced-up Paleo Ranch Dressing. (That's what I do.) No, I don't have a recipe for the spiced up ranch, but I usually add some salsa verde, hot sauce, lime/cilantro/avocado, or some Sweet Potato Fry Seasoning — that last one was better than I expected!
If you're eating keto and you don't want a big salad, try making my Keto Tortillas (hint: they're mostly made of cheese) a few hours ahead of time.
If you just love fajitas and you're all about tortillas — go to town. Heck, wrap them up in warm tortillas and throw some sour cream on top. Oh, and pico de gallo.
If you want to take this over the top or are cooking for company, try making my Loaded Roasted Chile Guacamole to go with it! Or at the very least slice up some avocados. You need avocados with this.
OK, to sum up…
Tips for Making Chicken Fajitas
Using a plastic ziptop bag makes marinating easier because more of the marinade comes in contact with the meat. And marinate it for at least 4 hours. 12-18 hours is even better.
If you're strapped for time or just have a hard time planning ahead (I get it), you can marinate everything at room temperature for about 30 minutes. Just slice the chicken into thinner breasts (butterflied, like cutting them open like a book). That way more of the marinade gets on the surface of the meat and they'll even grill faster.
Make sure your grilling surface is really hot. And using a grill skillet makes it SUPER easy.
Speaking of meat, you can also use this fajita marinade for skirt steak fajitas or pork. Or just the vegetables. (I know I repeat myself, but those fajita vegetables are just the best ever.)
Make a double batch for THE BEST LEFTOVERS EVER. Chop the meat and vegetables and add them to a breakfast hash. Or make this Leftover Chicken Fajita Soup!
Go forth and make the best fajitas ever. (And then jump out of bed the next morning and make the best breakfast ever.)
If you've already made this recipe, would you mind clicking below and giving it a rating? I'd super appreciate it!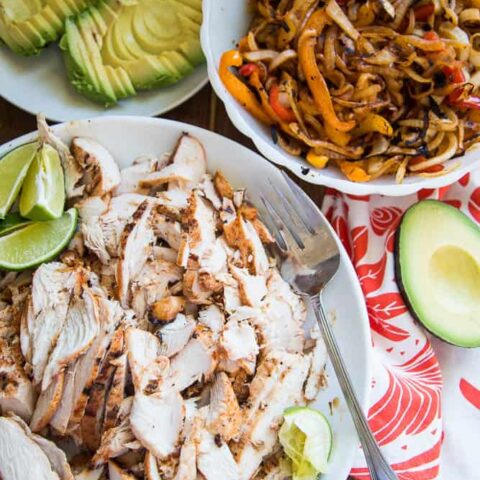 The Best Chicken Fajitas
No, really. These are the best chicken fajitas -- citrusy with a hint of heat and they make the BEST leftovers! (Leftover fajita hash is pretty amazing.)
Ingredients
For the marinade:
3 limes
1 orange
2 cloves garlic, minced
1 1/2 teaspoon salt
3 Tablespoons avocado oil
1/4 cup coconut aminos
For the fajitas:
2 medium sweet onions
3 bell peppers (any colors)
2 1/2 - 3 pounds chicken breasts or thighs
Lettuce leaves or tortillas for wrapping
Sliced avocados/guacamole, pico de gallo, hot sauce, for serving
Instructions
In a small bowl, put the zest and juice from ONE lime and the juice from the orange. Add the rest of the marinade ingredients and mix well. Set aside.
Peel and half the onions; slice them into 1/4-inch strips. Slice the bell peppers into strips, too. Place the onions and peppers in a container or a zip-top bag. Pour half of the marinade on the vegetables and toss them around to coat them evenly.
Place the chicken in another container or zip-top bag. Pour the other half of the marinade over the chicken and toss it to coat evenly. Chill the chicken & vegetables for at least 2 hours, up to 18 hours.
Preheat your grill to medium-high heat.
Grill the chicken, flipping once or twice, until cooked through and the juices are running clear. If you have a grill skillet, cook the onions and peppers in batches, flipping them often, until cooked through and golden brown and charred in spots. (If you don't have a grill skillet, see notes for alternatives.)
Let the chicken rest for 5-10 minutes and then slice it thinly. Cut the remaining two limes into wedges. Serve the grilled chicken & vegetables in lettuce leaves (or tortillas) with fixings and lime wedges.
Notes
Nat's Notes:
If your chicken breasts are thick, consider butterflying them or slicing them horizontally to create thinner breasts.
If you don't have a grill skillet, you can also cook the vegetables under an oven broiler for 10-15 minutes or in a large skillet over high heat for 10-15 minutes.
You can also use steak or shrimp instead of chicken! If you use shrimp, don't marinate it for more than 2 hours.
If you can, make a double batch of these, then use the leftovers in my Leftover Chicken Fajita Soup! You'll thank me.
Disclosure: This post contains Amazon affiliate links. Purchases made by using these links don't cost you any extra and provide Perry's Plate with a small commission to help keep the lights on.
If you want to save this recipe for later, here's a handy dandy pin below!

SaveSave