These delicious chicken tenderloins are tossed in a gluten-free breading with everything bagel seasoning and cooked in an air fryer for just 10 minutes! Super tender and tasty, these everything bagel chicken strips can be baked in the oven, too, and are great with your favorite dipping sauces.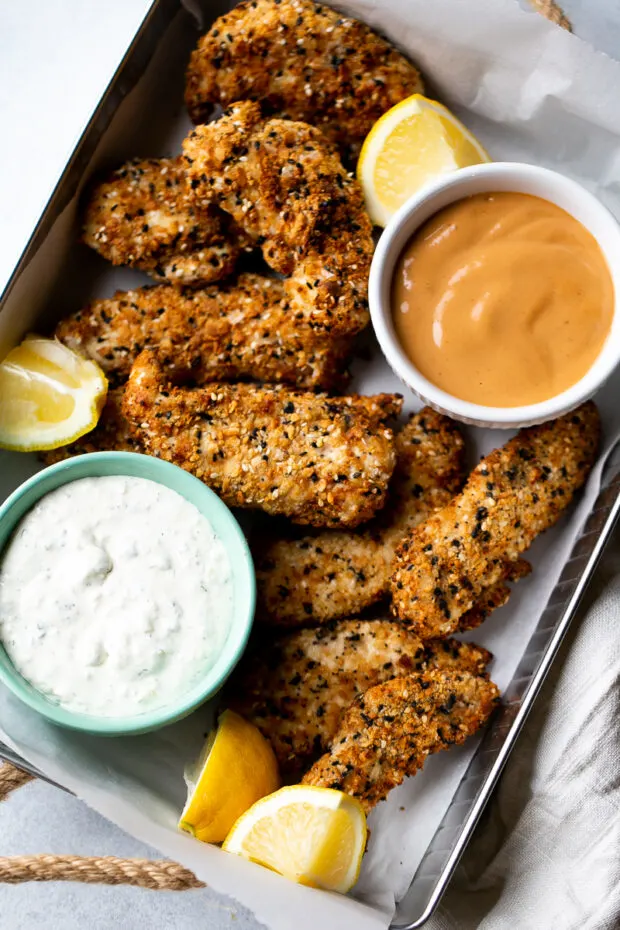 I don't normally buy chicken tenders, but I got a bunch from Butcher Box recently and tested some out in my air fryer!
I love that they make high quality meats available by shipping all over the US! It's not always easy to find well-sourced meat at the grocery store. We loved their ribs, too.
Did you know that you can get 2 pounds of grass-fed beef in every package as long as your subscription is active? That's a great bonus! Here's my link if you'd like to learn more: Butcher Box Offer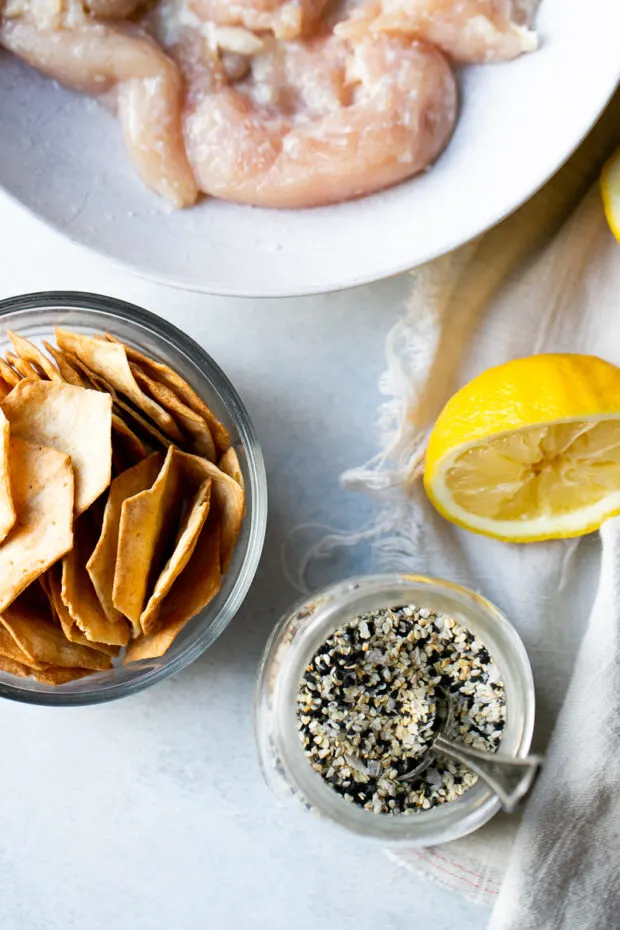 OK, back to these air fryer chicken tenders. This is one of those easy recipes that you can pull out on a busy night or your older kids could even make on their own!
Are your kids freaked out about touching raw chicken? Some of mine think it's cool. Some are completely disgusted by it. I can't judge — I had a hard time touching raw chicken until after I was married. There's hope for everyone, folks.
You'll only need a few things — chicken tenders, lemon, salt gluten-free crackers or some kind of breadcrumb, and Everything Bagel Seasoning.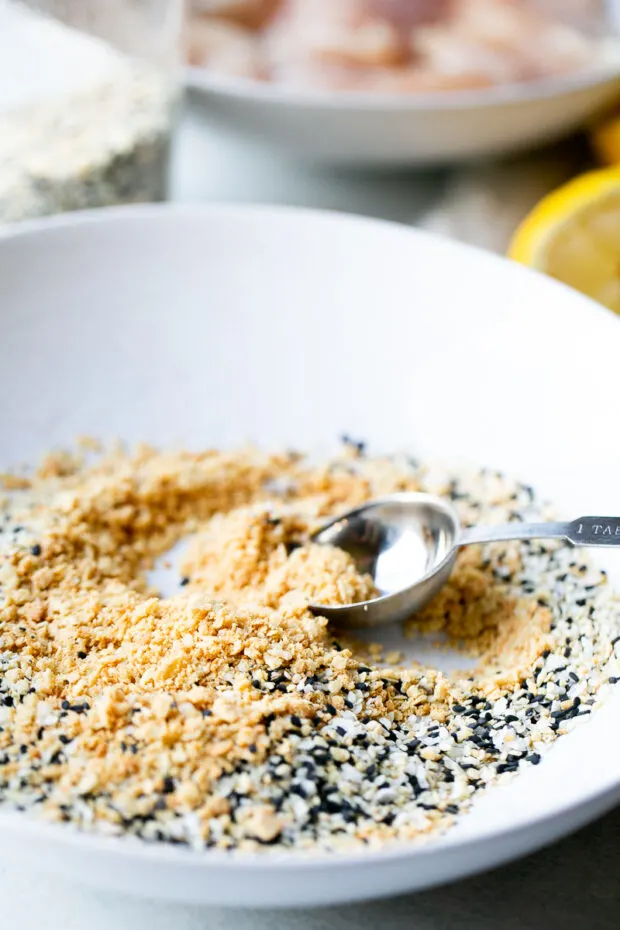 What kind of crackers should I use for breading?
I like to use Milton's gluten-free sea salt crackers. I buy the big bags at Costco. You can use any kind of gluten-free cracker or pretzel you want. They even have gluten-free panko breadcrumbs now if you want an alternative to regular breadcrumbs!
If you're paleo or grain-free, find a grain-free cracker you like or use almond flour.
Either way, use a shallow dish for breading. You could shake it all up in a plastic bag if you'd rather do it that way.
I wanted to keep this recipe dairy-free, but if that doesn't concern you, add 1/4 grated parmesan cheese to the breading. You'll thank me.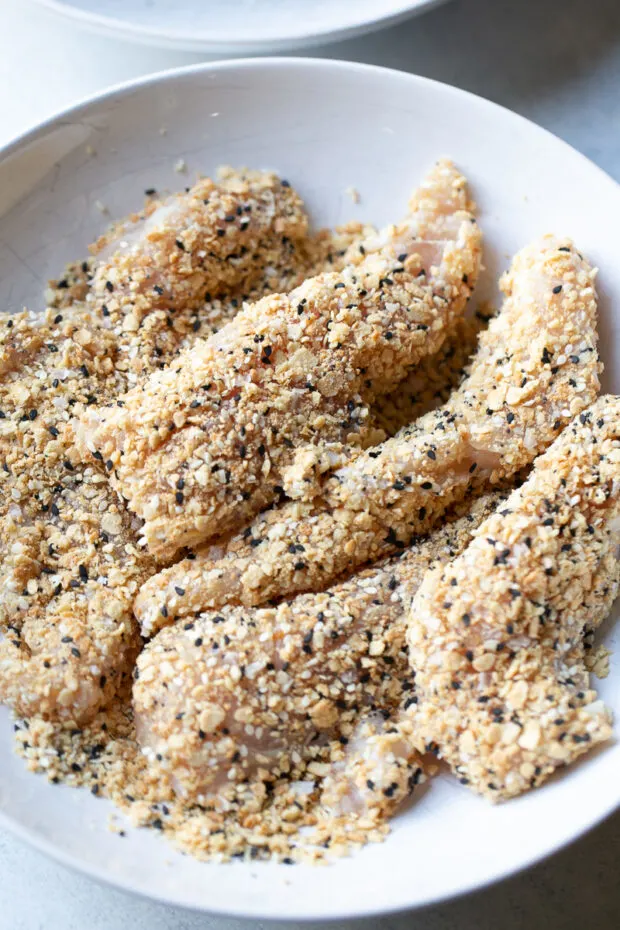 Can I use chicken breasts?
Sure! I used skinless chicken tenders for this recipe, but you can use sliced boneless skinless chicken breasts.
You can even cut the chicken into chunks to make chicken nuggets or thinner to make chicken fingers.
OR cook a whole chicken breast this way! I highly recommend butterflying them or slicing them in half so you have two thinner breasts. They cook faster this way and you have a better breading to chicken ratio. Mmm.
Every time I bread chicken or make grilled chicken, I salt it, then squeeze some lemon juice on it and let it sit for a few minutes while I prep the rest of what I need. I swear the lemon juice makes the chicken more flavorful and tender. Probably the acid?
For whatever reason, it works. So I keep doing it.
I made it easier and left out the egg step in the breading. Sometimes it helps the breading stick to the chicken with this extra step, but I find that if you're cooking things in the air fryer or oven, the breading sticks better since the chicken pieces aren't being jostled around in a pan.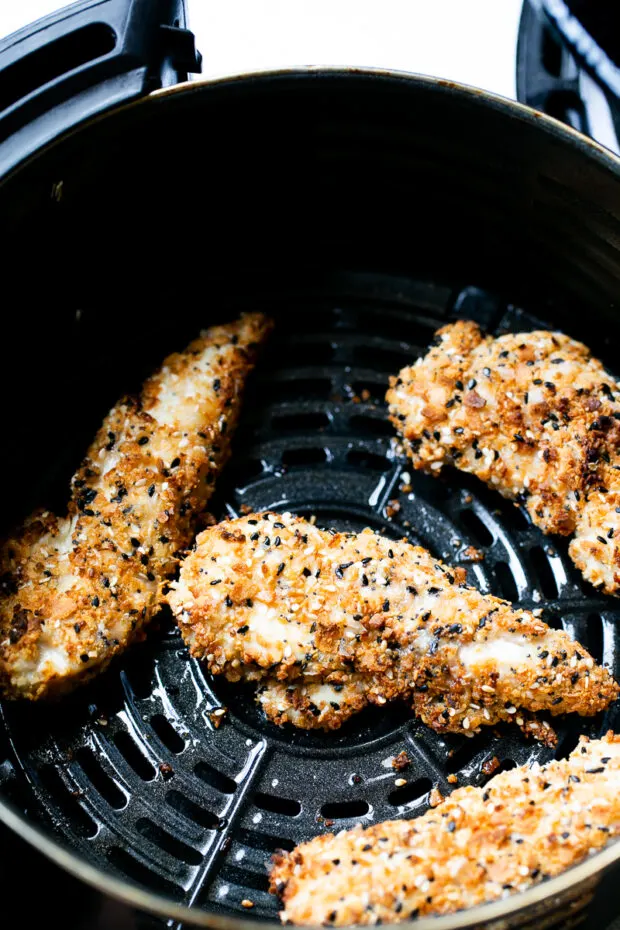 I spray them with a little avocado oil spray to mimic fried chicken tenders. You can use olive oil spray if you like or any other nonstick cooking spray you prefer.
I like to spray the wire rack in the basket, too, to keep the from sticking.
How long to cook chicken tenders in an air fryer?
Cook these babies for about 10 minutes in your air fryer at 400 degrees fahrenheit! The cooking time might vary slightly if your chicken pieces are particularly thick or thin. I found that 10 minutes was perfect for ours.
Can we talk about air fryers for a minute? I know they're the small appliance darling at the moment, but I'm not 100% on board. Mostly because I'm feeding 6 people and there isn't an air fryer that accommodates enough food in one or even 2 batches.
Plus it takes up a lot of countertop real estate. I'm picky about what I put on my counter.
The kids really love making homemade fries in it, so I keep it around. It did such a great job of whipping up these chicken tenders so quickly that I might find other uses for it.
And I know that a lot of you love your air fryers so I wanted to create more air fryer recipes for you!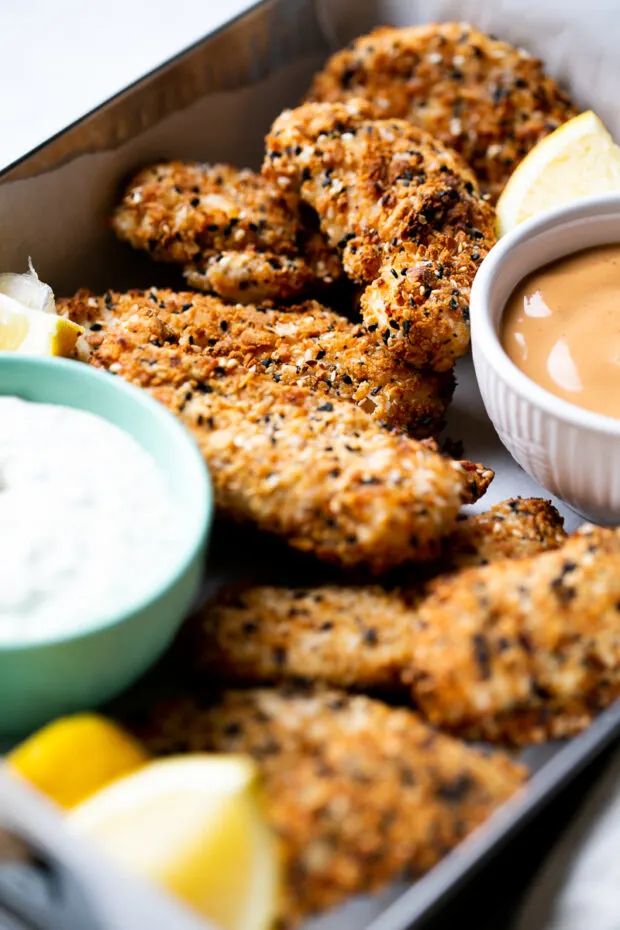 Can I make these in an oven?
Sure! Oven baked chicken tenders are delicious, too!
Just lay them on a parchment paper lined baking sheet (or aluminum foil) and cook them at 400 degrees F for about 10 minutes.
They should be golden brown and have some clear juices running out of them. Don't cook them until they're completely If you have thin chicken breast or other smaller pieces they'll be done more quickly.
Just make sure the internal temperature is 160. (If you have a meat thermometer, pull it out!) It'll get to 165 on its own with residual heat, and it won't be dried out.
I love how tender and juicy chicken tenderloins get! Especially in the air fryer.
If Everything Bagel Seasoning isn't your thing, you can swap it out with 1 Tablespoon of your favorite seasoning blend. Or just keep it simple with some black pepper, onion powder, and garlic powder.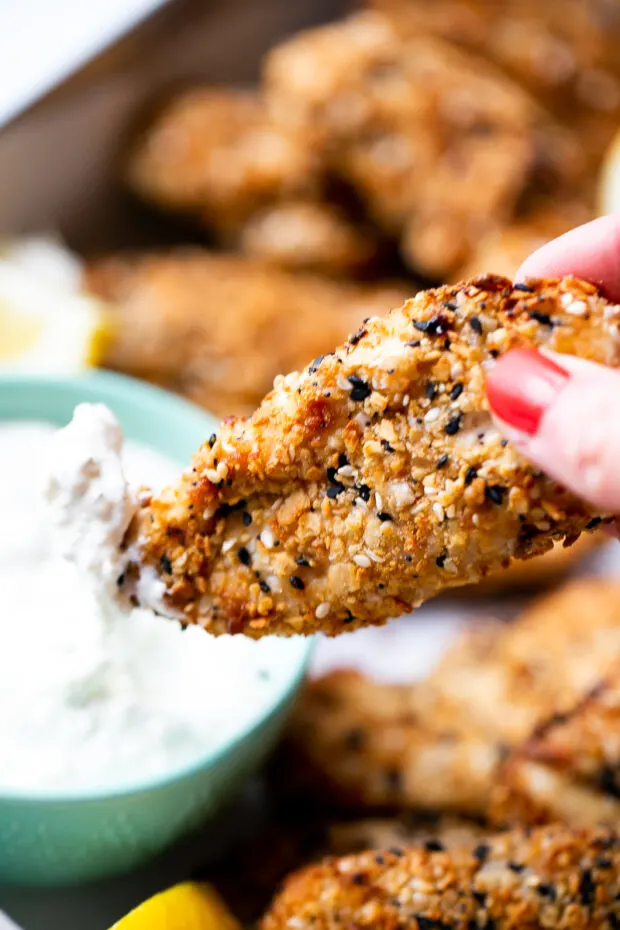 What kind of dipping sauce is good for these chicken tenders?
Honestly the Everything Bagel seasoning on these tenders would work well for a lot of dipping sauces. My favorite dipping sauce is this Dill Pickle Ranch Dip I found at Costco recently. Holy cow.
If you're a BBQ sauce fan, use that. If you like fry sauce (Hey Idaho and Utah!) that's great, too.
Storing leftovers and reheating
It probably goes without saying that these are best stored chilled in an airtight container for a few days.
The best way to reheat them is in the air fryer, oven, or toaster oven. To reheat chicken tenders in the air fryer or toaster oven, put them in there for 3-4 minutes at 400 degrees. (Preheat the toaster oven before you put them in or they'll get scorched!)
Or put them in the oven at 425 for 5 minutes. Obviously air fryer takes less time.
Just…. please do me a favor and don't microwave them! That delicious crispy coating won't return to it's original state, and you'll have a soggy chicken tender. A very sad, soggy chicken tender.
Fiesta Popcorn Chicken can be made with cut up chicken tenderloins!
Also not a chicken tender (Clearly I need to boost my chicken tender repertoire) Paleo Fish Nuggets would also be FABULOUS in the air fryer! Cook them for just 4-5 minutes at 400 or until they're cooked through.
---
If you make one of my recipes, be sure to post it on social media and tag me at @perrysplate or #perrysplate so I can send you some love!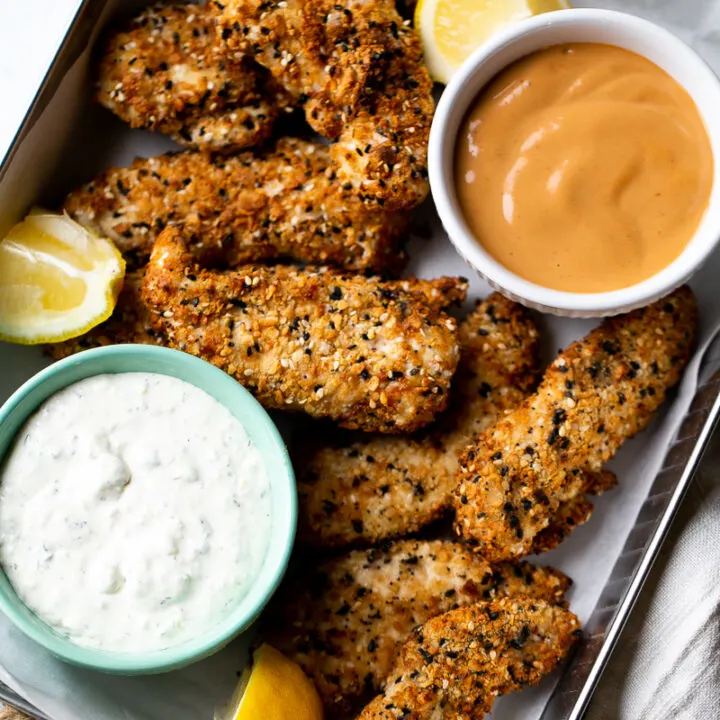 Everything Bagel Chicken Tenders (Air Fryer or Oven)
These delicious chicken tenderloins are tossed in a gluten-free breading with everything bagel seasoning and cooked in an air fryer for just 10 minutes! Super tender and tasty, these chicken strips can be baked in the oven, too, and are great with your favorite dipping sauces.
Ingredients
10 chicken tenderloins
Sea salt
1/2 lemon
1/2 cups crushed up gluten-free crackers (1-2 handfuls whole crackers)
non-stick cooking spray
Instructions
Place the chicken on a large plate and sprinkle both sides with a pinch or two of sea salt. Don't be too generous since the bagel seasoning also has salt. Juice the 1/2 lemon over the chicken pieces and flip to coat both sides.
Crush the crackers in a food processor or in a zip top bag with a rolling pin. They should be roughly the size of panko breadcrumbs.
In a large shallow bowl or small baking dish, blend the crushed crackers and bagel seasoning.
Coat each chicken piece completely in the breading.
Cook them in batches in your air fryer at 400 degrees for 10 min. Make sure there's a little space between the chicken pieces. They should be golden brown with the juices running clear when they're done.
Notes
I used Milton's gluten-free sea salt crackers we find at Costco. Any gluten-free cracker would be good here.
I cooked a variety of tenderloin sizes all together for 10 minutes and they were perfectly done. If your chicken tenders are particularly large or small, try increasing or decreasing the time by a minute or so.
Recommended Products
As an Amazon Associate and member of other affiliate programs, I earn from qualifying purchases.
Nutrition Information
Yield

5
Serving Size

1
Amount Per Serving
Calories

227
Total Fat

6g
Saturated Fat

2g
Trans Fat

0g
Unsaturated Fat

4g
Cholesterol

77mg
Sodium

370mg
Carbohydrates

12g
Fiber

1g
Sugar

2g
Protein

30g
The information shown is an estimate provided by an online nutrition calculator. It should not be considered a substitute for a professional nutritionist's advice.