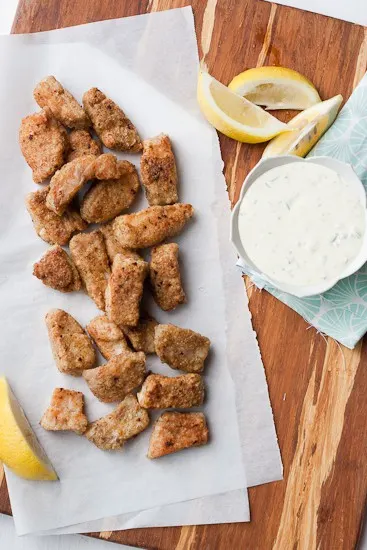 Today I've got a fun little recipe for you that puts frozen fish sticks to shame.
See them sulking in the freezer? That's because they know they'll never make it to a toasty-hot oven after you've tried these homemade paleo fish nuggets with super easy homemade tartar sauce.
We eat a lot of wild-caught fish, particularly salmon, cod, rockfish, and sole. Rockfish is relatively inexpensive so I use it often. I was in the mood for fried fish one night and threw together a grain-free breading that didn't have nuts. We're not allergic, but seriously, have you seen the price of a bag of almond flour lately? It blows my mind. And it makes me pickier about when I use that stuff.
I used arrowroot flour and combined it with some ground flax to give it some nuttiness. And because I was also in the mood for classic fried fish I didn't get too crazy with the seasonings. I used an all-purpose salt-free blend I buy at Costco (Trader Joe's also has a good one!) so I could control the salt content myself. I also added some dried dill. Fresh dill would be pretty amazing here, but honestly, dried did the trick.
I'm not typically a fan of tartar sauce because I don't like commercial mayo or sweet relish. I like to control the ingredients in my condiments so I prefer making than buying tartar sauce.
For this homemade tartar sauce I used some leftover homemade mayonnaise (using avocado oil instead of olive), fresh lemon juice, stone ground mustard (dijon mustard is good too!) and some finely chopped dill pickles as a base. You could also use dill relish if you happen to have some on hand. It'll save you a little chopping time. You COULD use sweet pickle relish, but I think we'd have to re-evaluate our relationship. Sweet pickles are no bueno in our house.
Using fresh dill weed is super good in that tartar sauce recipe, too. It's such a great recipe — totally customizable to what you like and what you have on hand! (Please just don't use Miracle Whip. Ew.)
Also, if you don't want to fry these fish nuggets, you can probably bake them. Frying things in a small amount of coconut oil is fantastic, though. It leaves them light, crispy, and not as greasy as when you use vegetable oil. Plus you don't have to worry about the formation of trans-fats or the oil oxidizing.
The kiddos ate these right up and they were even good warmed up in the oven the next day for lunch! I'm willing to bet they'd freeze well, too. The homemade tartar sauce keeps for a few days in the fridge, too.
You can use these nuggets in my Fish Taco Bowls! They'd be great with that citrus crema and some Grilled Pineapple & Jalapeno Salsa — and more like the breaded baja fish tacos. Mmm.
Click "print recipe" and add this to your meal plan next week! You could also pair this with some oven french fries for a fish and chips kind of meal!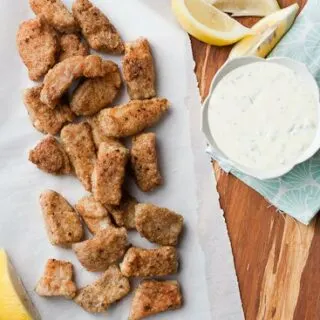 Paleo Fish Nuggets and Homemade Tartar Sauce
Additional Time:
5 minutes
These homemade fish nuggets will make you wonder why you ever ate frozen fish sticks. And you'll never go back. The tartar sauce is super easy, too!
Ingredients
For the fish:
1 1/2 pounds thick, white fish, like cod or rockfish (wild-caught)
1 lemon
Salt and pepper
3/4 cup arrowroot powder
1/4 cup ground flax
1 Tablespoon all-purpose salt-free seasoning blend
1/2 teaspoon dried dill
1 large egg
1/4 cup almond or coconut milk
Heat-safe oil for frying (coconut or avocado)
Lemon wedges, for serving
For the tartar sauce:
1 cup of homemade, paleo-friendly mayonnaise (see link below recipe)
2 large pickles, diced small
2 Tablespoons pickle juice
1 Tablespoon fresh lemon juice
1/2 teaspoon stone ground mustard (regular mustard is fine, too)
2 Tablespoons fresh parsley or chives, minced
salt, to taste
Instructions
Cut fish into 1 1/2 inch chunks and place in a large bowl. Squeeze juice from the lemon over the fish and add a few generous pinches of salt and pepper (don't be shy). Toss it around with your hands until coated. Let it marinate for at least 15 minutes up to 2 hours.
Combine the ingredients for the tartar sauce and chill in an air-tight container until ready to use.
In a shallow bowl or plate combine the arrowroot, flax, seasoning blend (I used the Kirkland brand 22-seasoning blend), dill, and a 1/2 teaspoon of salt.
In another shallow bowl or plate, beat the egg and the milk together with a fork.
Begin breading fish by dipping it first in the beaten egg mixture, letting the excess drip off, and then into the dry mixture. Set them on a large baking sheet while you continue breading.
Add enough oil to just barely cover the bottom of a large skillet. Bring to medium-high heat. Add several pieces of fish to the skillet and cook, turning once or twice, until the sides are golden brown and the fish is cooked through. If they begin to brown quickly or the oil starts to smoke, reduce the heat to medium. Transfer fish to a paper-towel-lined plate to drain. Continue to fry fish in batches. If you like, place the fish in the oven on the lowest temperature setting to keep them warm.
Serve fish with tartar sauce and lemon wedges.
Visit my
Homemade Mayonnaise
post on making some paleo-friendly mayonnaise! For use in this homemade tartar sauce I would substitute a neutral oil in place of the extra-virgin olive oil used in that post. Avocado oil or light olive oil would be better.
If you're kiddos like fish they might like these recipes, too!
Kid-Friendly Fish & Seafood Recipes
California Roll Sushi Bowls — These were our Sushi Bowl Sunday favorite for months! For some variations, check the #sushibowlsunday hashtag on Instagram!
Easy Paleo Pad Thai — I get literal shouts for joy when I tell them I'm making this. Jumping up and down and everything.
Chile-Lime Fish Taco Bowls — Our kids love customizing their own bowls. I've even used leftover fish nuggets to make this for myself for lunch. (With taco night leftovers. I totally nailed leftovers for lunch that day.)