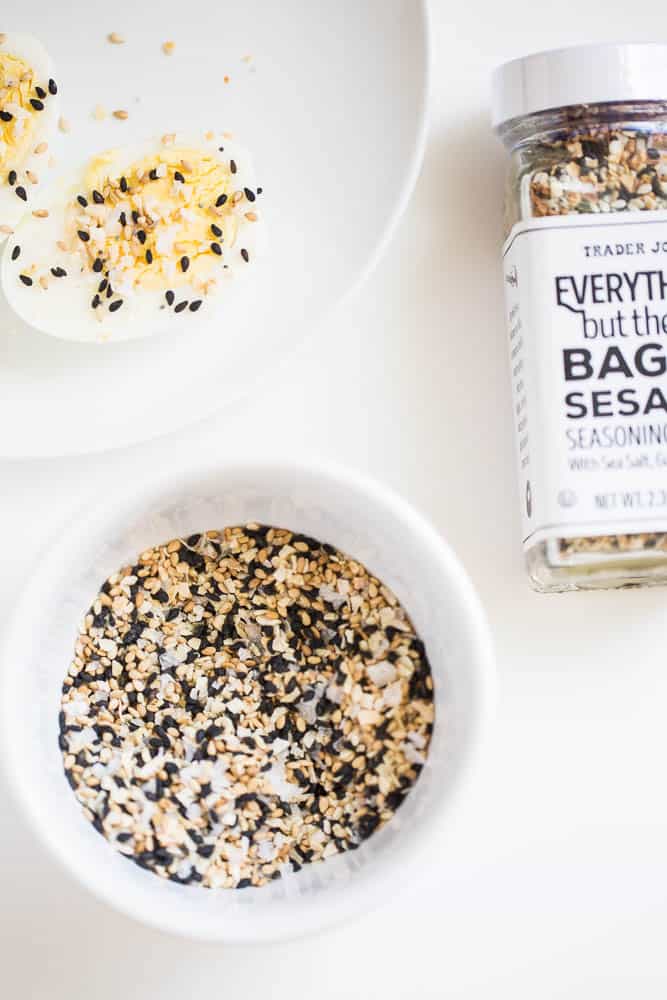 Everything Bagel Seasoning is having a moment, isn't it?
What is Everything Bagel Seasoning?
Everything bagel seasoning is simply the seasoning that is used on everything bagels — you know the ones with all of the sesame seeds, poppy seeds, garlic flakes and such?
Trader Joe's started selling "Everything But the Bagel Seasoning" — essentially the seasoning you put on everything bagels, and it sort of exploded on the internet and appeared in other stores, too.
It's brilliant, really. Luckily for those who are avoiding bagels and other carby/gluteny things you can have that same flavor on other things!
After seeing all of those who didn't have a Trader Joe's nearby lament about not being able to get any EBS, I was determined to help you out. Yeah, Everything Bagel Seasoning has an acronym now. #arrived
After I figured out the best (modest, I am) Everything But the Bagel Seasoning Recipe, I was so excited to share this recipe with you!
Why is this version the best version?
The key to making a good batch of is getting all of the components roughly the same size. Don't make substitutions — like using granulated garlic or regular salt — or else it'll all settle to the bottom and the flavor won't be quite right.
(Believe me, I've tried.)
I'll explain below.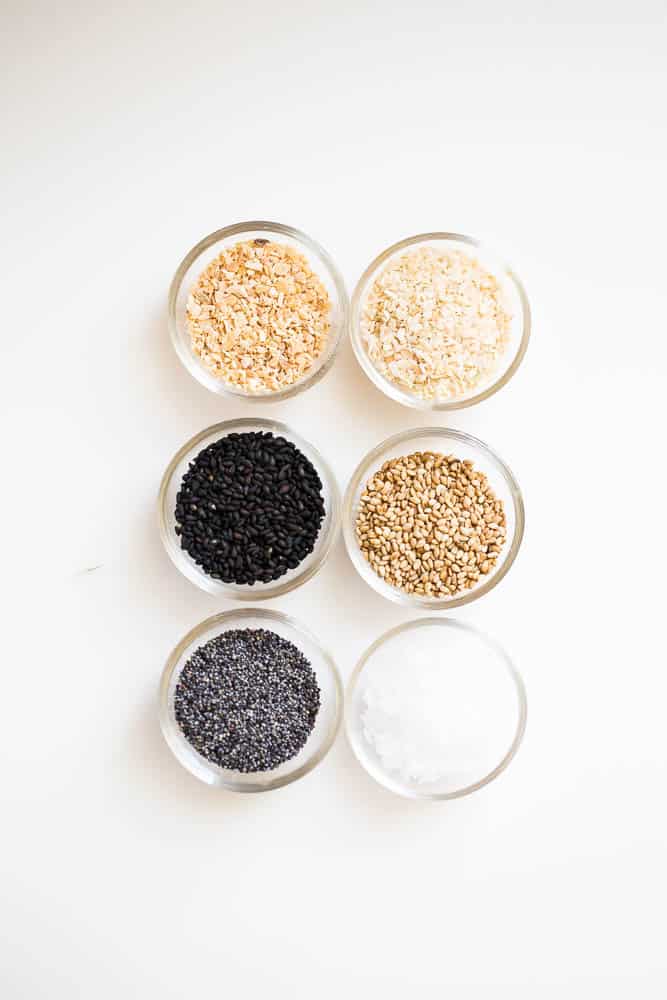 What's in Everything Bagel Seasoning?
Dried Garlic Flakes — Like I mentioned, not granulated garlic or garlic salt. I often find these in the bulk spice section in the grocery store.
Dried Onion Flakes — Or dried minced onion, as they're sometimes called. Again, don't use onion powder here.
Black Sesame Seeds — These are usually in the spice section, but I've often found more afforable, larger jars in the Asian section of a grocery store. Or at an Asian market. (Update: Since we moved to Boise, I've had a really hard time finding it in bulk. So instead of paying $6 for a 2-ounce jar, I got a 2-pound bag on Amazon for 12.99. Like I said — I take my EBS seriously.) If you don't want to use black sesame seeds, then just add more white sesame seeds and the flavor will be about the same.
Regular Sesame Seeds — The white ones. I prefer to use the toasted sesame seeds here because it gives the blend a more pronounced sesame flavor.
Poppy Seeds — Pretty straightforward. Just use whatever you can find. Fresh ones are always better, so if your jar of poppy seeds is from the late 90s, you might need to replace it.
Flaked Sea Salt — NOT REGULAR SALT. Or even pink Himalayan salt. I feel like this deserves it's own section. So scroll down. It's worth it.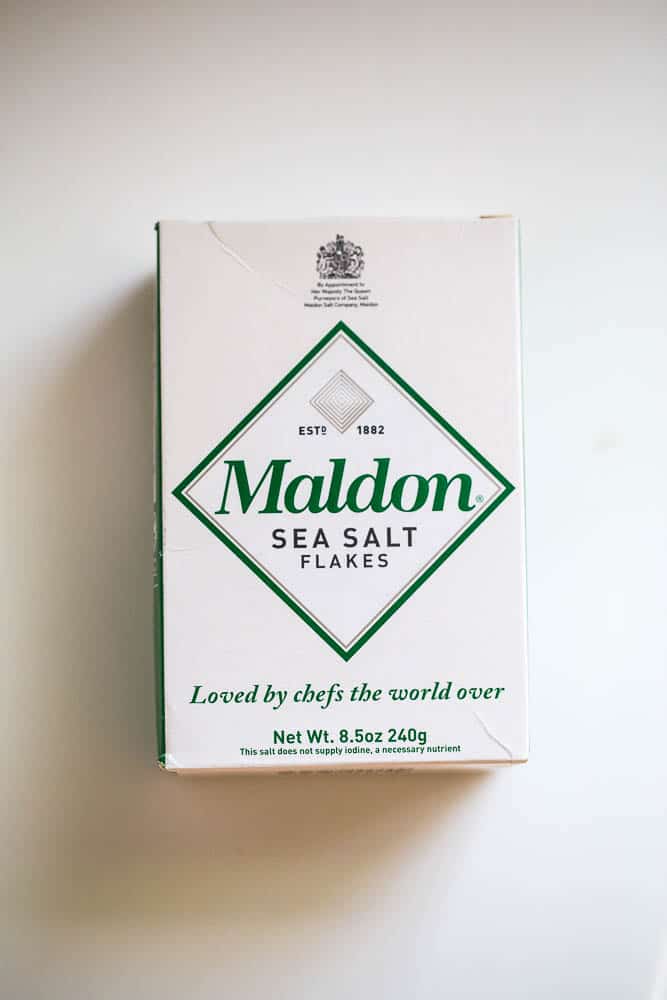 Sea salt flakes aren't like other kinds of salt — they're light and crispy and definitely not rock-like. And the flavor is so good. I'm kind of a salt-snob now after bouncing from Kosher salt, to fine sea salt to Himalayan pink salt. I can't even use regular table salt anymore — except for homemade play dough.
I highly recommend using Maldon sea salt. I got some coarse sea salt and it was like biting into little rocks. I found this at a regular (nicer) grocery store, and realized later it was cheaper on Amazon. *facepalm*
Also, if you happen to have a kid who likes to eat salt, I would hide this very well. Just saying.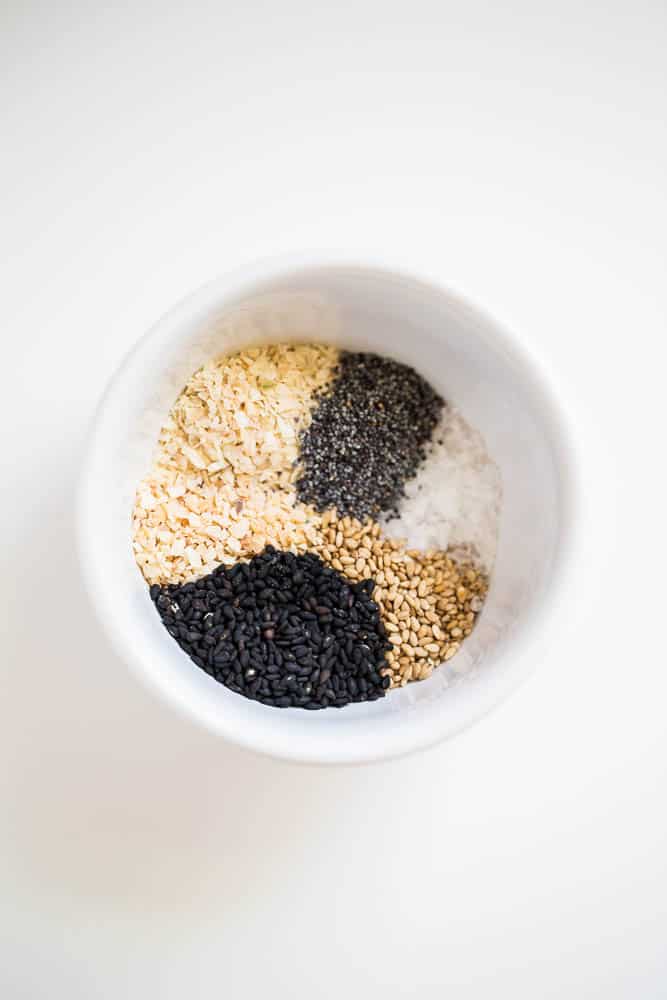 Can you double or triple the Everything Bagel Seasoning?
This particular recipe makes a scant 3 Tablespoons, but you can double or triple it to fill a small mason jar. I added measurements for a pint jar and a quart jar in the recipe.
Yes, quart. I made a (mostly full) quart jar of this.
You'll probably want to because once you start sprinkling, it'll find its way on just about everything you eat. It's one of my all-time favorite seasoning blends.
If you're a keto eater or eating gluten free or grain free, smearing a hard boiled egg with cream cheese and a sprinkle of this is heaven. Seriously.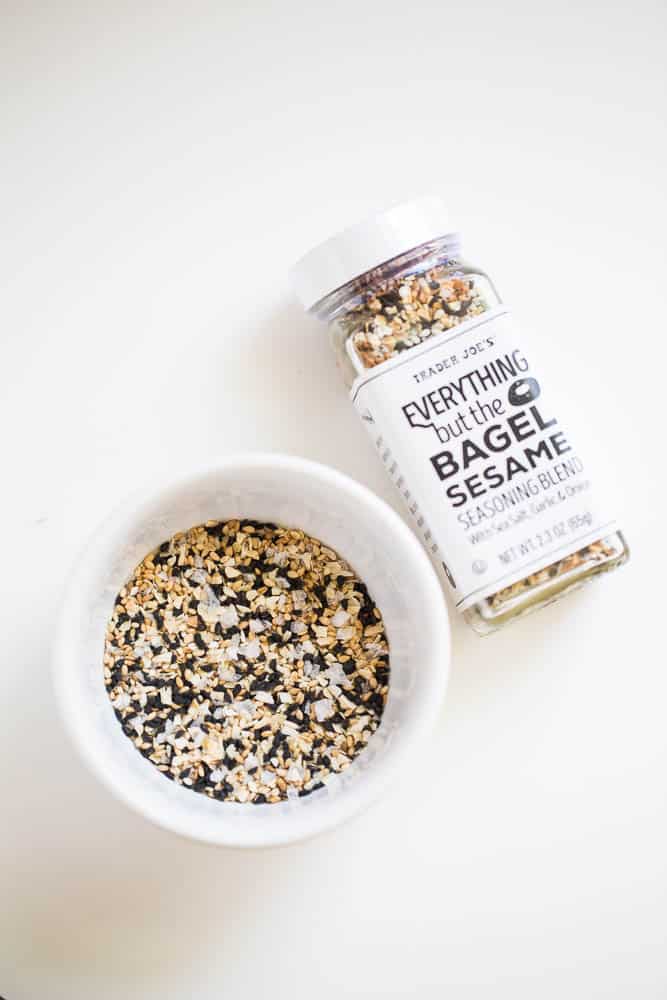 How to Use Everything Bagel Seasoning
I'd love to tell you a dozen things I put this on, but I'm kind of a one or two trick pony.
90% of the time I put it on hard-cooked or scrambled eggs and eat them for breakfast. Or a snack. Here are a few other things to put it on:
Avocados (Seriously, so good. And if avocado toast is your thing, prepare for nirvana after a sprinkle of this on top.)
Salads (It's amazing how just a little sprinkle can add so much flavor! I use it in my 5-minute Breakfast Salad.)
Smoked Salmon
Lettuce Wraps & Sandwiches
Popcorn
Roasted Vegetables
Sushi Bowls (I LOVE it on a California Roll Sushi Bowl!)
Popcorn
Pizza crust (Sprinkle some around the edge of the crust before you bake. It's killer.)
No matter how many uses you have for it, it's well worth making a little extra.
Have you jumped on the everything bagel train? I'd love to see how you use it as I'm always looking for new ways myself!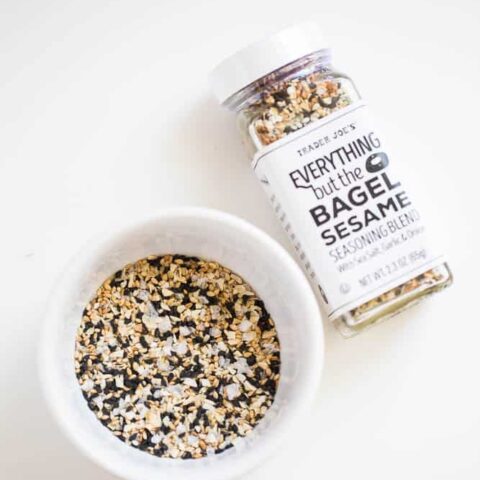 DIY Everything Bagel Seasoning
Yield:
A scant 3 Tablespoons
Whip up this tasty and versatile seasoning -- whether you live by a Trader Joe's or not!
Ingredients
To make about 3 Tablespoons:
2 teaspoons white sesame seeds
1 1/2 teaspoons dried minced onion
1 1/2 teaspoons dried minced garlic
1 1/2 teaspoons black sesame seeds
1 teaspoon sea salt flakes (Maldon recommended)
1/2 teaspoon poppy seeds
To make about 3/4 cup:
2 Tablespoons + 2 teaspoons white sesame seeds
2 Tablespoons dried minced onion
2 Tablespoons dried minced garlic
2 Tablespoons black sesame seeds
4 teaspoons sea salt flakes
2 teaspoons poppy seeds
To make about 3 cups
1/2 cup + 3 Tablespoons white sesame seeds
1/2 cup dried minced onion
1/2 cup dried minced garlic
1/2 cup black sesame seeds
5 Tablespoons + 1 teaspoon sea salt flakes
2 Tablespoons + 2 teaspoons poppy seeds
Instructions
Combine everything thoroughly and store in an air-tight container at room temperature. Sprinkle on hard-boiled eggs, avocados, over salads, or anything else you wish!
Notes
Nat's Notes:

1. Don't make any ingredient substitutions that will change the texture of the ingredient -- like using granulated garlic instead of dried minced garlic. If the components aren't the same size and texture the mixture won't stay blended well and the taste will be off.

2. I used toasted sesame seeds which gave the blend a slightly more pronounced sesame flavor. You can use either toasted or untoasted.
3. If you don't want to buy black sesame seeds, you can substitute white sesame seeds and the flavor will be about the same.
Recommended Products
As an Amazon Associate and member of other affiliate programs, I earn from qualifying purchases.
Disclosure: This post contains an Amazon affiliate link. Purchases made by using these links don't cost any extra and provides Perry's Plate with a few pennies to keep the lights on.

SaveSave
SaveSave
SaveSave