How to Make Everything Bagel Seasoning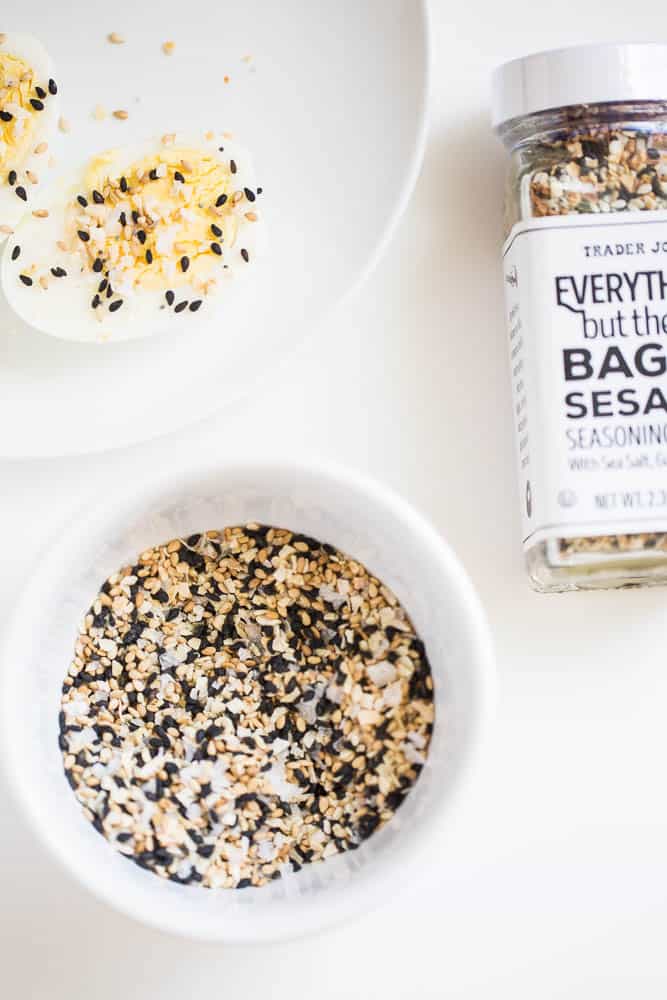 Everything Bagel Seasoning is having a moment, isn't it? It's EVERYWHERE lately, and luckily for those who are avoiding bagels and other carby/gluteny things you can have that same flavor on other things!
After I figured out how to make Everything Bagel Seasoning, I was so excited to share this recipe with you! I fell in love with this Trader Joe's Everything But the Bagel Seasoning recently, and it seems like everyone else on the internet did, too.
I'd love to tell you a dozen things I put this on, but I'm kind of a one or two trick pony. 90% of the time I put it on hard-cooked or scrambled eggs and eat them for breakfast. Or a snack. Sometimes I sprinkle it over a salad or on an avocado. No matter how many uses you have for it, it's well worth having a big jar in the cupboard.
After seeing all of those who didn't have a Trader Joe's nearby lament about not being able to get any EBS, I was determined to help you out. Yeah, Everything Bagel Seasoning has an acronym now. #arrived
Side note: I was able to guest post on the Whole30Recipes Instagram account last week (Eek! Fun!), and I shared this recipe with those lovely Whole30-ers.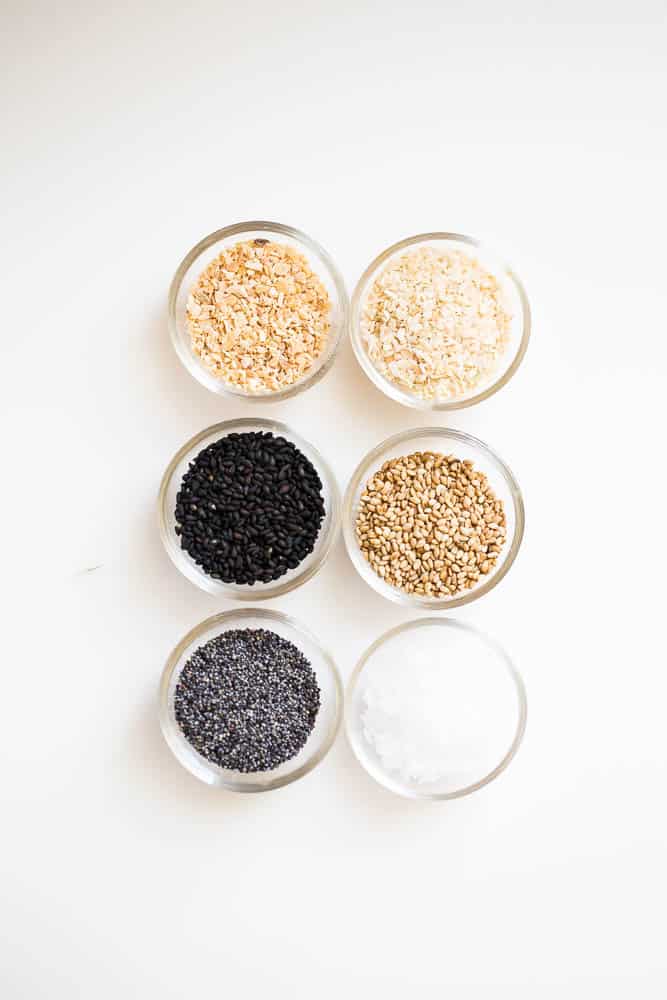 The key to making a good batch is getting all of the components roughly the same size. Don't make substitutions — like using granulated garlic or regular salt — or else it'll all settle to the bottom and the flavor won't be quite right.
(Believe me, I've tried.)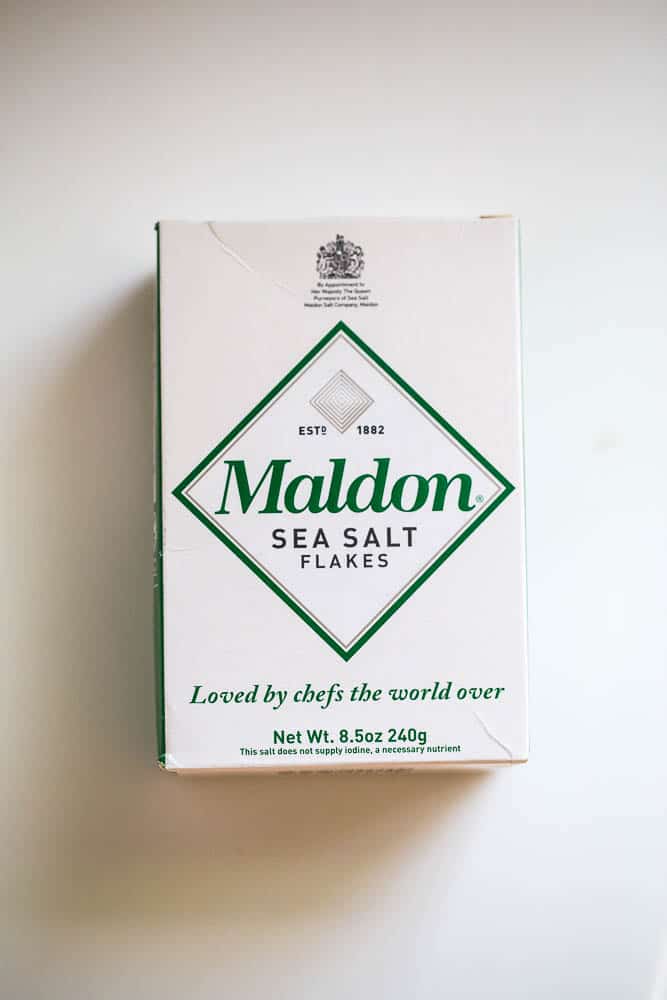 And I highly recommend using Maldon sea salt. I got some coarse sea salt and it was like biting into little rocks. I found this at a regular (nicer) grocery store, and realized later it was cheaper on Amazon. *facepalm*
Sea salt flakes aren't like other kids of salt — they're light and crispy and definitely not rock-like. And the flavor is so good. I'm kind of a salt-snob now after bouncing from Kosher salt, to fine sea salt to Himalayan pink salt. I can't even use regular table salt anymore — except for homemade play dough.
Also, if you happen to have a kid who likes to eat salt, I would hide this very well. Just saying.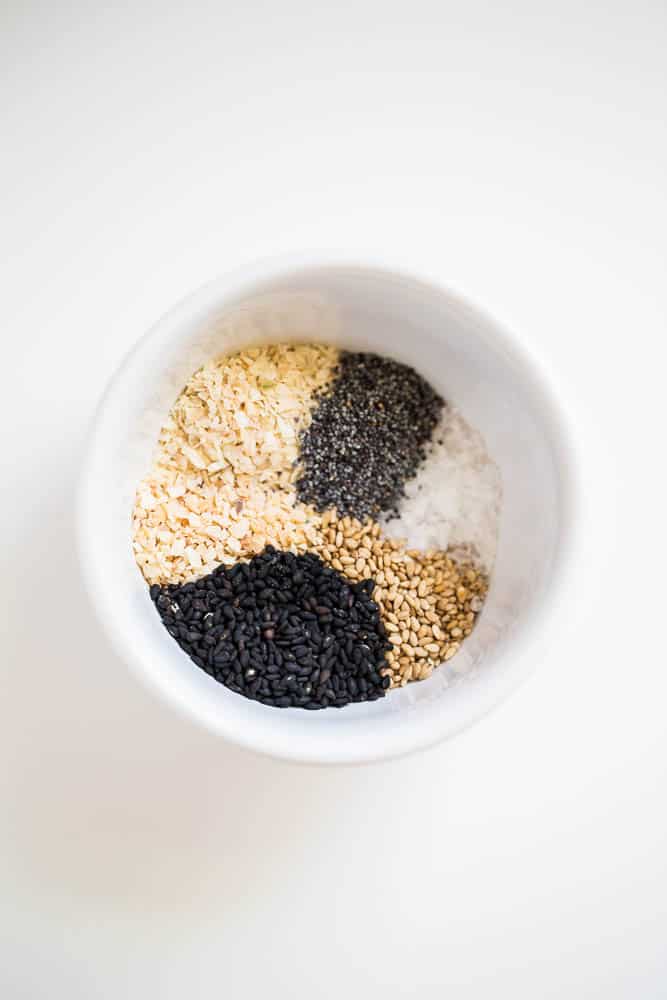 This recipe makes a scant 3 Tablespoons, but you can double or triple it to fill a small mason jar. You'll probably want to because once you start sprinkling, it'll find its way on just about everything you eat.
I love it on hard-boiled eggs, avocados, over salads, and random bowls of leftovers I throw together for lunches. Oh! And it was FAB on the Sushi Bowls we had on Sunday!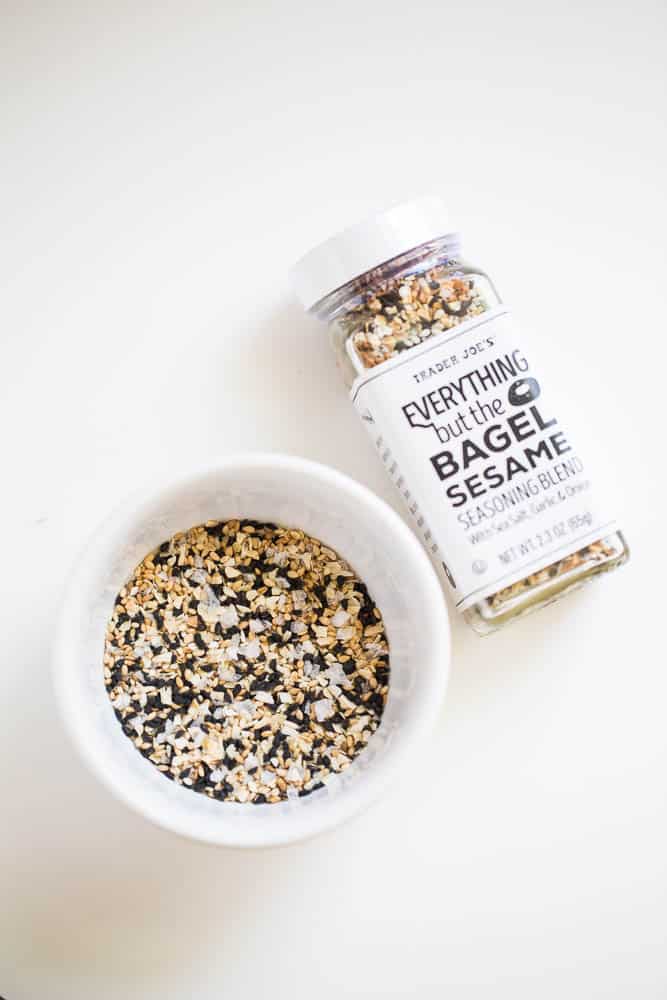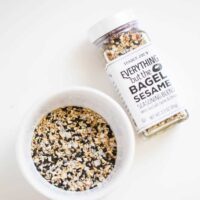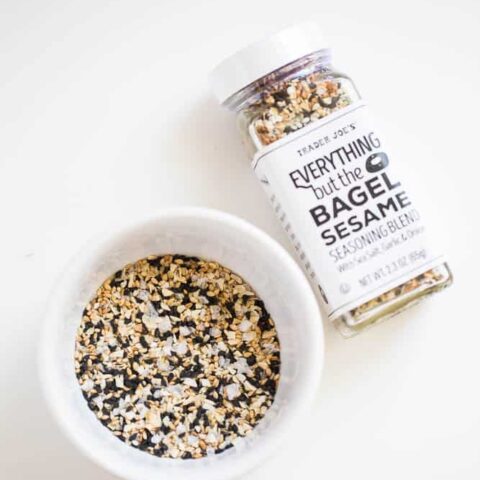 DIY Everything Bagel Seasoning
Yield: A scant 3 Tablespoons

Prep Time: 5 minutes

Whip up this tasty and versatile seasoning -- whether you live by a Trader Joe's or not!
Ingredients
2 teaspoons white sesame seeds
1 1/2 teaspoons dried minced onion
1 1/2 teaspoons dried minced garlic
1 1/2 teaspoons black sesame seeds
1 teaspoon sea salt flakes (Maldon recommended)
1/2 teaspoon poppy seeds
Instructions
Combine everything thoroughly and store in an air-tight container at room temperature. Sprinkle on hard-boiled eggs, avocados, over salads, or anything else you wish!

Disclosure: This post contains an Amazon affiliate link. Purchases made by using these links don't cost any extra and provides Perry's Plate with a few pennies to keep the lights on.

SaveSave
SaveSave
SaveSave