These healthy meal plans are for six dinner recipes and a dessert thrown in for fun! All of these recipes are (mostly) paleo friendly, seasonal, and most can be easily adapted to be Keto/Low-Carb or Whole30 friendly.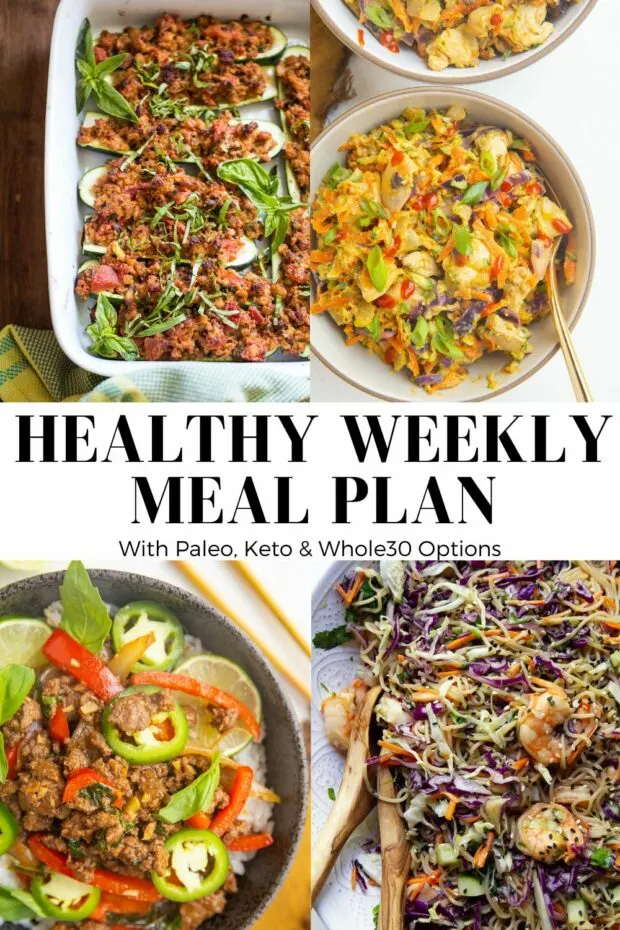 Hey there!
This marathon summer we're having is nearly over! We've had so much fun adventuring locally and spending time with family, but . . .
DAMN, it's been hot.
We kept that in mind this week with some fresh, light recipes that require very little cooking. You'll have a home for some of that zucchini piling up on your counter and fresh herbs exploding in your garden.
And don't forget dessert! Julia has a unique ice cream recipe this week that you don't want to miss.
Stay cool, my friends.
xoxo
Natalie
---
Sunday
MEDITERRANEAN SALMON SALAD — This easy recipe with canned salmon, avocado, red onion, sun-dried tomatoes, and dill is a creamy, wildly flavorful protein-rich meal. Eat it as is or serve it up as a green salad on top of spring greens or sandwich for an amazing meal.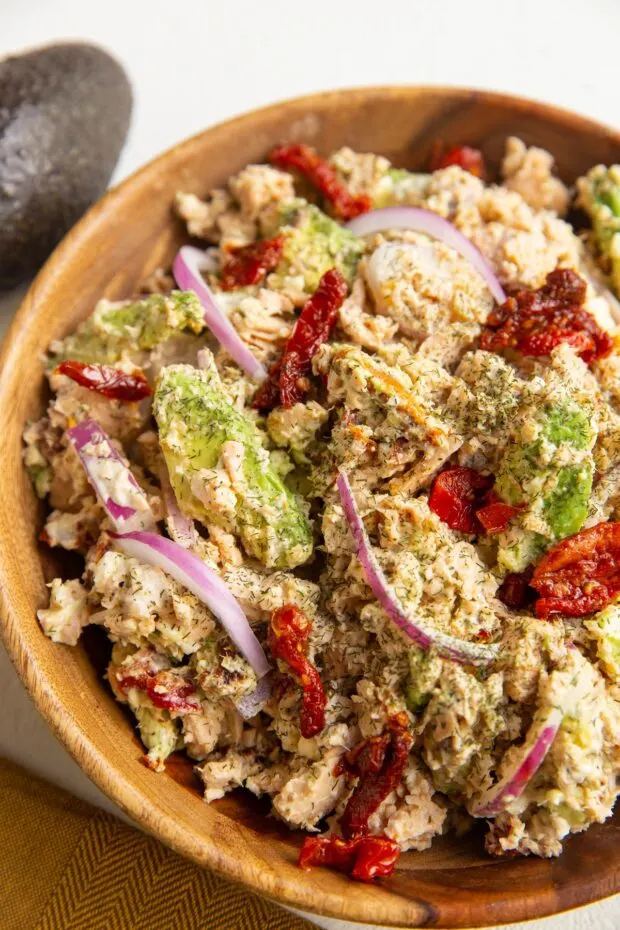 Special Diet Note: Paleo, low-carb, and whole30, this is an all around clean eating delight! High in protein and healthy (omega 3) fats!
Prep Ahead: No advance prep is needed, as this chilled protein salad gets mixed up in a bowl in 5 minutes flat!
Substitutions: If you're saving this for multiple lunches or dinners, add the avocado just before consuming it for the best result to avoid the avocado getting mushy and brown. You can use canned tuna instead of salmon if you prefer.
Monday
SHRIMP & RAMEN NOODLE BOWL — This deliciously easy ramen noodle bowl is gluten-free and is packed with loads of shredded vegetables, rice noodles, tender shrimp, and a ginger-soy sauce. Use zucchini noodles in place of rice ramen for a grain-free substitution.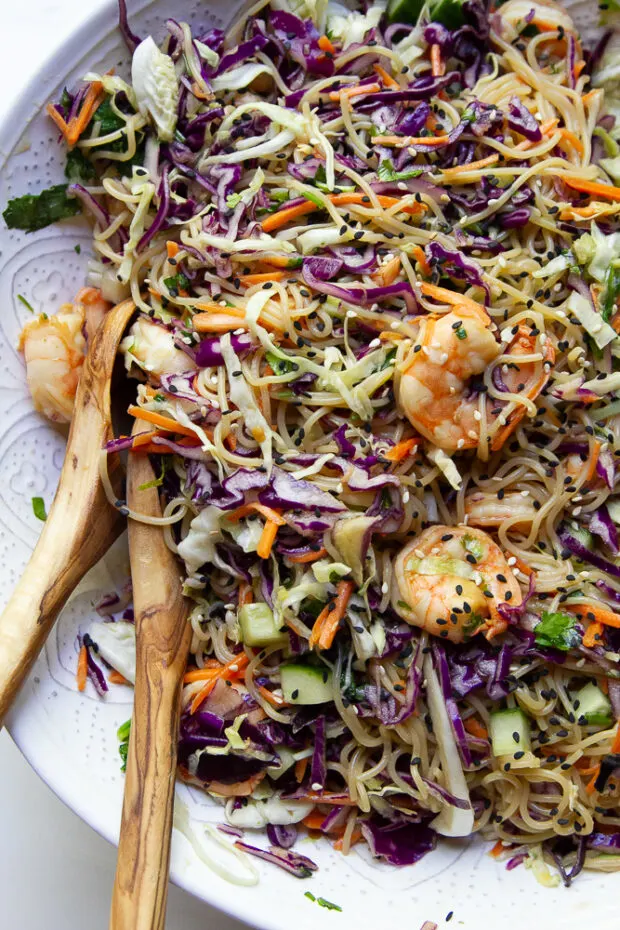 Special Diet Note: Recipe is paleo by using zucchini noodles. Omit the honey to make it low-carb.
Prep Ahead: No need to prep ahead unless you aren't buying pre-shredded vegetables.
Substitutions: Feel free to swap out some of the vegetables for any you like to eat raw (or mostly raw). The shrimp can be replaced with thinly sliced chicken or steak, too.
Tuesday
THAI ZUCCHINI & CHICKEN SKILLET — Boneless chicken thighs, zucchini, onion, carrots, garlic, and cabbage all come together with a sweet and savory peanut sauce for a hearty flavorful dish. Make a double or triple batch to meal prep for dinners throughout the week!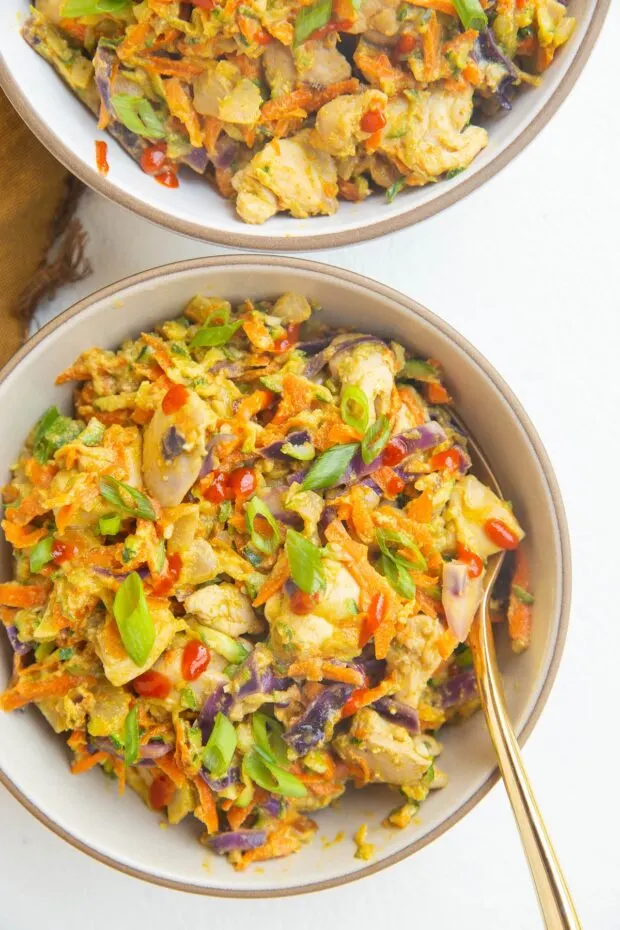 Special Diet Note: Recipe is paleo and low-carb. To make it Whole30, omit the pure maple syrup from the sauce.
Prep Ahead: This recipe comes together in 30 minutes! No need to do any advance prep. Double or triple the recipe if you want leftovers.
Substitutions: Use sunflower seed butter, almond butter, peanut butter or nut/seed butter of choice for the sauce. Add your favorite veggies! Use ground turkey or ground beef instead of chicken.
Wednesday
ITALIAN SAUSAGE STUFFED ZUCCHINI — Here's a great use for all of that zucchini spilling out of your garden at the end of the summer! I love the addition of fresh herbs and the "cheesy" taste the nutritional yeast adds!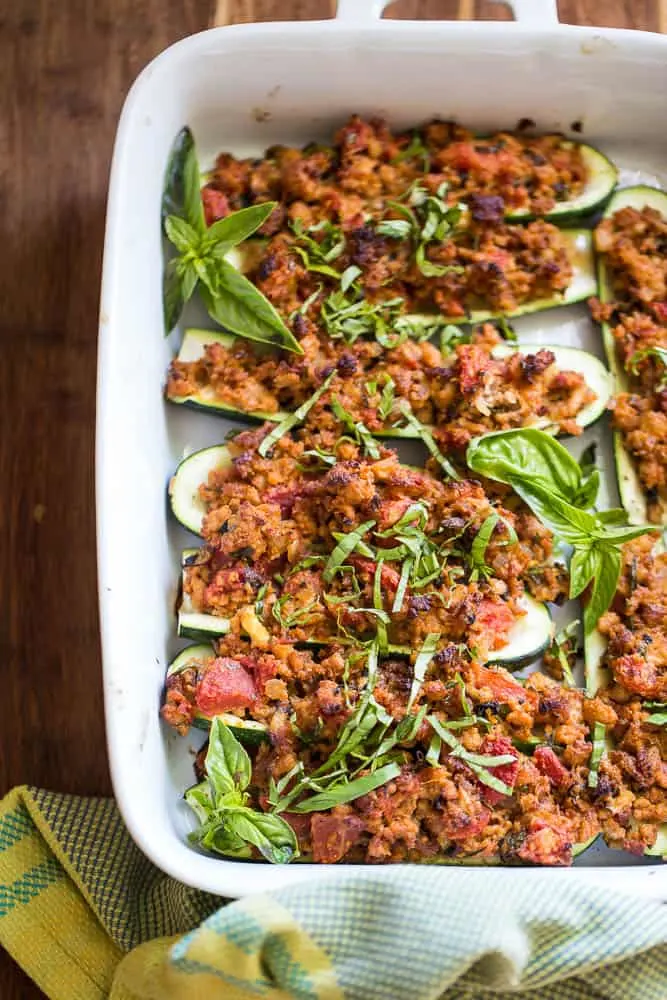 Special Diet Note: Recipe is paleo, low carb, and Whole30 friendly.
Prep Ahead: Turkey filling can be made ahead of time if you like.
Substitutions: This filling would also be good piled up in a halved, roasted acorn squash if you're headed into fall.
Thursday
30-MINUTE HEALTHY THAI BASIL BEEF — This simple healthy dinner recipe is a classic Thai dish, best served with steamed rice or fried rice.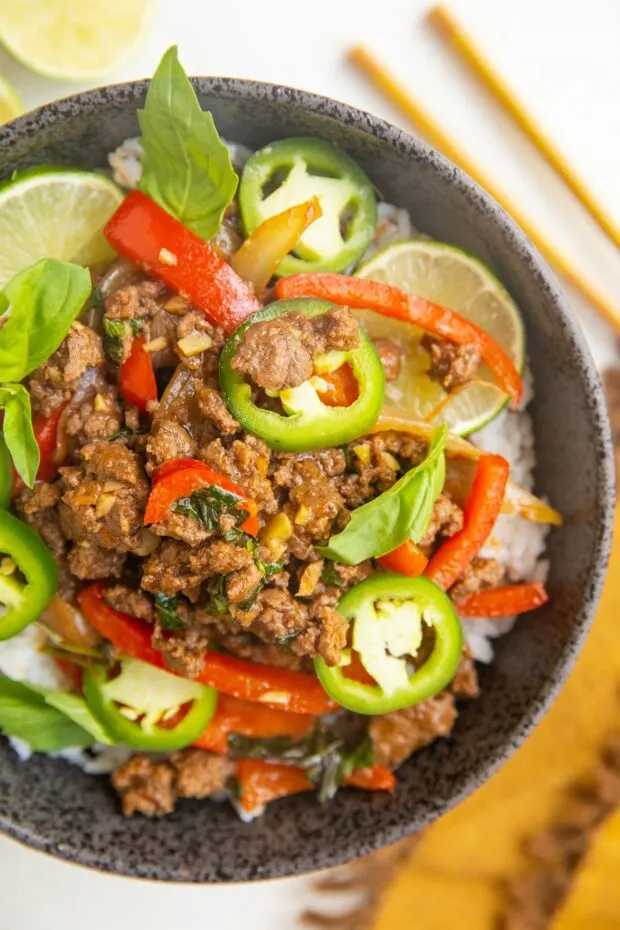 Special Diet Note: This recipe is paleo and whole30. Keep it low-carb by serving it with cauliflower rice if you'd like.
Prep Ahead: The Thai Basil Beef comes together quickly, but you can make your choice of side dish(es) ahead of time. Steam rice or make fried rice up to 3 days in advance.
Substitutions: Use ground turkey or ground chicken instead of ground beef. You can use cider vinegar or lime juice instead of rice vinegar, liquid aminos instead of soy sauce, or gluten-free all-purpose flour or arrowroot flour instead of tapioca flour. Add in your favorite veggies, like broccoli, carrots, and zucchini!
Friday
TROPICAL SHRIMP CEVICHE — The pineapple and mango chunks give this shrimp ceviche a fun, sweet burst of flavor. Like you're in the tropics. (Wishful thinking here in Idaho.) We ate these with some grain-free tortilla chips, but it's also good on a fish taco bowl or on a taco salad!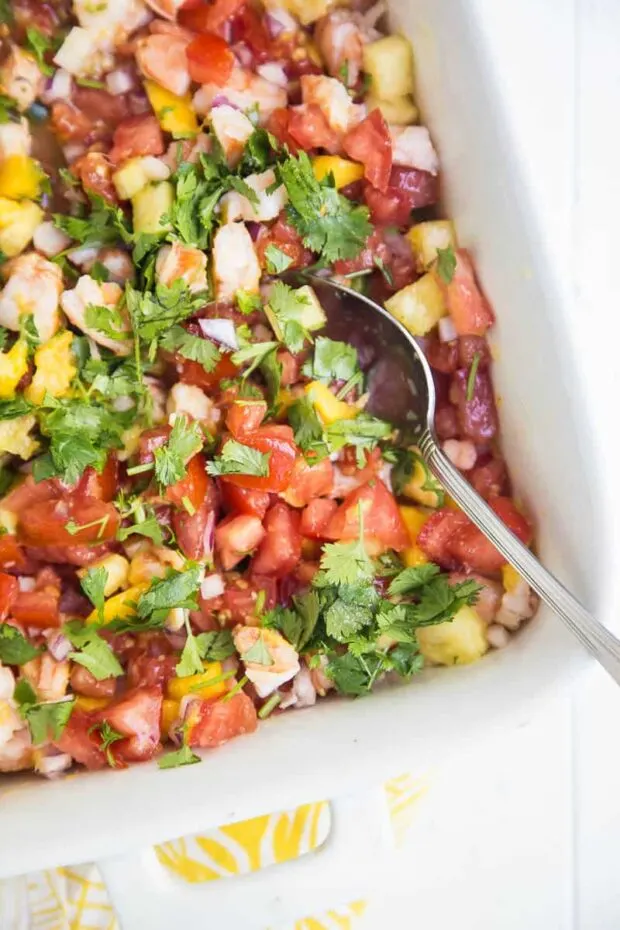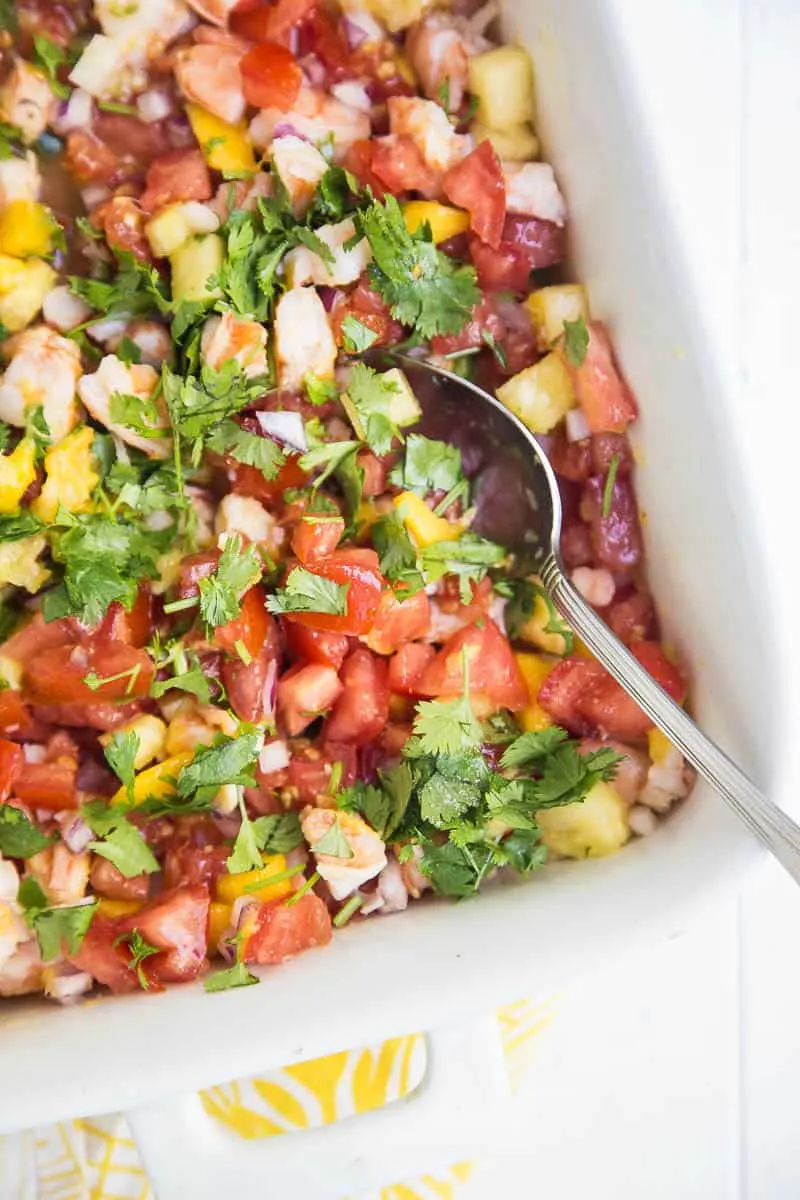 Special Diet Note: Recipe is paleo.
Prep Ahead: No prep ahead needed, but for best flavor, I recommend prepping the whole thing a few hours in advance to let the flavors mingle better.
Substitutions: Serve with grain-free tortilla chips or over salad.
Dessert
BANANA CHICKPEA ICE CREAM –This luscious decadent mind-blowing ice cream recipe is vegan, dairy-free, refined sugar-free, and secretly healthy, but you'd never guess it! No ice cream maker needed!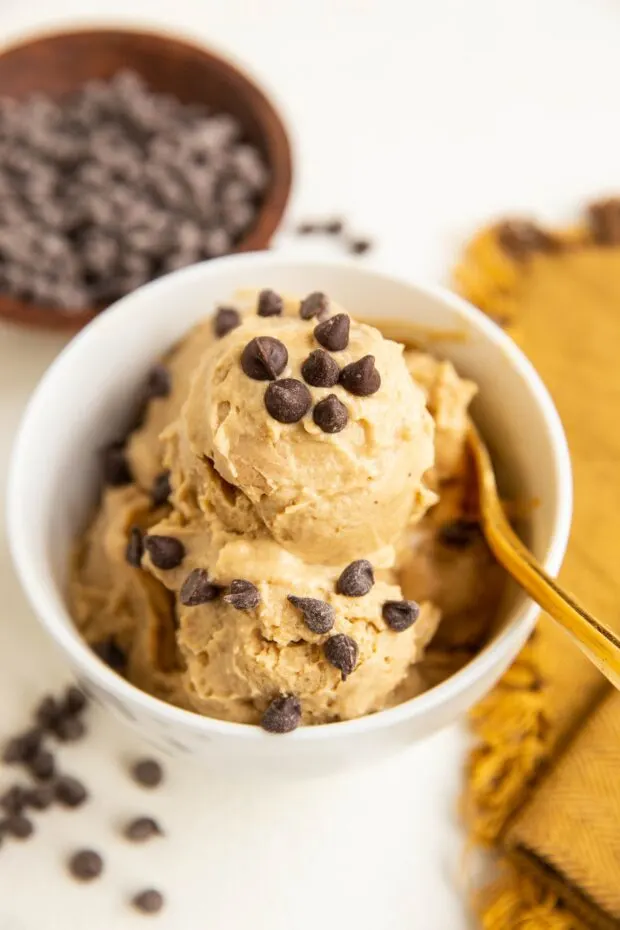 Special Diet Note: While this recipe isn't paleo per se, it is dairy-free, includes zero added sweetener, and is relatively healthy by all accounts! It may sound strange to make ice cream out of chickpeas, but trust me, it works!
Prep Ahead: No advance prep is needed, as everything gets blended in a blender or food processor, then frozen.
Substitutions: Use almond butter instead of peanut butter in the recipe if you prefer. If you're looking for a Paleo ice cream recipe, try Banana Nice Cream or Chocolate Banana Ice Cream.
Grocery List
Click HERE to download a handy printable grocery list!