This deliciously easy ramen noodle bowl is gluten-free and is packed with loads of shredded vegetables, rice noodles, tender shrimp, and a ginger-soy sauce.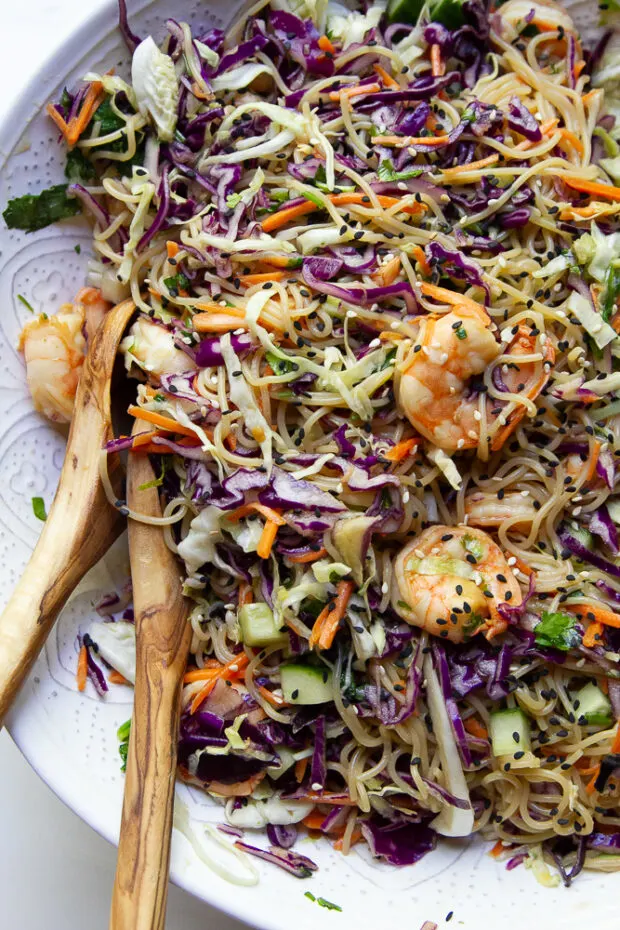 I've been loving gluten-free ramen noodles lately. And this ramen noodle bowl is about equal parts noodles and vegetables — my favorite ratio.
The best part about this ramen noodle bowl? My kids LOVED it. All four of them. And they begged me to make it again. I almost pointed out the fact that they ate a ton of vegetables, but I didn't want to ruin the moment.
This recipe is easy to make and I tried to add some shortcuts to make it even easier.
Let me show you!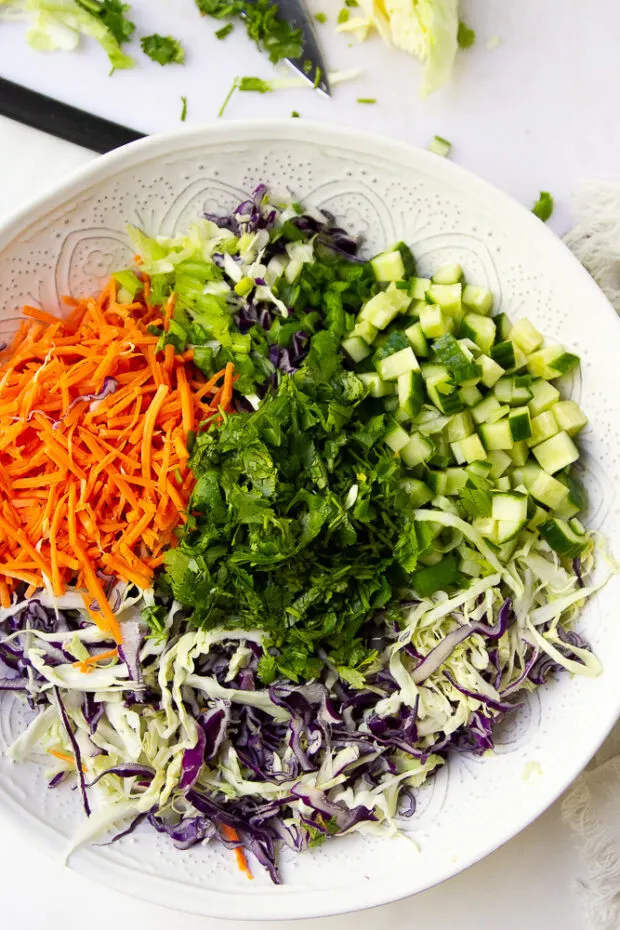 I couldn't decide whether to make this a cold noodle salad or a hot stir-fry kind of thing. So… I went halfway!
What's in the Shrimp & Vegetable Noodle Bowl?
First, the salad base
I used a mixture of…
shredded cabbage
shredded carrots
diced cucumber
thinly sliced green onions
chopped cilantro.
The cabbage and carrots are easy to find pre-shredded which can save you loads of time. Unless you have a food processor, then it's not so bad. I love my Cuisinart food processor. I use it all the time.
I used a combination of green and purple cabbage because it's so pretty, but you can use whichever you want.
And if there's something in here you don't like, swap it out for somethi
ng different! Thinly sliced bell peppers or Napa cabbage would be good, too.
Just make sure you're using things that wilt easily when you pour the hot sauce and noodles over them.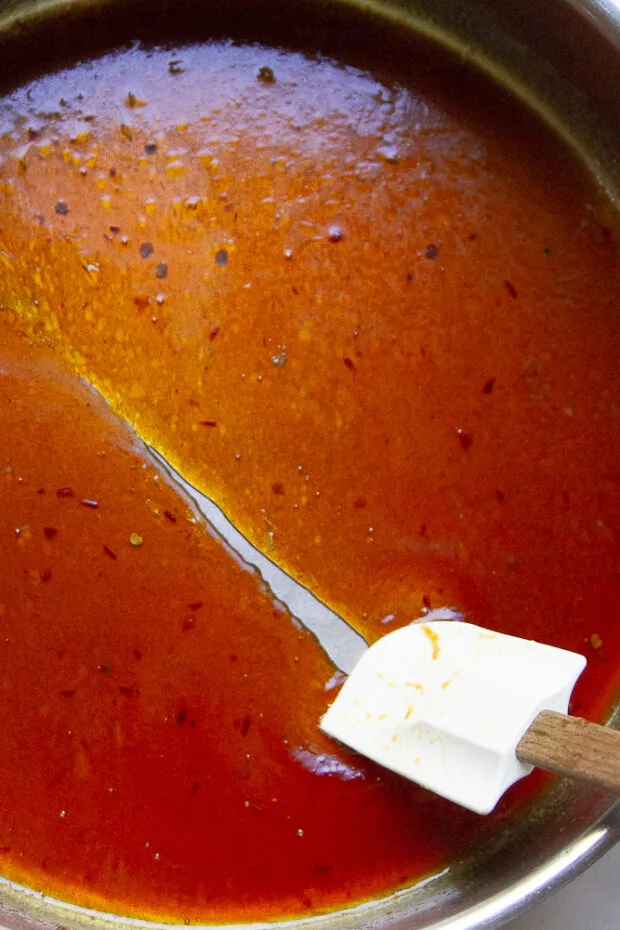 Next, the sweet ginger-soy sauce
This sauce has all of my Asian pantry staples:
tamari GF soy sauce (or coconut aminos)
rice vinegar
lime juice
fresh ginger
sesame oil
sambal oelek (or sriracha)
and honey for some sweetness
This sauce simmers for a while to reduce it to a slightly thicker, richer sauce. It has a lot of ground to cover to flavor the noodles and shrimp and vegetables!
I also reduced it so it wouldn't be too watery. The shrimp and vegetables both release some moisture, so I took that into account.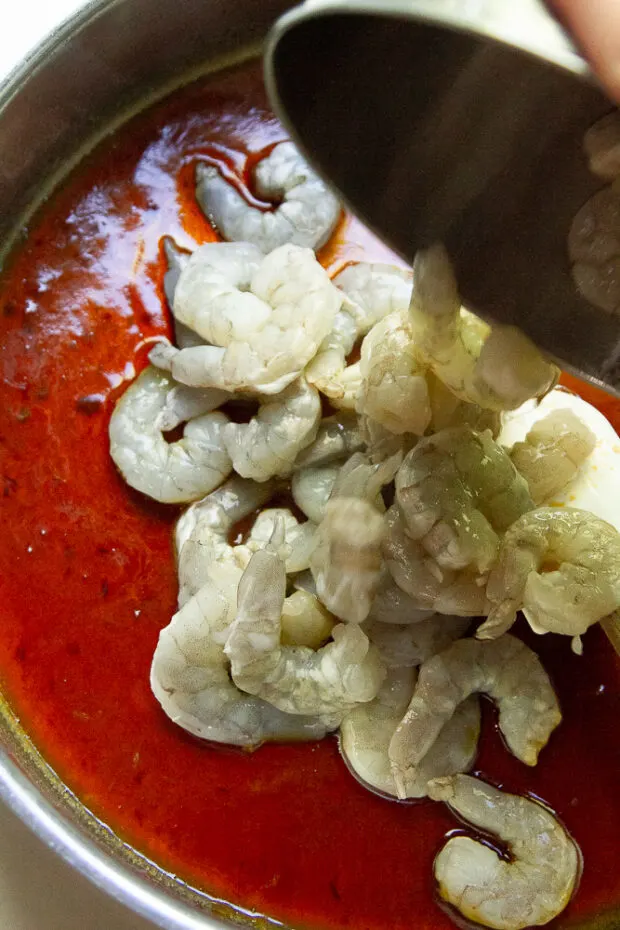 Then, the protein
I used shrimp here because it cooks really quickly and goes so well with Asian-type flavors.
If shrimp isn't your thing, you can use uncooked chunks of chicken or pork. Or thinly sliced beef. Mmm.
You can also make it vegetarian or vegan by leaving out the protein altogether or using tofu if that's your thing.
Last, the rice ramen noodles
I really love the Lotus Foods brand rice ramen noodles I find at Costco. They're gluten-free and made from brown rice and millet and are super tasty.
I like them better than regular rice noodles, but you can use those, too if you want. I'd recommend pad Thai noodles for this recipe if you go that route.
Can I use zucchini noodles in place of rice noodles?
Sure! If you want this recipe to be grain-free or lower carb, spiralize 3 medium-sized zucchini noodles, put them in a colander with a sprinkle of salt and let them sit for 20 minutes to release some of the moisture.
Squeeze them out a bit and then add them to the reduced sauce when the recipe says to.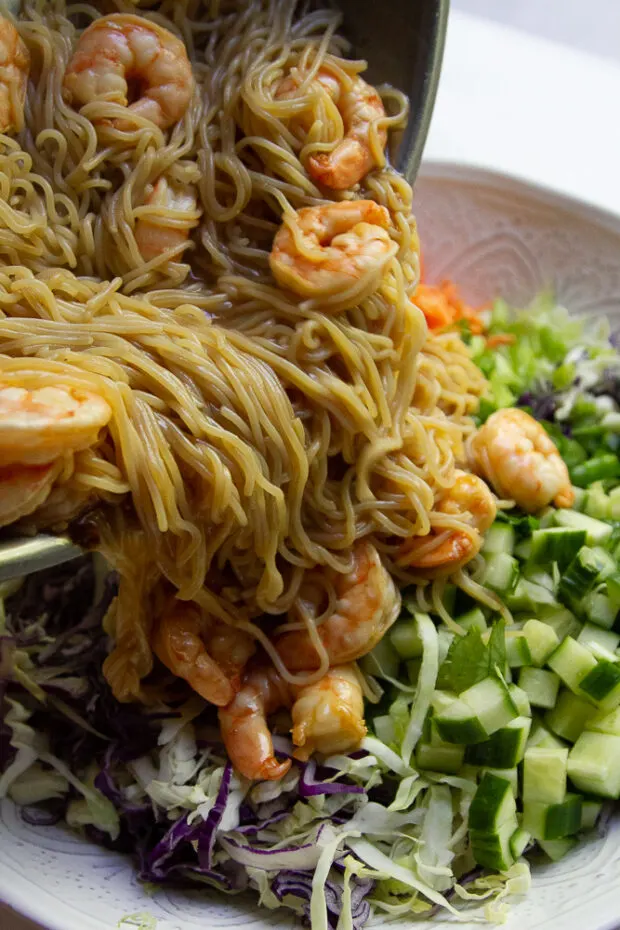 Here's the part where my temperature indecision comes out. Haha.
The warm noodles, shrimp, & ginger-soy sauce is poured over the raw vegetables and cooks them slightly. So you get a crisp-tender type of thing without having to cook it all together.
By the time everything is mixed together it's all slightly warmer than room temperature.
Eat it now, or wait a bit. It's good at room temperature, too, so you can take it somewhere to share, too.
Just mix it right before you serve it because some of that sauce tends to settle at the bottom of the bowl.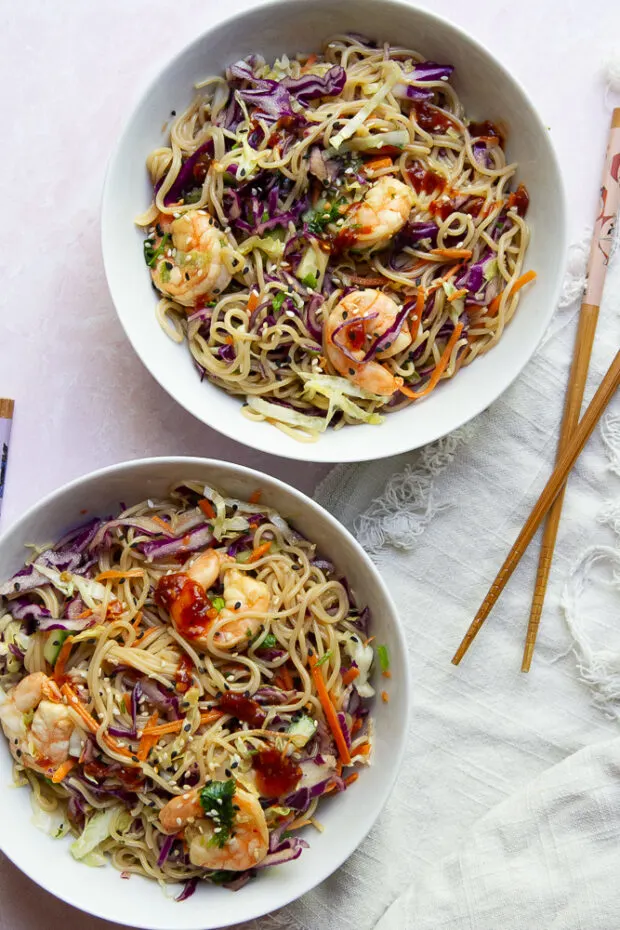 Top it with some sesame oil and hot sauce, grab a pair of chopsticks, and dig in!
If you like this recipe, you'll love these other easy noodle/zoodle dishes!
More Noodle/Zoodle Recipes on Perry's Plate
Easy Paleo Pad Thai — one of our family's favorite meals! Another tasty meal with shrimp and quick cooking vegetables. You'll love this one with either rice noodles or zucchini noodles.
Pesto Noodles with Bacon & Broccoli — This was the very first thing I ever made with zoodles. Before we were calling them zoodles! Pesto + bacon + broccoli is a fabulous combination.
Thai Green Curry Zoodles with Shrimp & Broccoli — A Thai inspired zoodle recipe based on a dish I ate at Noodles & Co!
Creamy Spinach Avocado Pasta — A creamy avocado-yogurt based sauce dresses whatever kind of pasta you like!
---
If you make one of my recipes, be sure to post it on social media and tag me at @perrysplate or #perrysplate so I can send you some love!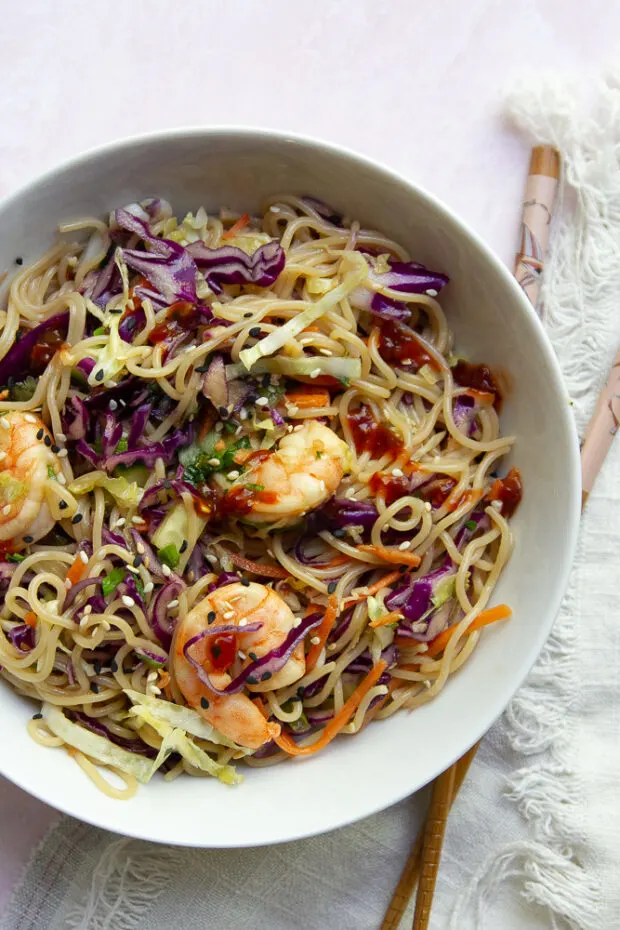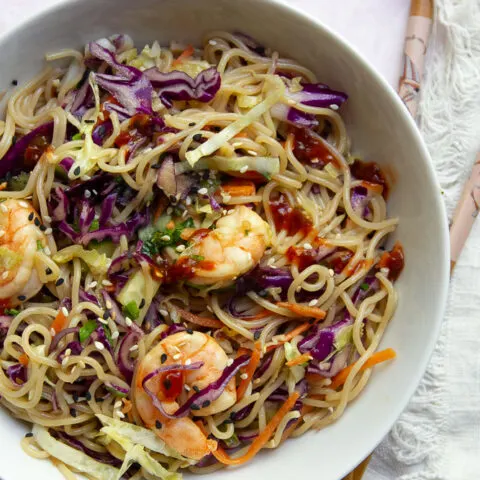 Shrimp & Ramen Noodle Bowl (Gluten-Free)
This deliciously easy noodle bowl is gluten-free and is packed with loads of shredded vegetables, rice noodles, tender shrimp, and a ginger-soy dressing.
Ingredients
4 uncooked, unflavored rice ramen cakes (9-10 oz total)
1/3 cup honey
1/2 cup gluten-free soy sauce (tamari) or coconut aminos
1/4 cup rice vinegar
Juice from 1 lime
2 Tablespoons grated fresh ginger
2 Tablespoon sesame oil
1-3 teaspoons sambal oelek or sriracha
1 pound shredded cabbage
4 ounces shredded carrots (about 1 1/2 cups)
1/2 English cucumber, diced
3 green onions, thinly sliced
1/2 cup chopped fresh cilantro
1 pound shrimp, peeled & tails removed
Sesame seeds and more sambal/sriracha, for serving
Instructions
Bring a large pot of water to a rolling boil. Add the salt to the water. Add the rice ramen cakes and cook according to package directions. Usually the rice-millet kind needs to be broken up with a fork halfway through cooking.
While you're waiting for the water to boil, Add the honey, tamari, vinegar, lime juice, ginger, sesame oil, and sambal/sriracha to a large skillet over high heat. Bring to a boil, and let it cook for 5-10 minutes until the mixture has reduced by half. It shouldn't be syrupy, but you should be able to swip a spatula down the middle and see the bottom of the pan for a second or two before the sauce comes back together.
While you're waiting for the ramen and the simmering sauce, grab a very large salad bowl and add the cabbage, carrots, cucumber, green onions, and cilantro.
When the sauce is finished, add the shrimp to the skillet and cook for 4-5 minutes or until the shrimp is just cooked through and completely pink. Remove the pan from the heat.
When the rice ramen is cooked through, drain thoroughly, and then add the noodles to the pan with the shrimp. Toss it around to combine, then pour the whole mixture over the cabbage mixture in the large salad bowl.
Use a pair of tongs to mix everything together well, grabbing vegetables from the bottom to ensure everything is coated in the sauce.
Serve immediately with a sprinkle of sesame seeds and a drizzle of sambal or sriracha, if desired.
Notes
I buy the rice ramen noodles (Lotus Foods brand) at Costco. If you don't want to use those particular noodles, you can use regular rice noodles -- I'd recommend flat pad Thai noodles for this. Or, if you aren't concerned wtih this recipe being gluten-free, you can use regular ramen noodles. Just don't use the flavor packets.
You can also try swapping out the shrimp for uncooked pieces of chicken or pork. Just make sure they're fully cooked before adding them to the vegetables.
Recommended Products
As an Amazon Associate and member of other affiliate programs, I earn from qualifying purchases.