This stuffed zucchini recipe is filled with fresh herbs and Italian-seasoned ground turkey. A perfect recipe to use up some of that summer zucchini.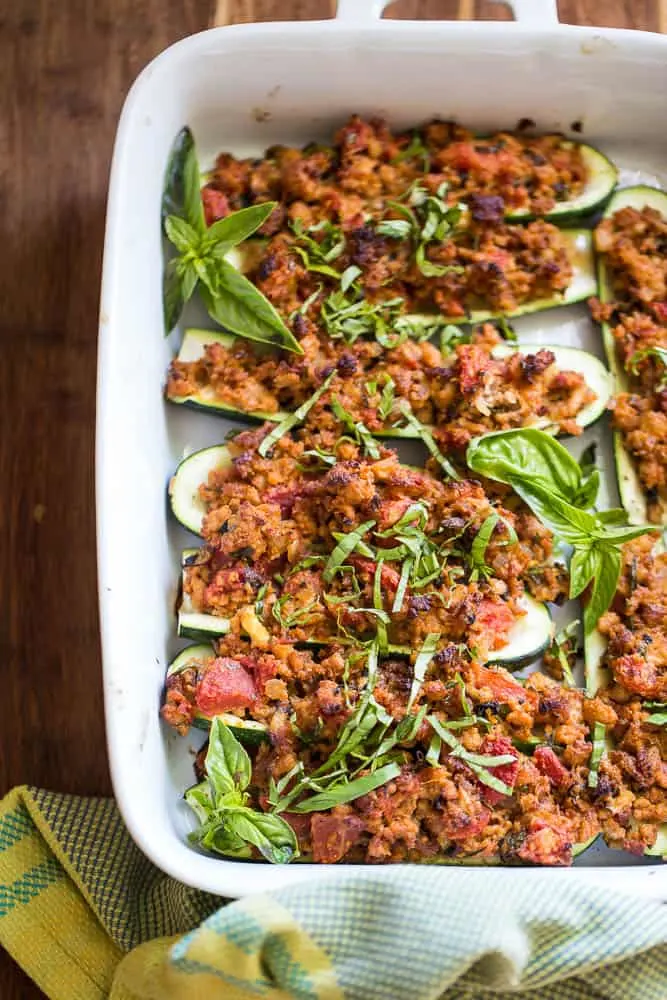 This Italian Paleo Stuffed Zucchini with Turkey Sausage recipe has been updated to be pale0 & Whole30 friendly!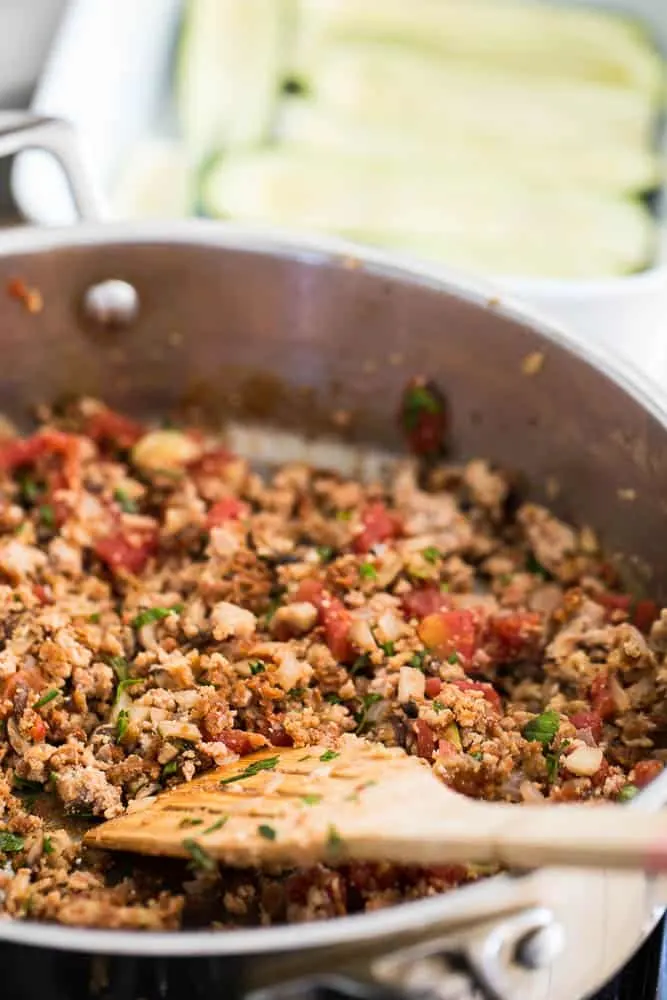 (6/20/17) I love updating these old posts because I've seen how much I've grown as a photographer and a recipe writer.
I chose this Italian Paleo Stuffed Zucchini post in particular because the photo in the post (yes, just one) was horrendous and for some reason a lot of people felt it to be worth of pinning on Pinterest.
I really didn't want that to be the first impression someone has when they come to my site.
It's like having guests sneak into your house through your cluttered garage instead of going through the front door into the room you actually cleaned.
Does that make sense? It makes sense in my head.
This recipe was originally from Simply Recipes, and it's been here for almost 8 years. I decided to give it some paleo/Whole30 tweaks and refresh it.
When I made it again, I was holding my breath as my kids tried because none of them like zucchini.
It's a summertime tragedy, really.
I get so excited to throw summer vegetables on the grill and Steve and I are the only ones who eat them. Sigh.
They're more inclined to eat raw vegetables, though, which I'm not complaining about. Overall they're pretty good eaters. I can get them to eat salad, so I shouldn't complain much.
At our house, we always take a bite of something new. If we don't like it, we don't have to finish it, but mom doesn't make you a second dinner. She's pretty much through being in the kitchen by dinner time and isn't a short order cook.
They all tried it. They all loved the filling. Two of them actually ate more of the zucchini (whoop!). I call that a win.
I snickered to myself because there's actually zucchini in the filling, too, but none of them realized it. Sneaky, sneaky.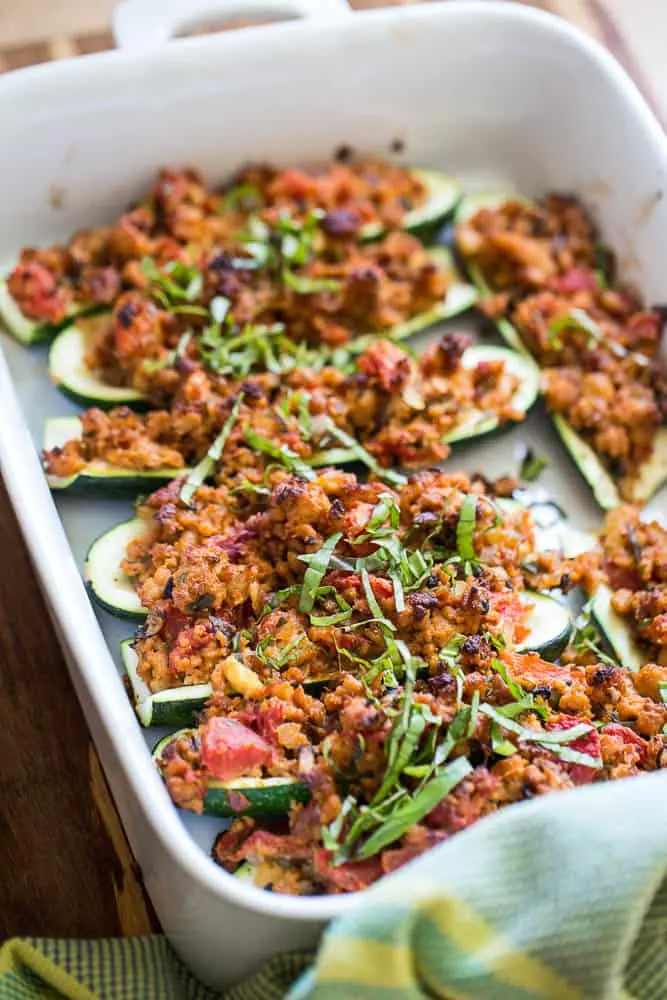 If you're still in need of zucchini recipes, I've got a bunch of them on my site! Here are some of my favorites…
Healthy Zucchini Recipes
Paleo Zucchini Flatbread — a gluten and grain-free version of flatbread. You can use this as a pizza crust, a replacement for naan bread or tortillas or to make sandwich rolls!
Pesto Zucchini Noodles with Broccoli & Bacon — This is one of the most popular recipes on my site! Zoodles + bacon is amazing alone, but add some pesto and BOOM. So good.
Marinated Grilled Zucchini — Grilled zucchini is super good, but have you ever tossed it in a vinaigrette and fresh herbs when it comes off the grill?
Thai Green Curry Zoodles with Shrimp — Here's a quick summer recipe that's perfect for when you don't want to turn on the oven.
Easy Paleo Pad Thai — I love using zoodles in my pad Thai! One of my kids even prefers them to rice noodles. #momwin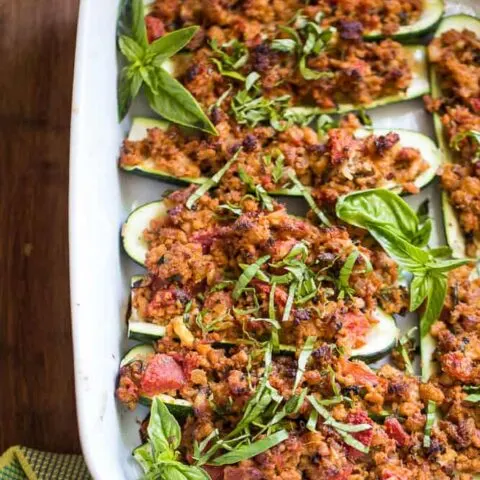 Italian Stuffed Zucchini with Turkey Sausage
Here's a great use for all of that zucchini spilling out of your garden at the end of the summer! I love the addition of fresh herbs and the "cheesy" taste the nutritional yeast adds! You'll love this paleo and Whole30 friendly meal.
Ingredients
5-6 medium zucchini
3 tablespoons avocado oil
1/2 cup chopped onion
3 cloves garlic, minced
1/2 cup chopped mushrooms
2 tablespoons chicken broth or water
1 pound organic ground turkey
2 diced tomatoes or 1 14 oz can of diced tomatoes, drained
2 sprigs of fresh thyme, leaves removed
1 teaspoon chopped fresh rosemary
1/3 cup nutritional yeast
1 egg, lightly beaten
1 teaspoon sea salt
1/2 teaspoon black pepper
3 tablespoons chopped fresh basil
Instructions
Preheat the oven to 375 degrees F.
Cut all the zucchini in half lengthwise, and using a spoon, scoop out the centers leaving a 1/4-inch thick shell. Reserve the insides you just scooped.
Heat 2 Tablespoons avocado oil in a large skillet over medium-high heat. Add the onion, garlic, mushrooms, and reserved zucchini insides. Cook, stirring often, for 6-8 minutes until the onions and mushrooms are soft and any juices from the pan have cooked away. Transfer the contents of the pan to a bowl and set aside.
In the same skillet, add another Tablespoon of avocado oil and bring it to high heat, but not smoking. Add the ground turkey. Cook, stirring occasionally, until the turkey has formed crispy browned edges and is cooked thoroughly.
Return the reserved vegetable mixture to the skillet with the turkey. Add the broth/water, scraping the browned bits loose from the bottom of the skillet. Remove the skillet from the heat and let it cool for a couple of minutes.
Add the tomatoes, thyme, rosemary, nutritional yeast, egg, salt, and pepper to the turkey mixture. Mix well to combine.
Arrange the zucchini shells in a 9x13 or larger baking dish. Spoon the turkey mixture into the shells, pressing to get as much filling in as possible.
Bake for 40 minutes, until golden brown and the zucchini is tender. If the turkey begins to brown too quickly, tent the pan with a piece of aluminum foil.
Remove the pan from the oven and sprinkle the chopped basil over the top. Serve while hot.
SaveSave