This recipe for Coconut Chicken Thighs and Rice is easy to make on the stovetop in about 45 minutes! Tender, juicy chicken thighs are nestled in creamy, savory coconut rice with bits of kale and peanuts for garnish.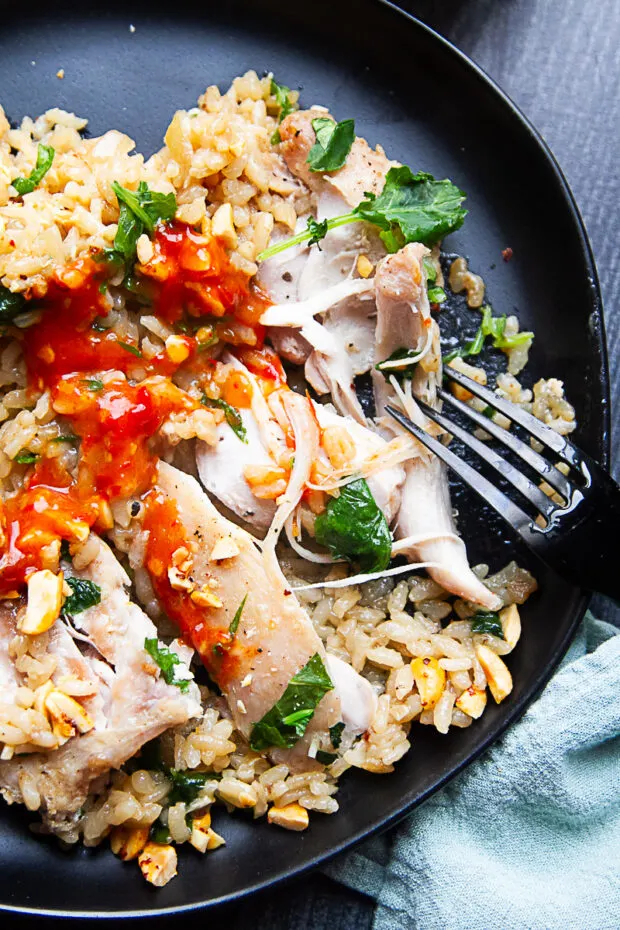 My goal for this recipe was to have a one pan chicken and rice recipe that was done in about 45 minutes, fewer ingredients, and zero marinating time.
Baked chicken and rice is nice and all, but I didn't want to wait forever for it to bake. Ha.
I wanted something I could make on a weeknight. I also wanted zero complaints from my kids.
Incorporating coconut rice was just a bonus. I love this extra savory version with a little Asian spin from the ginger and tamari!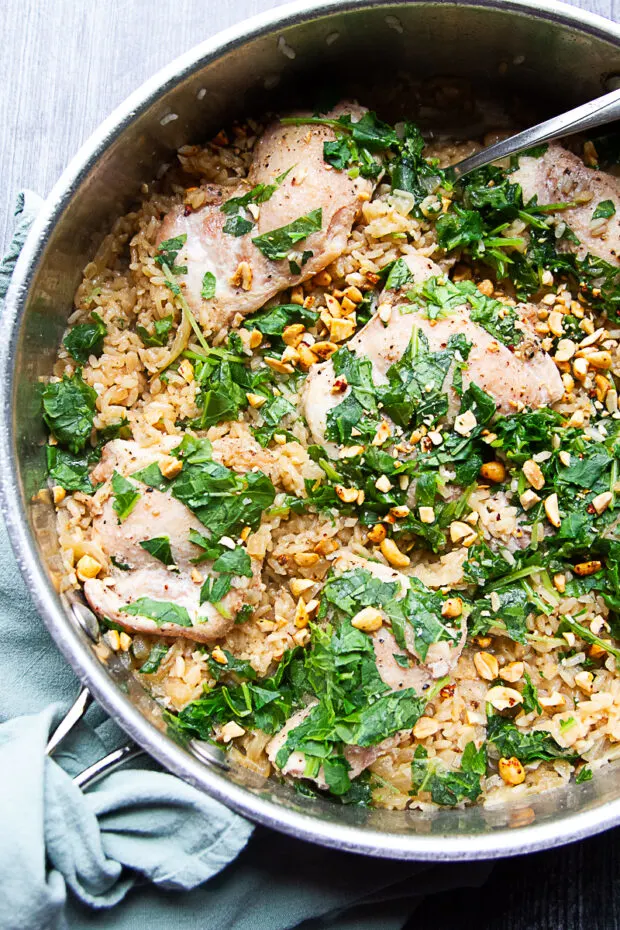 Ingredients for creamy chicken thighs and rice
The ingredients for this recipe are pretty easy to find:
Boneless, skinless chicken thighs
Coconut oil
Diced onion
Garlic
Ginger
White rice
Tamari, soy sauce, or coconut aminos
Coconut milk
Chicken stock
Shredded Kale
Lime
Peanuts, for garnish (optional)
How to make one pot chicken thighs and rice
This is easy, guys.
Just sear the thighs really good in coconut oil, take them out, then saute the onion, garlic, & ginger.
Add the rice, let it toast up for a minute or two, then pour in the tamari, coconut milk, & chicken broth. Add the thighs back into the skillet and let it cook for 15 minutes until the rice is nearly done.
Throw the kale on top, steam for another 5 minutes, then throw some chopped peanuts and a quirt of lime on top and you're in business!
I like to add some Asian style chili sauce to mine — like sriracha or sambal oelek.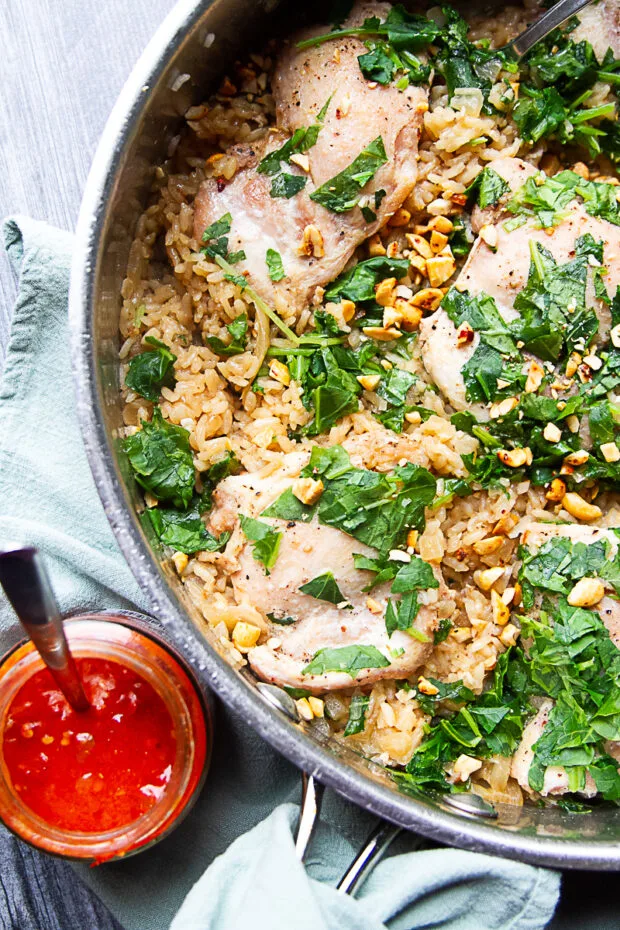 What cuts of chicken can I use in this chicken and rice recipe?
I recommend skinless thighs (either boneless or bone-in), skinless leg quarters, or drumsticks. Leaving the skin on will make the rice a little too greasy.
If you want to use boneless, skinless chicken breasts, make sure they're REALLY big ones — like more than 12 oz each. If they're small or medium sized, then they'll dry out during cooking.
Can I use brown rice instead of white rice?
No. If you use brown rice or wild rice, which takes significantly longer to cook, the chicken may be overcooked by the time the rice is finished cooking.
Substitution for Kale?
You can use any type of dark leafy greens here — thinly sliced collards, mustard greens, or Swiss chard would work well.
If you don't want to use any leafy greens, use some thinly sliced cabbage, shredded carrots, or shredded Brussels sprouts. Any vegetable that would steam quickly works here.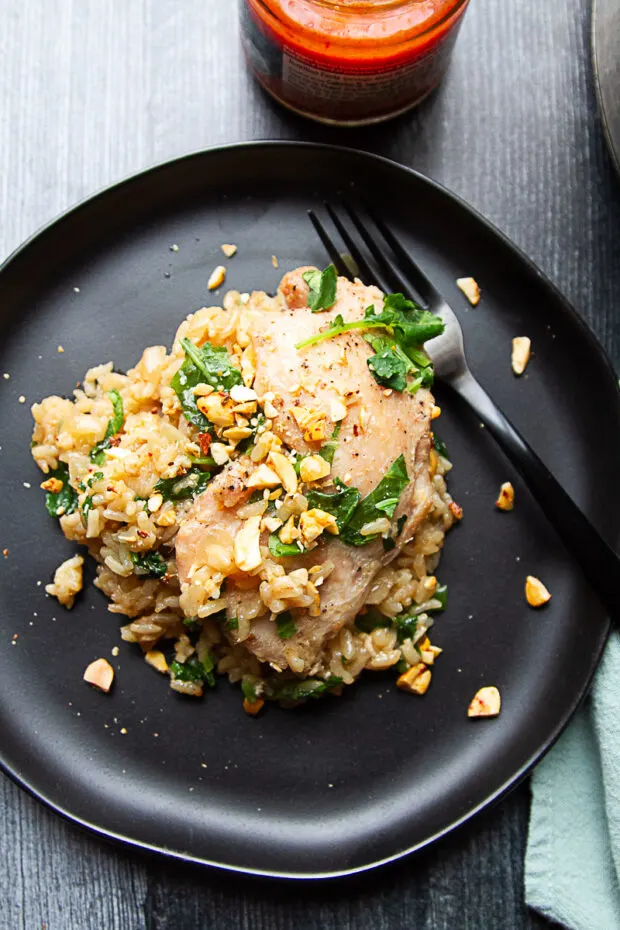 Substitution for Peanuts?
If you don't eat peanut for whatever reason — just leave them off. I love the nutty flavor and texture they add, though, so if you can do sliced almonds or chopped cashews it would have a similar effect.
If all nuts are off the table, try sprinkling some pepitas or sunflower seeds.
Tips for storing and reheating leftovers
Any leftovers can be stored in an airtight container in the refrigerator for up to 5-6 days.
MICROWAVE: To reheat, put the leftover chicken thighs with rice in a lidded glass container that is microwave safe. Add 2-3 Tablespoons of water to the container, put the lid on top, and microwave for 2-3 minutes.
STOVETOP: If you don't want to use your microwave, I suggest putting the leftovers in a lidded skillet with a couple tablespoons of water. Cover and cook over medium heat, stirring occasionally, until the chicken is heated through.
Either way, adding a little water to the container prevents the food from drying out or scorching.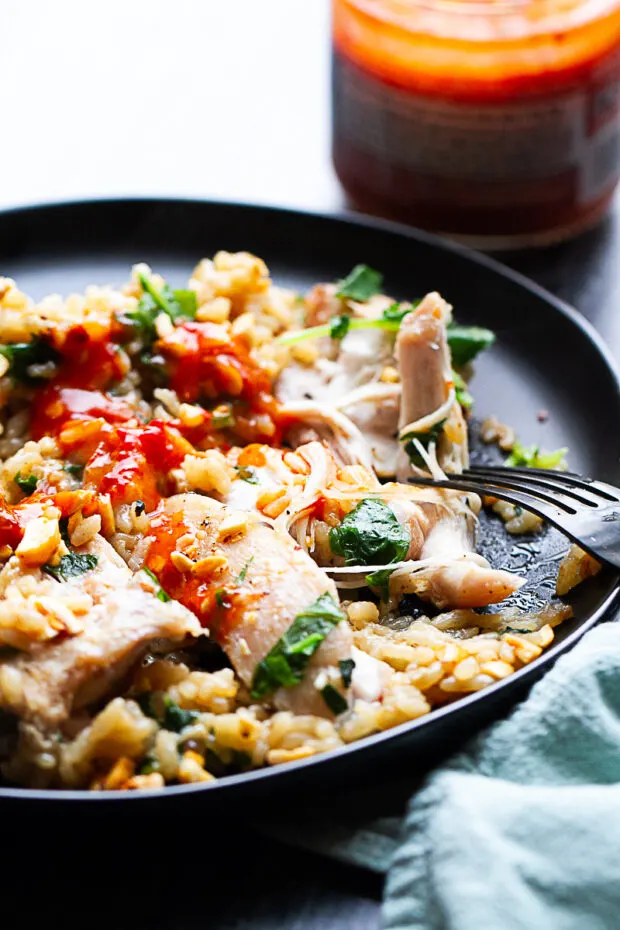 If you like this recipe, try my Chicken Rice and Mushroom Skillet! Or my Easy Cajun Sausage & Rice Skillet. Both come together easily and only use ONE pan for cooking.
---
If you make one of my recipes, be sure to post it on social media and tag me at @perrysplate or #perrysplate so I can send you some love!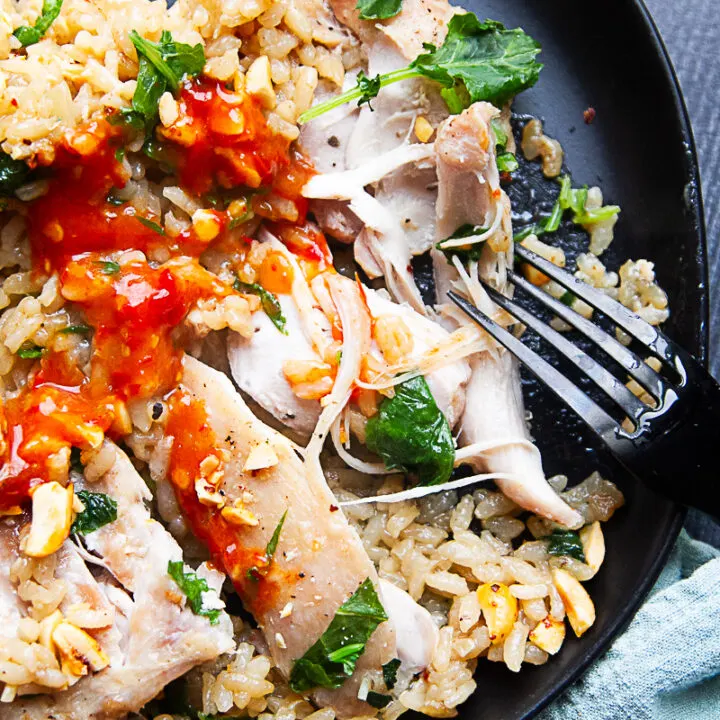 One Pan Coconut Chicken & Thighs and Rice (Stove Top)
This recipe for Coconut Chicken Thighs and Rice is easy to make on the stovetop in about 45 minutes! Tender, juicy chicken thighs are nestled in creamy, savory coconut rice with bits of kale and peanuts for garnish.
Ingredients
Sea salt & black pepper
6-8 skinless chicken thighs (bone-in or boneless)
3 Tablespoons coconut oil
1/2 cup chopped onion
2 garlic cloves, crushed or grated
2 Tablespoons minced or grated fresh ginger (about 2-inch knob)
1 1/4 cup white rice
1-13oz can coconut milk
1/3 cup chicken broth
2 Tablespoons soy sauce, tamari, or coconut aminos
4 cups shredded kale
1/2 cup chopped peanuts (optional)
1/2 lime
Instructions
Sprinkle the chicken thighs generously on both sides with sea salt and black pepper.
Heat the coconut oil over high heat in a large skillet fitted with a lid. When it is REALLY hot, but not smoking, add the chicken thighs to the skillet. Let them cook, undisturbed, for 4-5 minutes. A nice golden crust should be formed. Transfer the chicken to a plate for now. If you are using bone-in thighs, sear them on both sides.
Add the onion, garlic, and ginger to the skillet. Cook for 1-2 minutes until the onion softens. Add the rice to the skillet and cook for another 1-2 minutes until the rice has toasted slightly.
Pour the coconut milk, chicken broth, and tamari/soy sauce into the skillet. Bring to a simmer, then add the thighs back in. Put the lid on the skillet, reduce the heat to medium-low, and cook for 15 minutes, or until almost all of the liquid has cooked off.
Add the shredded kale on top of the rice and chicken, then replace the cover and cook for another 2-3 minutes until the kale wilts.
Sprinkle the peanuts on top and squeeze the juice from the 1/2 lime on top, too.
Serve. Add some sriracha, sambal oelek, or other Asian-style chili sauce if you want to add some heat.
Notes
Any kind of white rice will do. I've used short-grain and long-grain successfully. I prefer long grain rice since it turns out a little fluffier.
Do not use brown rice or wild rice here. It will take too long to cook and your chicken will be overcooked.
If you don't eat peanuts, sprinkle some sliced almonds or chopped cashews instead. Or omit them. Or replace them with pepitas or sunflower seeds if you don't eat nuts.
Recommended Products
As an Amazon Associate and member of other affiliate programs, I earn from qualifying purchases.