This easy sausage & rice skillet is one of my favorite ONE PAN meals. And bonus — it's done in about 30 minutes! (And everyone will like it. Honest.)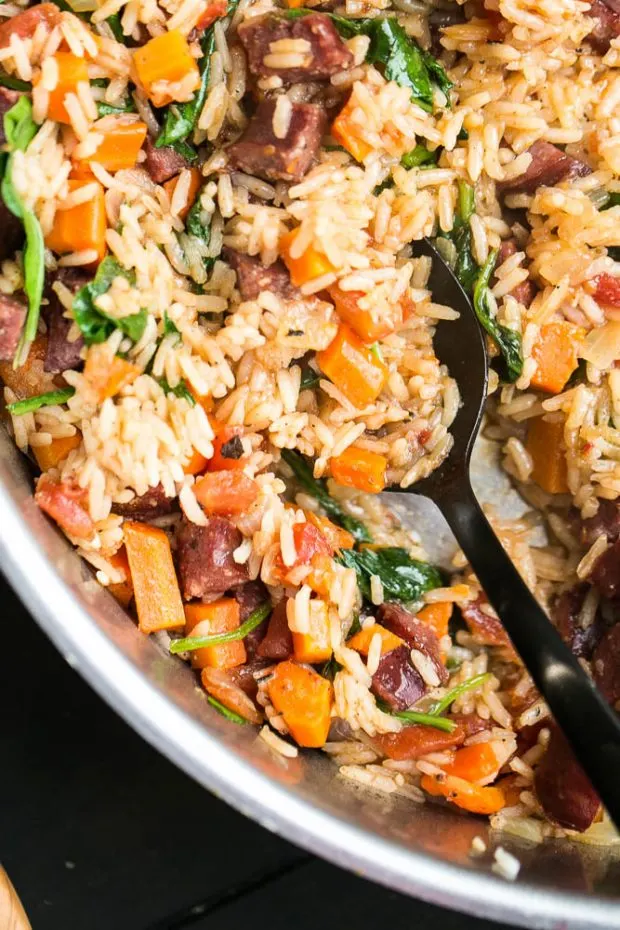 Like a lot of our favorite meals, this quick sausage & rice skillet was a happy accident.
Well, not completely an accident. I meant to make dinner.
I just didn't realize this thrown together meal would become a family favorite!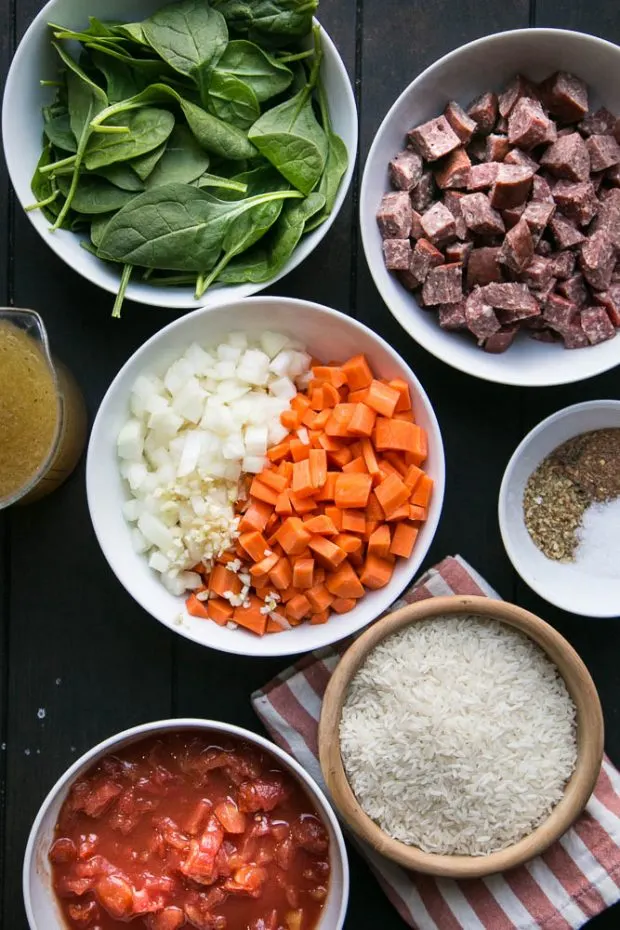 One of the best things about this meal is that it's relatively adaptable! Those vegetables aren't set in stone.
Usually in Cajun inspired dishes bell peppers, would be the logical choice.
Not at my house, where 5/6 hate all cooked peppers. (Chili is the exception.) They're a bunch of weirdos. (I'm the 1/6.)
However, my kids will eat carrots and spinach in almost ANY form, so I always choose them for stuff like this.
You could use add any other small, quick cooking vegetable like chopped zucchini, summer squash, broccoli, celery, green beans…. lots of options here.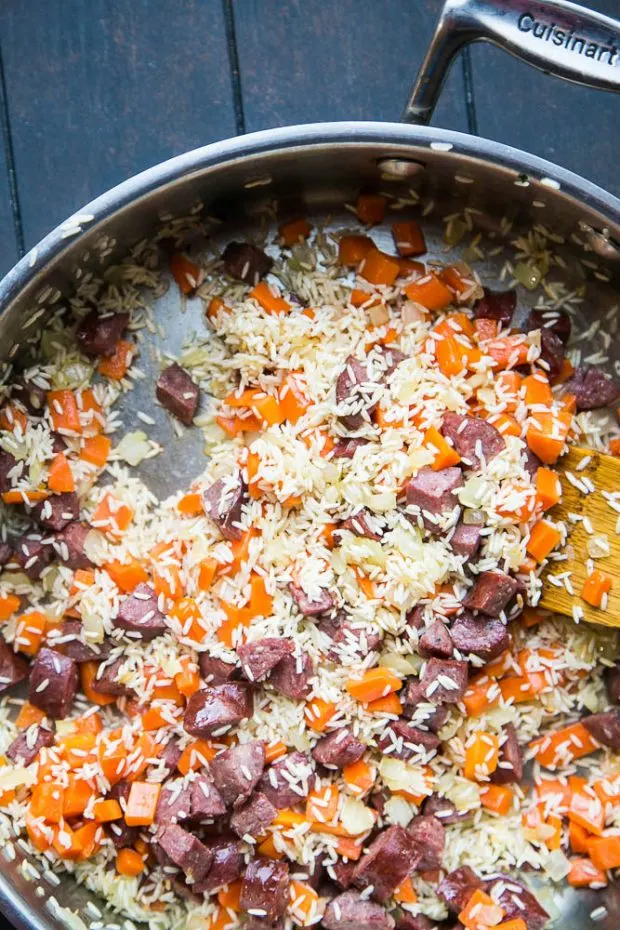 Want to know a secret to making great rice dishes?
Sausage. Lots of sausage.
I'm joking. But seriously, they add a ton of flavor.
Tips for Making Great Rice Dishes
Toast the rice — preferable in butter. Avocado oil or coconut oil would work, too. I use the same technique in my Instant Pot Cilantro Lime Rice and Instant Pot Lemon Herb Rice. It adds so much flavor!
Use broth instead of water. Any kind!
Season it well. Rice is a blank canvas and can hold a lot of seasoning, so don't be shy with them!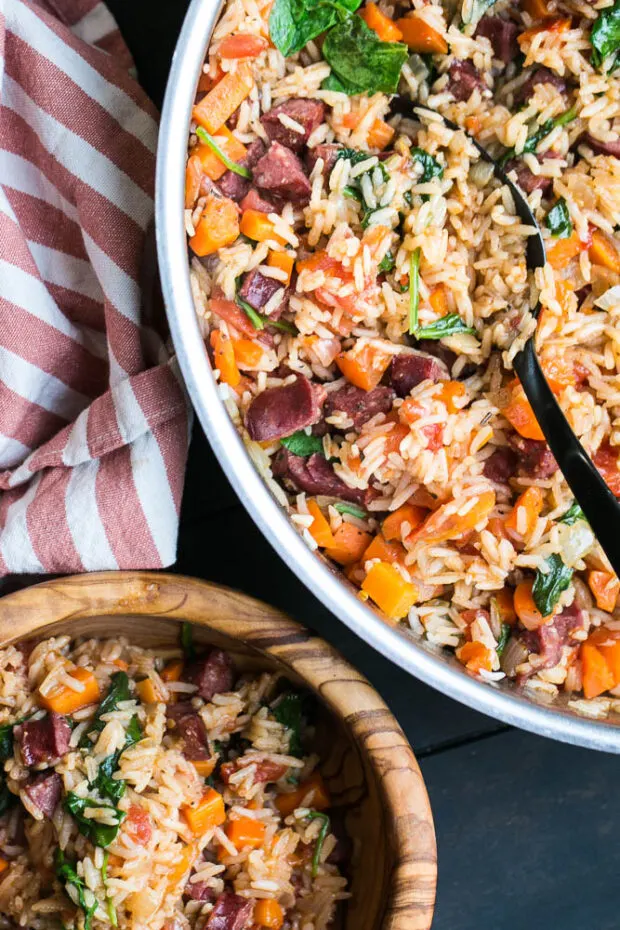 What kind of sausage should I use?
Any kind of pre-cooked smoked sausage would work here. You could use beef, pork, or chicken sausage, too.
I used some Kiolbassa brand grass-fed smoked beef sausage from Costco in this recipe. I LOVE their sausages and love the clean ingredient list and sourcing.
Aidell's also has some great options for pre-cooked sausage! Their chicken-apple sausage is Whole30 friendly and my kids' favorite.
Can I make this vegetarian?
Sure! Just use avocado oil, vegetable broth, and replace the sausage with a drained can of your favorite beans or your favorite vegetarian protein source.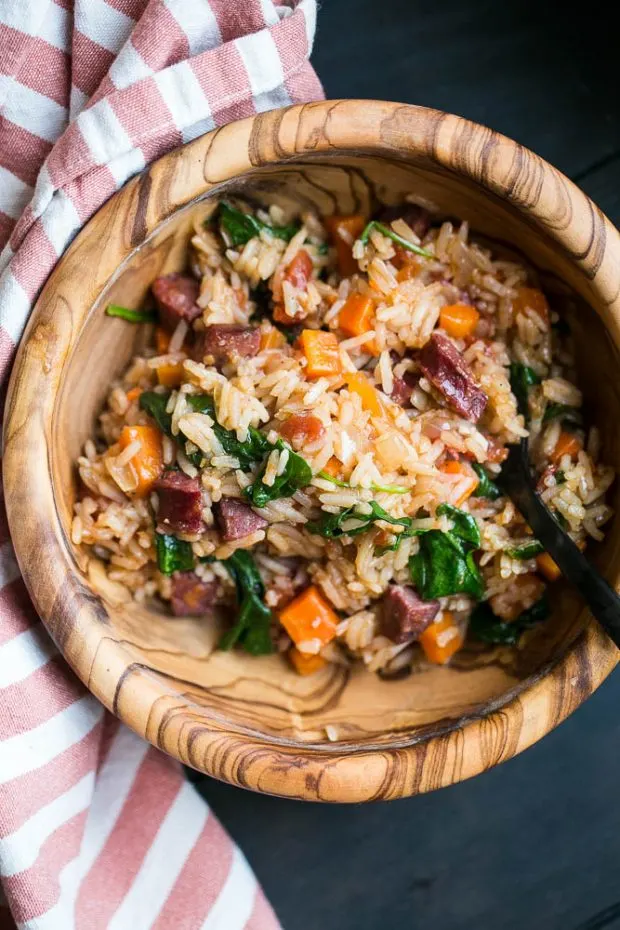 Here are a few of my other favorite rice recipes!
More Tasty Rice Dishes
Chicken Rice & Mushroom Skillet is another FABULOUS one-pot dish!
Wild Rice Salad with Cucumber and Pesto is a great little side dish and it's easy to add protein to make it a meal on its own!
Mango Cucumber Rice Salad is a cool mix of quinoa and rice tossed with sweet mangoes, diced cukes, crunchy sliced almonds, and a tangy lime vinaigrette!
Then there are my three favorite ways of making "just" rice — Cilantro Lime Rice, Lemon-Herb Rice, and Coconut Rice. All made with your Instant Pot!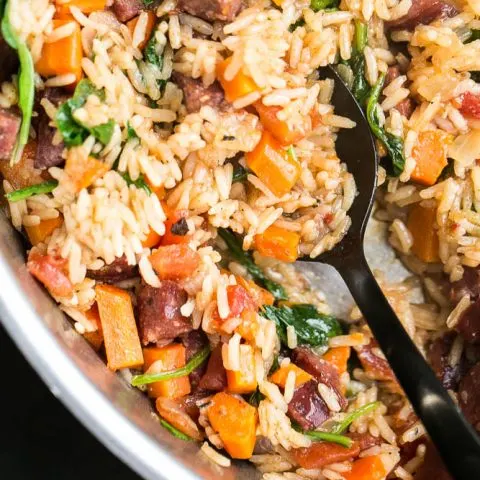 Easy Cajun Sausage & Rice Skillet
An easy, 30-min, ONE PAN meal that everyone will love! Using pre-cooked smoked sausage is a great, flavor-boosting shortcut.
Ingredients
4 Tablespoons butter or avocado oil
1 small onion, diced
2 cup chopped carrots or bell peppers (or a combo)
3 garlic cloves, Microplaned or minced
1 1/2 cups diced pre-cooked smoked sausage
1 1/2 cups long-grain white rice
2 teaspoon Cajun spice blend
2 teaspoon no-salt all-purpose seasoning
1 teaspoon sea salt
1 can petite diced tomatoes, undrained
2 cups broth (chicken, beef, or vegetable)
2 handfuls of baby greens (spinach, kale, etc.)
Instructions
In a large, deep skillet, heat the butter/oil over medium high heat. Add the onion, carrots, garlic, and sausage. Cook for 1-2 minutes.
Add the rice and seasonings and cook for another 2-3 minutes until the rice turns opaque and becomes toasted and golden in spots, stirring frequently.
Stir in the can of tomatoes and broth and bring the mixture to a boil. Reduce heat to low and let it simmer, covered, for 12-15 minutes until the rice is cooked through and most of the moisture is gone from the bottom of the skillet.
Stir in the greens and cover the pot. Remove from the heat and let it sit for another 5 minutes to wilt the greens. Stir again and taste, adding more salt if needed.
Serve.
Low-Carb/Grain-Free adaptation: Replace the rice with 3-4 cups of uncooked cauliflower rice. Omit the broth. Saute until all of the vegetables are cooked through. Alternately, you could roast the cauliflower rice and stir it in at the end so it'll be less mushy.
Notes
Nat's Note:
Feel free to replace the no-salt seasoning with more Cajun seasoning. Depending on the Cajun seasoning, it could make this dish too spicy for little ones.
For the no-salt seasoning, I like Costco's 21 seasoning blend (similar to Trader Joe's 21 seasoning salute).
If you'd like to make this even spicier, add 1/4-1/2 teaspoon crushed pepper flake when you add the rest of the seasonings.
If you use unsalted broth, you might want to add an extra 1/2 teaspoon of salt.