One skillet meals are my favorite and this Chicken Rice & Mushroom Skillet is high on my list with tender chicken, sauteed mushrooms and the most flavorful rice!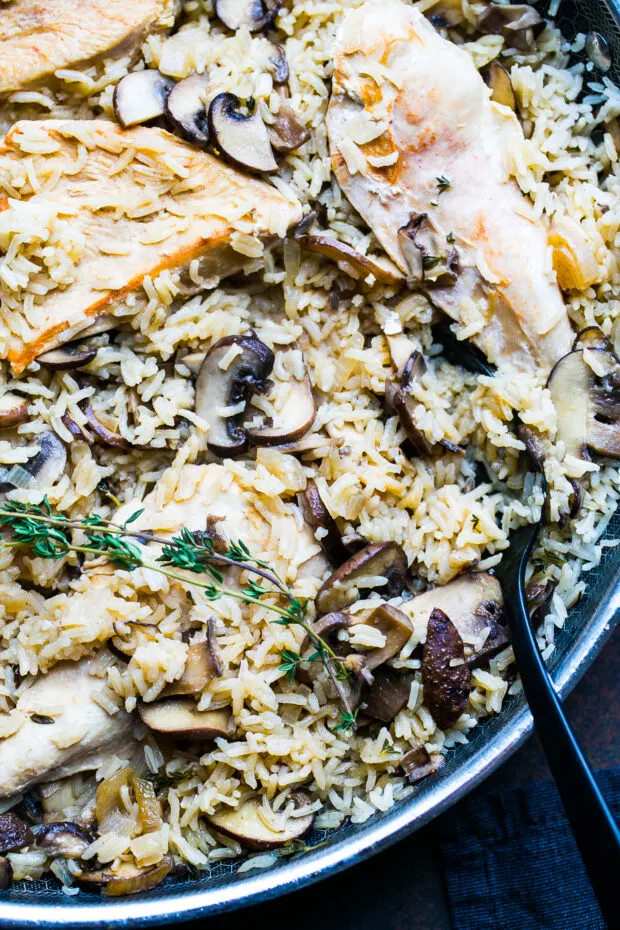 I have to give a shout out to my kids. Lately I've been working on some recipes that 100% they won't eat. Or at least they'll whine pick through what's "edible".
What they DID like about this chicken rice skillet is the chicken. And they went bonkers for the rice. SO much flavor
Mushrooms aren't their favorite.
To be fair, I was over 30 before I could say that I liked mushrooms. There's still hope for them.
This chicken skillet is easy enough for a weeknight, but I'd totally make a rice casserole like this for a new mama or someone who is sick.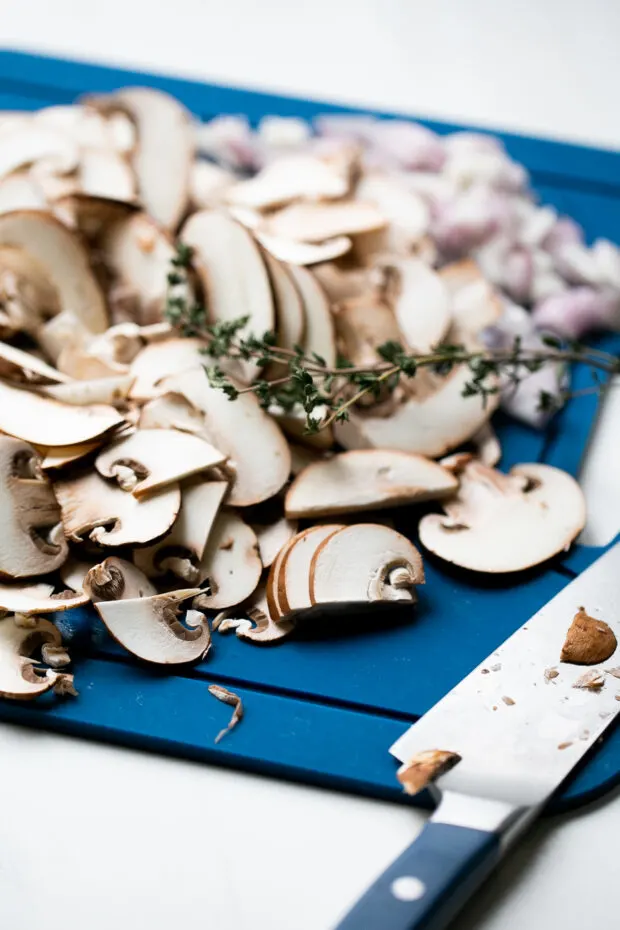 Another reason why I love this hearty meal is because it doesn't have cream of mushroom soup. Nothing against canned soups — I just prefer using more whole, unprocessed ingredients. All you need for this rice recipe are a few easy-to-find ingredients:
Chicken
Mushrooms
Shallots
Worcestershire
thyme
uncooked rice (I like long-grain white rice for this — more on that later)
chicken broth or chicken stock
Just make sure you have a large skillet that has a lid.
The recipe is pretty straightforward, but I'm anticipating some questions on this so I'll answer them here as well as give you a few tips I wanted to share.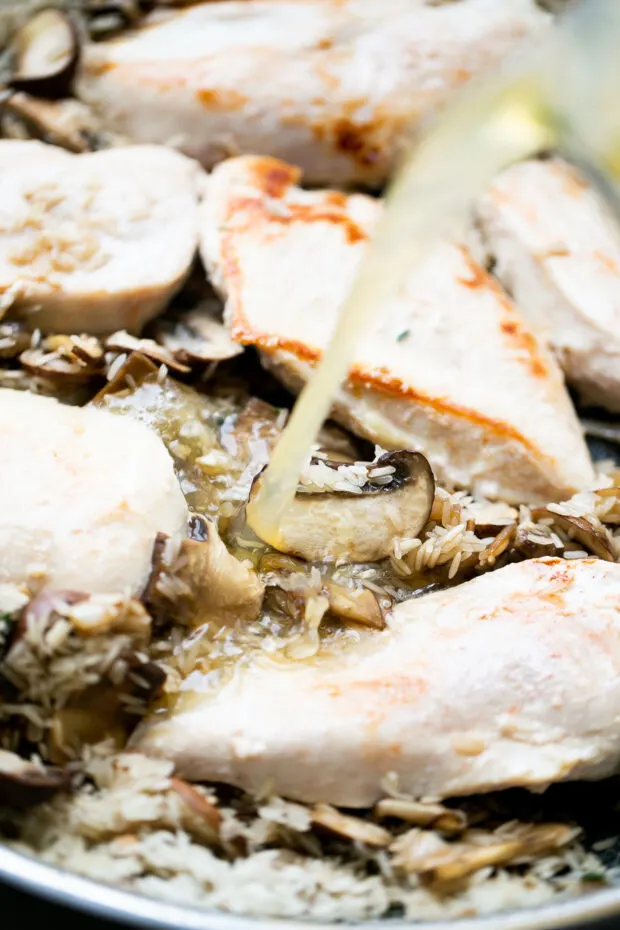 Can I double this recipe?
I wouldn't recommend it. I increased it by 50% and because of the extra rice it needed to cook longer which dried out the chicken. If you're wanting to feed an extra person or two, I'd recommend using larger, thicker chicken breasts instead of more smaller ones.
Can I use skin-on, bone-in chicken?
Sure! Just make sure the chicken is cooked thoroughly. The chicken skin won't be crispy — in case you like that sort of thing. That type of chicken is more forgiving than boneless skinless chicken breasts, so you might like them better, actually.
Can I use olive oil?
If you like using olive oil to saute, make sure you're using light olive oil and not extra-virgin olive oil. The heat will cause the extra-virgin oil to oxidize (not a good thing). I prefer using avocado oil or coconut oil for medium-high heat cooking.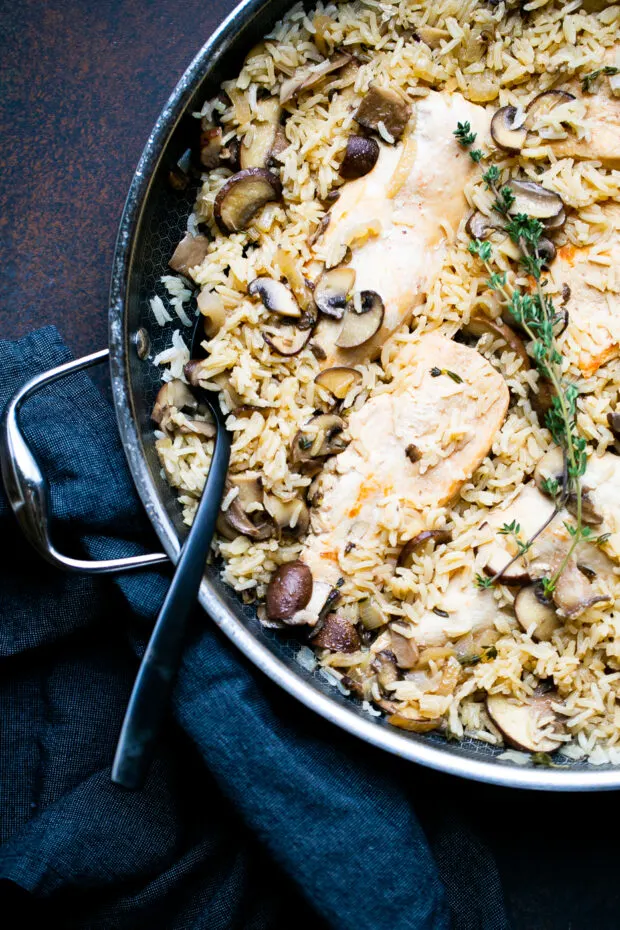 Can I use brown rice or wild rice?
Brown rice and wild rice take significantly longer to cook which would dry out the chicken. You could try to cook the rice halfway, remove the chicken from the pan, and continue to cook the rice until it's done.
I like to use jasmine rice.
What kind of mushrooms are best for this recipe?
Whichever ones you like! White or brown button mushrooms, cremini, portabellos, or shiitake mushrooms would work beautifully.
What can I use instead of mushrooms?
Ah, you're a mushroom hater. I see you. Honestly, I'm not sure if there's a good substitute. You can leave them out if you like and make a separate veggie side.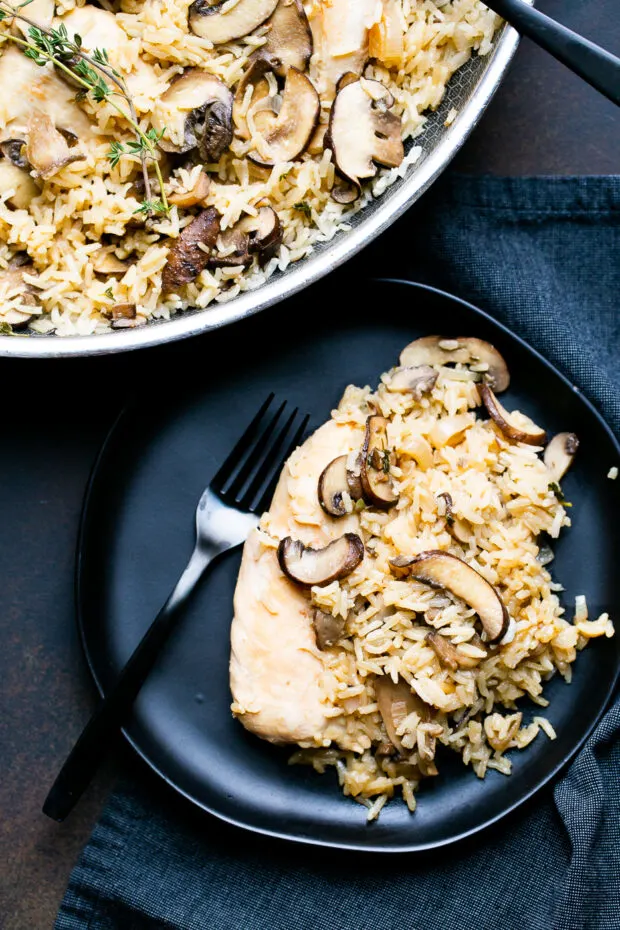 Can I make it creamy?
Those canned soups do make things nice and creamy, don't they? If you're wanting a more creamy chicken dish, stir in a dollop of sour cream or drizzle some heavy cream in at the end. I think I'll do that next time because it sounds so delicious.
Can I make this in a rice cooker?
Don't do it.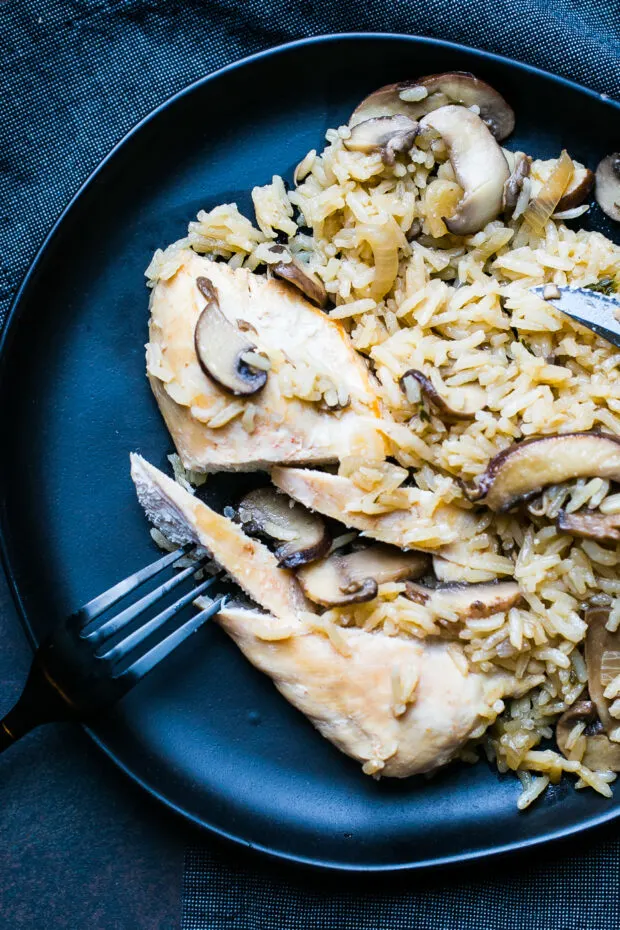 If you have any other questions, leave a comment on this post!
If you like this hearty comfort food recipe, here are a few other one pot meals you might like
More One-Skillet Recipes on Perry's Plate
Easy Cajun Sausage & Rice Skillet is a family favorite! Andouille sausage is the star here and flavors all of the rice and veggies!
Paleo Thai Vegetable & Shrimp Skillet is a grain-free meal that's light, yet filling.
Egg Roll in a Bowl with Sriracha Mayo is another family favorite — serve it alone or throw some rice in your Instant Pot. (Does that mean it's not a one-pot meal? Ha)
Thai Green Curry Zoodes with Shrimp and Broccoli is a copycat version of an old recipe from Noodles & Co. Another great paleo-friendly meal for summer that's nice and light
---
If you make one of my recipes, be sure to post it on social media and tag me at @perrysplate or #perrysplate so I can send you some love!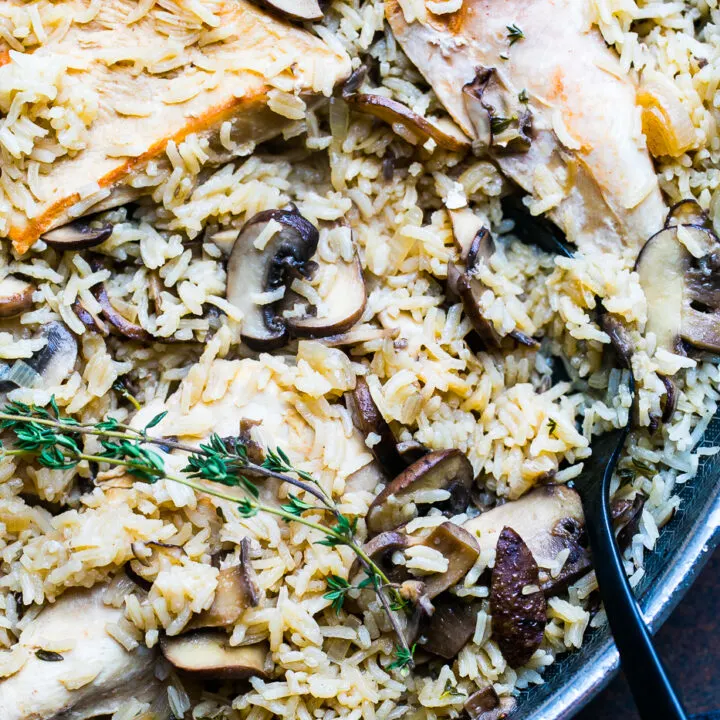 Chicken Rice & Mushroom Skillet
This one-skillet meal has everything you need -- tender chicken, sauteed mushrooms, and flavorful rice pilaf. And only one pan to wash!
Ingredients
4 large chicken breasts
1 lemon
2 Tablespoons avocado oil
8 ounces sliced mushrooms, any kind
1 large shallot, sliced thinly
2 Tablespoons worcestershire sauce
1/2 teaspoon dried thyme
1/2 teaspoon salt
1 cup white rice
2 1/4 cups chicken broth
Grated Parmesan, for garnish (optional)
Instructions
Sprinkle the chicken with a few generous pinches of salt and pepper and squeeze the juice from half the lemon over the top. Let it sit while you prepare the pan.
Put the avocado oil in a large, deep skillet (that has a lid that fits) and heat it to high heat.
When the oil is hot, cook the chicken breasts for 1-2 minutes on each side until they are slightly browned, but not cooked through. Transfer the chicken to a large plate.
Add the mushrooms and shallots to the pan with a little more oil if the pan is dry. Saute them for about 10 minutes until they soften and cook down a little.
Stir in the worcestershire, thyme, salt, and rice. Cook and stir often for another 5 minutes until the rice is slightly toasted.
Add the chicken to the pan and pour in the chicken broth. Bring the whole thing to a boil, then reduce the heat to medium-low. Cover the skillet and let it cook for 15 minutes.
When it's finished cooking there should be no more liquid in the bottom of the skillet, the rice should be tender, and the chicken should be cooked through. Squeeze the remaining half lemon over the whole dish.
Serve the chicken and mushroom rice with a dusting of grated parmesan if you like.
Notes
You can substitute 1/4 cup finely chopped onion for the shallot if you like.