These healthy meal plans are for six dinner recipes and a dessert thrown in for fun! All of these recipes are (mostly) paleo friendly, seasonal, and most can be easily adapted to be Keto/Low-Carb or Whole30 friendly.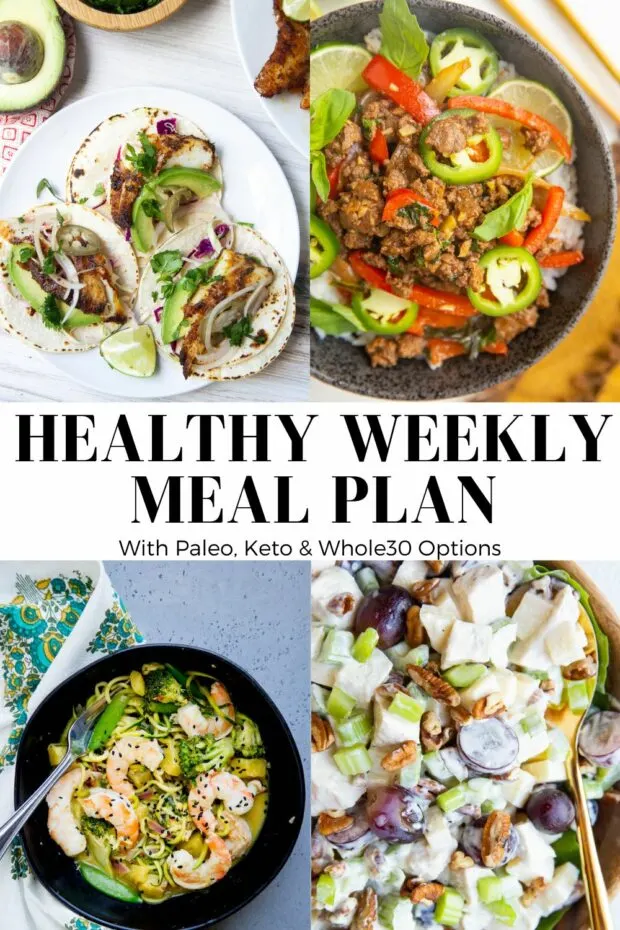 Hey, friends!
This month we've got more colorful, seasonal summer recipes for you!
Tacos are a MUST and these blackened fish tacos are light and full of flavor and don't heat up your kitchen.
Julia and I both pulled out our chicken salad recipes — great for potlucks or a make ahead meal for a week's worth of lunches.
If you haven't tried my Noodles & Co knock off Green Curry Shrimp Noodles, you MUST. And finish everything off with Julia's Paleo Blackberry Cobbler — I've made this before and it's STELLAR.
Enjoy the sunshine!
xoxo
Natalie
---
Sunday
WALDORF CHICKEN SALAD — This cool and refreshing chicken salad recipe is bursting with sweet, creamy flavors with amazing texture. Perfect for the warm months of the year when you're craving chilled food.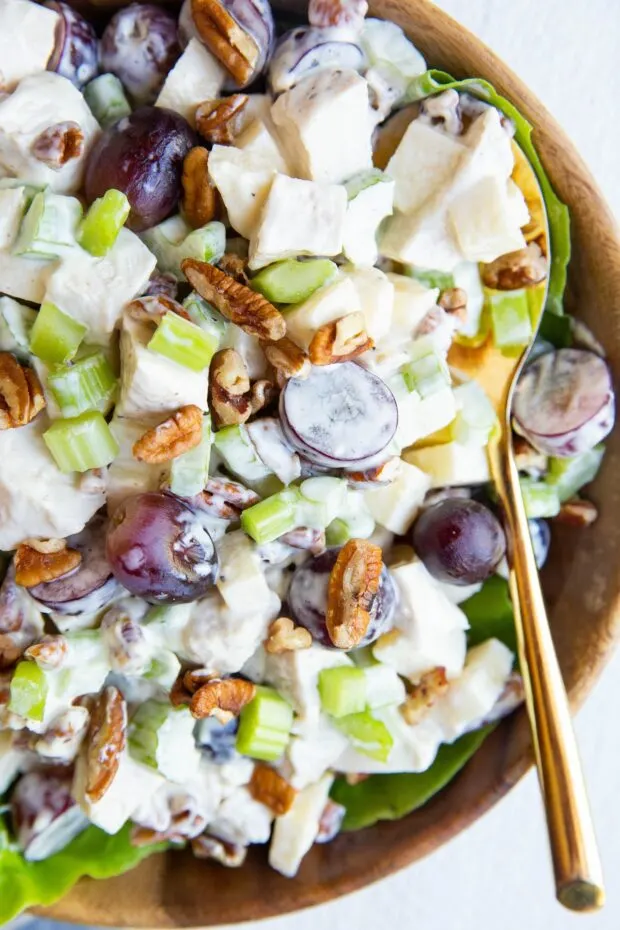 Special Diet Note: Recipe can be made paleo by replacing the Greek yogurt with more mayonnaise. Be sure to use avocado oil mayo for paleo.
Prep Ahead: Cook the chicken up to 4 days ahead of time. This salad saves very well so the whole thing can be prepared ahead of time if need be.
Substitutions: Use rotisserie chicken for the quickest prep!
Monday
EASY BLACKENED FISH TACOS — These Blackened Fish Tacos are SUPER delicious and made simply with a little avocado and a quick cabbage slaw.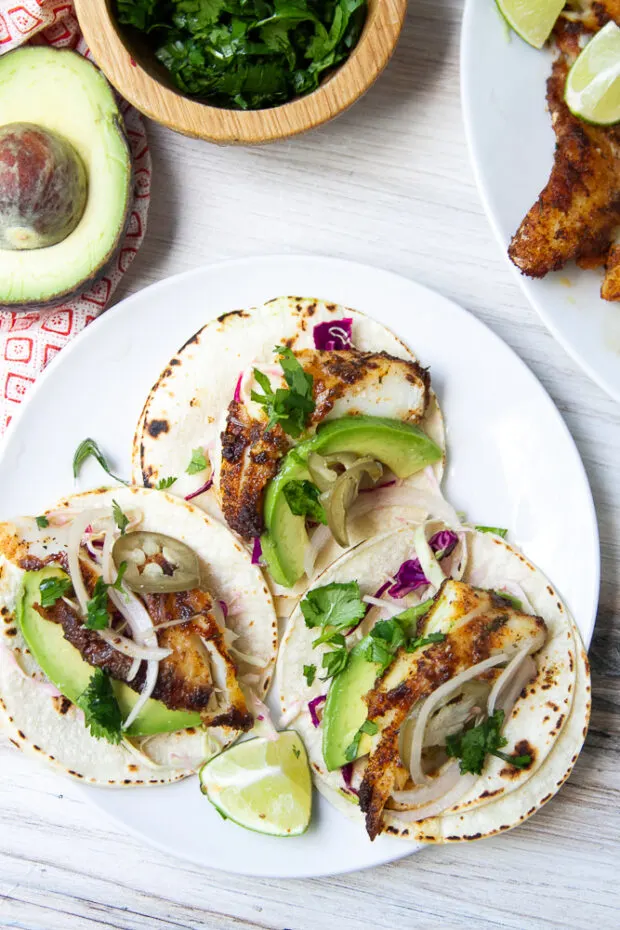 Special Diet Note: Recipe is gluten free and diary free. To make the recipe paleo friendly, put the fish and toppings over a bed of salad greens and dress with some lime juice and olive oil.
Prep Ahead: Cabbage slaw can be prepped a couple of days in advance.
Substitutions: Blackening spices are probably ones you already have on hand: smoked papirika, sea salt, black pepper, onion powder, garlic powder, oregano, & thyme. I highly recommend serving these with some PIckled Red Onions if you have some on hand! They can be made a week or two in advance.
Tuesday
GREEK LENTIL SALAD — This salad features cucumber, cherry tomatoes, feta cheese, red onion, sun-dried tomatoes and a simple lemon dressing.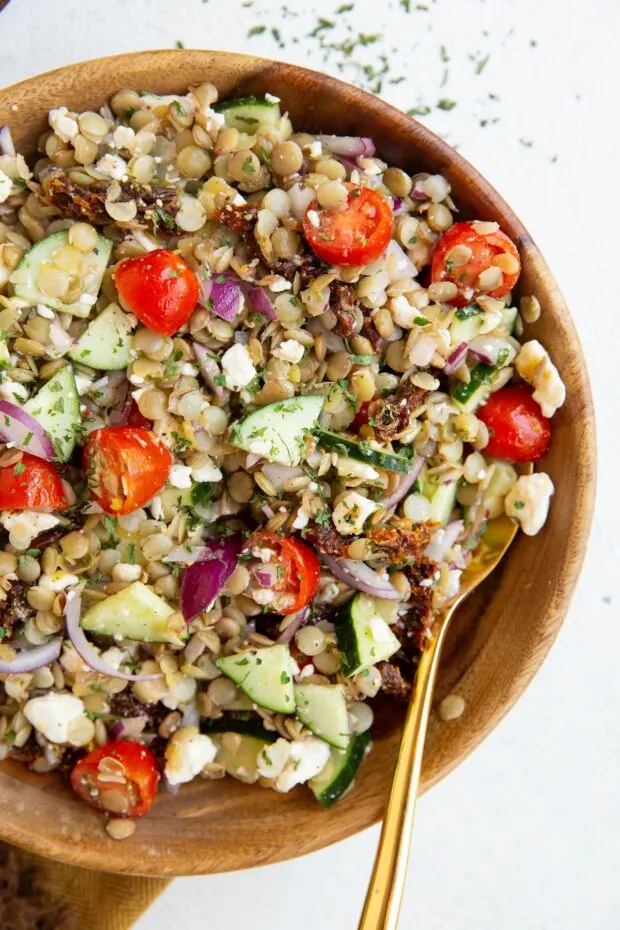 Special Diet Note: This recipe is gluten-free and cannot be easily made paleo or keto. You could replace the lentils with cooked cauliflower florets and serve the salad with your favorite protein.
Prep Ahead: The lentils can be cooked up to 4 days ahead of time. The whole recipe saves very well and can be made 3-4 days ahead of time.
Substitutions: Add in your favorite fresh vegetables, herbs, or spices. Serve xthe salad with animal protein for a bigger protein boost.
Wednesday
GRILLED VEGETABLE AND ROTISSERIE CHICKEN SALAD — This versatile summer salad is a mixture of grilled and fresh vegetables, easy rotisserie chicken, and a light garlic-lemon vinaigrette!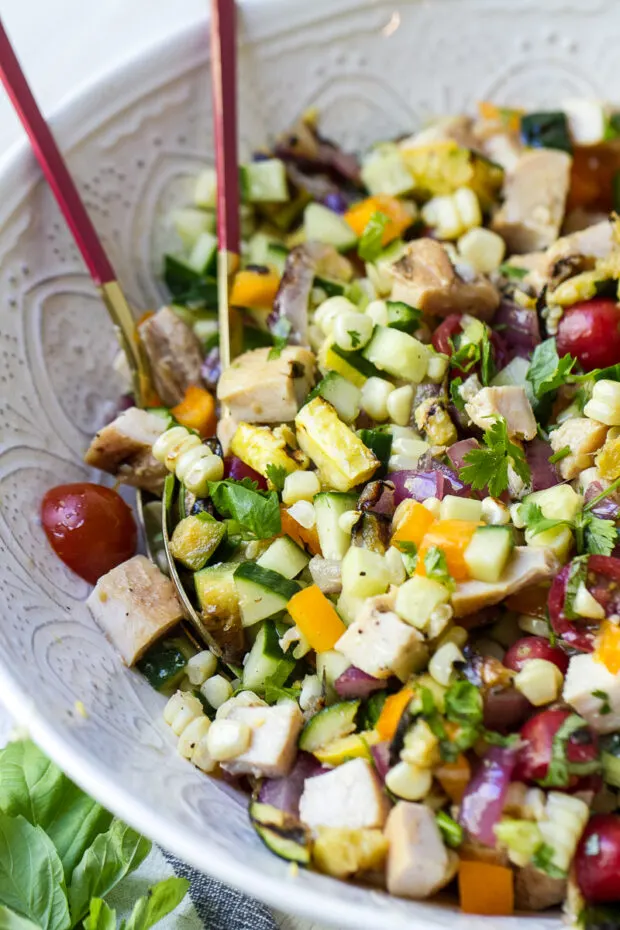 Special Diet Note: Recipe is gluten and dairy free. Omit the corn to make it paleo and low carb friendly.
Prep Ahead: The vegetables can all be chopped in advance.
Substitutions: Swap out some of the vegetables you like for others you prefer! You can even omit the chicken or swap it out for some beans to make it vegetarian.
Thursday
30-MINUTE THAI BASIL BEEF — This simple classic Thai dish comes together lightning fast yet is powerfully flavorful! It's best served with steamed rice or fried rice.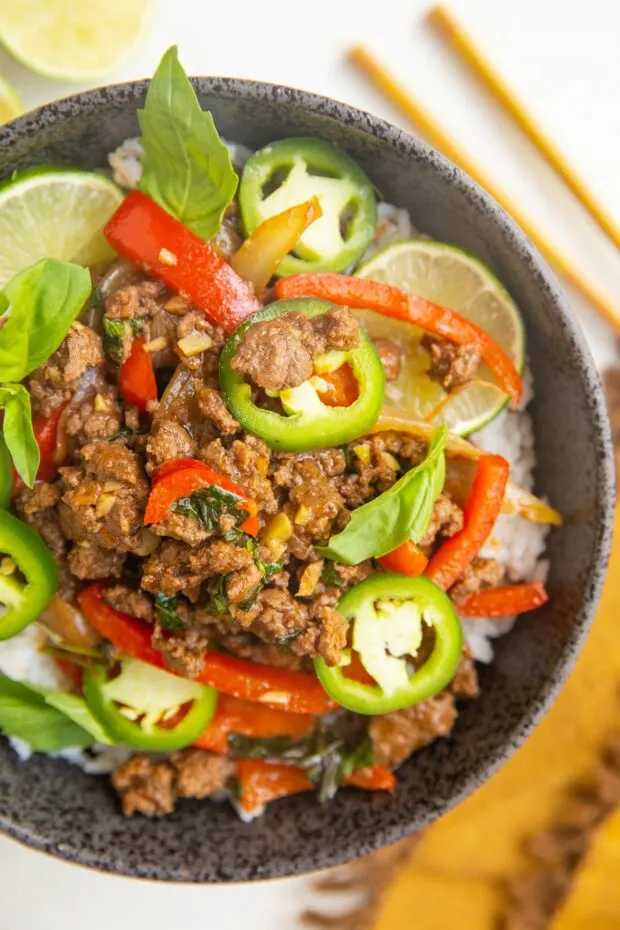 Special Diet Note: This recipe is paleo and can be made low-carb by substituting liquid aminos or soy sauce for the coconut aminos. To make the whole meal paleo or low-carb, serve the beef with cauliflower rice or your choice of vegetable side dish.
Prep Ahead: Thai Basil Beef comes together in 30 minutes or less, so there's no need to prepare anything in advance.
Substitutions: Use liquid aminos or soy sauce instead of coconut aminos if you'd prefer.
Friday
GREEN CURRY ZOODLES WITH SHRIMP — This quick weeknight meal is a knock off of the Noodles & Co. Thai Green Curry with Zoodles. I LOVE the little bits of pineapple dotted throughout.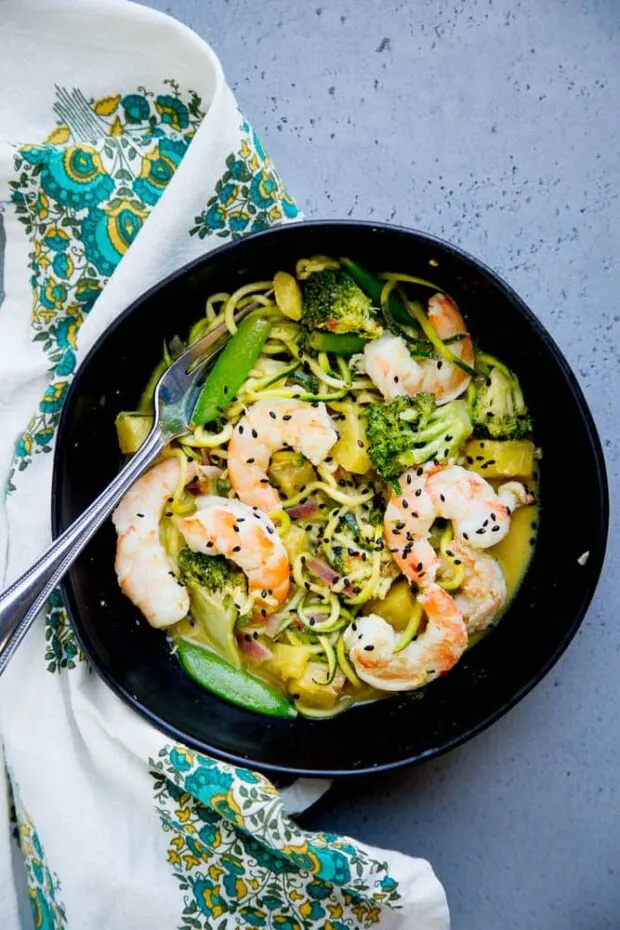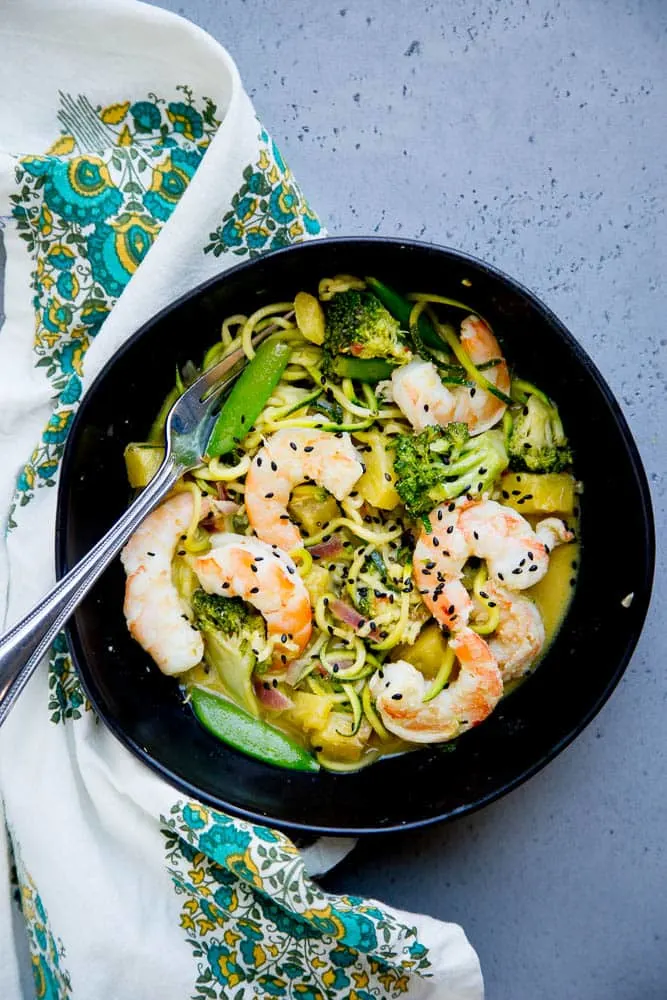 Special Diet Note: Recipe is paleo friendly.
Prep Ahead: No need to prep anything ahead!
Substitutions: Swap out the broccoli and snap peas for other quick cooking vegetables you prefer — like bell peppers and small cauliflower florets.
Dessert
PALEO BLACKBERRY COBBLER — This delicious cobbler is grain-free, refined sugar-free, dairy-free, and vegan. It's also completely goof-proof and only requires about 45 minutes to make!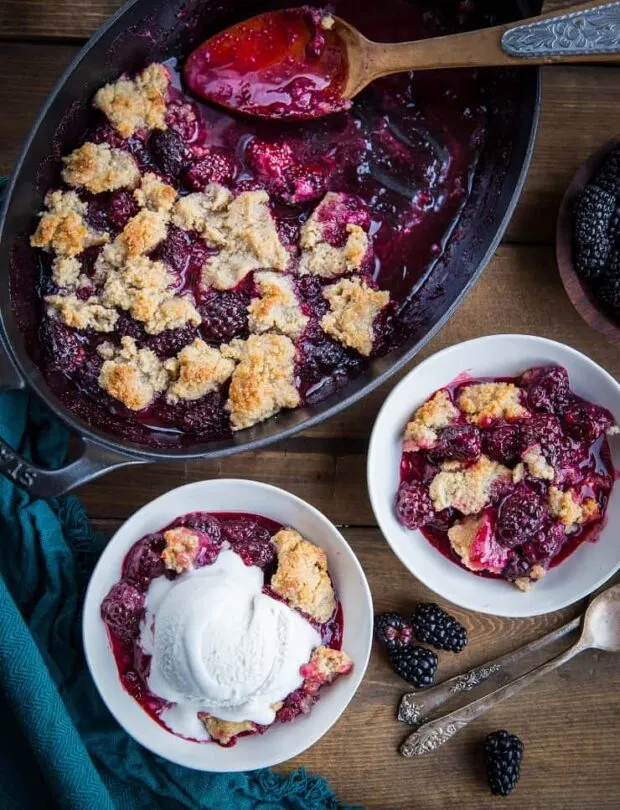 Special Diet Note: This blackberry cobbler recipe is paleo, vegan, and grain-free.
Prep Ahead: The recipe comes together remarkably quickly – no advance prep is needed.
Substitutions: Replace the coconut oil with 1/4 cup of melted butter if desired. You can replace the almond flour with cassava flour, but it cannot be replaced for coconut flour.
Grocery List
Click HERE to download a handy printable grocery list!