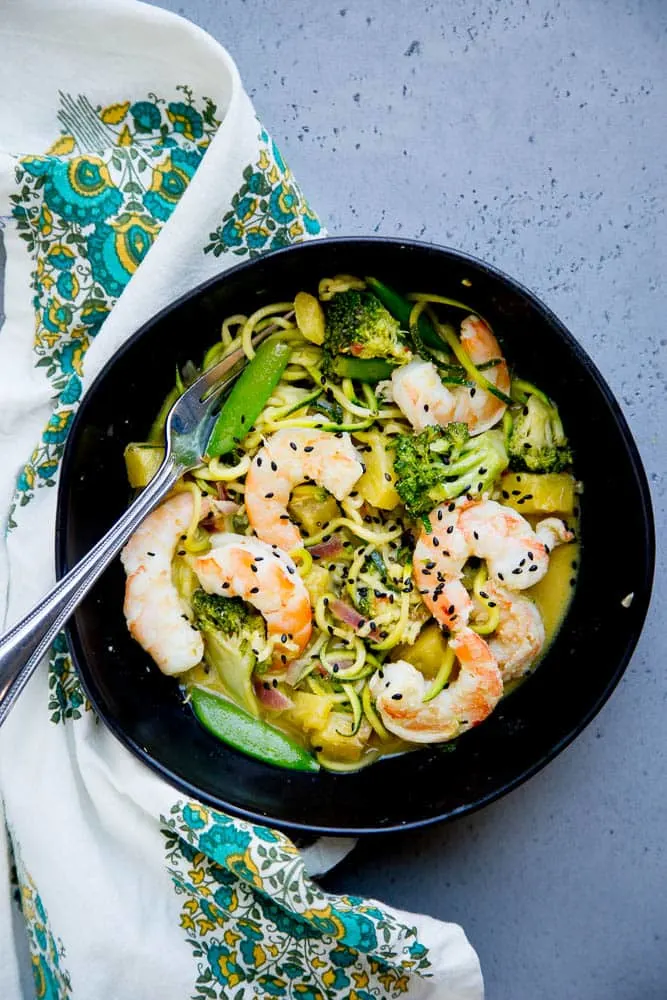 Last month while we were in Idaho, we went to Noodles & Co for dinner. I was happy to see that they offered zoodles as a replacement for pasta in most of their dishes!
I tried their Thai Green Curry Zoodle Bowl and loved it so much, I whipped up a copycat version to make whenever I want. (Because we don't have a Noodles & Co where we live.)
This was so easy.
Shrimp does require a little prep, but the rest of it is a snap — especially if you buy pre-noodled zucchini. I keep seeing prepped veggie noodles and riced vegetables available in the grocery store.
It's amazing. And I feel like a chump now every time I make Roasted Cauliflower Rice with a whole head of cauliflower.
Green curry paste is such a great shortcut.
Normally I'm leery of pre-packaged sauces and pastes like this, but most of the ones I've seen are super clean.
The Thai Kitchen brand green curry paste is actually Whole30 compliant. It lasts a long time in the fridge, too, so you can keep a couple bottles (along with some coconut milk) on hand for a quick curry dinner during a busy weeknight.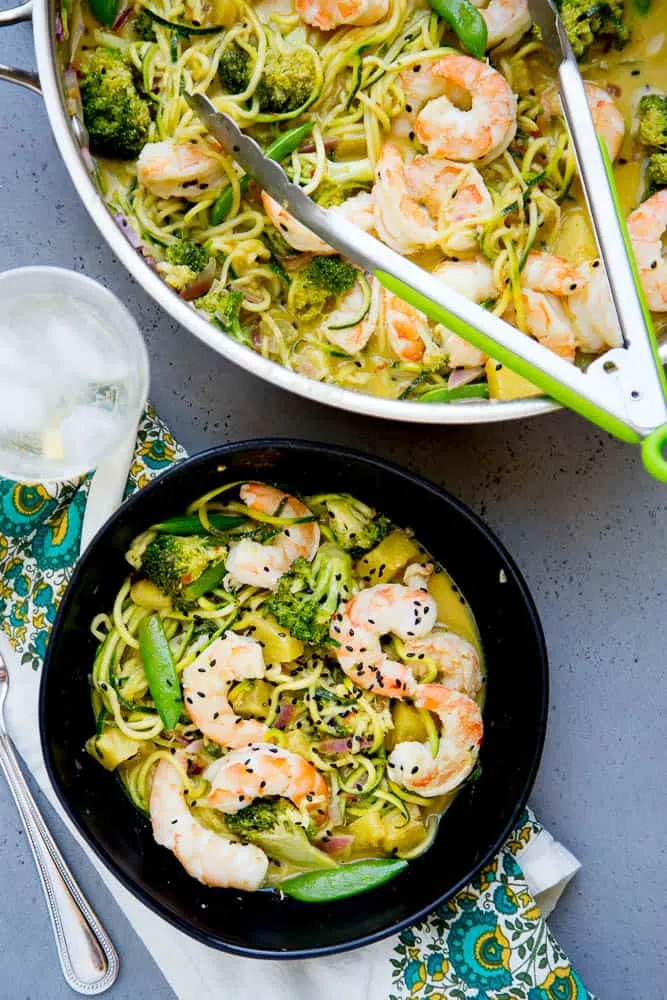 I think my favorite part of this dish is the pineapple. The first time I worked on this recipe, I threw in some leftover grilled pineapple which was an EXCELLENT idea, by the way. If you happen to have some sitting around.
If not, it's still cool. Those little sweet tidbits are a pleasant surprise as you're slurping up this curry.
The whole feel of it reminded me of the Thai Shrimp Curry with Summer Squash I posted years ago. Except faster. Although, if you have a little extra time on the weekend, that other one is great for company, and it has a homemade green curry sauce that's not as complicated as it sounds.
More Asian-Inspired One-Dish Meals
A family favorite, Egg Roll in a Bowl with Sriracha Mayo is easy to put together and has all of the flavors of Chinese egg rolls without the fried exterior!
Easy Paleo Pad Thai is another meal on our "favorite dinner list". And another meal made in under 30 minutes!
Paleo Thai Shrimp & Vegetable Skillet is very similar to these egg roll bowls — but with a Thai flair.
Mango Chicken Curry is an oldie, but such a great recipe for a quick weeknight dinner.
---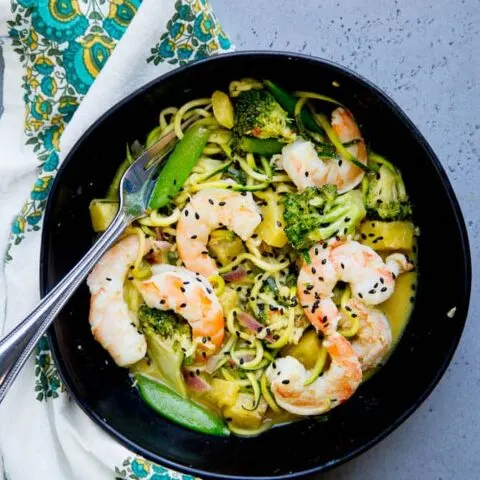 Thai Green Curry Zoodles with Shrimp and Broccoli
This quick weeknight meal is a knock off of the Noodles & Co. Thai Green Curry with Zoodles. I LOVE the little bits of pineapple dotted throughout.
Ingredients
1 Tablespoon coconut or avocado oil
1/2 cup diced red onion
1 broccoli crown, cut into 2-inch florets (about 9 oz or 3 1/2 cups)
1 cup diced fresh pineapple
4-5 ounces sugar snap peas (about a large handful)
1 cup full-fat coconut milk or coconut cream
3 Tablespoons Thai green curry paste
1-2 teaspoons Asian chili paste
1/2 of a lemon
1 pound uncooked large shrimp, peeled and tails removed
2-3 medium zucchini, spiralized
2 teaspoons sesame seeds
Instructions
Heat the oil in a large pan over medium-high heat. Add the onion, broccoli, and pineapple. Cook for about 5 minutes until the onion begins to soften and the broccoli starts to turn brighter green.
Add the sugar snap peas, coconut milk (or cream), curry paste, and chili paste. Stir well to incorporate the curry paste into the sauce. Simmer for 5 minutes until the broccoli is soft, but not mushy.
Add the juice from the 1/2 lemon and the shrimp. Cook for 2-3 minutes until the shrimp is pink and just barely cooked through.
Add the spiralized zucchini and toss everything around with a pair of tongs until the zoodles soften, but aren't mushy or releasing a lot of liquid. Sprinkle the sesame seeds over the whole thing and serve.
SaveSave
SaveSave
SaveSave
SaveSave