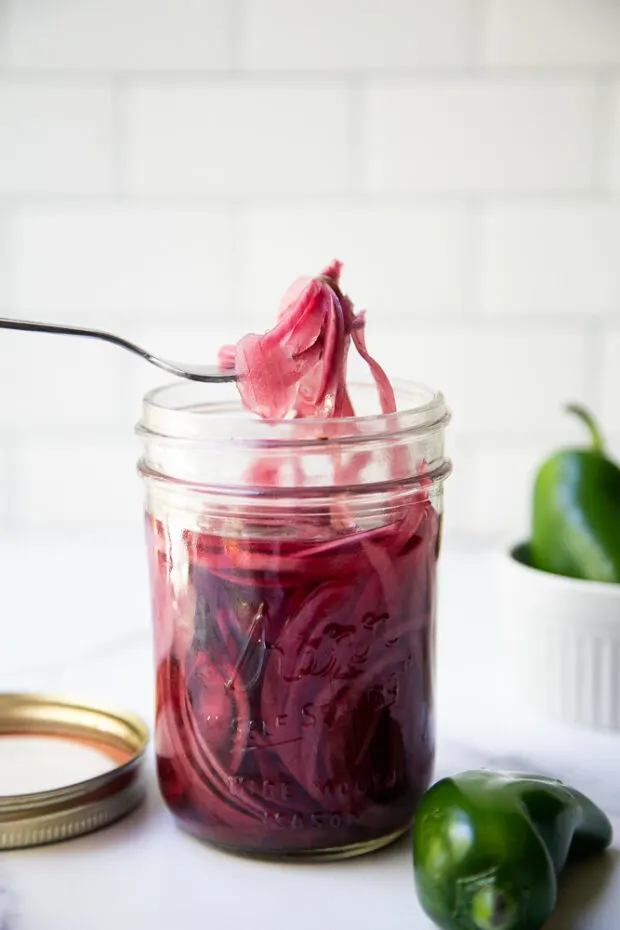 Are you a fan of pickled red onions? I am. Completely.
It's one of those things that I love to eat when I eat out, but never made at home until recently — which is CRAZY because they're ridiculously easy.
OK, I lied. I did make them once. There was this pickled red onion recipe that went a little viral in Instagram so I tried it. I had such great faith in this recipe that I made a double batch — a whole quart!
Guys. It turned out so bad. I don't even know why. I couldn't eat them — they were so bitter and nasty. I literally threw away all of it. Steve didn't like them either.
That made me a little hesitant to make pickled red onions again until I realized the basic idea isn't that different from the Simple Marinated Cucumbers I make ALL the time. So, I used that as a jumping off point and added some garlic & jalapeno for some extra kick.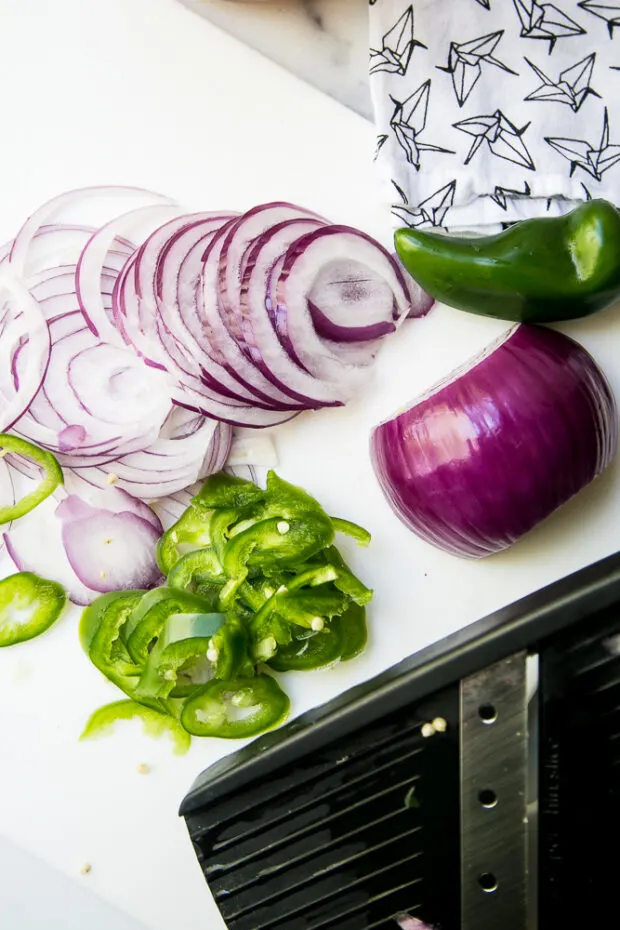 First order of business — do you have a mandoline slicer? The one I have isn't being made anymore, but I linked to one that I'd buy if I had to replace mine.
I don't use my mandoline a ton — maybe 2-3 times a month for when I make Marinated Cucumbers or sweet potato chips. But it's SO NICE to have things sliced ultra thin and even. Totally worth it to me.
And now I'll use it even more to make pickled red onions!
You don't need a mandoline, though. If you have a really sharp knife, just slice everything as thinly as you can. If your slices are on the thick side you might have to let them brine a little longer to tame that onion flavor.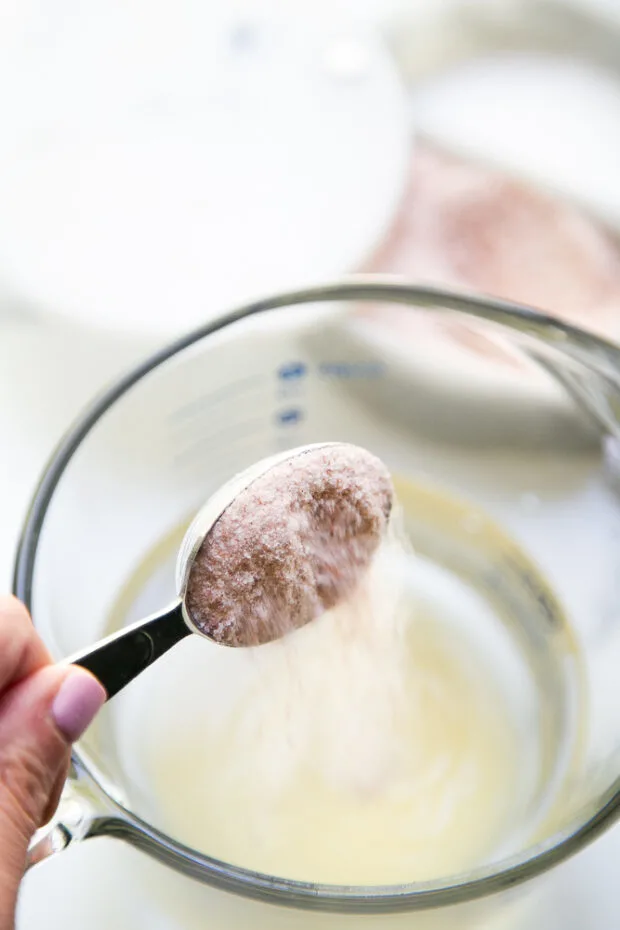 Now for the pickled red onion brine!
I like to use Himalayan pink salt because the flavor is much better than regular table salt. Any sea salt would work, too.
I don't like my pickled red onions overly sweet, but if you do, add a little more sweetener to your brine.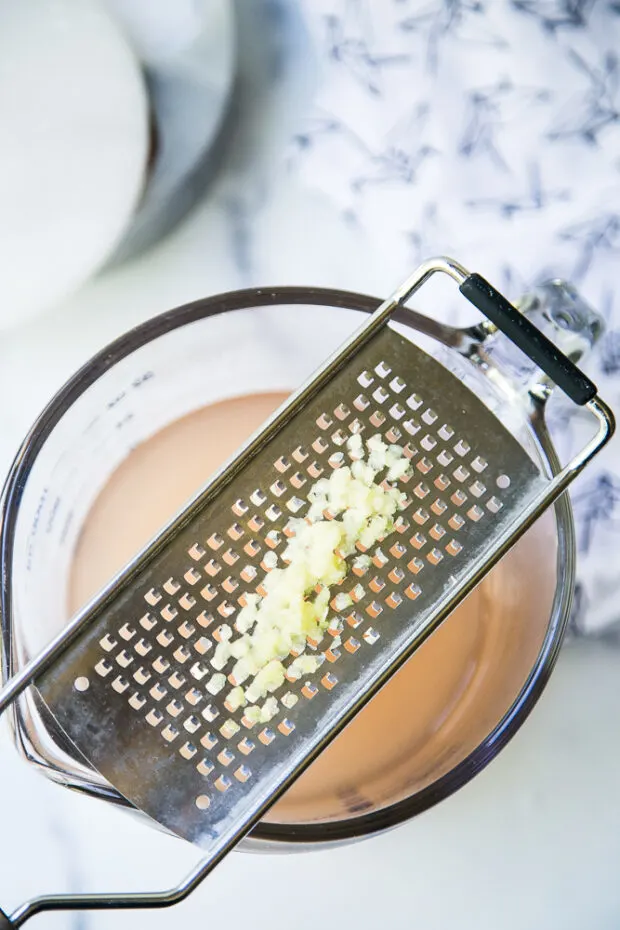 Adding some microplaned garlic adds another punch of flavor to these onions. Please tell me you have a Microplane Grater.
I use mine all the time for garlic, citrus zest, hard cheese, fresh ginger, and fresh nutmeg. (I quite buying pre-ground nutmeg because the flavor is so great and it only takes an extra minute to grate some fresh!)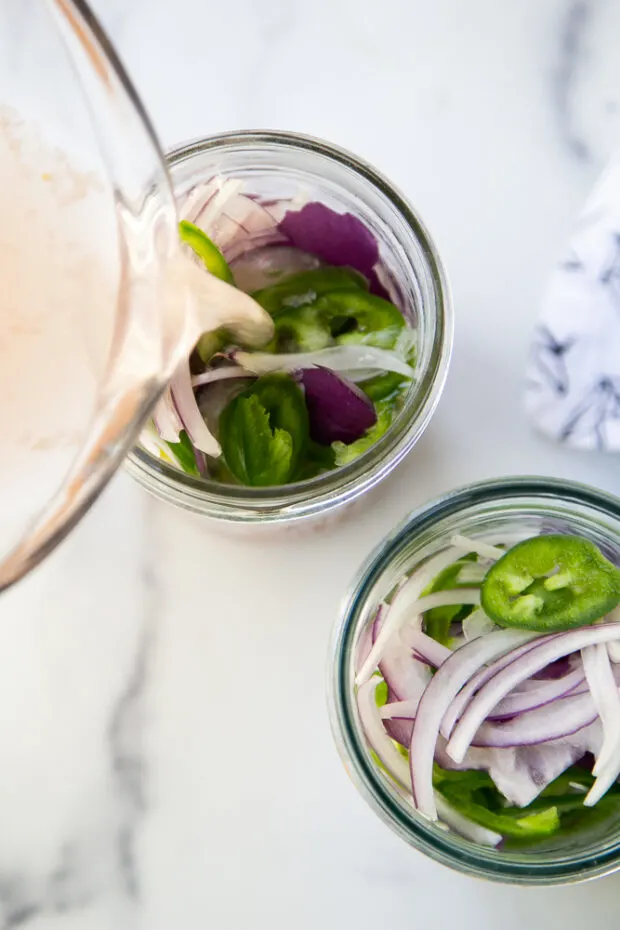 How long do you need to brine pickled red onions before eating?
I'd let them refrigerate for at least 24 hours before eating to get some of that raw onion flavor out of it. They get better the longer they sit.
How long to pickled red onions last in the fridge?
Up to 3 weeks. Maybe longer.
What kind of vinegar do I use?
For pickled red onions, I'd use plain white or apple cider vinegar for more bite. Use rice vinegar for a more mild flavor. Use white wine or red wine vinegar if you'd like them a little more sweeter.
Can I use a different kind of onion?
Sure! Give it a try! Red onions are a popular one for quick pickling because they're a little more mild than white or yellow onions and create that pretty pink color.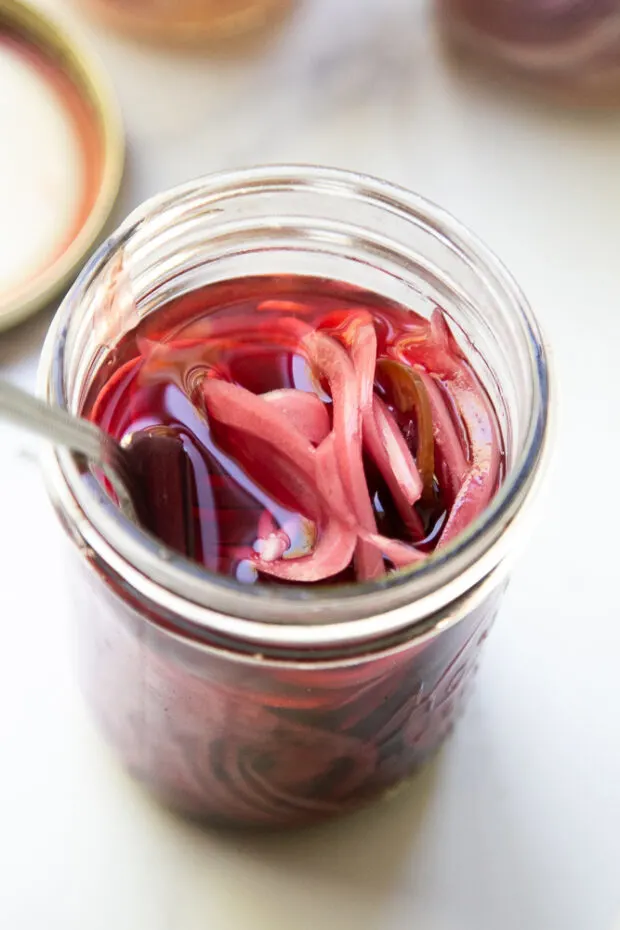 Ways to use Pickled Red Onions
So many uses for these! Use them on…
Burgers
Sandwiches or wraps
Salads
Grain bowls
Tacos or any other Mexican-inspired dish
Alongside grilled meats & vegetables or as part of a Fish Fry.
I especially love adding them to our California Roll Sushi Bowls or Fish Taco Bowls!
---
If you make one of my recipes, be sure to post it on social media and tag me at @perrysplate or #perrysplate so I can send you some love!
Pickled Red Onions with Garlic & Jalapeno
Total Time:
1 day
15 minutes
These quick pickled red onions are easy to make and keep for a long time in the fridge! For a punch of flavor, add them to salads, tacos, grain bowls, sandwiches, or serve alongside fish!
Ingredients
1 cup vinegar
3 Tablespoons granulated sweetener
1 Tablespoon pink Himalayan salt
1 clove garlic, Microplaned
1 large red onion
1-2 fresh jalapenos
Instructions
In a large glass measuring cup add the vinegar, sweetener, salt, and 1 cup of water. Microwave for about a minute or until the sugar and most of the salt has dissolved. You can also do this on the stove in a saucepan if you like. Remove from heat and stir in the microplaned garlic. Let the brine cool while you prep the rest.
Peel the onion and slice it as thinly as you can. I highly recommend using a mandoline slicer if you have one. Cut the stem off the jalapeno and slice it super thinly as well. Cut out the seeds to reduce the spiciness, if you like.
Divide the sliced onion and jalapeno into two pint-sized mason jars or one large jar if you like. Stir the brine and then divide the brine between the two jars, covering the sliced vegetables.
Put lids on the jars and refrigerate for at least 24 hours before eating. The longer the sit the better they get. They'll last in the fridge for 3 weeks.
Notes
Nat's Notes:
The garlic & jalapeno are optional here if you'd rather make a more basic pickled red onion.
You can use any granulated sweetener you want. I've used organic cane sugar and coconut sugar and they both work well.
You can also use a variety of vinegars. I'd recommend white vinegar, white wine vinegar, red wine vinegar, rice vinegar, or apple cider vinegar. I don't think balsamic vinegar would be a good choice here.
Recommended Products
As an Amazon Associate and member of other affiliate programs, I earn from qualifying purchases.