Fish tacos are one of my all-time favorite meals! These Blackened Fish Tacos are SUPER delicious and made simply with a little avocado and a quick cabbage slaw.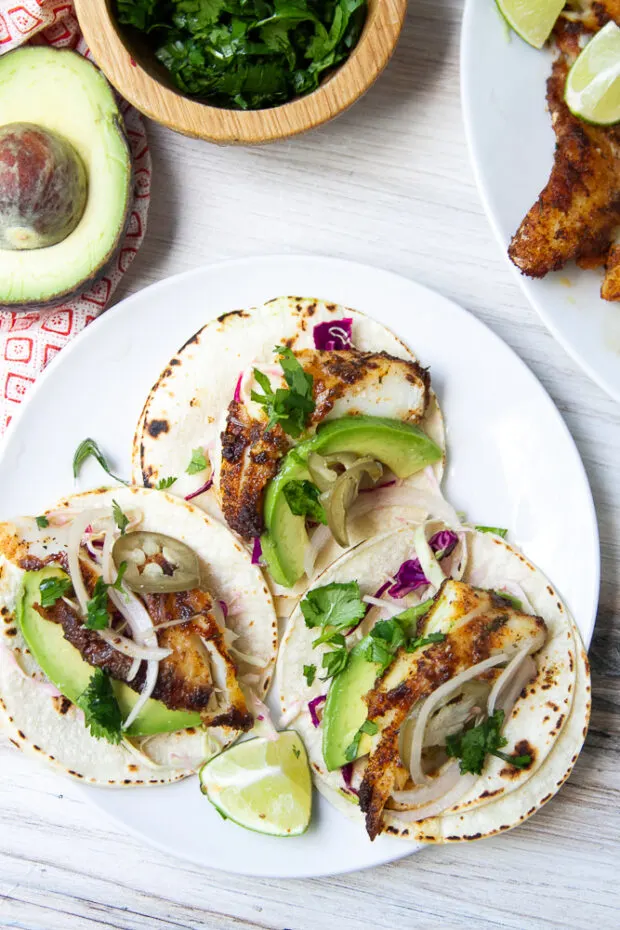 I'm a totaly fish taco junkie and hadn't had blackened fish tacos before I started developing this fish taco recipe.
Wow. I mean… wow.
I really love the beer battered Baja-style fish tacos, but deep frying things is a pain.
Blackened Fish Tacos are pan fried in a little coconut oil and PACKED with flavor. I wanted them to be simple enough for a weeknight meal so I topped them with a simple slice of avocado and lime-dressed cabbage.
What does blackened mean?
I used to think that when something was "blackened" it meant that it was charred somehow.
That's not the case.
Blackened means that the fish (or chicken) is covered in a spice blend which forms a crust on it when it's cooked.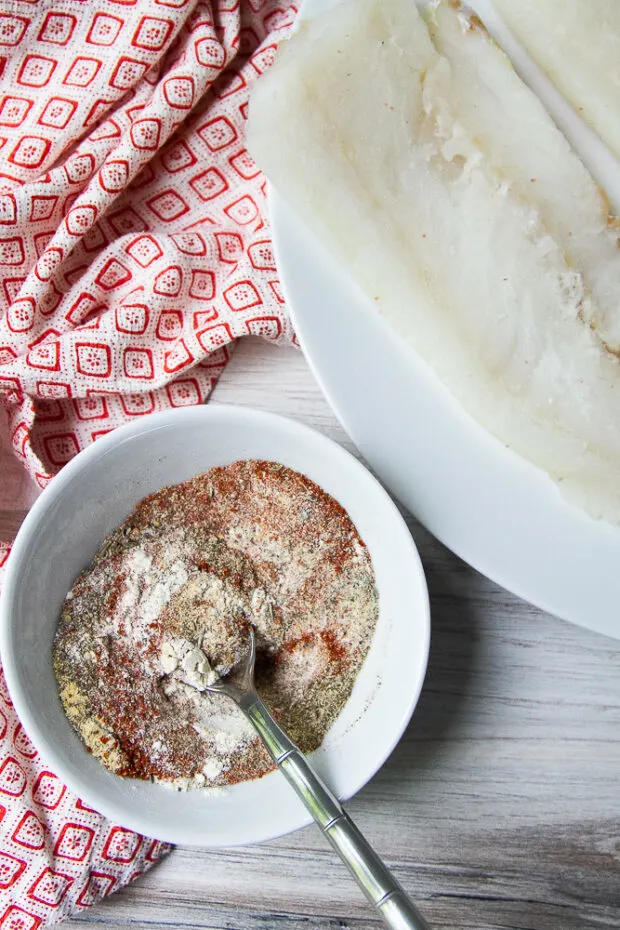 What is in blackening seasoning?
The ingredients for blackening seasoning are all easy to find and you might have them in your spice cupboard already!
Smoked paprika
Sea salt
Black pepper
Onion powder
Garlic powder
Dried thyme
Dried oregano
This particular spice blend would be great on blackened chicken, too!
TIP: Make 2-3x the fish taco spices blend and store it for later use!
How to make Blackened Cod Tacos
I used cod for this recipe, but you can use any firm white fish you like! Rockfish, halibut, and mahi mahi would work well. I don't love tilapia, but you could use it here, too.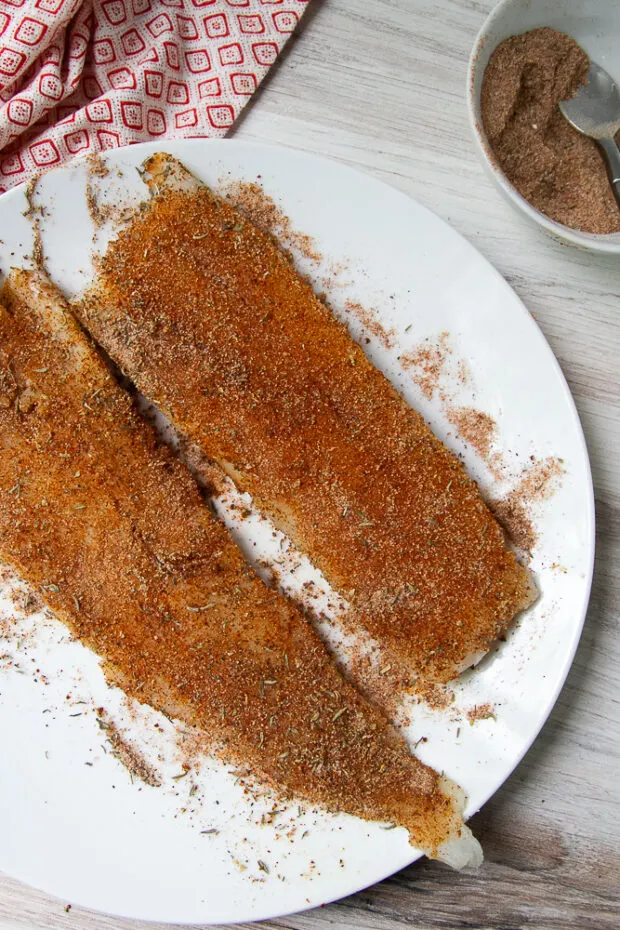 How to blacken fish
First, pat the fish dry and coat it in the blackened seasoning blend. Then pan fry it in a nonstick skillet in some coconut oil. If you're handy with a cast iron skillet that would work, too!
While the fish is cooking, start prepping the cabbage slaw. It's a simplified version of my Southwest Cabbage Slaw (which is magical and goes with almost everything. Truly.) Just shred the slaw, sprinkle with salt and drizzle it with a little lime juice and olive oil.
Assembling Blackened Fish Tacos
Here's what you'll need for these tacos:
Warm corn tortillas (I like the little street taco size. Or I put everything on a bed of salad greens.)
Avocado slices
Cabbage Slaw
Fresh cilantro
Pickled onions (optional, but highly recommended)
If you're looking for a pickled onion recipe here's mine — it's really great! Pickled Red Onions with Garlic & Jalapeno.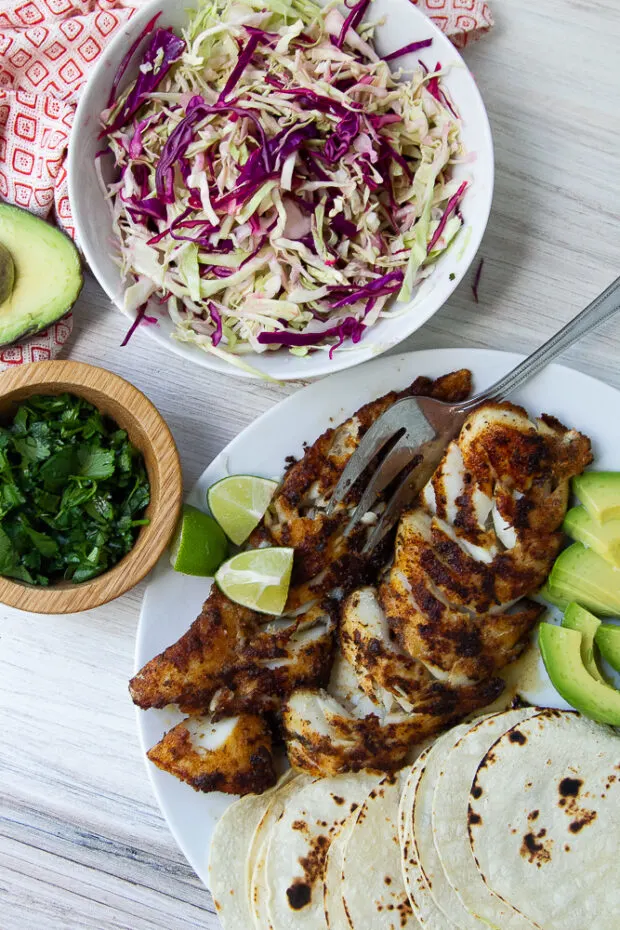 Is this recipe dairy free, gluten free, etc?
One of my goals for this blackened fish recipe was to make it dairy free — which it is! The avocado adds a creamy element, but if you'd rather have a creamy drizzle and tolerate dairy well, try some cilantro ranch! Or my Roasted Jalapeno Ranch Dressing which can be made a few days ahead of time.
This recipe is also gluten free depending on the tortillas you use. Always check the labels, but corn tortillas are usually gluten free.
Variations for serving this fish taco recipe
Ditch the tortillas all together and make some fish taco bowls out of these over a bed of rice! You can adapt my Chile-Lime Fish Taco Bowls and use Blackened Fish instead!
If you're cutting carbs or avoiding grains for some reason, add the taco filling to a bed of salad greens instead.
What to serve with these blackened fish tacos
Honestly… these stand well on their own for me. Because there's a veggie component I consider these a solid dinner option.
But if you're entertaining or want something else to go with them, here are some suggestions!
Instant Pot Cilantro Lime Rice
Instant Pot Mexican Black Beans
My Favorite Homemade Guacamole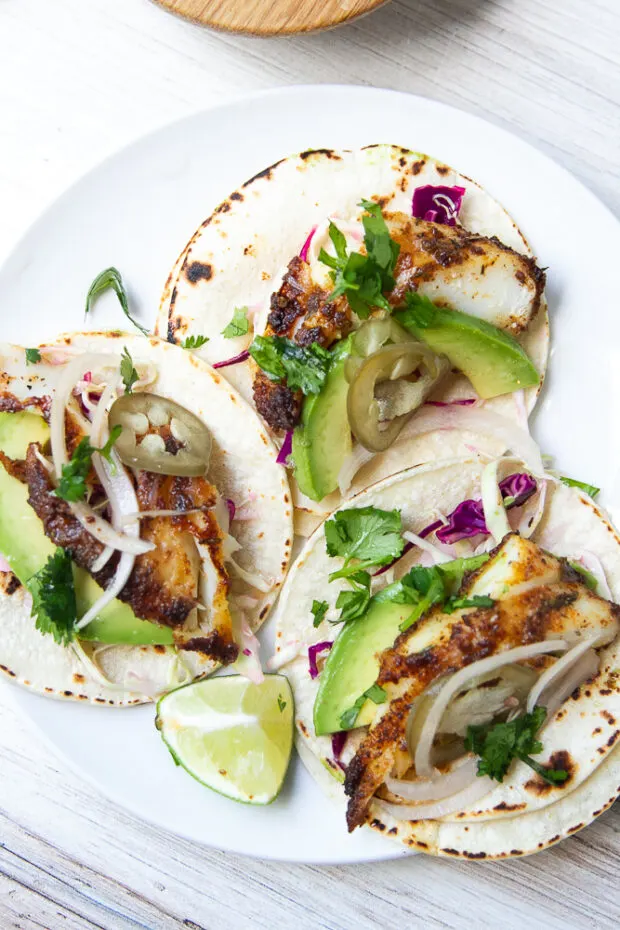 More delicious taco recipes on Perry's Plate
If you like these tacos, try one of my other easy taco recipes!
Smoky Grilled Chicken Tacos with Pineapple
Crispy Black Bean Tacos with Corn & Zucchini (Vegetarian)
Grilled Shrimp Tacos with Pineapple & Avocado Salsa
My favorite taco fillings:
The Best Shredded Chicken for Tacos
Slow Cooker Chipotle Barbacoa Beef
---
If you make one of my recipes, be sure to post it on social media and tag me at @perrysplate or #perrysplate so I can send you some love!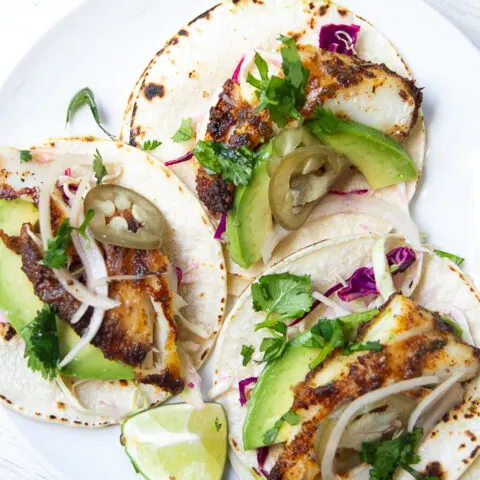 Blackened Fish Tacos
Fish tacos are one of my all-time favorite meals. They never get old! These Blackened Fish Tacos are SUPER delicious and made simply with a little avocado and a quick cabbage slaw.
Ingredients
For the blackening spice blend:
1 Tablespoon smoked paprika
1 1/2 teaspoon sea salt
1 1/2 teaspoon black pepper
1 1/2 teaspoon onion powder
1 1/2 teaspoon garlic powder
3/4 teaspoon dried thyme
1/4 teaspoon dried oregano
For the tacos:
1 - 1 1/2 pounds firm white fish (cod, halibut, rockfish, etc)
3-4 Tablespoons coconut oil
4 cups shredded cabbage (about 1/2 small head)
2-3 limes
2 Tablespoons extra-virgin olive oil
Sea salt
8-10 corn tortillas
1 ripe avocado
1/2 cup fresh chopped cilantro
Instructions
Combine the ingredients for the spice blend in a small bowl.
Lay the fish out on a sheet pan or a large plate. Completely cover the fish with the seasoning blend. Let it sit while you prepare your skillet.
Heat the coconut oil in a large skillet (nonstick or cast iron) over high heat. When the oil is very hot (splatters when you flick water into the pan, but not smoking yet) lay the fish fillets in the skillet.
Cook for about 3-4 minutes or until the edges of the fillets turn opaque and the bottom has become very dark and toasty looking. Gently flip them over and cook for another 2-3 minutes until they are cooked through -- but just barely. You can tell if they begin to separate and they flake easily with a fork and look moist inside.
Transfer the fish to a paper towel lined plate or a metal cooling rack to drain and cool slightly.
Meanwhile, put the shredded cabbage in a medium bowl. Add the juice from 1/2 of one of the limes, the olive oil, and a generous sprinkling of salt. Toss to combine.
Prep the other ingredients -- slicing the avocado, chopping the cilantro, and warming the tortillas.
Break the fish up into large chunks with a fork and assemble tacos, placing a chunk of fish into a tortilla and topping it with some slaw, avocado, cilantro, and pickled onions (if using).
Nutrition Information
Yield

8
Serving Size

1 taco
Amount Per Serving
Calories

375
Total Fat

21g
Saturated Fat

8g
Trans Fat

0g
Unsaturated Fat

12g
Cholesterol

65mg
Sodium

548mg
Carbohydrates

24g
Fiber

6g
Sugar

3g
Protein

24g
The information shown is an estimate provided by an online nutrition calculator. It should not be considered a substitute for a professional nutritionist's advice.
This post may contain affiliate links. Any purchases made by using these links won't cost you any extra and helps keep my content free. These links may be Amazon links as I am part of the Amazon Associate Program.