Ahi Tuna Poke Bowls with Spicy Mayo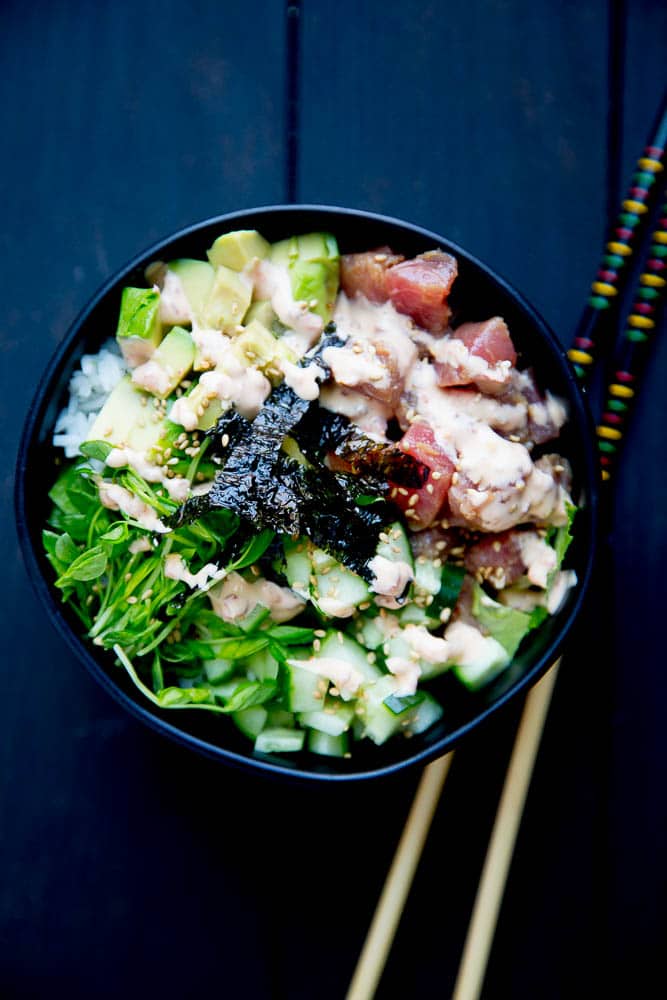 This Ahi Tuna Poke Bowl recipe is in partnership with Sprouts Farmers Market.
It's no secret that we're big fans of sushi bowls around here. When poke bowls started getting trendy, we found a local place and gave them a try. 
Let's just say it's a good thing that particular place is across town or we'd be going there much more often. Super, super good. 
What's the difference between a sushi bowl and a poke bowl? Not a whole lot. I think poke bowls usually have some kind of raw fish in them, but sushi bowls could, too. 
As far as I can tell, poke originated in Hawaii as a raw fish based salad. I saw some fresh wild-caught ahi tuna at Sprouts, and I couldn't resist making my own. It's better than driving across town to our favorite poke bowl place.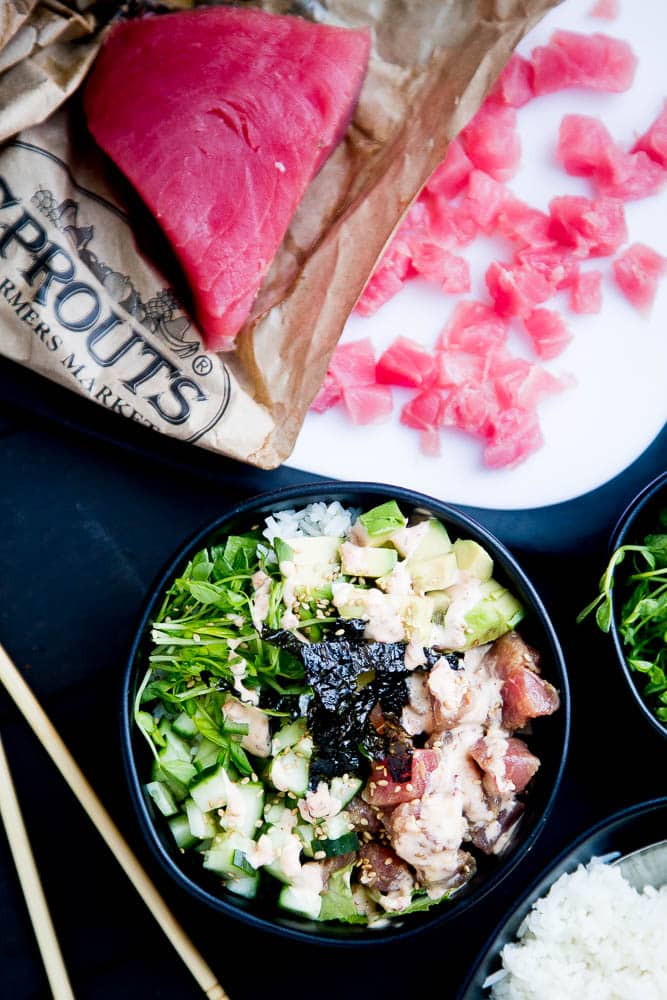 Fresh, high-quality fish is a must when you make poke bowls — obviously since you'll be eating it raw. I'm really excited that Sprouts improved their Sustainable Seafood practices. (Read about it here!) Now, all of their fish and seafood requires a certification and cannot be farmed or fed GMO products. (YIPPEE!!)
It's a cinch to find wild-caught fish and seafood in their Fish Market, which is why I try to buy it there as much as I can.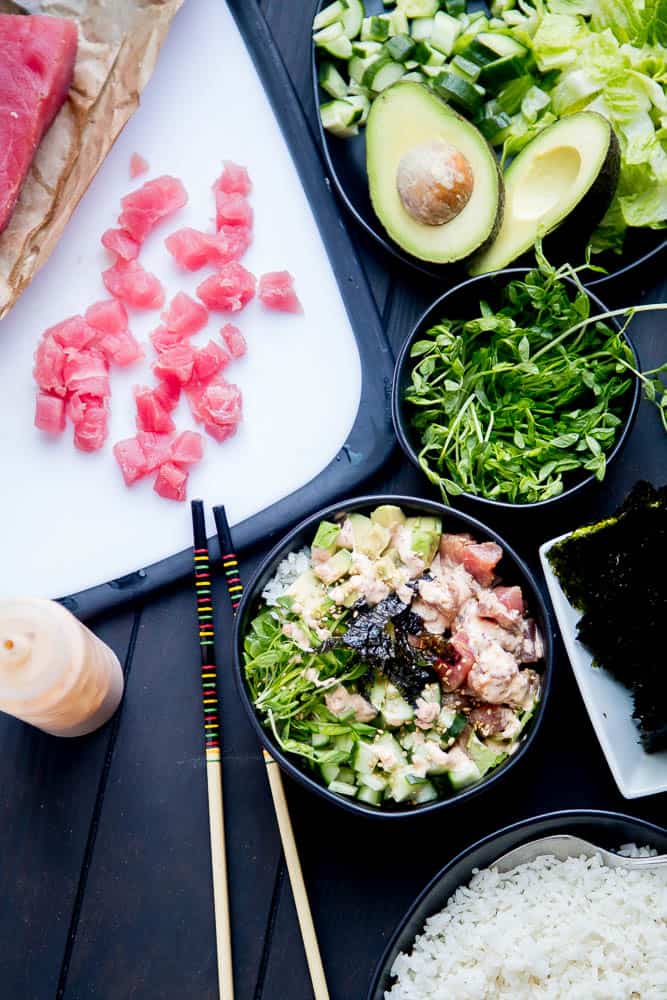 These bowls come together in about 30 minutes and you don't have to cook anything except rice, if you're using that as a base. I like to use a mixture of rice and salad greens, but you could just use salad greens if you like.
It's a perfect meal for the end of summer —> September. September doesn't mean fall to me. It means extra summer that's not quite as miserable as July & August. I'm not breaking out the pumpkin any time soon and enjoying more 80-degree weather. AHHHHHHH.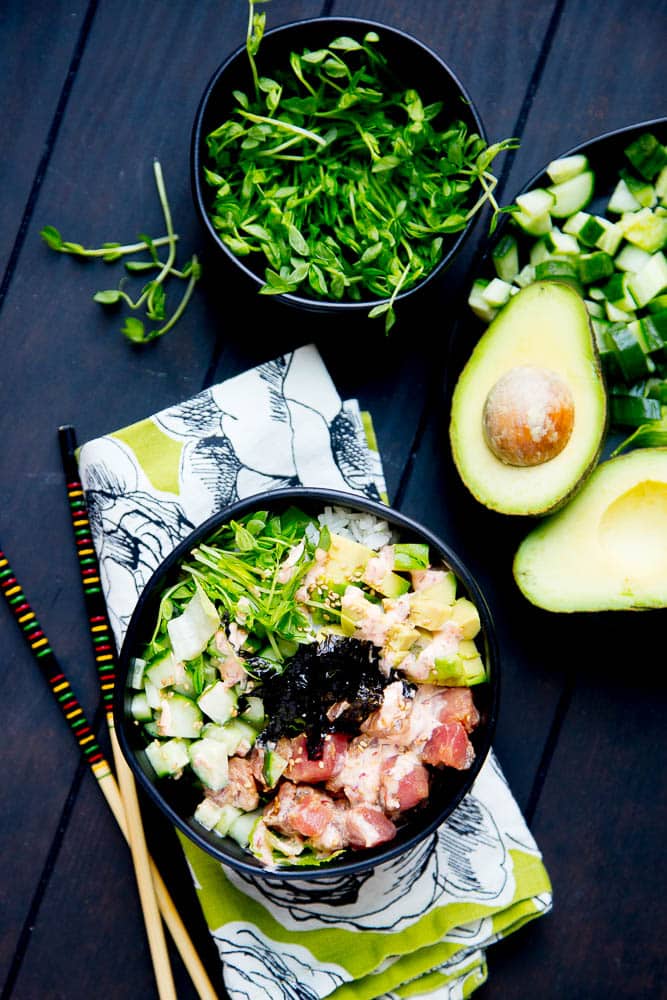 Are you freaked out by this? I was for a long time. In fact, this is the first recipe I've developed that uses raw fish that hasn't been cured or citrus-marinated.
There's a simple marinade that goes on the tuna — chances are you have all of the ingredients if you do a lot of paleo/Whole30 cooking and have coconut aminos on hand. Luckily Sprouts has that, too. (And everything else to make these poke bowls.)
Add some rice or salad greens to your bowl. After that it's just a salad bar type of situation. Fill your bowl with whatever toppings or garnishes you like! And don't skimp on that spicy mayo — it really pulls the whole thing together. If you're not into spicy, just add less chili paste to your sauce. It'll still be fantastic.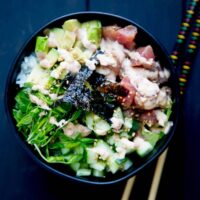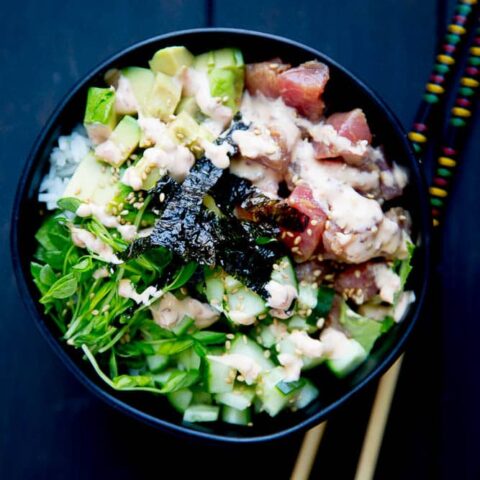 Ahi Tuna Poke Bowls with Spicy Mayo
Yield: Serves 4
Prep Time: 30 minutes
Total Time: 30 minutes
These easy Ahi Tuna Poke Bowls with Spicy Mayo are a quick dinner idea and are naturally gluten and soy-free! They can also be made to be paleo, keto, or Whole30 compliant. (See recipe notes.)
Ingredients
For the tuna:
12-16 oz  Sprouts Fish Market ahi tuna steak
1/2 tsp sea salt
1/4 cup coconut aminos
1/4 cup rice vinegar
4 tsp sesame oil
For the spicy mayo:
1/2 cup avocado oil mayonnaise
2 Tbsp Asian chili paste or sriracha
1 tsp rice vinegar
1 tsp coconut aminos
For the bowls:
Prepared steamed white rice or chopped salad greens as a base (or both)
1 English cucumber, diced
1-2 avocados, pitted, peeled, and diced
1 package pea sprouts
1 package seaweed snacks
Toasted sesame seeds, pickled ginger, for garnish.
Instructions
Cut the tuna into little 1/2-inch cubes and place them in a medium sized bowl.
Sprinkle the 1/2 tsp salt over the top.
Combine the 1/4 cup coconut aminos, 1/4 cup rice vinegar, and 4 tsp sesame oil in a small bowl. Pour 2/3 of the mixture over the tuna and toss well and let it marinate at room temperature for about 10-15 minutes while you prepare the rest of the ingredients. Reserve the rest of the marinade for drizzling later.
Combine the ingredients for the spicy mayo in a small bowl and stir well.
Assemble the bowls by using rice and/or salad greens as a base. Add a few spoonfuls of the marinated tuna over the top and add any of the toppings and garnishes listed. Drizzle with some of the spicy mayo and extra marinade and serve.