Smoky Greens Over Polenta
Yes, another recipe with chard. You're probably sick of hearing me mention my CSA box (see this post if you don't know what a CSA is), but that box of surprise veggies has a very strong say in what we eat. I've never eaten so many vegetables for so long in my life — especially greens. I quite like it. And I'm sure it's doing our bodies well.About polenta. . . I'm not going to go into the polenta vs. grits debate. According to Alton Brown, they're basically the same thing with minimal differences in color and texture. But if you're from the South or from Italy, there could be punches thrown around on this topic. I'm from neither of those places, which is why I'm going to tell you that it doesn't really matter what you use — polenta, regular cornmeal, or grits — it'll still turn out delicious. (I used white cornmeal.)
I loved this dish. Steve did, too. And so did one of the two kids (the one without the attitude). It's easy and fast (about 30 minutes!). I didn't have Parmesan, so I used Pecorino Romano, which is a little stronger in taste. It kind of overpowered the dish, but I didn't complain. It tasted like cheese and bacon.
There were greens in that? Oh yeah . . .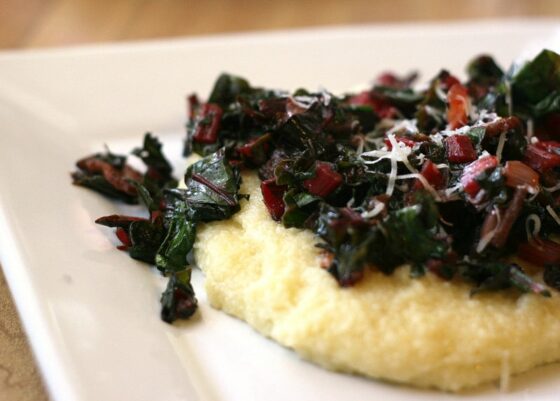 Smoky Greens Over Polenta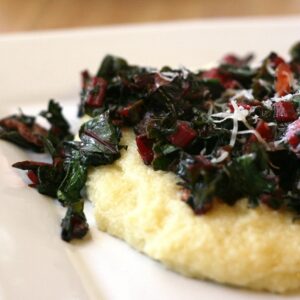 Ingredients:
6 slices bacon, cut into 1/2" pieces

½ cup chopped onion

2 whole bunches of greens, washed, chopped (stems separated from the leaves)

1 T apple cider vinegar

3 cups chicken or vegetable stock

1 1/2 tsp salt

1 cup uncooked polenta, cornmeal, or grits

2 T butter

1/4 cup Parmesan cheese
Directions:
Add sliced bacon to a large skillet over medium heat. Cook, stirring, until browned and crisp, about 8-10 minutes. Remove bacon from the pan and drain on paper towels. Drain bacon drippings, leaving a couple tablespoons in the pan. Add chopped onion and chard stems and a pinch of salt to the skillet and saute over medium heat for about 5 minutes or until the onions begin to turn golden brown. Add chopped greens to the onion mixture and toss to combine. Reduce heat to medium-low and cover skillet. Allow greens to steam for a few minutes until they wilt, about 3-4 minutes. Return the bacon back to the skillet and add the vinegar. Stir to combine and serve over the polenta.
To prepare the polenta, bring water or stock up to a boil in a medium saucepan. Add the salt and slowly add the polenta while whisking. Lower heat and continue to cook, stirring to remove any lumps. When the polenta is nice and thick (after 6-10 minutes), stir in the butter and remove from heat. Stir in the cheese and adjust salt and pepper to taste.
Makes about 3-4 servings. (We ate it all. :))
slightly adapted from tallmisto via Tasty Kitchen