Hand-rolled Corn Tortillas
Speaking of Mexican food . . . have you ever made your own corn tortillas? The store-bought ones were never my favorite, but I didn't realize how much they tasted like cardboard until I made my own. They're easy, they don't make a big mess, and you could probably crank out over a dozen in about 30 minutes. They're also freezable, but we've never had any leftover to freeze.
All you need is a bag of corn masa flour, usually found in the latino/ethnic section of the grocery store. Cornmeal won't work — it's too coarse. Masa flour has the roughly the consistency of regular flour.
You just add some water and a little salt to the flour and make a dough. The beauty of corn flour is that you don't have to worry about the dough toughening up if you overwork it — there's no gluten!
Once you get the dough made, just roll them into balls and press them flat. If you get serious about it, cast-iron tortilla presses like this one are about $15 on Amazon.If not, all you need is a gallon-sized zip-top plastic bag. Just cut the bag so you have one edge (either the bottom or the top, sealed) to hold it together.Then just stick a ball of dough in there and go to town with your rolling pin. By rotating the plastic bag a quarter turn after every roll you should end up with a quasi-round tortilla. They won't be perfect. They might even have cracked edges, but that's the beauty of homemade things. And you can always call them "rustic" tortillas if they look really beat-up.
Cook them in a dry skillet for about a minute on each side, then wrap them in a clean kitchen towel until you use them (it keeps them warm and pliable). Or store them in the fridge.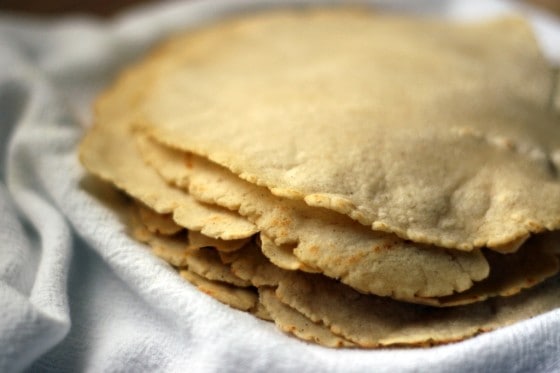 Hand-Rolled Corn Tortillas

Ingredients:

2 cups corn masa flour
1 1/4 cups water
1/4 tsp salt
1 gallon-sized zip-top plastic bag
non-stick spray

Directions:

Combine all ingredients into a bowl and let it sit for about 5 minutes to allow the masa to absorb the water. Knead the dough with your hands until it becomes smooth and easy to work with. If it seems crumbly, add a little more water; if it seems sticky, add more masa flour.

Cut the bottom and the sides of the plastic bag, leaving the top sealed so you can open and close it like a book.

Grab a piece of dough and roll it into a ball -- it should be about the size of a golf ball. Open up the plastic bag (like a book) and lightly spray the inside with non-stick spray. Place the ball of dough in the middle and fold the open side of the plastic over top (close the book).

Begin rolling by placing the rolling pin in the middle and gently rolling up, then down one time. Turn the whole bag a quarter turn and repeat. Continue rolling and rotating the bag so you end up with a circle. (Or a lop-sided one. Homemade = rustic.) It should be about 5-6 inches in diameter. When you're finished, pick up the plastic bag and center the tortilla on your hand. Peel the top piece of plastic off, flip the tortilla to your other hand, then peel off the other side of the plastic. Place the dough into a dry skillet preheated to medium-high heat. Cook for about one minute per side, then transfer to a plate and cover with a towel to prevent them from drying out.

Repeat with remaining dough, lightly spraying the plastic bag between tortillas. I like to cook mine as I roll them, but if you plan on storing them, I'd put a piece of wax paper between each tortilla so they don't stick together (before putting them in the fridge). Store cooked tortillas in an airtight container in the fridge for about a week.

Makes about 12-16 tortillas, depending on the size of the balls.

adapted from from the back of the masa bag