On Love and Borscht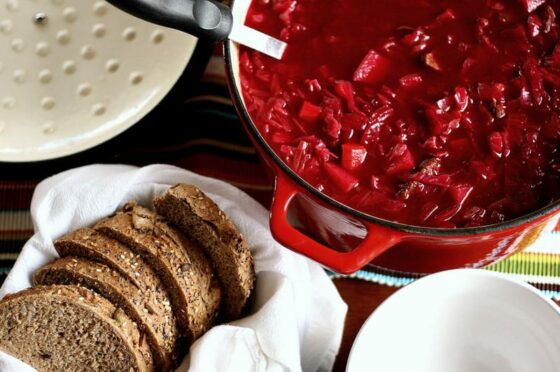 Yes, I realize that it's Valentine's Day, and while everyone else is posting every possible combination of chocolate, peanut butter, caramel, and red velvet, it may seem a little odd (re-)posting borscht. Borscht may not seem romantic to you, but maybe by the end of this post I may convince you otherwise. Or at least explain why it's a little romantic to me.
If you aren't familiar with borscht, it's a soup typical of Russia that's packed with vegetables. I've seen hot and cold versions, ones with and without meat, but I prefer mine hot with some good quality beef stew meat. It tastes like a really flavorful beef vegetable soup, only fuchsia.
And that brings me to how it gets it's gorgeous fuchsia color. (Pretty festive if you ask me.) Yep, beets. I'm not a fan of beets (not even roasted — shocking, I know) except in this soup. It amazes me every time how a few beets can take a big pot of soup and thoroughly dye everything bright pink. We were pretty brave feeding this to our kids in a rental home with beige carpet underneath our kitchen table. After throwing a (very dark colored) blanket on the floor, taking their shirts off, and putting bibs on both of them, we were good to go. "Pink" or "Anastasia" soup gets pretty good reviews from them.
So yes, the color may be reminiscent of Valentine's Day, but its Russian origin is the real reason for its meaning in our family. My husband and I met in Russia (long story…), and since we happened upon this recipe five years ago, we've made it every winter since. We'd like to go back to Russia together one day, but for now, we can sit across the table and slurp this brightly colored soup while we remember "Mother Russia" and our first few encounters together.
Happy Valentine's Day :)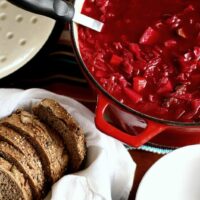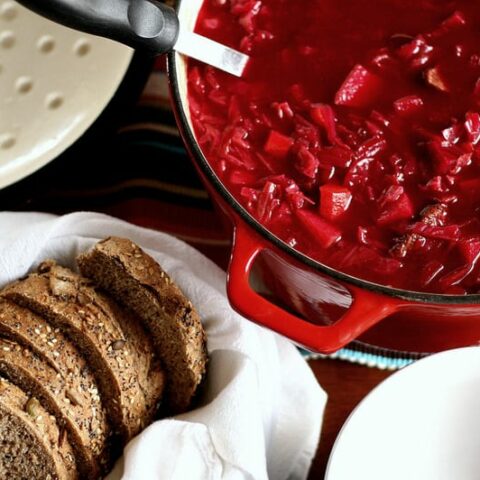 Russian Palace's Borscht
Borscht isn't sexy. I get it. But this version might change your mind. Everyone in our family loves it!
Ingredients
1 Tablespoon avocado oil
1 ½ cup chopped onion
3/4 pound beef stew meat
5 medium beets
½ cup chopped carrots
5 Tablespoons tomato paste
3 quarts beef stock
2 large potatoes
1 medium head cabbage
1 cup chopped green bell pepper
3 Tablespoons honey
1/3 cup lemon juice
1 Tablespoon salt
½ Tablespoon pepper
1 clove garlic, minced
1 Tablespoon fresh dill weed, chopped
Instructions
Peel and chop raw beets to yield 4 cups. Peel and cube potatoes and finely chop or shred the cabbage.
Heat oil in large skillet over med-high heat. Add stew meat and sauté until outside is browned, about 2-3 min. (Do not cook until done.) Remove the meat from pan and keep warm.
Add the onion to the skillet and saute 5-7 minutes. Add the beets and carrots to the skillet and sauté for 10 min; add more oil if necessary. Stir in tomato paste; remove from heat and set aside.
In a large stockpot, bring 2 1/2 quarts beef broth to boil over high heat. Add potato and cook for 3 min. Add reserved beef, beet-tomato paste mixture, cabbage, green pepper, sugar, lemon juice, salt and pepper. Reduce heat and simmer for 15 min. Add remaining beef broth to reach desired consistency.
Remove from heat. Stir in garlic and dill. Serve hot with a dollop of sour cream.