This steak chili is, hands down, the best chili I've ever eaten. Or made. It's a reader favorite and many of you have won recipe contests across the country with it! It's a chili without beans, too, and you can make it in your slow cooker or Instant Pot.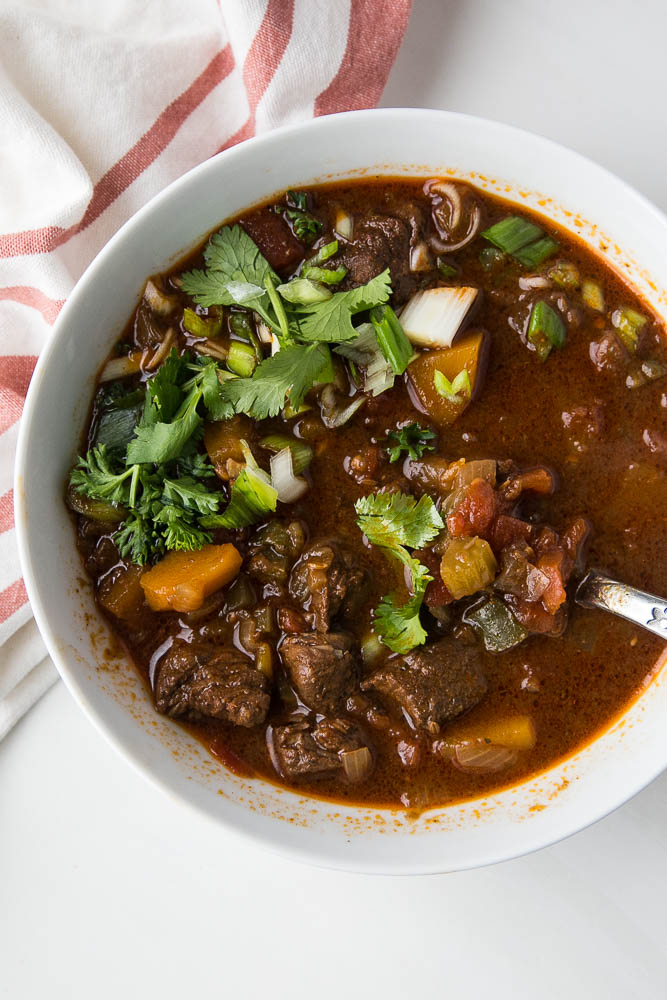 And apparently a lot of you feel the same way because it has won a lot of chili cook offs! (More on that later.)
This was also the first chili I've eaten that uses steak (or stew meat) instead of lean ground beef, ground turkey, or ground chicken. It's like the Lexus of chili.
Or Cadillac of chili? (I see a chili loving old guy driving a Cadillac over a Lexus. Or am I overthinking this?)
It's also unique that it uses only jalapeno peppers and no canned green chile peppers or green bell pepper. It's a delicious chili, though, so trust me on this!
What's the Best Type of Steak for Chili?
Using steak in chili can seem like an indulgence, right?
It doesn't have to be!
If you want to use steak, I'd highly recommend a cheaper cut of steak — like round steak or sirloin. Save those filet cuts for the grill.
You could also use stew meat or a chuck roast cut into small pieces. I actually use that the most often. Because you're cooking it really slowly for a long time, it'll soften up and be just as tender as great steak.
If you get grass-fed beef shares like us, then high-quality beef is pretty affordable! I always reserve a package of steak or stew meat to make this chili at least once every winter.
It has to compete with a couple of other beef recipes we love that remind us of living in Europe — Borscht and Goulash. We like hearty, stick-to-your-ribs meals in the winter.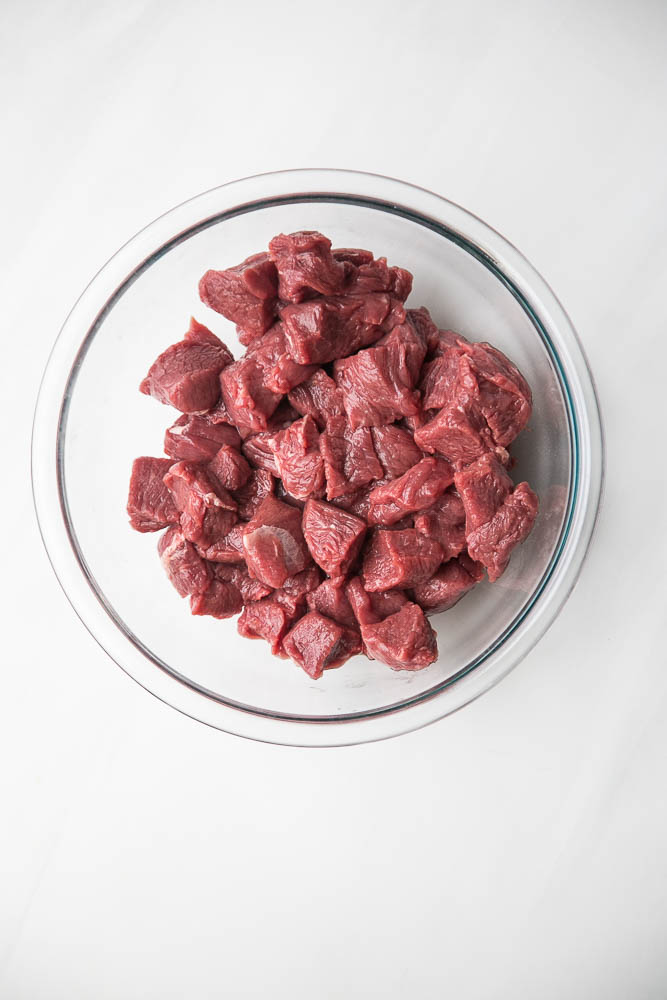 Does Chili Need to Have Beans?
If you're looking for a classic bean chili recipe, this isn't it. Most chili recipes have kidney beans or black beans, but this crock pot chili — no beans. (In some parts of Texas putting beans in chili is frowned on — go figure! A beanless chili recipe would do well there.)
It's a nice homemade chili recipe to have if you're eating paleo or avoiding legumes. And it's gluten free as is.
Do You Have to Sear the Beef Before Slow Cooking?
Short answer: No.
Alternate short answer: Yes, if you have time.
Also, this isn't a "done in 30 minutes" kind of chili. It does require some prep work like chopping and searing beef chunks at medium-high heat, but it makes quite a big of chili, and I love having leftovers.
The ingredients aren't hard to find either. It has a familiar chili powder base in the spices, but you may need to get some cumin seeds. (If you want, you can substitute a lesser amount of ground cumin — probably a Tablespoon will do.) And instead of tomato sauce, it calls for a mixture of tomato paste and crushed tomatoes, which I like. I'm not a fan of big tomato chunks in my chili. Beef broth can be swapped out with chicken broth, but beef gives it a richer flavor.
And ALLLLL of the spice action in this chili just blows me away. Not spice as in spicy-hot, but a complex mix of seasonings that give it such richness and depth. More than any other chili I've ever made. It's well worth opening a few extra jars, I promise. You can absolutely make it spicy if you like — just shake in a little extra cayenne pepper.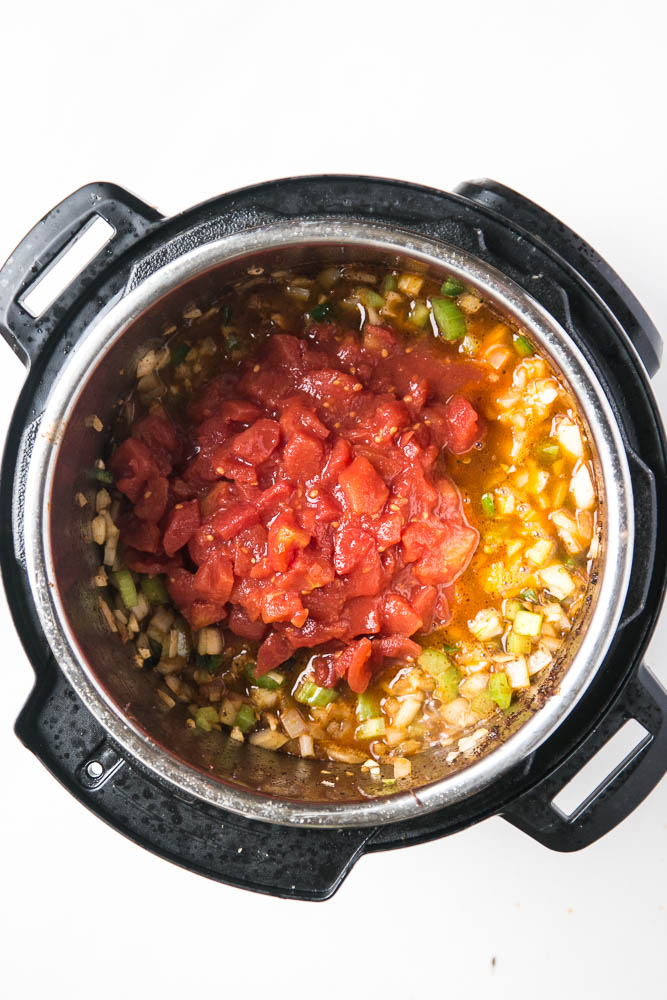 Can You Freeze Chili?
This Slow Cooker Steak Chili is one of those recipes you put together on a lazy Saturday morning that will feed you a few times the next week. It's not one for busy weeknights.
It's a great meal prep recipe in that regard. Or if you are looking at the large pot of chili you just made wondering if you overshot.
AND IT FREEZES BEAUTIFULLY.
It's also a good one to take someone who is sick or just had a baby or needs a little love. Or is super overwhelmed with life. Cozy comfort food meals are great for that. And sometimes meals say exactly what we want to say when we don't quite know what words to use.
You can warm it up and serve it over baked potatoes or on chili dogs, too.
Is this a spicy chili?
It does have a medium heat, but if you're concerned about that, omit the cayenne and make sure to get all of the seeds and membranes out of the jalapenos. Or leave out the jalapenos entirely.
Typical chili seasonings have chili powder which can vary in hotness depending on the brand.
If you're looking for a more spicy chili, bump up the jalapenos and cayenne or serve it with a few shakes of hot sauce next time.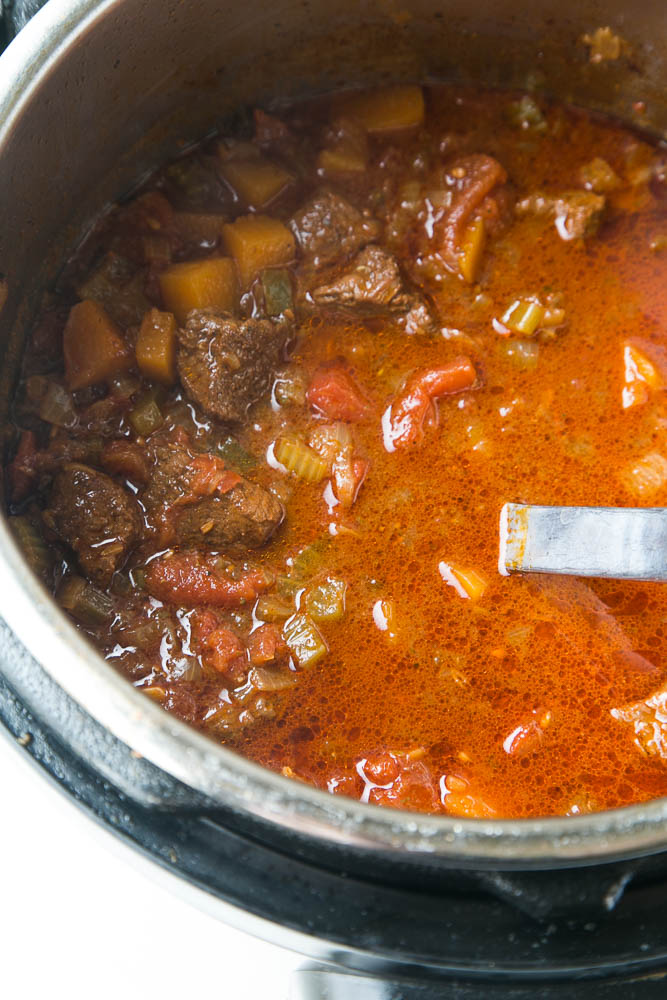 Can You Make Steak Chili in an Instant Pot?
Most things that you make in a slow cooker you can adapt for Instant Pot.
And the nice thing is that if the slow cooker requires meat being browned on the stove, you can just use the Saute setting on your Instant Pot!
Converting cooking times might be a little trickier though. It totally depends on the type and thickness of meat you have. For this recipe, using steak or stew meat would only require about 20 minutes of pressure cooking time.
If you feel like this is too long you can play with the timing.
Can you Make Steak Chili on the Stove Top?
If you have a large dutch oven and some patience, sure! Just let it simmer over medium-low heat for an hour or so until the beef is tender.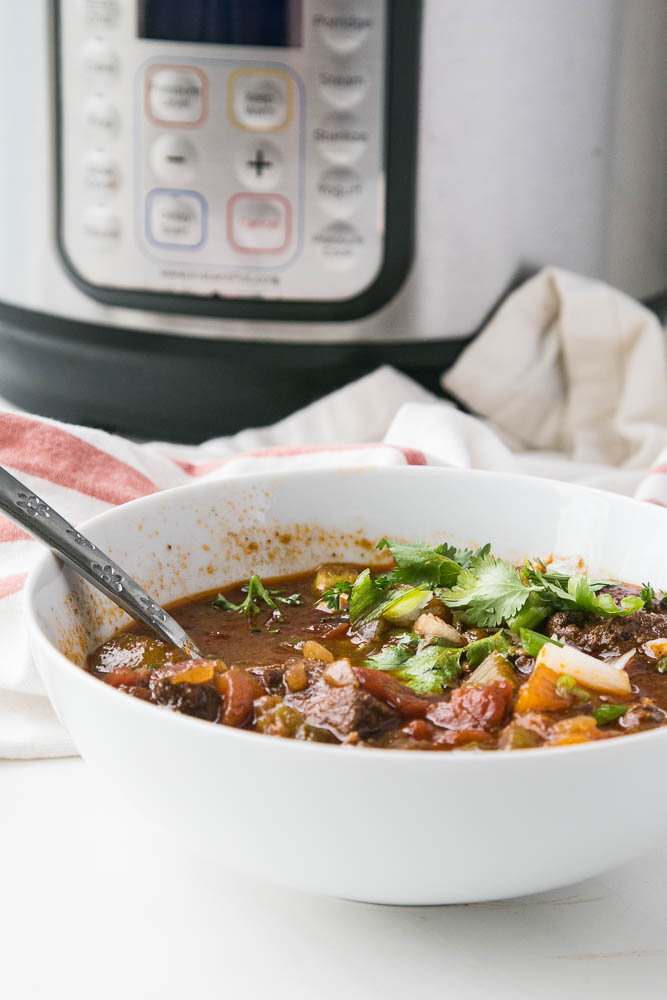 Award Winning Steak Chili!
I've loved hearing about all of the chili cook-offs this recipe has won over the years! It even one in Texas, guys. And Texas chili is no joke.
Yay for amazing chili! And yay for making chili in a slow cooker! Let me know if you enter this into a contest and win. It seriously makes my day.
If you need a tip, make it the day before you enter it into a contest. Most chili is better when reheated the next day after the flavors have melded together well in an airtight container overnight.
Favorite Toppings for Steak Chili
I love this chili topped with sour cream, shredded cheddar cheese, hot sauce, and sliced green onions, but if you're avoiding dairy, try cubed avocado! It creates a great creamy element without the dairy.
If you love this, you may love the other chili recipes on my blog
More Chili Recipes on Perry's Plate
Hearty Winter Chili — A great, quick chili with a BBQ flavor! And comes together really quickly.
Paleo Vegetarian Chili — a great vegetarian chili recipe for those meatless Mondays!
---
If you make one of my recipes, be sure to post it on social media and tag me at @perrysplate or #perrysplate so I can send you some love!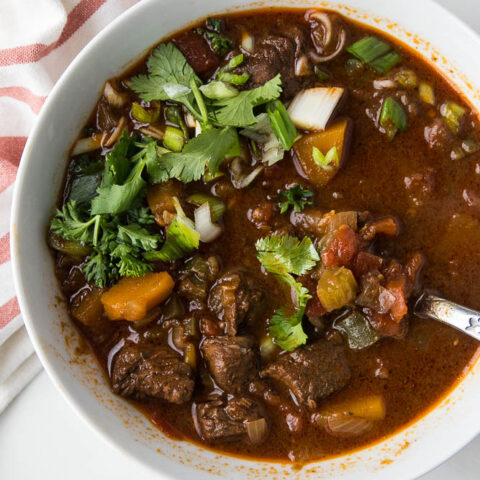 Steak Chili for Slow Cooker or Instant Pot
Additional Time:
15 minutes
This is absolutely my favorite chili of all time. And apparently many of you feel the same way! It's a winner in our house as well as many chili cook-offs around the country. Give it a whirl and let me know what you think!
I also included instructions for Instant Pot in the recipe notes.
Ingredients
1/4 cup chili powder
2 Tablespoons whole cumin seeds
1/4 teaspoon cayenne pepper
1/2 teaspoon ground cinnamon
2 teaspoons dried Mexican or regular oregano
3 bay leaves
2 teaspoons coconut sugar or honey
4 pounds steak, cut into 1-inch cubes (can also use boneless chuck or stew meat)
1 teaspoon freshly ground black pepper
2 1/2 Tablespoons Kosher salt
3 Tablesoons heat-safe oil (avocado or coconut)
4 cups chopped onions (3 medium or 2 large)
1 1/2 cups chopped celery (about 4 ribs)
6 cloves garlic, chopped
2 jalapeno chiles, seeded and roughly chopped
1 1/2 cups stock (beef, chicken, or vegetable will do)
2 Tablespoons tomato paste
1 28-ounce can crushed tomatoes
1 ounce semisweet or dark chocolate chips
3 Tablespoons masa harina (corn flour, not cornstarch -- optional)
2 cups water
2 cups chopped butternut squash (optional)
1/2 cup chopped cilantro
1/2 cup chopped parsley
Grated cheddar, chopped green onions, and sour cream for garnish
Instructions
Combine the first 7 ingredients in a small bowl and set aside.
Add the beef to a large bowl and season with the black pepper and 1 Tablespoon of the salt.
Heat the oil in a large, deep skillet or saute pan over high heat. Add about 1/3 of the beef to the skillet. Let the meat sit for a minute or so, then stir them up. Cook for another couple of minutes, then transfer the meat to the crock of a 6-quart slow cooker.
Repeat with remaining beef, adding it to the skillet in two more batches and browning them in spots. Add more oil between batches, if necessary.
When you're finished with the beef, add the onion, celery, and 1 Tablespoon of the remaining salt to the skillet and cook, stirring, until the vegetables begin to soften, about 2 minutes. Add garlic, jalapenos, and spice mixture and cook for another minute.
Pour in the stock, tomato paste, and crushed tomatoes and simmer for 3 minutes. Stir in the chocolate, masa harina, and another couple large pinches of salt and cook for another minute.
Transfer this mixture to the slow cooker with the beef. Add the water and the squash cubes (if using).
Cover and cook on high for 5-6 hours or low for 7-8 hours, stirring only once or twice, until the beef is very tender.
Remove the bay leaves and stir in the cilantro and parsley. Serve the chili with garnishes.
Notes
Nat's Notes: The original recipe had 1 teaspoon of cayenne. I thought 1/4 teaspoon was plenty spicy, and perhaps a little too much for my 4-year-old who filled her chili with cornbread and sour cream.
Instant Pot Adaptation:
Omit the water and reduce the broth to 1 cup.
Do all the searing in the Instant Pot using the Saute mode.
Cook at high pressure for 20 minutes and let the cooker sit for 15 minutes before releasing the steam manually.
Recommended Products
As an Amazon Associate and member of other affiliate programs, I earn from qualifying purchases.
It's an adaptation of a fantastic recipe from Emeril Lagasse's book, Sizzling Skillets and One Pot Wonders. (The Slow Cooker Indian Beef was also from this book and are favorites of ours!)
Disclosure: This post contains Amazon affiliate links. Purchases made by using these links doesn't cost you any extra and helps to keep my content free.