This is Tyler Florence's Caesar Salad recipe. I trust Tyler.
I've said before that I love his show, and every one of his recipes that I try out turns out amazing.His Caesar salad followed suite.
And I got to use my anchovies again. I heard or read somewhere (who knows where . . . could have been Food Network or one of my nerdy food books) that the quality of Caesar salad dressing has to do with the amount of anchovies in it — high quality dressing = more anchovies.
Tyler used three in this, and I think that may be my limit. I might even go for 2 next time.
Anchovies add a rich, salty flavor to the dressing, but if you use too many it gets a little fishy. Some people might dig that. I don't.
You can also use a dab of anchovy paste instead of fresh anchovies.
Another important part of Caesar salad are the croutons.
I like making my own — especially when I have extra bread lying around. Using rustic French, Italian, or sourdough is my favorite, and instead of toasting them until they turn into rocks, I leave a little chewiness in there.
I added the instructions for the way I like to make them at the end of this post.
I like making things, like salad dressing, from scratch, but it's risky sometimes.
If it ends up being really good, I have a hard time going back to store-bought, and I end up making my own every time I want it.
Unless I have about 5 minutes to get something edible on the table before my two-year-old throws herself into a hissy. Then, I'm more than willing to grab the bottle.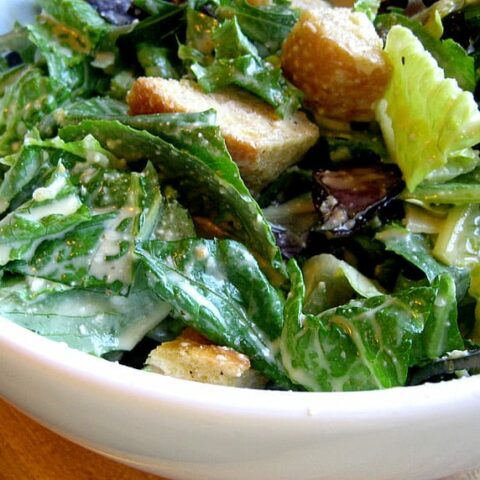 Caesar Salad + Homemade Croutons
Is there anything better than homemade caesar salad and croutons? I've been using this caesar dressing recipe for YEARS, and it has totally ruined me on other caesar dressings.
Ingredients
1 clove garlic, smashed with a pinch of salt and a little olive oil
3 anchovy fillets
2 egg yolks
1 tablespoon Dijon mustard
3 tablespoons lemon juice
2 tablespoons water
½ teaspoon sugar
½ cup extra-virgin olive oil
¼ cup freshly grated Parmesan, plus extra for garnish
Freshly ground black pepper
2 c croutons (see recipe below)
2 heads romaine lettuce
Instructions
To make the dressing: Put the anchovies, egg yolks, mustard, lemon juice, and water into a blender and process for 30 seconds until the mixture is smooth.
With the blender running, pour the olive oil in slowly for the dressing to emulsify. Stir in the Parmesan, a pinch of salt and a couple of grinds of black pepper; set aside. (Refrigerate the dressing if you will not be using it right away.)
Assemble the salad: Smear the garlic paste over the inside of the salad bowl. Tear the lettuce and add to the bowl.
Add enough dressing to coat the salad to your liking. Add some extra Parmesan and toss the salad well. Serve immediately.
Notes
Tyler didn't add croutons to his salad (a travesty, I know), so I took the liberty and added them myself.
Homemade Croutons: A few large chunks of day old rustic bread (French, Italian, or sourdough works best) Olive oil 1 tsp dried or 1 T fresh herbs (rosemary, basil, Italian seasoning, etc.) 1/4 tsp garlic powder Couple pinches of salt and black pepper Preheat oven to 400 degrees F. Cut bread into one-inch cubes, as uniformly as you can, and place on a large, rimmed baking sheet. Drizzle the cubes with olive oil and sprinkle with herbs, garlic powder, salt and pepper. Using your hands, mix the bread around to ensure everything is coated well. Spread evenly, in one layer, on the baking sheet. Bake for 10-20 minutes, depending on how toasty you like them. Remove from oven and allow to cool before adding them to the salad.
Nat's Notes:
If you use a dark, nonstick baking sheet, you might want to keep an eye on the bottoms so they don't burn, turning them if necessary.
You can also do small batches in a toaster oven or even toast them in a skillet. Just heat some oil in a skillet over medium-high heat, then add the bread and seasonings. Stir occasionally until the croutons are as toasted as you like.
Save
Save