If you're looking for a dairy-free Caesar dressing, this is it! It's also paleo-friendly and Whole30 compliant.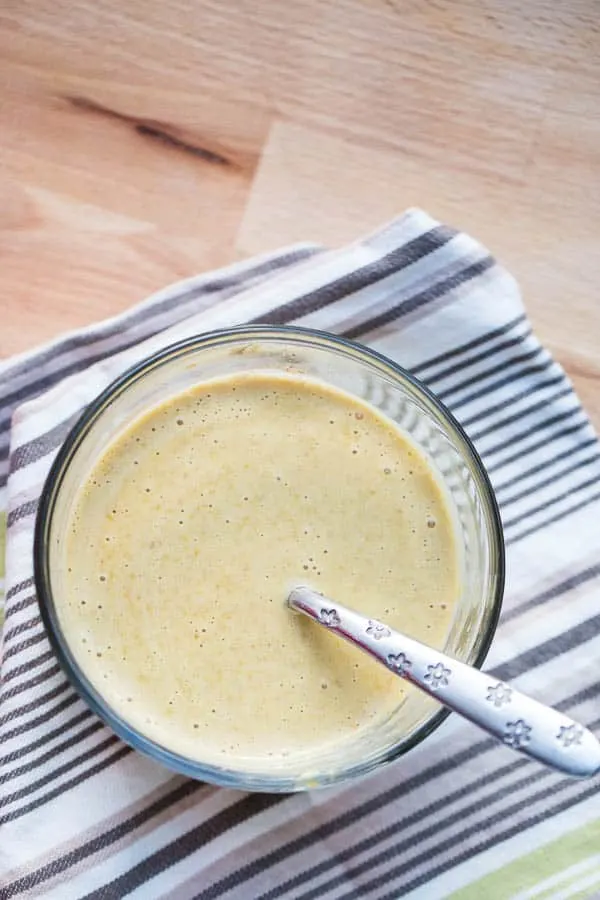 We eat a lot of Caesar salads around here.
And while I'm no respecter of cheeses (except you, bleu), I typically use fresh Parmesan or Romano in my dressing.
During those strict paleo or Whole30 stints, I typically don't even make Caesar salad, but I was craving it this time around.
A dairy-free Caesar dressing that was Whole30 compliant needed to happen.
Speaking of… how many January Whole30-ers out there are on Day 30 today??
During my first round of Whole30 I found myself, due to some change in travel plans, at my grandma's house in Utah staring at a Pineapple Pie she had made because I was coming.
That's my favorite pie in the world. You can imagine the dilemma I was facing. I could have buried my face in that pie and called it at Whole29.
However, I'm all or nothing kind of girl, and I decided that Whole29 wasn't Whole30. I also wanted to say that I completed an entire round, and because I knew we were going to be returning to grandma's house the next day where that pie would be waiting…. I didn't cheat.
That may have been one of my proudest achievements, aside from potty training three children.
So, this dressing. I had some serious doubts as I was tinkering with my go-to Caesar dressing that I'd end up with something that tasted authentic.
While it does taste a bit different, it's good. Like, really good. I used it immediately in a salad I was working on and we ate it two weeks in a row.
Oh, and traditional Caesar dressing is made with anchovies, which I typically use (or anchovy paste). You can totally use them during Whole30, but if anchovies freak you out, I've got you covered.
---
If you make one of my recipes, be sure to post it on social media and tag me at @perrysplate or #perrysplate so I can send you some love!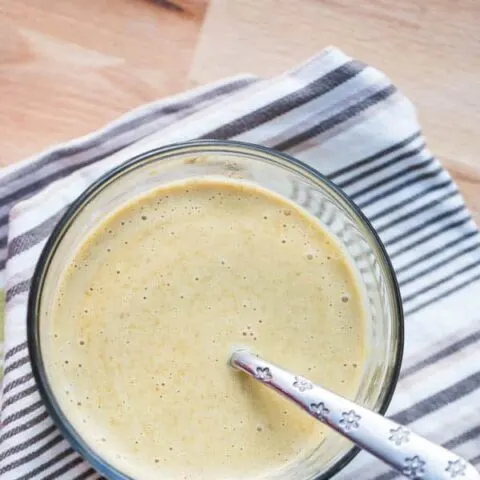 Dairy-Free Caesar Dressing
Caesar dressing is one of my favorites, and I was craving it during a round of Whole30 once -- thus this dressing was born! It's not identical, but tossed into a bowl of Romaine with some crunchy toppings it's pretty close!
Ingredients
1 clove garlic, halved
2 teaspoons coconut aminos
2 egg yolks
1 teaspoon ground mustard
3 tablespoons lemon juice
1/2 medjool date, pitted
1/4 teaspoon sea salt
1/4 teaspoon black pepper
½ cup extra-virgin olive oil or avocado oil
4 teaspoons nutritional yeast
Instructions
Place all of the ingredients (except the oil and nutritional yeast) in the work bowl of a food processor or a blender.
While the machine is running drizzle in the oil. Add the nutritional yeast and pulse a few times to combine.
Pour the dressing into a lidded container (like a mason jar!) and chill until ready to use. Dressing is best when used within 4-5 days.
Notes
Nat's Notes:

1. If you'd rather use anchovies, you can use substitute 3 anchovy fillets or 1 teaspoon of anchovy paste. Omit the coconut aminos.

2. You can also use 1/2 teaspoon of honey in place of the date if you're not doing Whole30. You could even leave it out entirely if the dressing tastes OK to you. I find it to be slightly acidic without a bit of sweetener. Substituting 1/4 teaspoon of erythritol would be a good low-carb option if you feel it needs some sweetener.
This post may contain affiliate links. Any purchases made by using these links won't cost you any extra and helps keep my content free. These links may be Amazon links as I am part of the Amazon Associate Program.