This Indian Chickpea Curry is an easy, meatless curry filled with vegetables and tender chickpeas!
Updated 4/13/10: After getting comments about this vegetarian curry not being spicy enough and being "terribly bland", it occurred to me that curry powder (like McCormick's) that you buy in the grocery store doesn't have much kick to it. I added an optional 1/4 tsp of crushed red pepper flakes for those who like to have their eyes water while they eat curry. (i.e. my husband) The fresh curry powder that I use has a moderate amount of kick, so it didn't even occur to me to add anything else to make it spicy-hot.
While I made this curry the other night, I heard Cookie Monster's voice in my head singing, "C is for curry, that's good enough for me!"
I didn't mean for this curry to have so many ingredients beginning with the letter "C". I think my subconscious really likes alliteration. My girls really liked this curry, but when I tried to point out the clever use of the letter "C" to my almost-three-year-old and called it "Letter C Curry", I didn't sense any enthusiasm.
Maybe I'll try that one again when she's 5.
My 16-month-old couldn't get enough of this. I'm really enjoying her "eat just about anything" stage. She inhaled her bowl and about a third of her big sister's. I think what makes it special is the lime juice and zest. It adds a little zing and brightens the rest of the flavors. The mint is a great addition as well, but you probably wouldn't miss it too much if you opted out. Also, it's a vegetarian curry, but it's hearty enough you don't miss the meat. I'd imagine adding some chicken would take it in a good direction as well.
If vegetarian curry isn't your thing, you can also make it with chopped chicken breast. This tastes especially great with freshly ground curry powder, but the curry powder you see in the spice section of the grocery store will do just fine. If you're into grinding your own spices, give this Homemade Curry Powder recipe a try.
If you make one of my recipes, be sure to post it on social media and tag me at @perrysplate or #perrysplate so I can send you some love!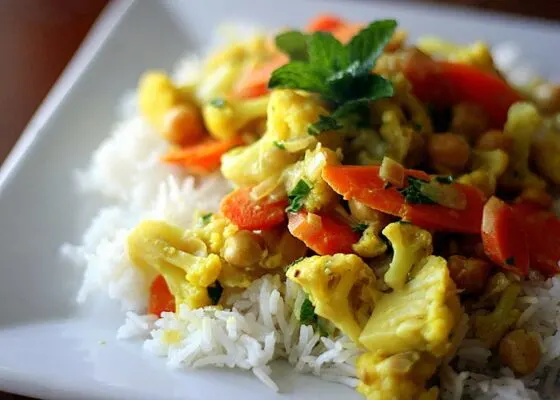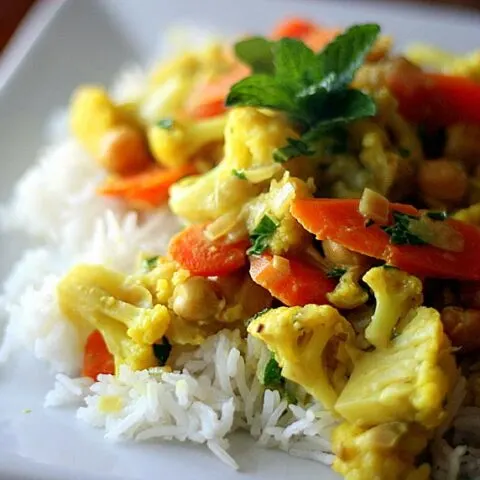 Vegetarian Curry with Cauliflower, Carrots, & Chickpeas
Yield:
Makes 6-8 servings
This light, vegetarian curry comes together quickly using easy to find ingredients you may already have on hand!
Ingredients
3 Tablespoon coconut or avocado oil
4-5 large carrots, peeled and thinly sliced diagonally
1 medium onion, diced
1 large head of cauliflower, trimmed and cut into 1-inch florets
1 Tablespoon + 2 teaspoons your favorite curry powder or paste
1/4 teaspoon crushed red pepper flakes (or to taste, if your curry powder needs some kick)
1 1/2 cups vegetable or chicken broth
1 15-oz can chickpeas (garbanzo beans), drained
1/2 teaspoon salt
1 15-oz can coconut milk
zest and juice from one lime
2 Tablespoons chopped fresh mint (optional)
Instructions
In a large skillet heat the oil to medium-high heat.
Add sliced carrots, onions, and cauliflower pieces; saute, stirring frequently, until the onions become translucent.
Stir in curry powder and crushed red pepper flakes (if using), and cook for 1 minute.
Add broth, chickpeas, and salt; bring to a boil, then reduce heat to medium-low, cover, and simmer for about 5 minutes.
Add coconut milk and lime zest/juice. Let it simmer, uncovered for a couple of minutes. Stir in mint.
Serve on hot rice.
This post may contain affiliate links. Any purchases made by using these links won't cost you any extra and helps keep my content free. These links may be Amazon links as I am part of the Amazon Associate Program.