If you have trouble finding garam masala in the grocery store it's easy to make your own blend! I included directions for grinding whole spices or using pre-ground.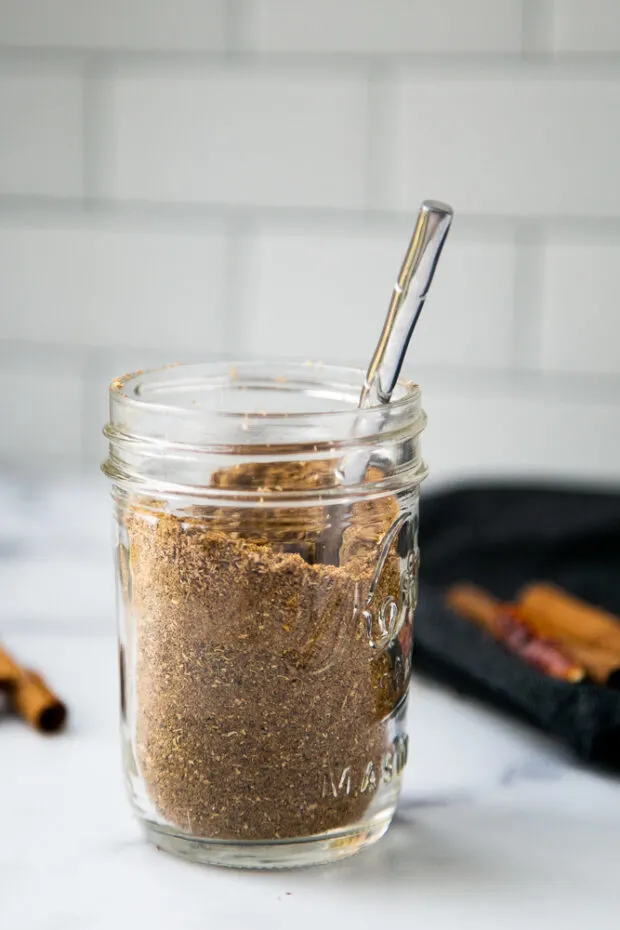 If you've done any Indian-style cooking at home, you've most likely ran into garam masala in an ingredient list. Garam masala used to be tricky to find, but now you can find it in most well-stocked grocery stores in the spice section.
What is garam masala?
It's a spice blend commonly used in Indian cuisine. There are many variations on it, but this particular blend can be made with spices easily found at most grocery stores.
Garam Masala vs Curry Powder
Both garam masala and curry powder have a cumin-coriander base with a little heat.
Madras curry powder (the blend we all think of when you say "curry powder") has turmeric (which is why it turns everything flaming yellow) and sometimes ginger.
Garam Masala has more baking spices like cinnamon, cloves, and cardamom.
I LOVE all of the baking spices in garam masala.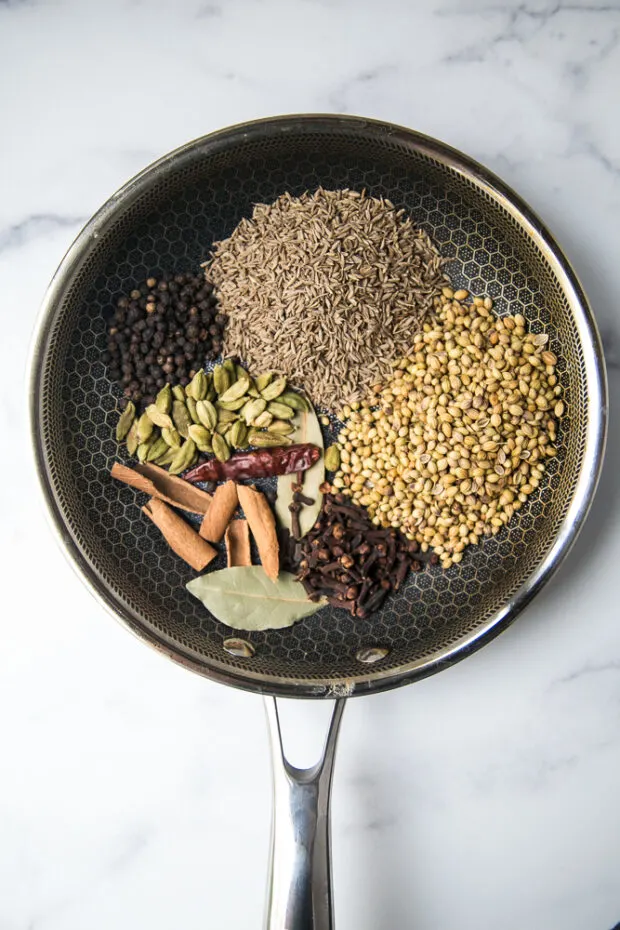 Do I have to use whole spices?
OK, don't be scared by this. You don't have to grind your own whole spices to make this. I do because I'm a spice geek and it makes me feel chefy. I mean, look how pretty they are!
I included the measurements for ground spices in case you want to go the sane route.
But, if you're up for some extra fun and a trip to flavortown, hear me out.
Do you have to toast the spices?
I suppose not, but toasting them brings out even more flavor and if you're going to the trouble to grind spices whole, then take an extra 5 minutes and toast them, too.
It's easy. Just put them in a dry skillet for 5 minutes or so over medium-low heat until they're fragrant.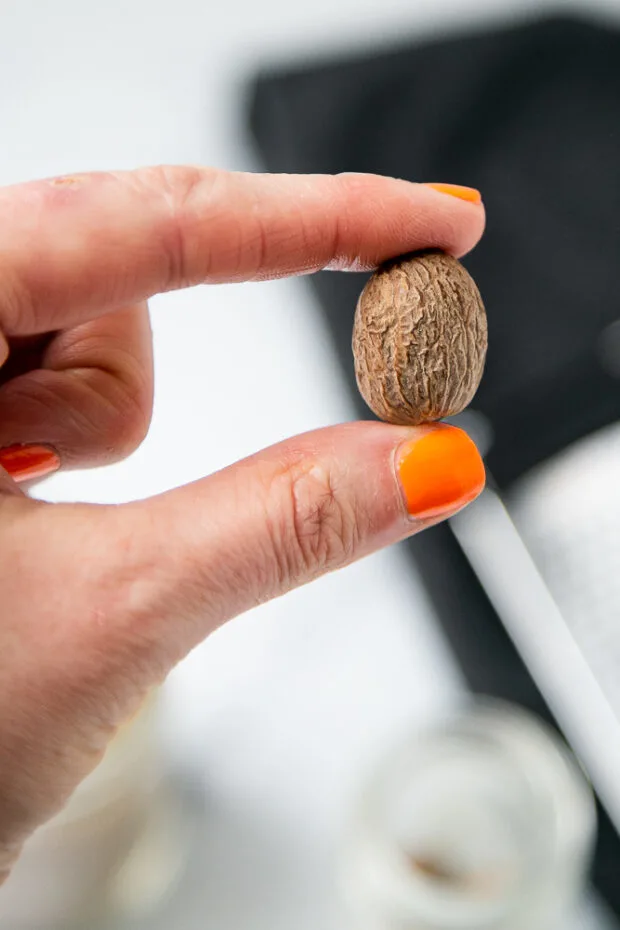 Why grind your own spices?
I grind some of my own spices for a couple of reasons.
Fresher, more flavorful spices
The first time I did it, over 10 years ago, I made Homemade Curry Powder. After grinding some cumin seeds and comparing the fragrance with some store-bought ground cumin, there was literally no comparison.
Ever since I've been grinding my own cumin, coriander, and cloves. And every time I use nutmeg, I grate some with a Microplane grater.
Once you start keeping a few whole spices on hand it's easy to make Indian style blends like curry and garam masala. Also, pumpkin pie spice is SUPER tasty with freshly ground cinnamon, cloves, and nutmeg. Just sayin'.
Whole spices are more economical
It's true.
A regular 1.3ish ounce spice jar of ground cumin is roughly $3-5, depending on the brand. That's $2-4 per ounce.
A bag of bulk cumin seeds is about .60-.90 per ounce. Again this varies depending on where you buy it.
Whole spices have a longer shelf life than ground spices
When you grind up a spice, the freshness clock immediately starts ticking.
Most places will tell you to replace your spices every 6-12 months. I'm not that extreme, but I do see the wild difference between pre-ground and freshly ground spices. I mean, we really don't know how long those spices have been sitting in those bottles.
By storing them whole, that clock doesn't start ticking for a VERY long time. I've had some whole spices for years and years and they still smell great when I grind them.
I'm not going to get all snobby and tell you that you should ONLY grind your own spices. I don't. But I do grind the ones that I use a lot (cumin, coriander, cloves, nutmeg). You do what you think is worth your time.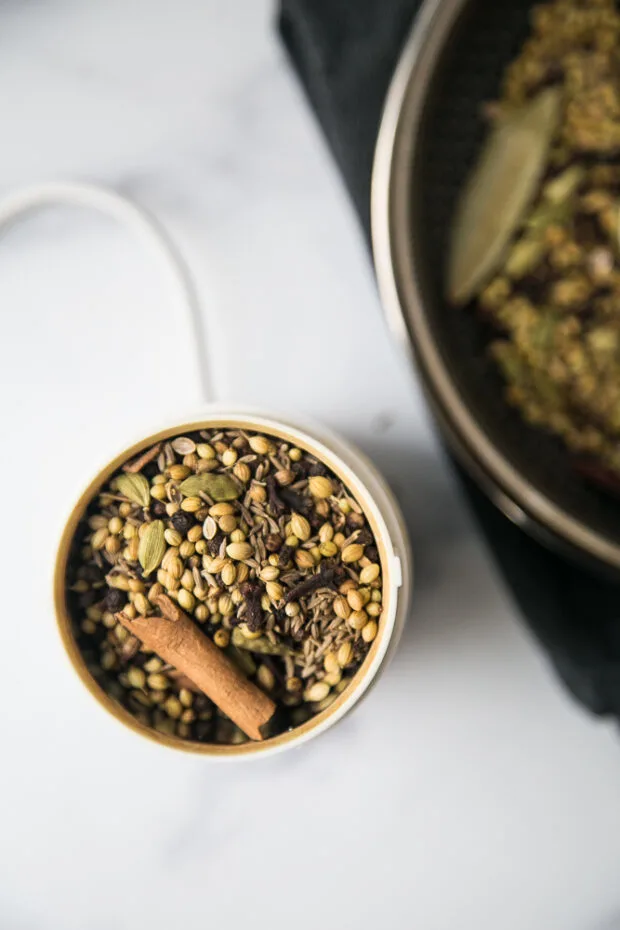 How do you grind your own spices?
I use a cheap coffee grinder I found on the clearance rack of a grocery store. That's really all you need. I couldn't find one exactly like mine, but here's a similar inexpensive coffee grinder on Amazon.
If you also grind your own coffee, I wouldn't use the same grinder for both unless you want your coffee to start tasting like curry.
Where do you find whole spices?
When I first started grinding my own spices, I bought bags of whole spices at local Indian & Asian grocery stores. That's a fun place, if you've never been.
If you have a grocery store with a bulk spice section, check there, too! World Market has whole spices in small packages if you want to make just one or two batches of garam masala.
Luckily now you can find just about everything online. I'll link to the ingredients for garam masala below:
Garam Masala Ingredients
Here are some Amazon links in case you'd like to buy these whole spices online. I tried to find small-ish bulk packages so you don't end up with 5 pounds of cloves.
Again, you don't have to make this blend from whole spices, and I added the measurements for pre-ground spices in the recipe notes.
Black peppercorns, cinnamon sticks, and bay leaves tend to be inexpensive at the grocery store. I just linked to the ones that would be more economical bought online.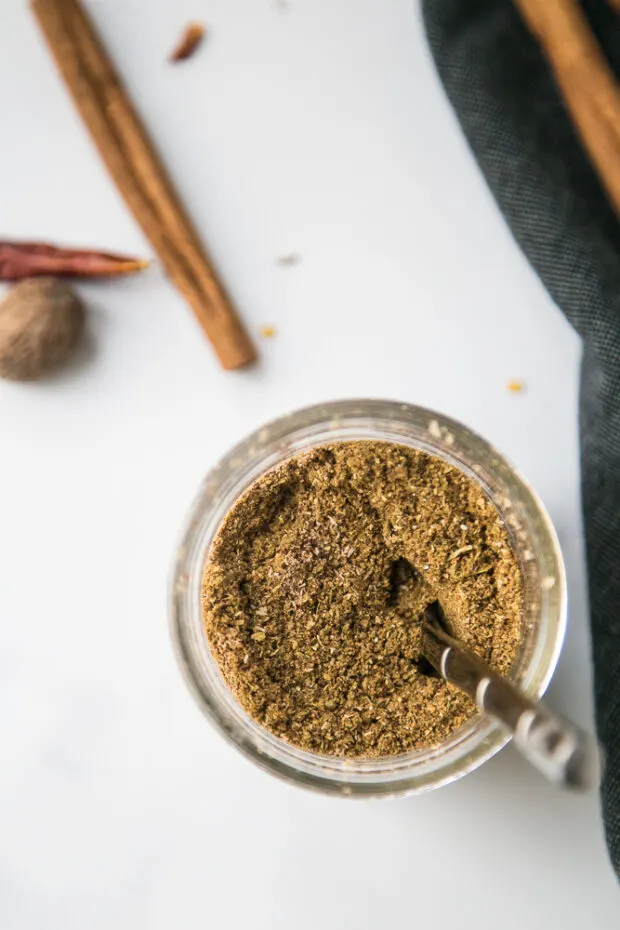 Recipes using Garam Masala
Now, comes the fun part! Here are a few recipes on my site that use garam masala. Knock yourselves out!
Easy Lentil Curry is a quick, meatless meal that's cozy and light all at the same time.
Another meatless Indian-style meal is my Egg Curry! Especially useful if you've got a lot of hard-cooked eggs on hand.
My favorite Instant Pot Indian Chicken Curry isn't quite the same without a little garam masala sprinkled on top.
If you want something hearty and filling for the cold months, try this Slow Cooker Indian Beef. Like an Indian style pot roast. You'll love it.
---
If you make one of my recipes, be sure to post it on social media and tag me at @perrysplate or #perrysplate so I can send you some love!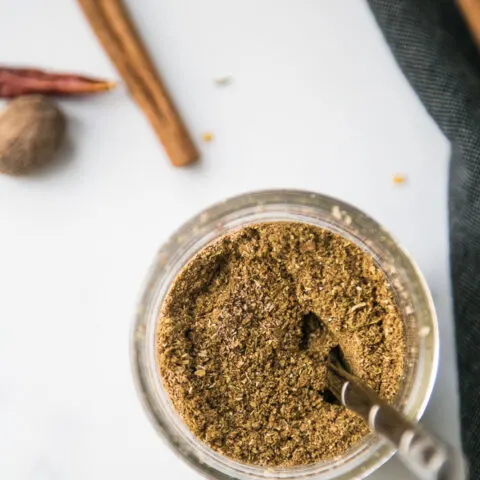 Homemade Garam Masala
Garam Masala is an Indian-style spice blend that is rich with warm baking spices. You can make it by grinding your own spices or using pre-ground. (See recipe notes!)
Ingredients
2 bay leaves
1 cinnamon stick, broken into 3-4 pieces
1/3 cup coriander seeds
1/4 cup cumin seeds
1 Tablespoon black peppercorns
1 Tablespoon green cardamom pods
2 teaspoons whole cloves
1 small dried chili
1/4 teaspoon ground nutmeg
Instructions
Place all of the spices, except the nutmeg, into a small skillet over medium-low heat. Toast them for about 3-4 minutes, shaking the pan often, until everything is hot and fragrant. They burn easily, so watch them carefully.
Let the spices cool for 5 minutes. Grind them in batches in a small coffee or spice grinder.
Transfer the spices to a lidded container and add the nutmeg. Shake well. Store covered at room temperature.
*Recipe adapted from Epicurious.com.
Notes
Nat's Notes:
If you'd rather make this blend from pre-ground spices here are the measurements for you:
2 bay leaves, crushed (just crush them as best you can with your fingers or omit them entirely)
1 1/2 teaspoon ground cinnamon
5 Tablespoons ground coriander
4 Tablespoons ground cumin
2 1/2 teaspoons finely ground pepper
2 teaspoons ground cloves
1/8 teaspoon crushed red pepper flakes (or just a pinch)
1 1/2 Tablespoons ground cardamom
*Original recipe adapted from Epicurious.com.
Recommended Products
As an Amazon Associate and member of other affiliate programs, I earn from qualifying purchases.