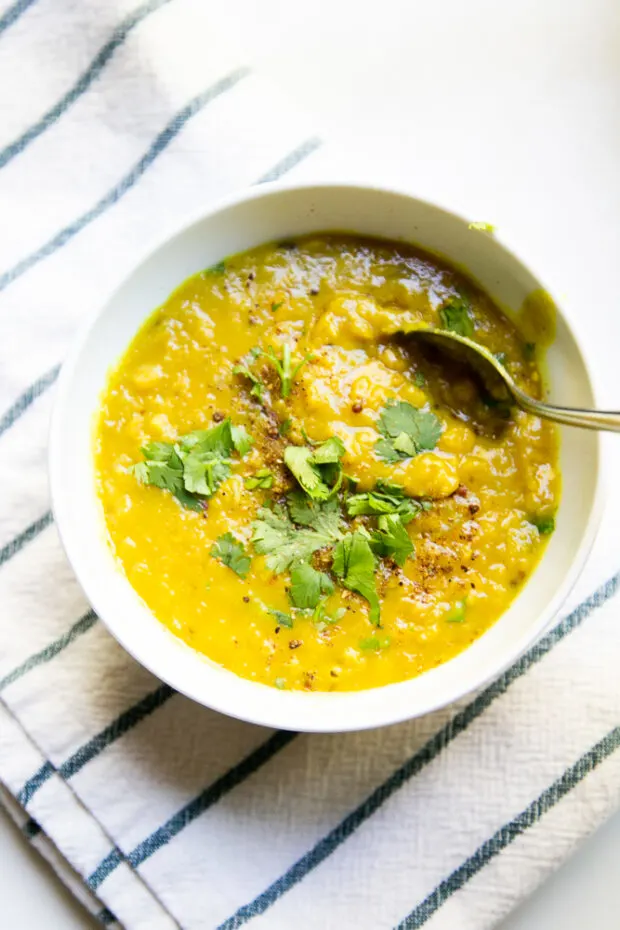 Friends. This Lentil Curry might be the only lentil recipe on my site.
Wait, let me check…
Yep. It is.
I was never a huge fan of lentils until I had lentil curry once.
There was something about that cozy, porridge-like texture that screamed comfort food for me.
Not all lentils end up with that texture, so I'll tell you what the secret is along with a couple of other key ingredients you might not have on hand.
Key Ingredients for this Lentil Curry
Red Lentils
Not brown lentils or French lentils or any other lentils.
RED lentils.
When they're cooked and soft and you give them a whisk, they break down a bit and create that thick, porridge-like consistency.
Red lentils are easy to find in just about any grocery store. (Or bulk sections!)
There are a couple more ingredients in this recipe that you may not have on hand…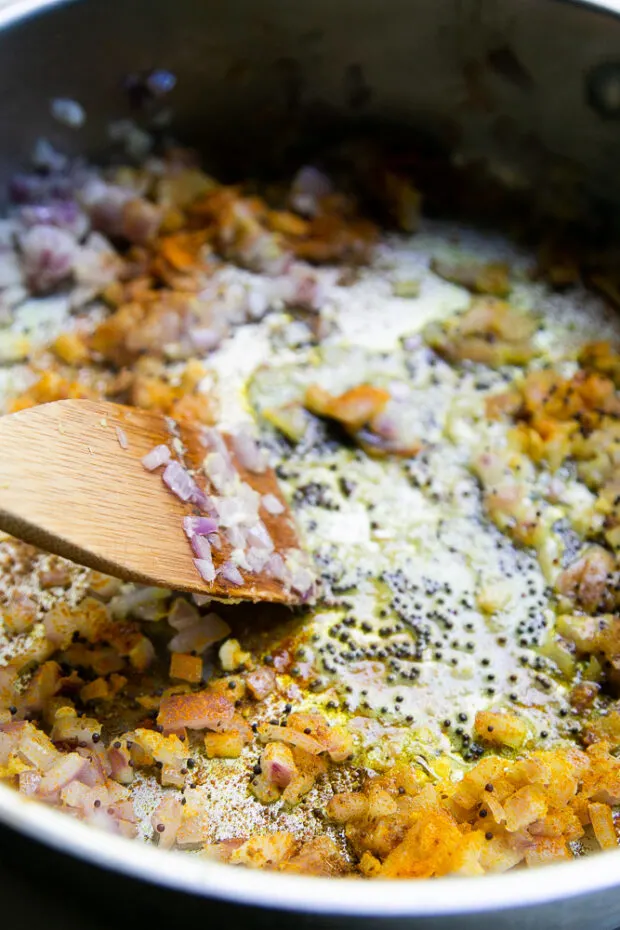 Black Mustard Seeds
Black mustard seeds came with a set of spices and a spice rack that we purchased right after we got married. I had no idea what to do with them.
After watching episode after episode of Aarti Party on The Food Network (Aarti Sequeira is the most delightful Indian chef. Go follow her on IG.) I learned how to use them!
They usually get added toward the beginning of a recipe and are allowed to "fry" in the hot oil along with other spices used in a curry. This allows the flavors to deepen & "bloom" and get rid of some of that raw spice flavor.
It's not too difficult to find them in the spice section of some grocery stores. Usually the nicer grocery stores with a more robust spice section has it.
Or you can get black mustard seeds on Amazon.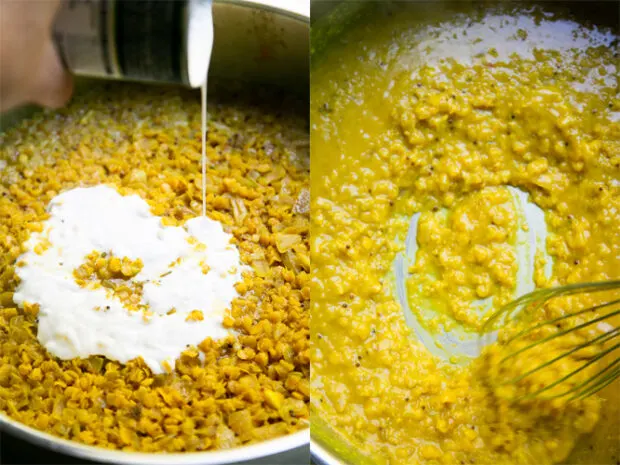 Like I mentioned earlier, you'll want to use red lentils for this lentil curry so you can get that porridge-like texture.
See how it break down with just a little whisking?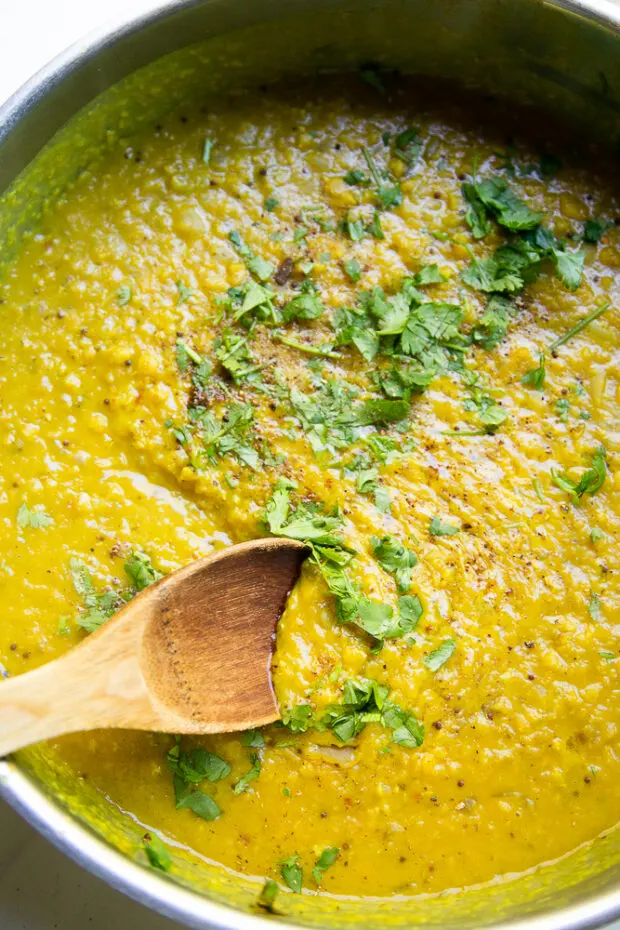 Garam Masala
The last special ingredient for this lentil curry is a popular Indian spice blend called Garam Masala. Sometimes it's referred to as the Indian equivalent of French Herbs de Provence or Chinese Five Spice Powder.
It's similar to curry powder but it doesn't have turmeric and it has a few other spices that curry powder doesn't have. It's a little heavy on the cinnamon & cardamom. Mmm.
It used to be hard to track down, but now you can find it in most grocery stores in the spice section.
I still grind my own from mostly whole spices, because I'm a spice nerd and it makes me feel cheffy. Here's my Homemade Garam Masala Recipe that you can grind from whole spices OR make with pre-ground.
Like I said you can totally buy garam masala at the store or online at Amazon.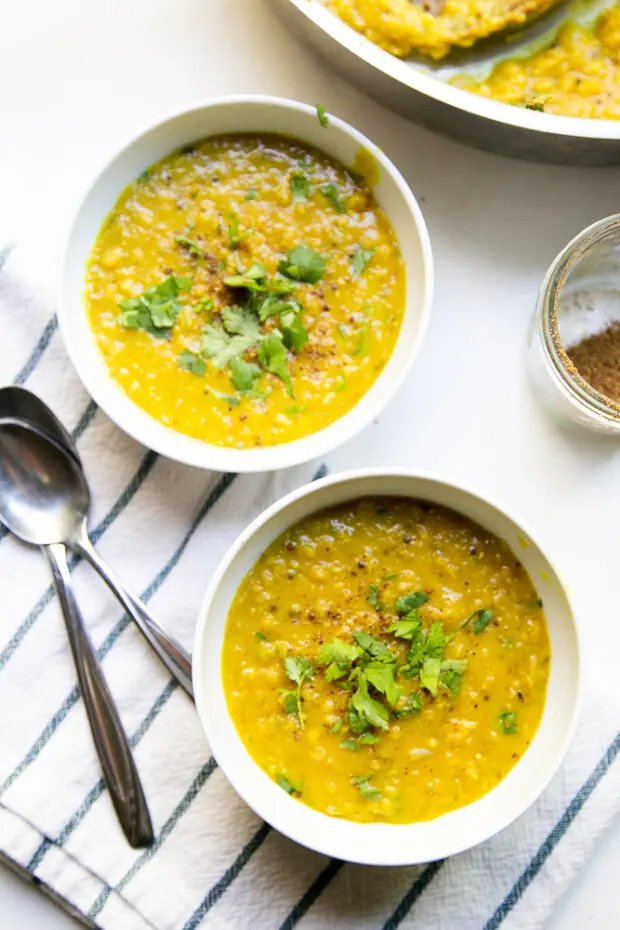 So cozy, right? Cozy and comforting, but not heavy.
I love that little sprinkle of garam masala on top.
I know I talked about "frying" the spices in oil earlier, but garam masala is traditionally added at the very end for a different pop of flavor.
Can you freeze Lentil Curry?
Yep!
Package it up in freezer-safe containers for easy meals later. Your future self will love you for it.
I love these deli containers for freezing leftover soups, stews, beans, and broth.
Can this recipe be doubled?
Yep. Just allow for longer cooking time — especially if you're using a saucepan instead of a large skillet.
Remember, it freezes well, too!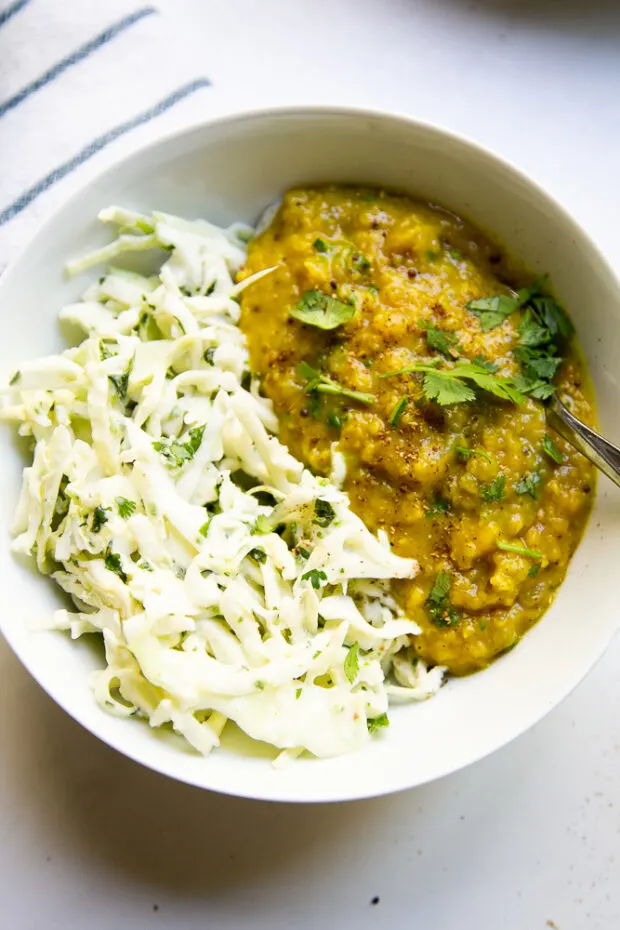 What to serve with Lentil Curry?
You can definitely eat this alone! If you're wanting a side dish you can pair it with some steamed rice or a piece of naan bread. Here are a few more ideas:
The first time I tested out this recipe I was also testing out the Cabbage Slaw with Cucumber Yogurt Dressing and they went so well together!
If you're eating paleo or grain-free, try making some Roasted Cauliflower Rice to go with it. Or some Paleo Zucchini Flatbread.
I love eating curries with roasted vegetables, too. Especially this Curry Roasted Cauliflower!
More Easy Indian Curry Recipes
Here are a few more Indian-style curry recipes on my site!
Mango Chicken Curry is a creamy dish with a slightly sweet mango curry sauce.
If you've ever had Saag Paneer, the spinach and cheese based curry, I created a dairy free Chicken Saag using chicken!
My favorite curry to make for a crowd is this Instant Pot Indian Chicken Curry. It's DELICIOUS and tastes like you're in a fancy Indian restaurant!
If you're looking for something meatless, try Egg Curry!
---
If you make one of my recipes, be sure to post it on social media and tag me at @perrysplate or #perrysplate so I can send you some love!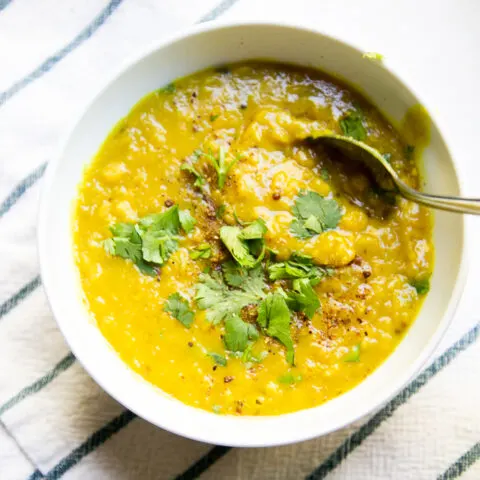 Easy Lentil Curry
Easy Lentil Curry is an Indian-inspired meatless curry that's quick enough for a busy weeknight! Serve it alone or alongside some steamed rice, cucumber-yogurt sauce, or roasted vegetables.
Ingredients
4 Tablespoons oil (avocado, coconut, or ghee)
1 medium red or yellow onion, diced
1 clove garlic, minced or microplaned
1-inch knob of ginger, minced or microplaned
1 teaspoon black mustard seeds
1 teaspoon turmeric
1/2 teaspoon ground cumin
3 cups vegetable or chicken broth
1 cup red lentils
1 cup full-fat coconut milk
1/2 teaspoon sea salt
Pinch of crushed red pepper flakes (optional)
Juice from 1/2 lemon
1/2 teaspoon garam masala
Freshly chopped cilantro, for garnish
Instructions
Heat 2 Tablespoons of the oil in a large lidded skillet or saucepan over medium-high heat.
Saute the onions for 4-5 minutes until they turn translucent. Add the garlic and ginger and cook for another minute.
Create an empty space in the middle of the skillet and add the remaining 2 Tablespoons of oil. Sprinkle the mustard seeds, cumin, turmeric, and pepper flakes into the hot oil. Let it sizzle for about 30 seconds and then mix everything together in the pan.
Add the chicken broth and lentils. Bring to a boil, then reduce the heat to medium-low and simmer, covered, for 20-25 minutes or until most of the liquid has been absorbed by the lentils.
Stir the coconut milk and salt into the lentils and whisk everything together to break up the lentils and create a porridge texture. Let the lentils simmer for another 1-2 minutes.
Remove from the heat and taste, adding more salt if needed. Squeeze the juice from 1/2 a lemon over the lentils and sprinkle on the garam masala and some freshly chopped cilantro.
Serve immediately either alone or with some steamed rice, cabbage slaw, cauliflower rice, or roasted vegetables.
Notes
Nat's Notes:
It's important to use red lentils in this recipe instead of another type of lentil. Red lentils break up more after they cook, creating a porridge-like texture.
This recipe can easily be doubled. Just increase the cooking time to make sure the lentils are completely soft.
You can freeze these, too, for quick meals in the future!
Recommended Products
As an Amazon Associate and member of other affiliate programs, I earn from qualifying purchases.