If you're wondering what that orange stuff is in the jar, it's the sun-dried tomato-soaked olive oil that solidified after being in the fridge.
Once upon a trip to Costco, I bought a giant jar of sun-dried tomatoes on a whim. After using them off and on throughout our six years of marriage (not this exact jar, mind you) my husband finally told me that he doesn't like them.
He's such a patient, patient man. He did the same thing with stuffed peppers after a half dozen batches of them (I really like stuffed peppers.)
He also claims he doesn't like balsamic vinegar or eggplant.
I could be a nice, sweet wife and avoid those completely. "Sweet" isn't something I've heard about myself often. Instead of avoiding the food he "dislikes" I kept making them in different ways in order to get him to like them.
Back to the sun-dried tomatoes…
He informed me that he didn't like chewing on a chunk of a tomato, but he likes the flavor it gives the dish that they're in.
Soooo. . .I threw a third of the jar into the food processor with some Romano cheese and pine nuts and made sun dried tomato pesto. And because I had a big bowl of that pesto, I tried to find uses for it over the next couple of weeks. And guess what?? He liked it!
I feel like you could use the same technique for getting kids to like things. It's worked so far with my girls. But it probably takes more tries with them because kids can be especially finicky. (I take that back. I know adults who are more finicky than a toddler.)
Try this pesto in my 15-Minute Sun-Dried Tomato and Spinach Omelet.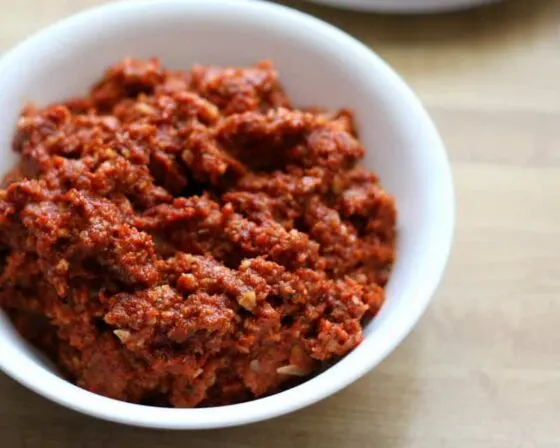 Are sun dried tomatoes really dried in the sun? My guess is no — at least if you're buying sun-dried tomatoes at the grocery store. Maybe they were traditionally? By the way, you can find sun dried tomatoes near the roasted red peppers and basil pesto in the grocery store.
Making homemade sun dried tomato pesto is easy. If you've made basil pesto or another kind of pesto sauce before it's very similar. I love this recipe because most of the flavor is in the sun-dried tomatoes! Like other kinds of pesto, you just need to add some nuts and parmesan cheese and some olive oil. I like to buy sun dried tomatoes that are packed in olive oil (as opposed to vegetable or soybean oil) and if I have enough oil in the jar, I'll use that in the pesto instead.
If you're dairy-free, just add some nutritional yeast instead to give it that "cheesy" flavor.
I'd love to hear if you try this pesto recipe! There are a lot of things you can do with it, too — toss it with gluten free pasta and some fresh basil. Or some zucchini noodles.
OH! You should totally use it in my Pesto Zucchini Noodles with Bacon & Broccoli. That's such a great recipe. It calls for basil pesto, but you can use this one instead.
What to do with leftover pesto? Just freeze it in an ice cube tray so you have little portioned out squares to throw into a sauce or a soup or your breakfast scramble.
easy homemade sun-dried tomato pesto