Easy Homemade Sun-Dried Tomato Pesto
If you're wondering what that orange stuff is in the jar, it's the SDT-soaked olive oil that solidified after being in the fridge.
Once upon a trip to Costco, I bought a giant jar of sun-dried tomatoes on a whim. After using them off and on throughout our six years of marriage (not this exact jar, mind you) my husband finally tells me that he doesn't like them. He doesn't like chewing on a chunk of one, but he likes the flavor it gives the dish that they're in.
Soooo. . .I threw a third of the jar into the food processor with some Romano cheese and pine nuts and made pesto. And because I had a big bowl of pesto, I tried to find uses for it over the next couple of weeks.
My favorites were the Balsamic Grilled Chicken Salad with Sun-Dried Tomato Vinaigrette and the 15-Minute Sun-Dried Tomato and Spinach Omelet.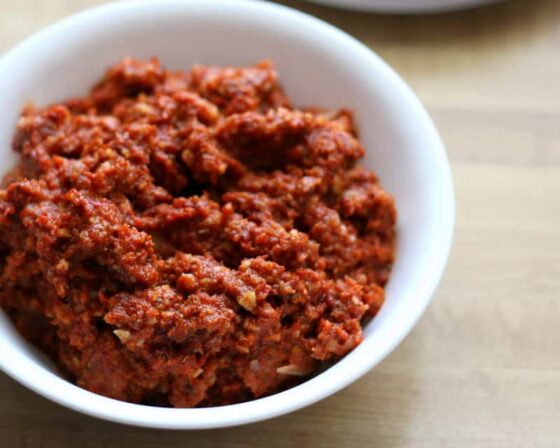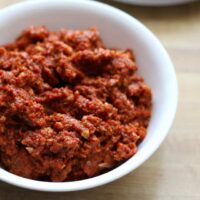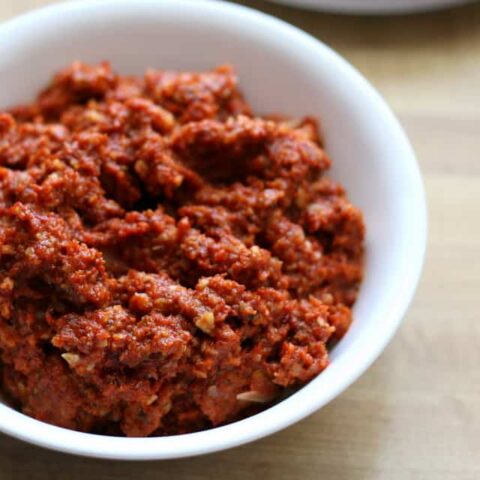 Easy Homemade Sun-Dried Tomato Pesto
Sun-dried tomato pesto is super easy to make and can be used in any recipe that you'd use basil pesto.
Ingredients
2 cups oil-packed sun-dried tomatoes, sliced thinly (I bought mine julienne)
1 cup shredded fresh Parmesan or Romano cheese (optional -- leave it out to make it dairy-free)
1/3 cup toasted pine nuts
Extra-virgin olive oil, as needed
Instructions
Combine tomatoes, cheese, and pine nuts in a food processor and pulse/blend until thoroughly combined.
Drizzle a little oil in if it gets to thick to process.
Notes
Nat's Notes:
I thought the tomatoes did a great job of providing flavor, but feel free to add garlic and fresh herbs as you see fit.
To toast pine nuts, place them in a dry skillet over medium heat and toast them for 4-5 minutes or until they become fragrant and turn golden brown.