This smooth, delicious vegan roasted red pepper sauce is great as a pasta sauce, a veggie dip, or added to your favorite grain bowl! Make it as spicy as you (or not) like in minutes with only a handful of ingredients and your blender!
Have you ventured into cashew-based sauces? I'm not a vegan and I scoffed at them when they started becoming a thing. I didn't think they'd taste that good.
Well. I was proven wrong.
I don't like to eat a lot of dairy, but I don't shy away from a splash of cream here and there. I was surprised at how creamy cashew-based sauces can be without the cream! And if you're dairy free, you'll appreciate this, too.
I posted this Chipotle Vegan Queso sauce a while back and my mind was changed forever.
I happened on some fire roasted red peppers at Trader Joe's recently and decided to make a vegan roasted red pepper sauce that was cashew based.
Just for funsies. I love it when funsies projects turn out to be REALLY REALLY good. Like this really great roasted red pepper sauce!
Ingredients for Vegan Roasted Red Pepper Sauce
You'll only need a few things! I liked my sauce with a little kick, but you can omit that if you'd rather have a mild version.
Roasted red peppers
Soaked cashews (see section below for a soaking shortcut)
Lemon juice
Garlic
Chili paste, chili flakes, or cayenne (optional)
Nutritional yeast
Salt & Pepper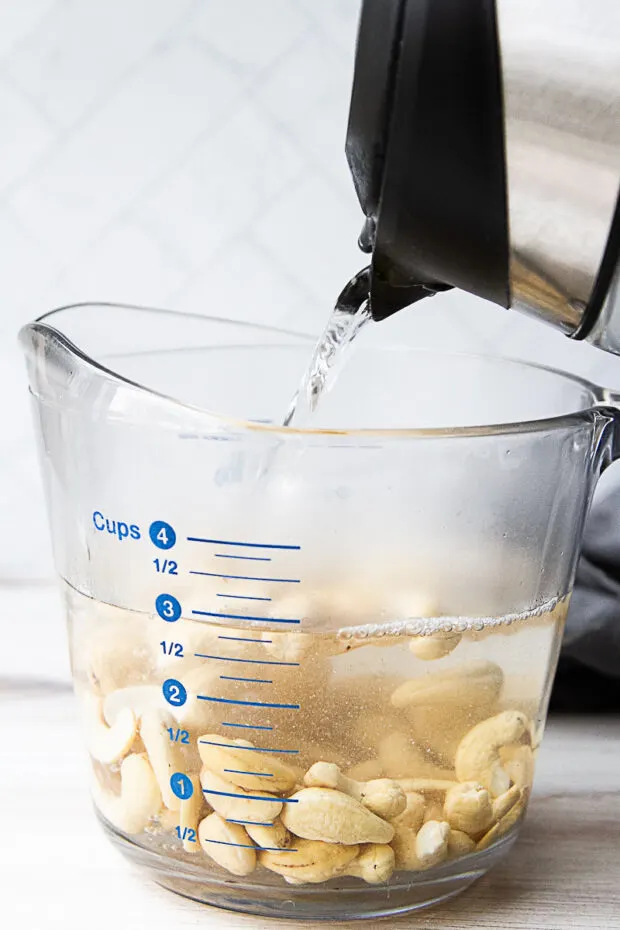 How to make vegan red pepper sauce
Soak your cashews, then blend them with the rest of the ingredients. That's it!
Do I have to soak the cashews?
If you want your sauce to be smooth, then yes.
Ideally, you'd soak them in cool water for 8 hours or overnight.
But. I know it's a big ask to prep ahead sometimes. I'm a busy mom. I get it.
SOAKING SHORTCUT: Pour boiling water over the cashews and let them soak for at least 15 minutes. Try to let them soak for 30 minutes if you can, though. The longer they soak, the smoother your sauce will be.
Can I use fresh red bell peppers?
Sure! I like to use jarred roasted red peppers for convenience, but if you'd rather roast your own, that's fine, too. You'll need about 1 1/2 medium sized bell peppers for this recipe
Put them on a pan, whole, under the broiler for a few minutes and turn them periodically. Or char them over a gas burner or BBQ grill directly on the grates.
Get some of that skin off, cut the stems and seeds out, and then you're in business. I included instructions in the recipe card as well.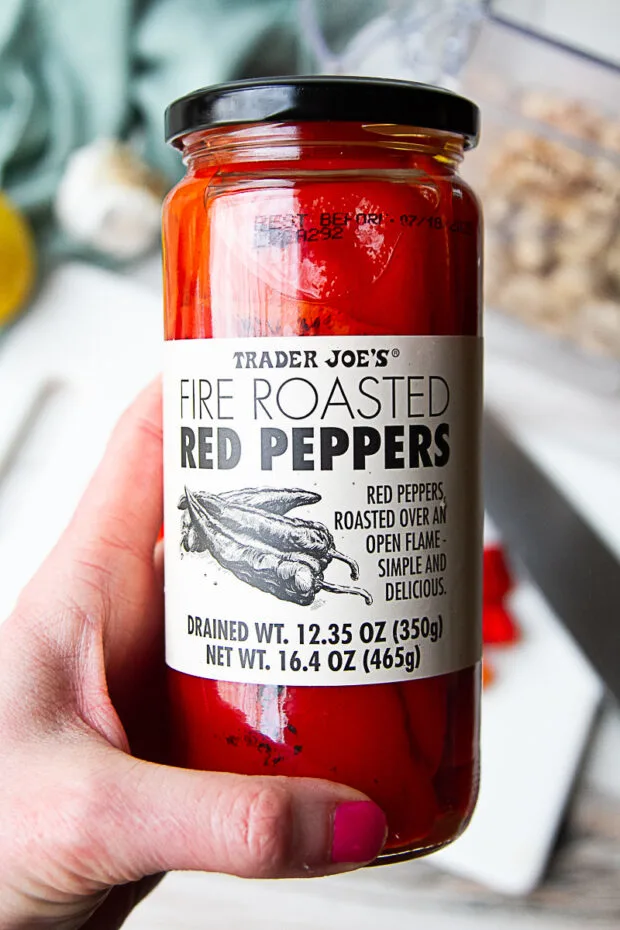 Does the cashew red pepper sauce have to be spicy?
Nope! Just omit the chili seasoning!
I love the touch of heat, though. I like using Calabrian chili paste in this — a spicy Italian chili condiment. I get Calabrian chili paste on Amazon or sometimes in a well-stocked grocery store near the Italian stuff (artichoke hearts, tomato paste, sun-dried tomatoes, etc.).
I also use it in my Magical Sauteed Green Beans and Asparagus and Grilled Melon Salad.
What is nutritional yeast and do I need it?
Nutritional yeast is a strand of yeast that has been deactivated and dried. It creates a "cheesy" flavor without adding dairy-based cheese.
It's also a great source of vitamins and minerals and since it contains all nine essential amino acids it's considered a complete protein!
You don't absolutel have to have it for this recipe, but it adds good flavor.
I also use nutritional yeast in my Smoky Chipotle Taco Seasoning and any place where I'd normally use some Parmesan, but want to make a recipe dairy free. Like this Creamy Garlic Dill Salmon, Cheezy Ranch Kale Chips, and Italian Paleo Stuffed Zucchini.
Where can I find nutritional yeast?
Most grocery stores carry it these days. It's usually in the baking section. I like to buy nutritional yeast on Amazon, too.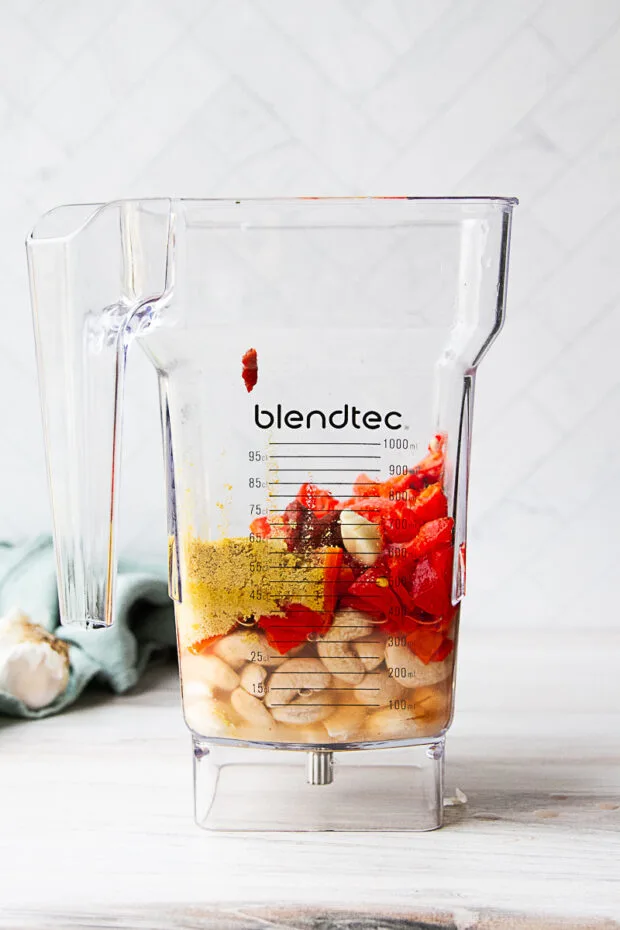 Can I use a food processor to blend the vegan red pepper cream sauce?
Sure! Blend it for a few minutes to make sure it's as smooth as you can get it.
If you have a high powered blender like a Blendtec, Vita-Mix, or a Ninja, I recommend using that.
Ways to use Roasted Red Pepper Sauce with Cashews
I intentionally didn't create a recipe around this red pepper sauce recipe because you can use it for so many things!
Here are a few ideas for you:
Use it as a dairy-free pasta sauce
If you're avoiding dairy or are a vegan, make some vegan roasted red pepper pasta! Toss it with some freshly cooked pasta and add some fresh basil and your favorite protein source. If you're not a vegan, some cooked Italian sausage would be delicious in this. Or more veggies.
You can even use it in place of marinara when making lasagna.
Use it as a dip
Add a bowl of this to a vegetable tray for dipping! I especially love dipping sliced cucumbers and gluten-free crackers.
Use it as a grain bowl sauce
One of my favorite things to do for lunch is make a bowl of leftover tidbits from the fridge.
I use cooked grains (rice or quinoa) or salad greens as a base and add leftover protein from a previous dinner, a fried eggs, or some tuna salad, and chopped veggies and some fun things to sprinkle (goat cheese, pumpkin seeds, cheese-based crackers, plaintain chips, etc).
Adding a dollop of this sauce makes it even more tasty! In the photo below I added it to a bowl with quinoa, garlic-roasted chickpeas, and roasted broccoli/cauliflower with some chili crunch for extra heat.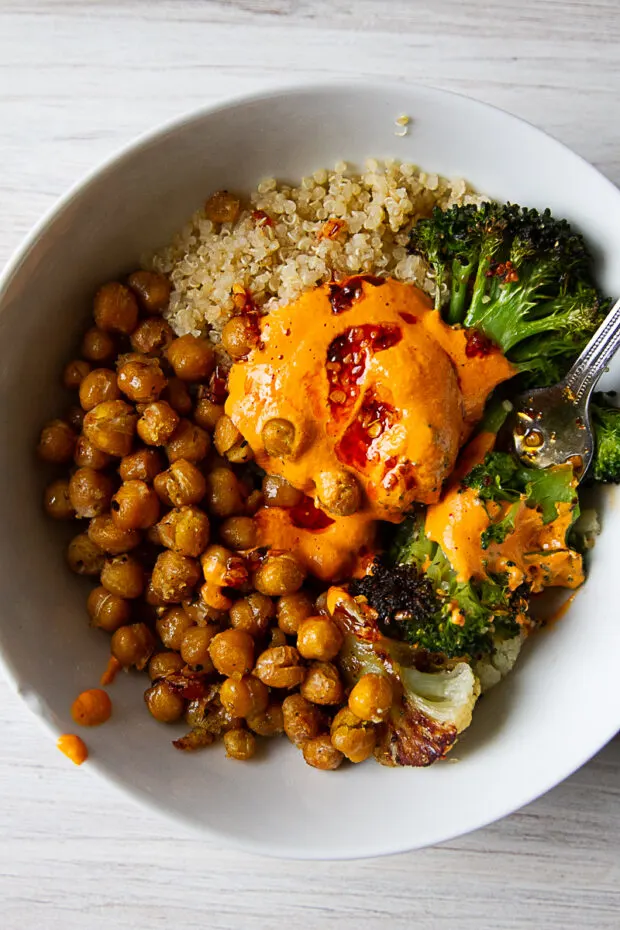 More Easy Condiment Recipes
I love having a prepped condiment on hand for easy meals, and I usually include one or two when I do meal prep. Here are a few more of my favorites…
Chipotle Vegan Queso also has a cashew base and is easy to toss together in a blender! Love this for tex-mex bowls and paleo nachos especially!
Pickled Red Onions have become a staple for us since my kids decided they loved them. I love this version especially with garlic & jalapenos for an extra kick.
Along those same lines is Homemade Sauerkraut! It's easier than you think and a great source of probiotics.
Paleo Ranch Dressing is always good to have on hand! I extra love this Roasted Jalapeno Ranch.
Homemade Basil Pesto is delicious and nice to have on hand as a flavor booster, too! I have Cilantro Pesto and Dill Pesto recipes, too.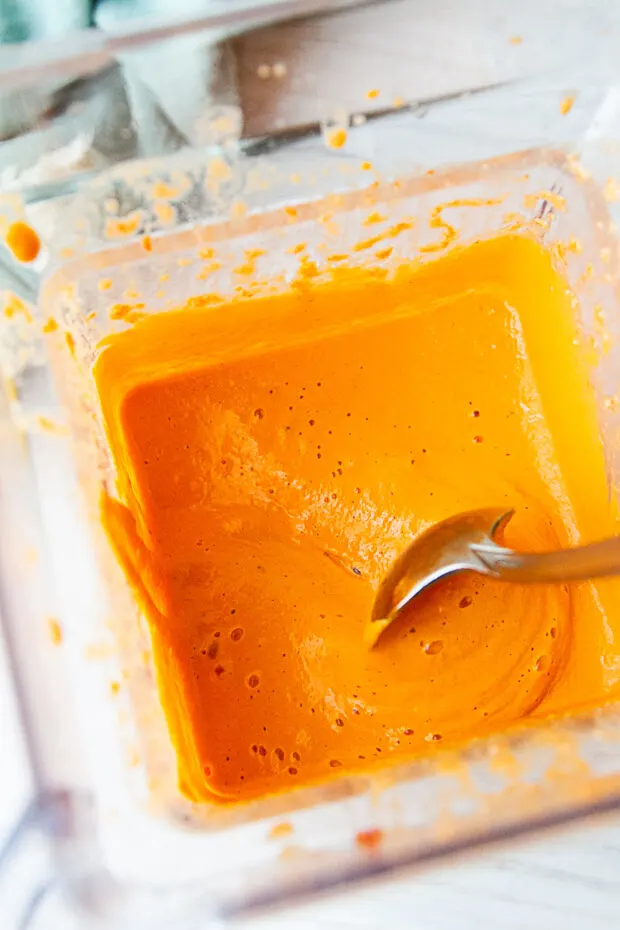 ---
If you make one of my recipes, be sure to post it on social media and tag me at @perrysplate or #perrysplate so I can send you some love!
Vegan Roasted Red Pepper Sauce (with Cashews)
This smooth, delicious vegan roasted red pepper sauce is great as a pasta sauce, a veggie dip, or added to your favorite grain bowl! Make it as spicy as you (or not) like in minutes with only a handful of ingredients and your blender!
Ingredients
1 cup raw, unsalted cashews
1 1/2 cups chopped roasted red bell peppers
1 clove garlic, peeled
Juice from 1 small lemon
1-2 teaspoons Calabrian chili paste or a pinch of red pepper flakes (optional)
1/2 teaspoon sea salt
2 Tablespoons nutritional yeast (optional)
Instructions
Soak cashews overnight covered in cool water or pour boiling water over them and let them soak for 20-30 minutes.
Drain soaking water off of cashews and put soaked cashews in the pitcher of your blender. Add 1/2 cup of fresh water and the rest of the ingredients to the pitcher.
Blend thoroughly, for a couple of minutes, until the sauce is completely smooth.
Transfer to a lidded container and store, chilled, for up to a week.
Notes
The Calabrian chili paste is optional. I like to use it when adding a little heat to Italian-inspired recipes. You don't have to put anything spicy in this sauce at all if you don't want to.
The nutritional yeast is also optional, but I love the "cheezy" umami flavor it adds.
If you'd rather roast your own red bell peppers, put two peppers under a broiler for several minutes, turning occaisionally until most of the peppers have black blisters on them. You can also put them directly on the grate above a gas stove and use a pair of tongs to turn them. Remove most of the peels and blackened parts, as well as the stem and seeds. You'll need about 1 1/2 peppers for this recipe, but it would probably be fine if you threw both in there to avoid food waste.
Recommended Products
As an Amazon Associate and member of other affiliate programs, I earn from qualifying purchases.
This post may contain affiliate links. Any purchases made by using these links won't cost you any extra and helps keep my content free. These links may be Amazon links as I am part of the Amazon Associate Program.