Hidden Veggie Chipotle Taco Meat
You're probably thinking, "Taco meat? Whoop-dee-do, Nat. I make taco meat every Tuesday."
I love taco meat, but it isn't anything new. It isn't glamorous or photogenic for that matter. So why did I bother posting this? (Not that everything I post is glamorous and photogenic. Oh, heavens no.)
Because taco meat is where I hide vegetables most successfully from my picky little kids.
Right now is the perfect time of year to do it, too, with all of the fresh produce practically spilling out into the streets. A food processor comes in handy at times like these. I zipped up a whole zucchini and a red bell pepper in about 20 seconds before I tossed it in the pan. Grated carrots would also work really well. I threw in some frozen corn and beans (because my girls like them and it makes the meat stretch a bit further) that really stand out, in hopes it would distract them from the little green and red specks. Works every time.
I do love using traditional taco seasoning, but sometimes I feel like changing things up. The use of tomato sauce, chipotle powder, and diced green chiles was a nice change, I think. The chipotle powder adds a subtle kick (just a bit of tongue tingle) that my toddlers were OK with.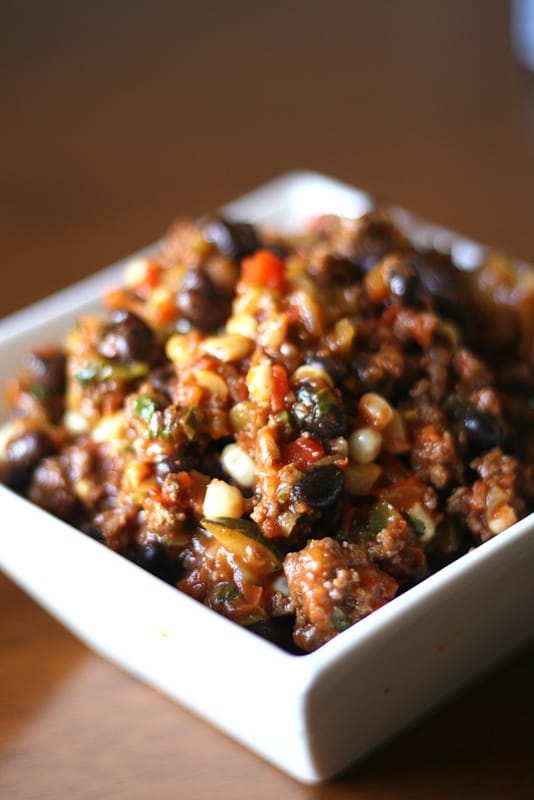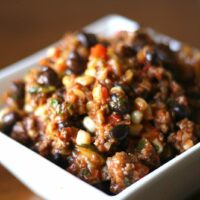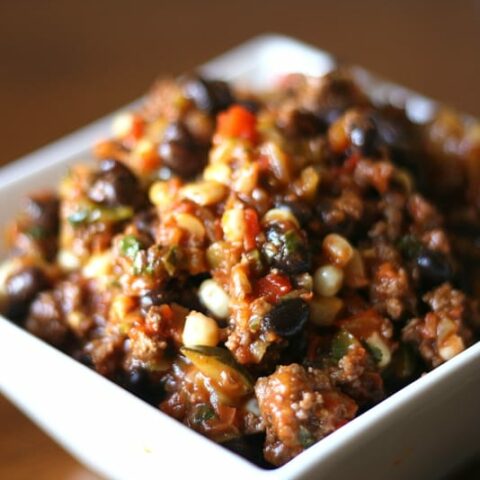 Hidden Veggie Chipotle Taco Meat
Yield: Serves 6

Prep Time: 20 minutes

Cook Time: 15 minutes

Total Time: 35 minutes

This chipotle taco meat is packed with lots of hidden veggies! It's perfect for tacos, burritos, salads, and even breakfast hashes (my favorite!).
Ingredients
1 pound ground beef (grass-fed and organic, if possible)
1 red bell pepper, minced
1 small zucchini, minced
2 Tablespoons dried minced onion (or 1/2 cup fresh chopped onion)
8 ounces tomato sauce
1/4-1/2 teaspoon chipotle chile powder or 1-2 chopped (seeds removed) chipotles in adobo sauce (to taste)
1 4-ounce can diced green chiles
1/2 teaspoon salt
1/4 teaspoon coarsely ground black pepper
1 15-ounces can black beans, drained and rinsed
1 cup frozen corn
1/2 cup chopped fresh cilantro
Instructions
Brown ground beef in a large skillet over medium-high heat.
Meanwhile, prepare vegetables (food processor is really nice for this). When the beef is almost cooked through, add the minced pepper and zucchini. Cook for 3-4 more minutes until some of the liquid cooks out and the beef is cooked through.
Add diced onion, tomato sauce, chipotle powder, diced green chiles, salt, pepper, beans, corn, and 1/2 cup water. Cook another 4-5 minutes until about half of the liquid has cooked out and mixture is nice and saucy.
Stir in cilantro and keep warm until ready to serve.
Serving suggestions (basically what you would do with regular taco meat)

Taco Salads: Place a handful of lettuce in a bowl, top with taco meat, chopped tomatoes, a few corn chips, sour cream, and cotija (or feta) crumbles.

Nachos: Put a few handfuls of corn chips on a rimmed baking sheet and top with about half of the taco meat. Top with shredded cheese (ohh, pepper jack would be good) and bake at 400 degrees F for 10-12 minutes. Serve with sour cream, guacamole, and other nacho toppings.

Quesadillas: Put a few spoonfuls of taco meat on one side of a tortilla. Top with a few sprinkles of shredded cheese, then fold in half. Cook in a skillet over medium heat until cheese is melted and tortilla is browned and crisp.

Burritos/Tacos: Place some taco meat, cheese, and whatever else you like in a large (or small) tortilla. Roll and serve

Southwest Baked Potatoes: Spoon some taco meat into a baked potato that's been cut open. Top with cheese and/or sour cream. You could also serve the taco meat over rice or over a warm piece of cornbread.

SaveSave
SaveSave